ATL has tons of delicious options to dine at for lunch or dinner, but when you're craving a juicy burger, these are the spots to go.
The Best Burgers in Atlanta
Burger Crush

When you're craving a delicious burger, this newer restaurant just outside the main city of Atlanta is the perfect stop.
Burger Crush features a menu of smash burgers and classics, plus fries and milkshakes too.
You can order the Smash burgers in a single, double, or triple stack or opt for one of their more classic specialty burgers instead.
They even feature a burger of the day which is always worth a try. Make it a meal with fresh crinkle-cut fries and a thick shake. Burger Crush is a fast-casual stop for unforgettable burgers.
Location: 871 Concord Rd SE, Smyrna, GA 30080
The Companion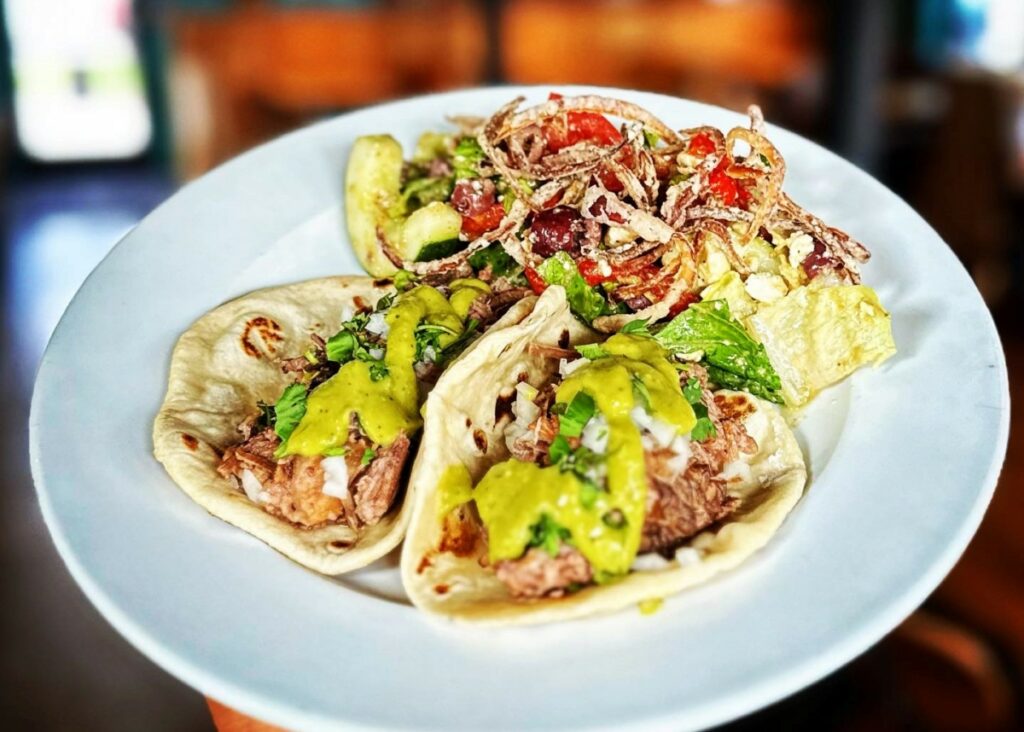 This unique bar in Atlanta also happens to serve a menu of delicious technique-driven comfort food. The Companion features a full bar and delicious cuisine, including their juicy fresh burger options.
They feature two on their menu, along with a classic patty melt. The Tower of Power includes classic toppings like bacon, American cheese, and thousand island dressing.
Their other creation is The Steinbeck which includes the same juicy patty only topped with pimento cheese, pickled jalapenos and bacon.
When you're craving a classic or an over-the-top burger, The Companion is the place to be.
Location: 2011 Hosea L Williams Dr. NE, Atlanta, GA 30317
Grindhouse Killer Burger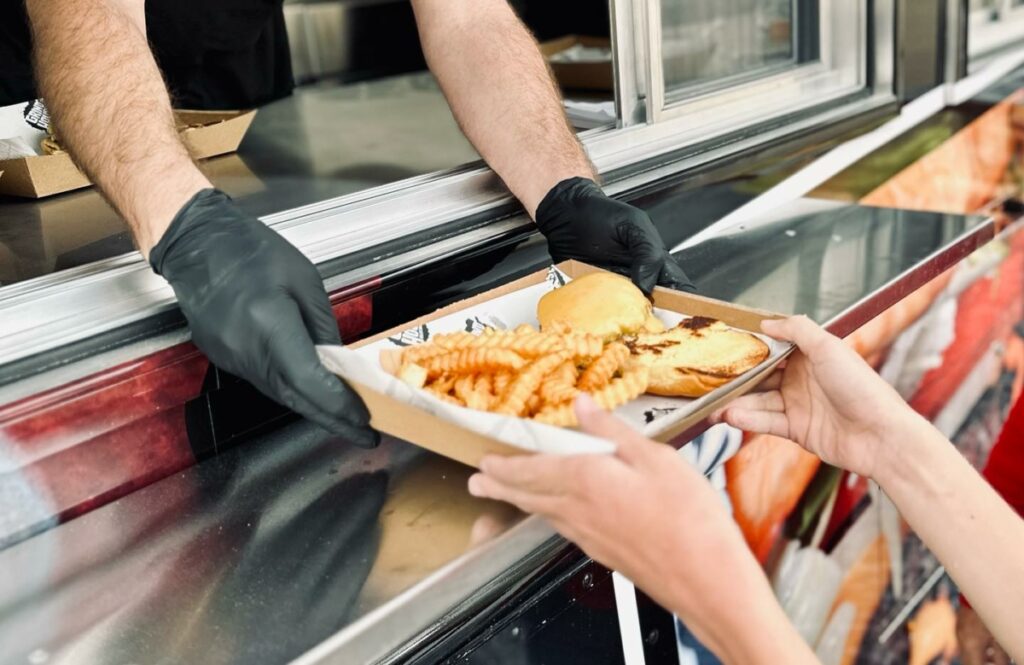 With multiple locations around the city of Atlanta, this burger shop offers multiple opportunities to enjoy their fare.
Grindhouse Killer Burger is all about the classic American burger but takes it a few steps further.
You can build your own, including choosing which grind of meat you'd prefer with options including beef, turkey, veggie, and even Impossible Burger.
Then choose all your favorite toppings from a large selection from cheeses to veggies, sauces, and even specialty items like chiles and bacon.
There's no burger restaurant quite like this one. Grindhouse Killer Burger will quickly become one of your new favorite stops.
Location: 1842 Piedmont Ave NE, Atlanta, GA 30324
Hero Doughnut + Buns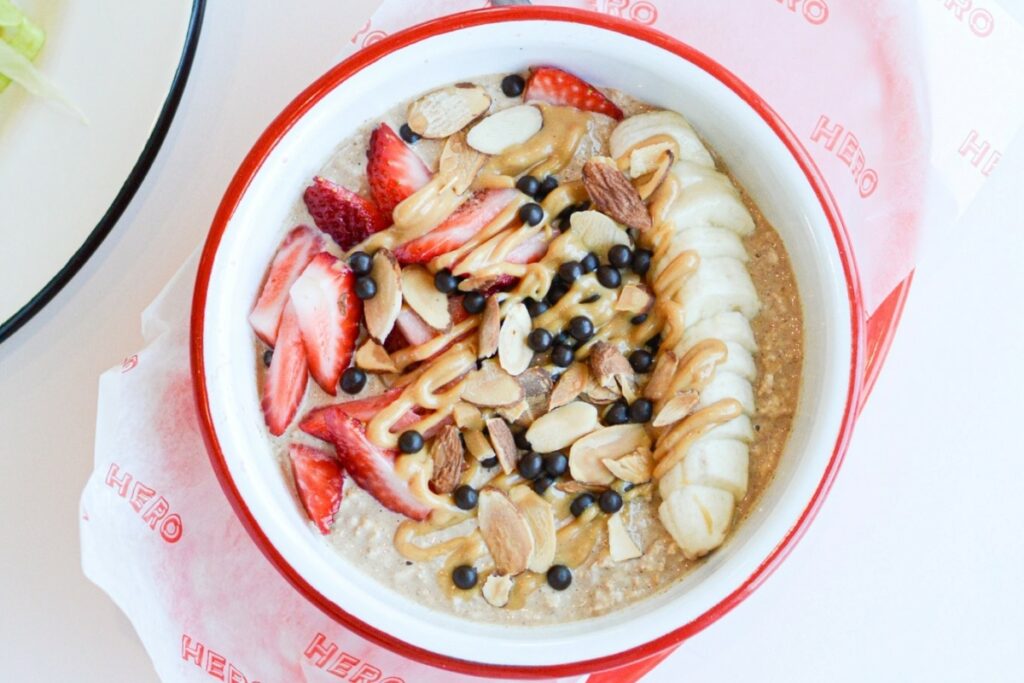 Sweet and savory is a classic flavor combination that nearly everyone loves, so why not try it out with burgers?
Hero Doughnut + Buns is a bakery and restaurant that creates some of the most delicious pastries along with entrees like their burgers.
No matter the time of day, this restaurant makes for the perfect stop. While they have plenty of mouthwatering doughnut choices available, you'll really want to save your appetite for one of their juicy burgers.
On the menu, you'll find three traditional beef burgers, all worthy of ordering. The dad burger comes with their juicy beef patty, then topped with pepper jack cheese, spicy mayo, and bourbon bacon jam.
Rather, keep it classic with their hero burger or the more classic American cheeseburger, both piled high with two patties and all the toppings. Hero Doughnuts + Buns is one spot creating burgers you'll crave.
Location: 33 Georgia Ave SE, Atlanta, GA 30312
H+F Burger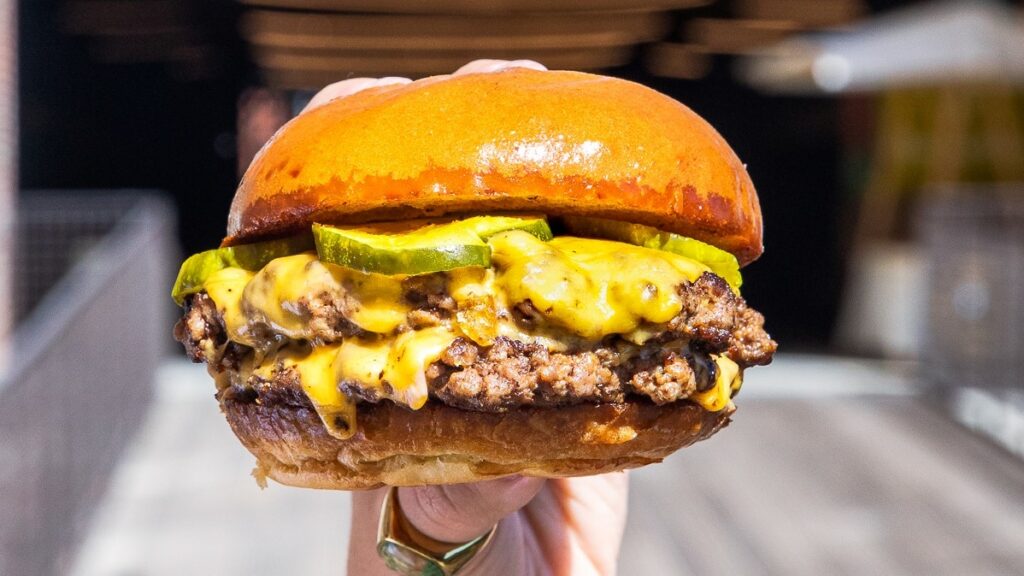 With three locations in the city of Atlanta, including one at Mercedes Benz Stadium, this is one burger restaurant you'll go back to over and over again.
H+F Burger serves up some of the best burgers in the city, including their signature double stack.
Here you'll find a quick counter service burger shop which is perfect for a quick yet delicious meal on the go or during the game.
The menu isn't too overwhelming, with just a few tasty burgers to pick from, with flavor combinations for nearly every taste.
They even feature a turkey burger and a veggie burger for those with dietary restrictions. You can't go wrong with a classic double-stack cheeseburger from H+F Burger.
Location: 675 Ponce De Leon Ave NE, Atlanta, GA 30308
Hopdoddy Burger Bar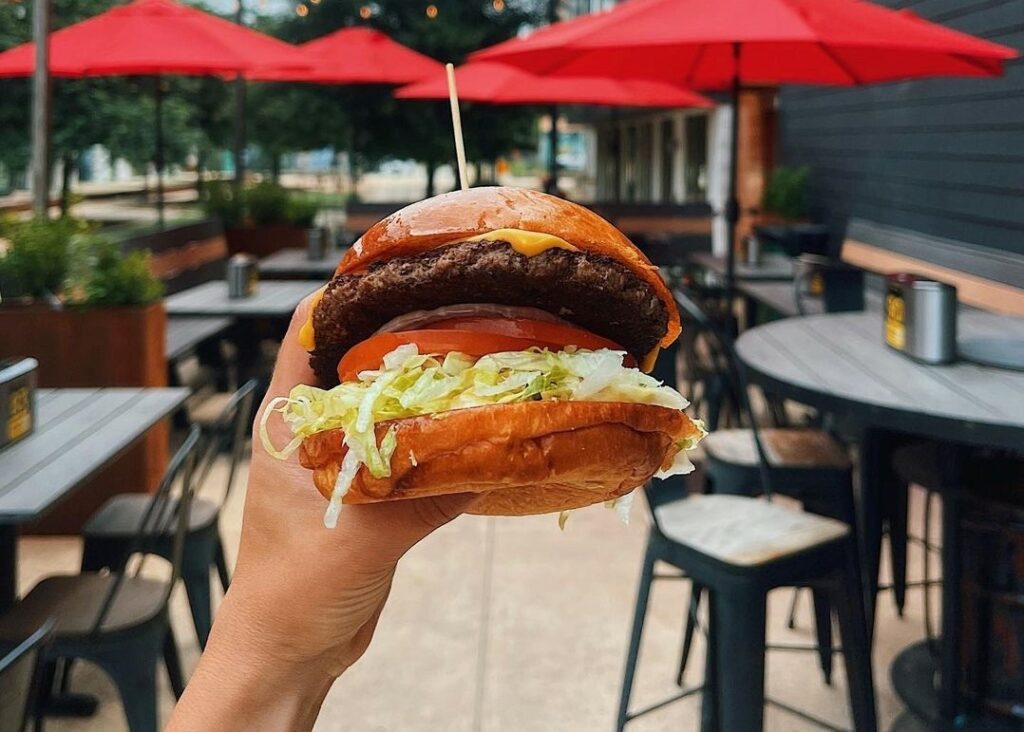 While this is a popular chain restaurant found all over the south, they always deliver delicious, freshly prepared burgers.
Hopdoddy Burger Bar features a unique menu of both classic burger options and more out-of-the-box creations.
Whether you're craving the traditional burger flavors of a juicy beef patty with lettuce, tomato, onion, cheddar cheese, and mayo or want to try something a little more unique, their menu delivers.
Go for their unique ahi tuna burger or their bison patty, both topped with complimentary ingredients. No matter what you indulge in, you won't be disappointed by a burger from Hopdoddy Burger Bar.
Location: 2470 Briarcliff Rd NE Suite 47, Atlanta, GA 30329
Lucky's Burger + Brew
Here you'll find a dog-themed neighborhood bar and restaurant that serves up some of the best burgers in the city.
Lucky's Burger + Brew features a menu of specialty burgers along with the option to build your own so you can fix any craving.
No matter if you're craving a classic cheeseburger piled high with your favorite toppings or want to try something a little more over-the-top, they've got you covered.
When you decide to try something a little more unique, their featured burger includes a fried pimento cheese ball and spicy red pepper jelly atop a juicy beef burger.
Wash it down with a cold draft beer, Lucky's Burger + Brew might just become your new favorite go-to.
Location: 305 Brookhaven Ave #1250, Brookhaven, GA 30319
NFA Burger
Find this unbelievable burger joint tucked inside a suburban gas station. NFA Burger is a counter-serve spot where they prepare juicy fresh, crave-able burgers.
This unique burger stop has even been named as the state's best burger by Food + Wine Magazine, so you can be sure it's well worth the stop.
The menu is simple; no crazy topping combinations here. However, you can order a delicious classic beef patty in a single, double, triple, or quad stack and pick from a number of classic toppings to pile on.
These hefty burgers are unforgettable and will keep you coming back for more after just one bite. Be sure to check out NFA Burger in Atlanta.
Location: 5465 Chamblee Dunwoody Rd, Dunwoody, GA 30338
Slutty Vegan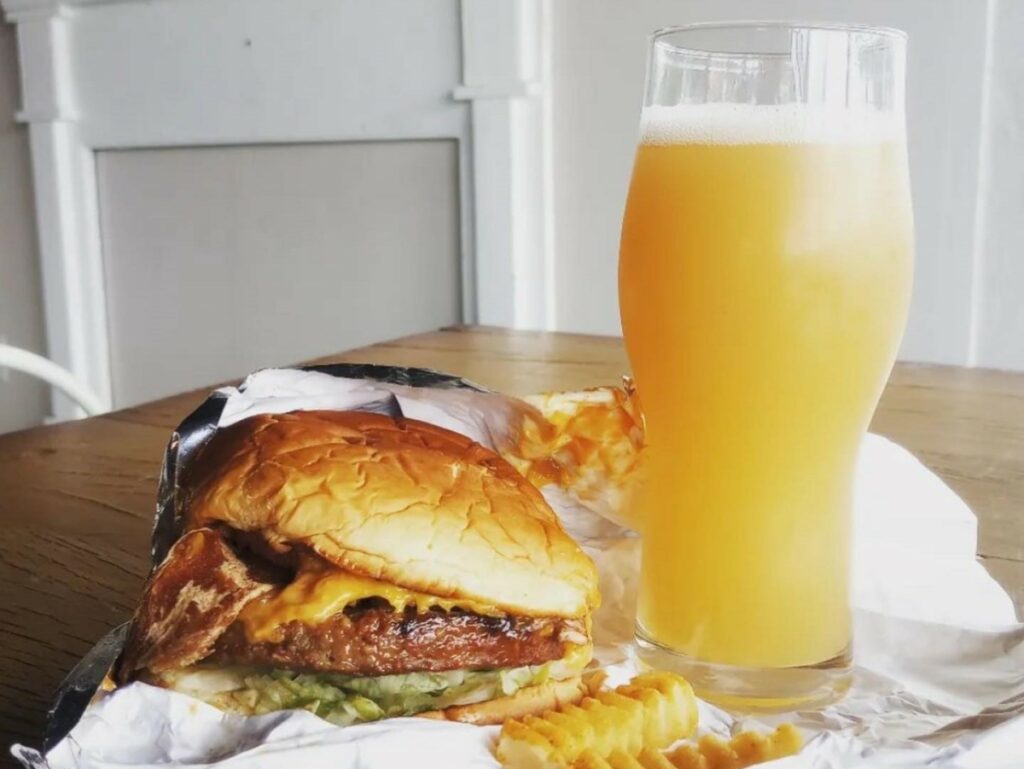 Just because you've given up eating meat and animal products doesn't mean you can't enjoy a classic hamburger.
Slutty Vegan in Atlanta is a completely plant-based restaurant serving delicious fare including burgers. All these devourable burgers come piled high with fresh toppings and a side of slutty fries.
These plant-based foods are delicious and will kick all your classic cheeseburger cravings. Vegan patties, vegan bacon, and vegan cheese.
What more could you ask for? Slutty Vegan is well worth a trip – even if you don't eat plant-based.
Location: 476 Edgewood Ave SE Atlanta, GA 30312
The Vortex
This local Atlanta restaurant will quickly become one of your favorites with a tasty menu and rock n roll vibes.
The Vortex is an adults-only bar and restaurant that focuses on their delicious burgers and bar food that make for the perfect combination any night of the week.
Since 1992 they've been known as the godfather of burgers in Atlanta, and after just one bite, it's likely you'll agree.
Not only is there a weekly burger special that features over-the-top flavor combinations, they have a huge selection of burgers from classic to extravagant.
No matter what toppings you're craving, the burgers at The Vortex will be exactly what you need.
Location: 878 Peachtree St NE, Atlanta, GA 30309
Final Thoughts
Grab a group of friends or stop by during lunch. Either way, these burger spots in Atlanta won't disappoint.
Amar was born and raised in England and embarked on an 11-country round-the-world gap year after graduation and then became well and truly hooked. The first gap year inspired a second, which ended up being a 23-country down-the-world trip from Canada to Antarctica. Since then, Amar has spent the last 14 years traveling the 7 continents.