When you need a midday pick-me-up, there are plenty of spots around the city that will satisfy all your lunchtime cravings.
The Best Lunch in Houston
The Breakfast Klub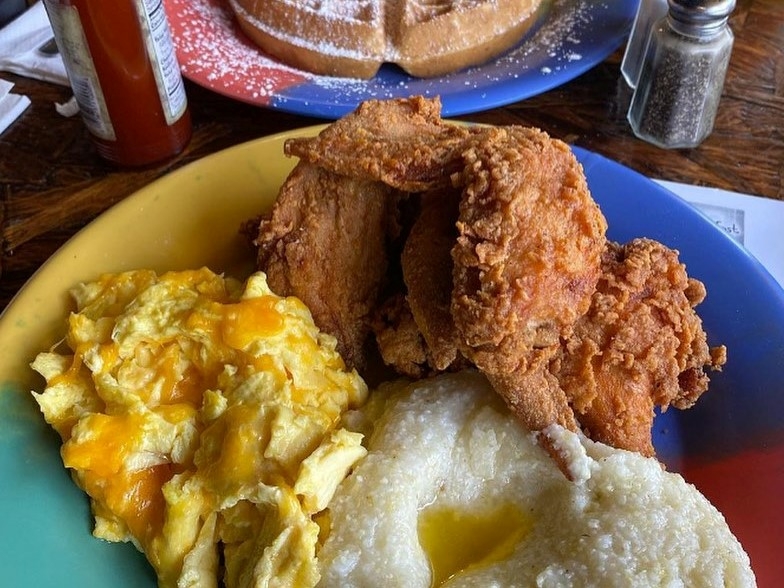 There are no rules to say that breakfast cuisine can't also be enjoyed for lunch, and this Houston spot fully believes that.
The Breakfast Klub is a popular diner spot with a menu of American eats and hearty soul food creations.
Open until 2pm on the weekdays makes this the perfect spot to enjoy a late breakfast or your favorite morning meals in the early afternoon.
They've even been voted as the best breakfast in Houston three years in a row by the Houston Chronicle.
Chicken and waffles, grits, sandwiches, salads and so much more. No matter what you're craving, The Breakfast Klub will deliver.
Location: 3711 Travis St, Houston, TX 77002
Common Bond Bistro + Bakery
Lunch doesn't always have to be a filling, hearty meal that leaves you wishing for a nap.
Common Bond Bistro + Bakery is a rustic-chic cafe that specializes in seasonal dishes and delicate pastries.
Here you'll find delectable plates that give the classic midday meal new life.
Chefs here prepare surprising dishes, including items like pork belly deviled eggs to share or the Mediterranean salmon power bowl.
Filling while still being light, so you're ready to take on the second half of the day. Common Bond Bistro + Bakery makes the perfect addition to your weekly lunch routine.
Location: 1706 Westheimer Rd, Houston, TX 77006
Da Gama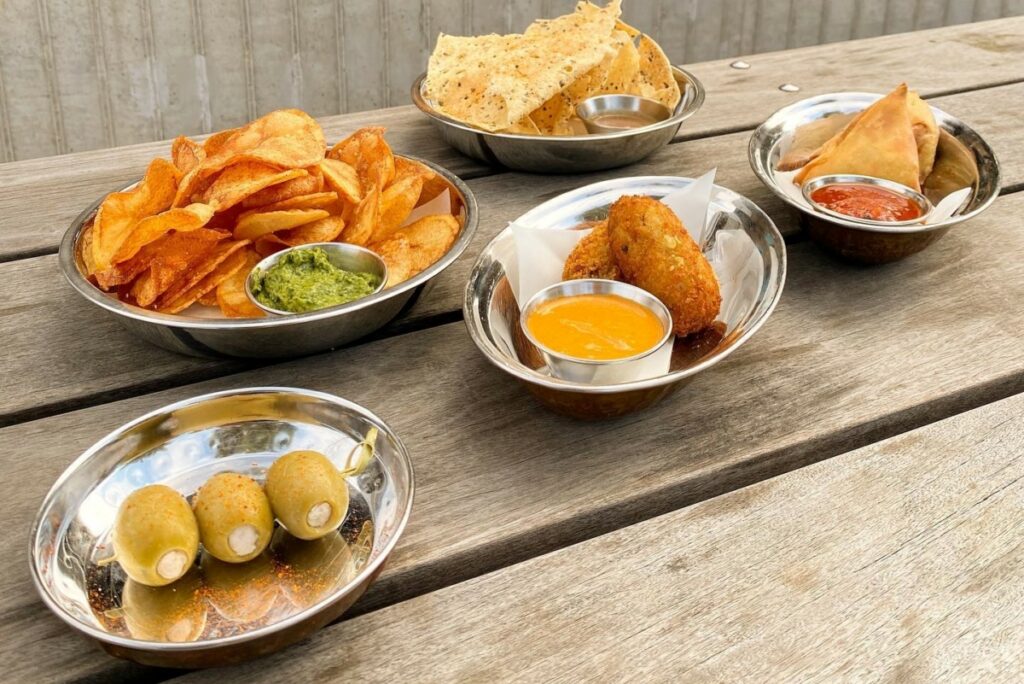 Here you'll find a stylish eatery featuring a unique fusion menu in a canteen-style space.
Da Gama prepares a delightful menu inspired by both Portuguese and Indian flavors to create unforgettable meals.
No matter if you're craving something fresh from the garden, like masala hummus or veggie samosas, or something more savory like lamb kebabs, they have you covered.
House-made bread and curries can also be found, all prepared with care and just the right blend of spices. Da Gama will make lunch more interesting and will become your midday getaway from real life.
Location: 600 N Shepherd Dr. Suite 520, Houston, TX 77007
Feges BBQ Spring Branch
With two locations in the city of Houston, you'll have double the opportunity to indulge in this BBQ menu.
Feges BBQ in Spring Branch is one of their spots where you'll get to enjoy the menu that combines traditional flavors with more modern interpretations and techniques.
Previously mentioned in multiple national publications, it's no surprise that they serve some of the best BBQs in the city.
You'll get to fill a platter with fresh smoked meats like brisket or whole hog and then add on traditional sides like cornbread or macaroni salad.
Top the meal off with something sweet or a cocktail from the bar, and you'll see why Feges BBQ is one of the best choices for lunch.
Location: 8217 Long Point Rd, Houston, TX 77055
Gatlin's Fins + Feathers
In a state well known for its BBQ, sometimes you're craving food that doesn't come from a smoker.
Gatlin's Fins + Feathers features a menu that focuses more on seafood and chicken dishes. This neighborhood destination is a great choice when you're craving gulf-coast cuisine for lunch.
Craving-inspiring, this menu will have you hooked from the first bite. Start with a shareable like their famous buttermilk biscuits served with seasonal jam before moving on to the main course.
Oysters, soups, salads, fried catfish, chicken tenders and so much more. After just one trip, Gatlin's Fin's + Feathers will quickly become your new go-to for a tasty lunchtime meal.
Location: 302 W Crosstimbers St, Houston, TX 77018
Lucille's

Take a step back in time on your next lunch break by indulging in this traditional cuisine. Lucille's is a tribute to culinary excellence that started almost a century ago.
Now you'll find this locally owned restaurant tucked into a cozy vintage house where they serve up a menu of Southern classics transformed with more modern takes.
These refined dishes will impress and keep you coming back for more. This lunch menu will impress coworkers, family, or friends and makes for the perfect backdrop to celebrate mid-day.
No matter what you order, you won't be disappointed, so make sure to plan a lunch at Lucille's in Houston.
Location: 5512 La Branch St, Houston, TX 77004
Niko Niko's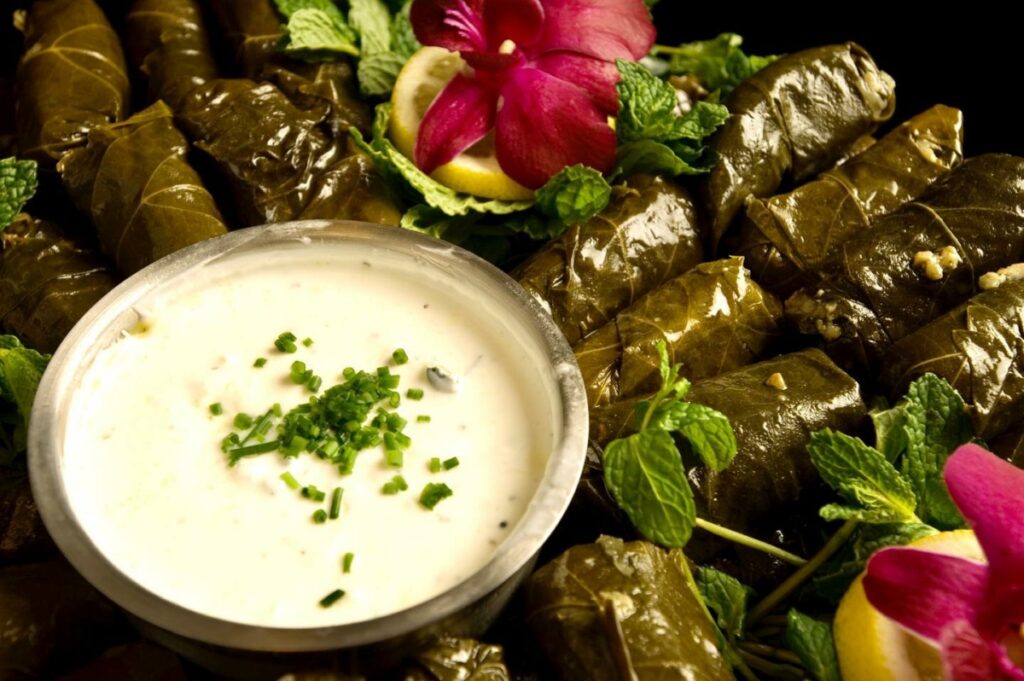 With three locations in the city, they give you plenty of opportunities to indulge in their menu for lunch. Niko Niko's in Houston features delicious and hearty portions of Greek food.
This eatery is casual, making it a great and easy stop for a midday meal, but they serve up a menu that will impress.
Voted as one of the best Greek restaurants in the city, their menu is sure to fulfill all your cravings. Start with hummus or small spanakopitas before moving on to your entree.
Salads, soups, sandwiches, seafood, and more, no matter what you're craving, Niko Niko's will have something you'll love.
Location: 2520 Montrose Blvd, Houston, TX 77006
The Original Ninfa's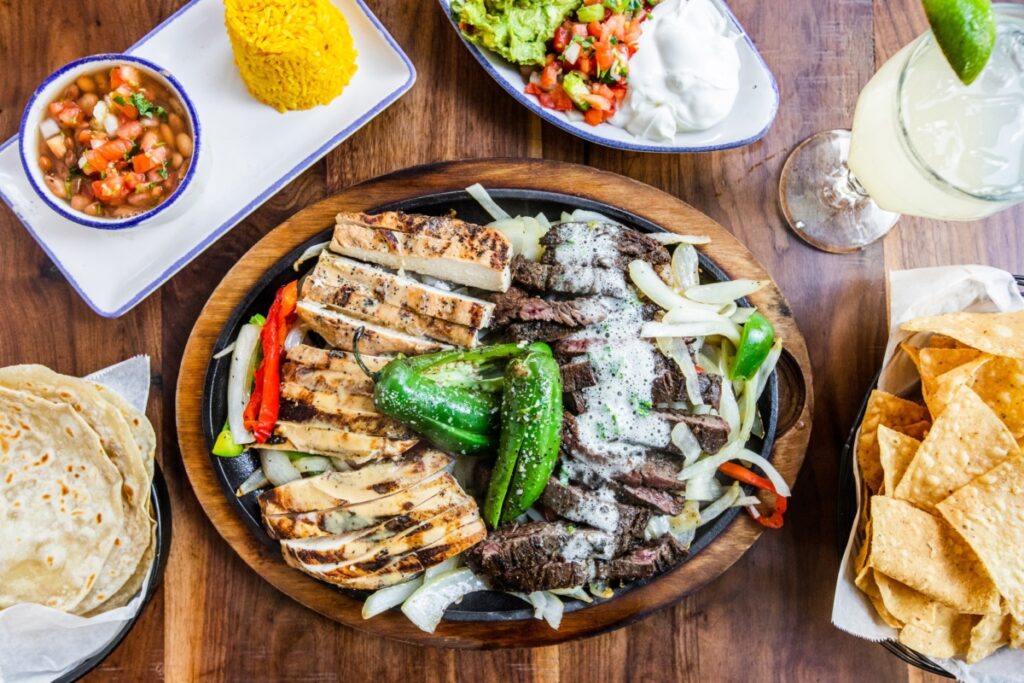 Here they claim to serve the best Mexican food in the state since Texas was part of Mexico.
The Original Ninfa's serves up a delicious and unforgettable menu that includes some of the most authentic Mexican eats in Houston.
Start with an appetizer like chile con queso or ceviche before moving onto a more hearty plate-like Texas redfish tacos, chicken tamales, seafood enchiladas, or so many more delectable items.
You'll be impressed and back more often when you dine at The Original Ninfa's for lunch.
Location: 2704 Navigation Blvd, Houston, Texas 77003
The Pit Room
Being in Texas means BBQ is found everywhere, and it always makes a good choice for lunch. The Pit Room in Houston features a menu of central-Texas-style BBQ plus tacos and desserts.
Hand-crafted and expertly sourced, this makes for a savory and hearty lunch that will be the perfect addition to any day.
Pick from smoked brisket, sausage, pulled pork, or more before adding on a side like mac n cheese or green beans.
Plus, you can order a la carte tacos, chili, and other tasty eats. The Pit Room has offerings perfect for lunch that will keep you coming back for more.
Location: 1201 Richmond Ave., Houston, TX 77006
Tiny Boxwoods
When you're looking for a more upscale lunch location for a leisurely weekend meal or when you need to impress a client, this is the place.
Tiny Boxwoods features an airy garden cafe vibe plus a menu of light fare perfect for a midday bite.
Start with a shareable like their charcuterie board or wood-fired artichokes. Then indulge in something a little more hearty, like the turkey avocado club or grilled cheese and pesto.
They have a separate menu of items to snack on if you show up late in the afternoon for lunch. Tiny Boxwoods will quickly become a go-to when you're looking for more refined and light fare midday.
Location: 3614 W Alabama St, Houston, TX 77027
Final Thoughts
Grab a friend on the weekend or a coworker any day of the workweek and head to these Houston restaurants offering up the best lunch options.
Amar was born and raised in England and embarked on an 11-country round-the-world gap year after graduation and then became well and truly hooked. The first gap year inspired a second, which ended up being a 23-country down-the-world trip from Canada to Antarctica. Since then, Amar has spent the last 14 years traveling the 7 continents.