So many people take a round the world flight on their travels but researching and finding your own can be a bit of daunting experience. There are so many options, things to consider and routes you could take. I learnt some lessons from my gap year and to make it easier for you we've created this guide to aid in your gap year planning.
What Is a Round the World Ticket?
A round the world ticket or flight (commonly shortened to RTW) is one of the cheaper ways to travel internationally. Rather than buying individual flights to multiple countries you buy one ticket covering multiple destinations over a period of time. RTW tickets usually cost less than if you were to buy the flights separately and more than a return long haul flight e.g. a return trip from London to Sydney. How much more depends on the amount of miles and destinations you plan on visiting.
Is a Round the World Ticket a Good Idea?
Our short answer is yes. The tickets aren't cheap to buy in one go but for visiting multiple countries and getting all the way round the world, a cleverly put together ticket will provide tremendous value for money. The tickets are also valid for a year and you can change your flight dates within that year.
For example I was due to fly to Sydney from Singapore but pushed back my flight because I wanted longer in Asia. Also don't forget that if you're going to be travelling on all of those planes there are plenty of Frequent Flyer Miles to be had. Check out our interview with a frequent flyer miles expert to learn some insider secrets.
If you are planning on a RTW ticket there are some big flights ahead of you so be sure to consider your long flight essentials.
How Much Does a Rtw Ticket Cost?
There are many variables that affect the cost of a RTW Flight which include; which class of travel you fly in, the total mileage (on Star Alliance), how many segments travelled or continents you visit, the number of stopovers and the countries you visit. Round the World tickets can start from £1250+ for something basic such as UK > Dubai > Auckland > Los Angeles > UK and rise in cost along with complexity.
Round the World Ticket Providers
Round the world tickets aren't 'universal'. Groups of airlines get together in an airline alliance to offer round the world tickets. Here's the low down on the two major players…
Star Alliance – The oldest and biggest airline alliance including 28 airlines covering 195 countries and 1,328 destinations. They have some really useful tools for planning a round the world trip including their route map (this tool is dynamite and a must see) and Star Alliance Navigator App. On this ticket you can have up to 16 flights and 15 stopovers. You must start and finish in the same country. Passes are either up to 29,000, 34,000 or 39,000 miles. There is also a Starlite Economy-only fare which is up to 26,000 miles. You can go backwards within a region e.g. Fly from Singapore to Sydney, Sydney to Perth, Perth onwards to Auckland (but you couldn't go back on yourself to Africa). Backtracking and travelling overland (also known as a surface sector) all count towards your mileage total.
Here's an example of the route map and why it's so useful.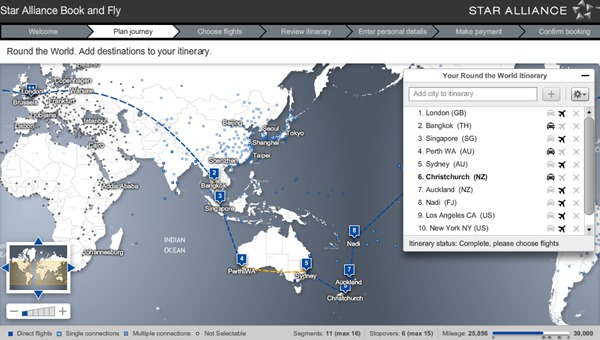 Here's a round the world journey I put together using the tool. It comes in at 25,856 miles (just snuck under the 26,000 mark). It also includes two overland sections; Bangkok to Singapore and Cairns to Sydney. Using this tool allows you to optimise your route to fit under the mileage bands.
OneWorld – Is a 12 airline alliance including the likes of British Airways and American Airlines. This alliance has access to over 150 countries and 800 destinations. They offer two different types of round the world tickets; oneworld Explorer and Global Explorer.
The oneworld Explorer is a continent based round the world ticket. The ticket cost is based on your class of travel and the number of oneworld continents you visit or pass through, (this includes your continent of origin and any continent in which you transfer). All flights must be booked within 330 days of the original booking date and like Star Alliance, your trip must conclude within 12 months from your start date. You are able to make changes to your itinerary before and during your trip (please note there may be a fee). You may travel within a continent in this ticket but you must travel from continent to continent in one direction and only cross the Atlantic and Pacific oceans once.
Other things to note are that you are only allowed two stop overs in your country of origin. Tickets are offered between three and six continents but three continent tickets are only available in the northern hemisphere. Travelling overland between two airports counts as one flight segment (you are allowed 16 segments) but the major benefit is there are no mileage restrictions!
Example oneworld Explorer four continent itinerary: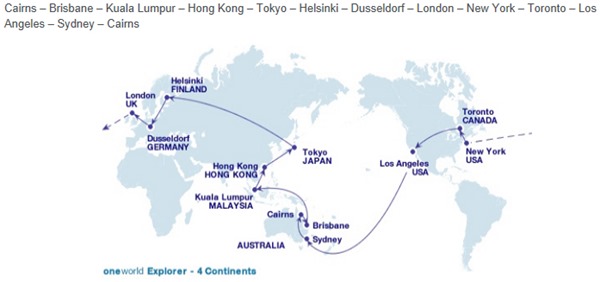 The Global Explorer ticket by OneWorld opens up a few more doors. The oneworld Explorer ticket is restricted to the 12 full members of the OneWorld airline alliance. However, the Global Explorer ticket includes a bunch of other airlines such as Fiji Airways, Jetstar and Qantas code share flights to bring you more scope. The Global Explorer ticket is also a mileage based fare.
Tier 1: Up to 26,000 miles (economy class only)
Tier 2: Up to 29,000 miles (economy class only)
Tier 3: Up to 34,000 miles (economy, business or first class)
Tier 4: Up to 39,000 miles (economy class only)
As the previous ticket, you can have up to 16 flight segments of which overland travel between two airports counts as a segment and the mileage is included. This is also a 12 month ticket and all destinations you wish to travel to must be stated when you buy your ticket.
Example Global Explorer 34,000 mile itinerary: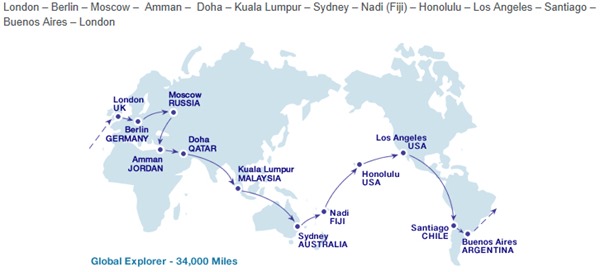 Round the World Flights – Don't Be Restricted!
There are two things worth remembering about RTW tickets. Surface sectors means you get to travel overland… any way you like. This means you can travel around one region and don't have to worry about going back on yourself. For example, on my own Gap Year I flew into Christchurch and did the Kiwi Experience around New Zealand, finishing in Auckland and then went on to Fiji. I also selected a surface sector between Bangkok and Singapore. To get there I did a loop through South East Asia, taking in Northern Thailand, Laos, Vietnam (didn't make it to Cambodia, long story), Malaysia and then got to Singapore to catch my flight to Sydney.
Round the World Flights and Budget Airlines
Air alliances don't include budget airlines but this doesn't mean that you should forget them! I was sat in a hostel in Singapore (The InnCrowd in Little India, great place) and I didn't quite feel like I was done with Asia yet. Sure, I was excited about flying on to Australia but I couldn't shake that feeling I had something left to do. I'd already done everything I wanted to north of me so what else could I do? I started looking at Indonesia but much of it was still recovering from an earthquake. I found myself on the Air Asia page and they were having a flash sale on flights from Singapore to Bali… it worked out to being £30 return!! So I pushed back my flight, which you can do on round the world tickets, and flew to Bali to surf and party for a week. I then flew back to Singapore and the next day got on my flight to Australia. Budget airlines really open doors for you when you want to fly within a country or region.
My own round the world ticket included a flight into Sydney and out of Melbourne. What happened in reality is I travelled up the coast, flew from Cairns to Melbourne, back to Sydney, flew to Adelaide and then finally to Melbourne to fly to New Zealand. Imagine if I'd tried to include those flights into my round the world ticket?! It would eat up the mileage!
Here are a few budget airlines to consider in your round the world plans. Fly into somewhere on your round the world ticket but then use local budget airlines to visit some other places.
Europe: Ryanair, Easyjet, Wizz Air, FlyBe
USA: Southwest, Spirit, JetBlue
Asia: Tiger, Air Asia
Australia: Tigerair, Jetstar
Africa: Mango, Kulula
The easiest way of searching for these flights are by using SkyScanner. It's a flight aggregator which means you can search for flights with multiple airlines in one go making it a very convenient tool.
Round the World Ticket Inspiration
There are so many options for round the world flights so to get you started as to what's possible here are a few examples:
London, UK – Bangkok, Thailand – Singapore – Sydney, Australia – Melbourne, Australia – Christchurch, New Zealand – Auckland, New Zealand – Fiji – Los Angeles, USA – New York, USA – London, UK
London, UK – St Petersburg, Russia – Hong Kong – Sydney, Australia – Cairns, Australia – Melbourne, Australia – Auckland, New Zealand – Fiji – Los Angeles, USA – San Francisco, USA – London, UK
London, UK – New York, USA – overland – Los Angeles, USA – Nadi, Fiji – Sydney, Australia – overland – Australia, Darwin – Singapore – overland – Bangkok, Thailand > London, UK
London, UK > Rio, Brazil – overland – Santiago, Chile – Auckland, New Zealand – overland – Christchurch, New Zealand – Melbourne, Australia – overland – Darwin, Australia – Singapore – overland – Bangkok, Thailand, London, UK
Alternatives to a Round the World Ticket
An alternative to buying a round the world ticket is to buy a multi stop ticket. AirTreks is a great company that does this.
AirTreks puts together Round the World tickets and multi-destination international trips by combining multiple tickets together for you into a ticket package. They get discounted tickets directly from the airlines and work with consolidators from all over the world to create a custom ticket package. This is of course different from air alliance tickets that are based on mileage or number of continents you plan on visiting.
Tickets are discounted but you will need to nail down specific dates for your journey.Whilst that may sound restrictive these tickets can be more flexible. For example, you can travel for as long as you want. Tickets can be only be booked up to 330 days in advance (as this is how far in advance they are released by the airlines) but you can always buy half of your tickets before you leave and the rest when you are on the road, thus avoiding the 12 month restriction placed on you by round the world tickets. There is also the added benefit that AirTreks aren't restricted to a group of airlines like an alliance is. They can search for cheap and direct flights from any airline. Finally, with this type of ticket you aren't restricted to a certain amount of stopovers in a given region and you won't have any backtracking issues.
It's worth checking out AirTreks if you don't want to go round the world but circle a few continents and then head back. This is also a creative option if you have a non-traditional route in mind.
Round the World Flight Bonus Tips
Try to avoid flying at peak times such as the two weeks around Christmas and New Year. If you're going to China, consider things like Chinese New Year and flying to a Muslim country around Eid will also see higher ticket prices.
Don't forget to sign up to a frequent flyer programme and gain those miles. Don't travel all the way to Australia and then realise you could have claimed a bunch of miles (like I did!)
Consider getting a credit card that gives you bonus frequent flyer miles for signing up and use that to purchase your flight.
Consider starting your round the world flight from another country. RTW pricing can be cheaper in places like Bulgaria, Sri Lanka or Thailand. Start from a different country and make sure that your home country is your penultimate destination and just don't take the final flight.
If you're a bit of a flashpacker, consider flying business class. The ticket might cost double of what an economy ticket is but compared to individually priced business class flights, it's a relative bargain.
Think about sneaking in once in a lifetime destination like Easter Island or somewhere random like Svalbard to see the northern lights. On their own flights to these places can cost a fortune but within a round the world ticket they just count towards your mileage.
Remember that with round the world tickets you have to finish in the same country, not the same city. So if you're American you could fly out of New York but finish in Los Angeles and buy a cheap domestic flight to get you back to New York. Why do this? You've just saved yourself 2,461 miles towards your total mileage!
Never skip a flight – You may find that all subsequent flights on your round the world ticket have been cancelled. You've been warned.
Don't forget to check all visa requirements for all countries you plan on visiting, including those you might visit during your overland travels. Also be aware that some countries will require you to have a yellow fever vaccination and have the appropriate paperwork.
I've found it helpful to book the first nights accommodation before you land in a new city. There's nothing like getting off a long haul flight from London to Bangkok on the first day of your gap year, heading to the Khao San Road and being disorientated, jetlagged with no idea where you are going.
Don't forget Gap Year Travel Insurance. I've always been a class act at winging it but this is one thing I plan ahead and purchase.
It'll be your moveable home for a year so invest in a top backpack and make sure you take everything you need by consulting our gap year packing list.
Amar was born and raised in England and embarked on an 11-country round-the-world gap year after graduation and then became well and truly hooked. The first gap year inspired a second, which ended up being a 23-country down-the-world trip from Canada to Antarctica. Since then, Amar has spent the last 14 years traveling the 7 continents.