Dallas is well known for many things, and after stopping at any of these restaurants, burgers will be one thing you will always remember about the city.
The Best Burgers in Dallas
Burger House
This long-running chain is known for its casual nature, fast service, and delicious burgers.
Burger House is in a lowkey setting, but there's nothing lowkey about the flavors they create while grilling classic American food.
Since 1951 they've been preparing homemade burgers that locals and visitors continue to love. They've won many awards for their menu, and after just a bit you'll understand why.
The menu is simple, not over-the-top but still filled with classic hamburgers and cheeseburgers you'll love.
You can even add chili on top for an added flavor experience. Burger House is beloved in the city of Dallas and will be one of your favorites too.
Location: 6913 Hillcrest Ave, Dallas, TX 75205
Chop House Burger
At this local hangout, you'll find a twist on the classic All-American burger joint.
Chop House Burger focuses on preparing their delicious burgers with locally-sourced beef and ingredients that create fantastic handhelds.
Along with classic burgers on their menu, you'll find plenty of specialty burgers when you're looking for something just a little beyond the ordinary.
The El Luchador includes pico de gallo, guacamole, and other Mexican-inspired ingredients atop the juicy beef patty.
Chop House Burger will quickly become one of your new favorite burger spots in Dallas.
Location: 1501 Main St, Dallas, TX 75201
Goodfriend Beer Garden + Burger House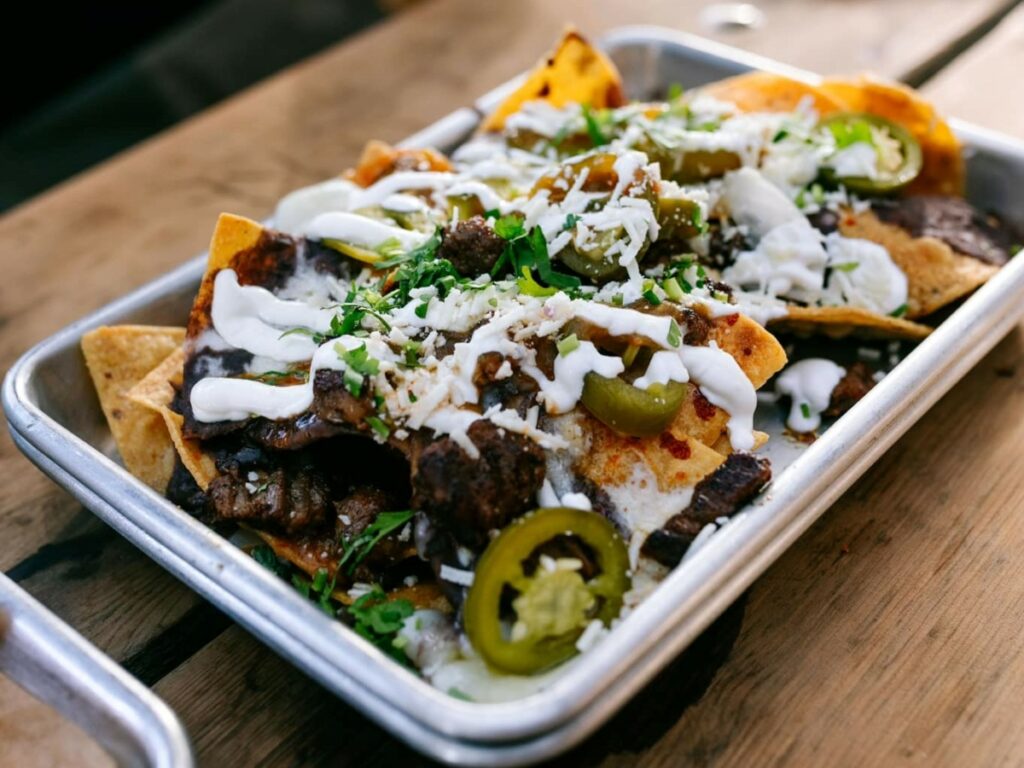 If you're looking for a new place to gather with friends and also enjoy a delicious burger, this is the place.
Goodfriend Beer Garden + Burger House is everything you've been looking for, with an open patio space, a vast beer selection, and juicy burgers.
They have plenty of options ranging from traditional cheeseburger to more unique burger toppings, so there's something for every taste preference.
Even find options like a turkey burger, veggie burger, and an impossible patty. Goodfriend Beer Garden + Burger House has everything you need to enjoy an excellent burger for any occasion.
Location: 1154 Peavy Rd, Dallas, TX 75218
Keller's Drive-in
What you'll find at this old-fashioned diner is a menu that matches the aesthetic with classic All-American fare.
Keller's Drive-In still features real drive-in service with carhops available to take your order after you pull up.
This lively restaurant is the perfect spot in Dallas to indulge in a classic American burger, as they make some of the best.
In between unique seed-covered buns, they place as many juicy patties as you'd like with cheese and all your favorite toppings.
Keller's Drive-In is a blast from the past that you'll go back to over and over again.
Location: 6537 E Northwest Hwy Dallas, TX 75231
Liberty Burger
Within the Forestwood Shopping Mall in Dallas, you'll find this fantastic burger restaurant. Liberty Burger is well known by locals for its seasonal and artisanal burgers.
No matter what you like to eat on top of your burger, they've got specialty burgers that will satisfy the craving. They may even feature a few unique menu items you've never tried before.
Other than their classic cheeseburger topped with fresh veggies, they also feature burgers made from ahi tuna or black beans.
The menu also includes juicy beef patties topped with items like fried hashbrowns, feta cheese, and avocado. Liberty Burger has just what you need to satisfy a burger craving.
Location: 5211 Forest Ln, Dallas, TX 75244
Maple + Motor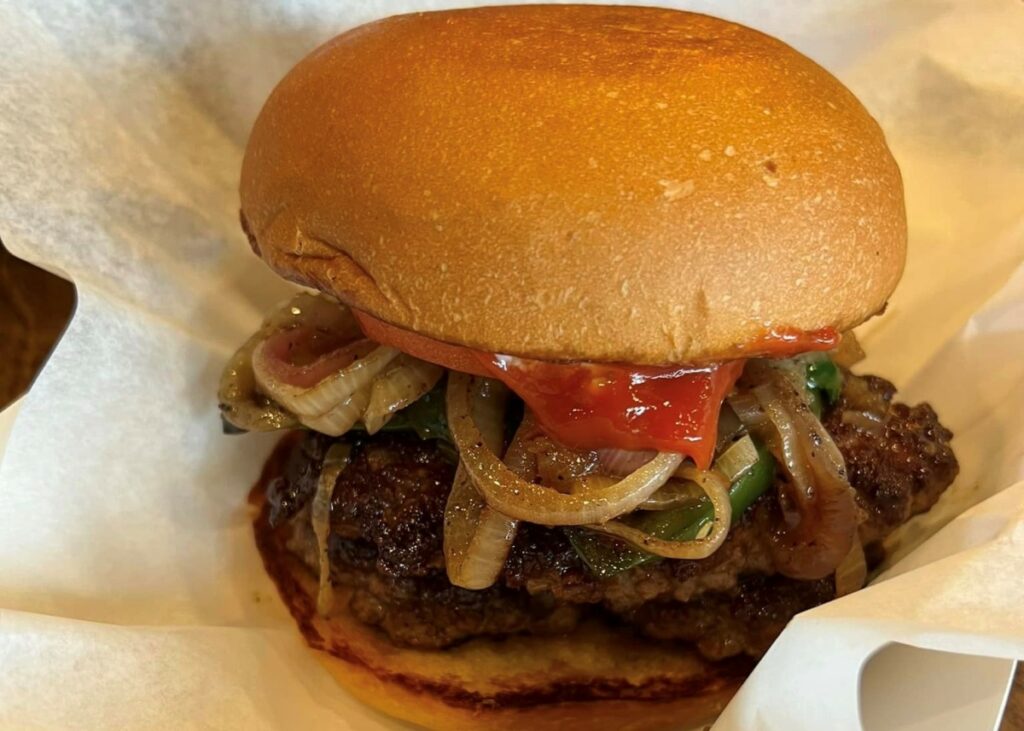 Set in a renovated former gas station, you'll find this popular Dallas restaurant. Maple + Motor serves an array of sandwiches but is best known for its juicy burgers.
Here they keep the menu simple and small; no need to complicate something they've already perfected.
When it comes to burgers, you'll find a finely ground American beef patty dressed in lettuce, tomato, onion, mustard, and pickle, with or without cheese.
These patties are served on a hot toasted bun. These classic handhelds from Maple + Motor are all you need when you're craving a burger.
Location: 4810 Maple Ave, Dallas, TX 75219
Meridian
When you're hoping for an upscale night out but still want to indulge in a classic American meal like a burger, this is the place to go.
Meridian is a patio dining spot that showcases cocktails and Brazilian-inspired meals, including their delicious burger.
On the menu, you'll find the X-Tudo burger, which features rosewood wagyu beef and various Brazilian-influenced sauces and toppings served with a side of yuca fries.
Take your burger experience to the next level and a different country with a meal at Meridian.
Location: 5650 Village Glen Dr, Dallas, TX 75206
Sky Rocket Burger
When you're craving a burger and a burger only, this is the Dallas spot to go. Sky Rocket Burger serves a simple menu of Angus-beef burgers with a large assortment of toppings options.
Order these juicy patties in single, double, or triple stacks, and they even feature a vegan option.
After deciding how many patties you want, add on your favorite sauces, veggies, cheese, and specialty toppings like a fried egg or bacon.
However, you want to indulge in a burger, Sky Rocket Burger is here to make that happen.
Location: 111 S Hall St, Dallas, TX 75226
Son of a Butcher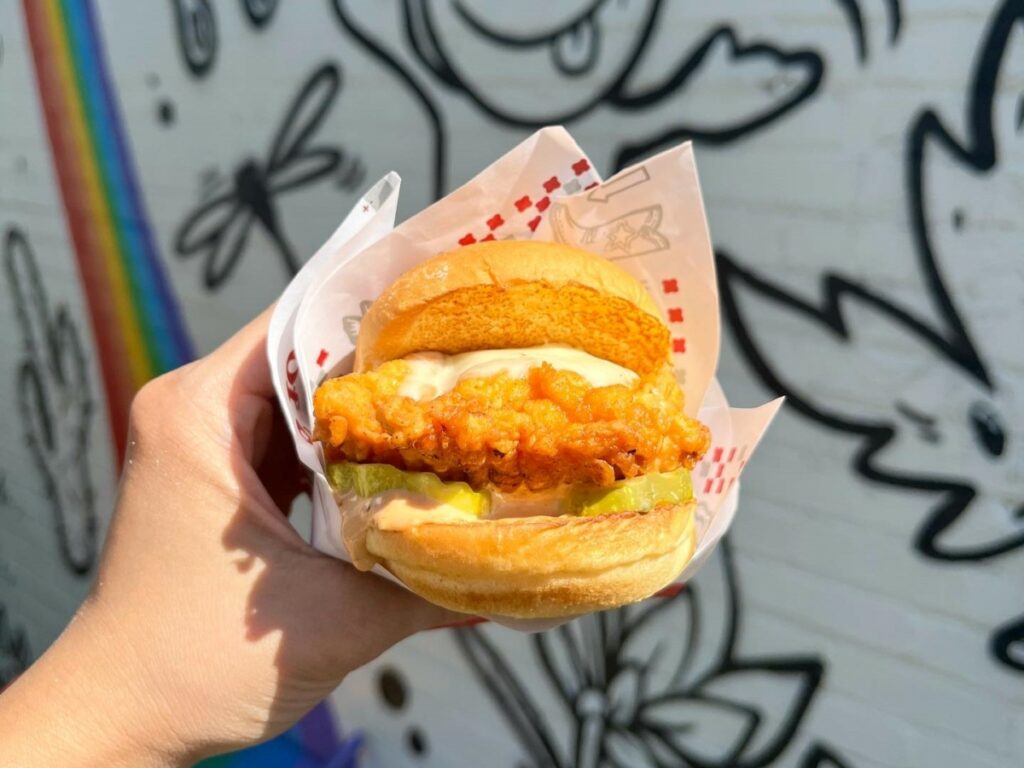 If high-quality ingredients are what you're looking for when it comes to burgers, this Dallas spot is the perfect go-to.
Son of a Butcher features a menu of locally-grown organic Wagyu beef that makes for the most juicy and delicious burger patties.
Instead of large burgers, here they focus on preparing tasty little sliders that make for the perfect meal. You can even order these in portions of a dozen in case you and some friends want to share.
Choose from classic cheeseburger toppings or from one of their more exotic choices.
Either way, you won't regret stopping into Son of a Butcher the next time you're craving a local burger.
Location: 2026 Greenville Ave, Dallas, TX 75206
Twisted Root Burger Co.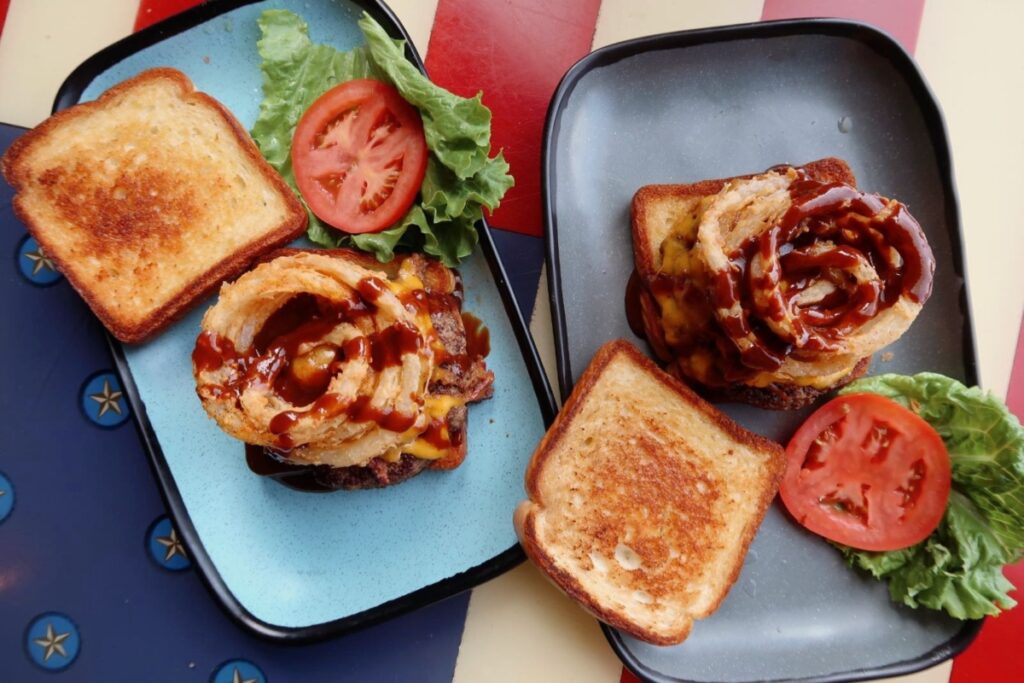 This local chain serves up some of the best burgers in the Dallas area, with multiple locations to dine at.
Twisted Root Burger Co focuses on preparing delicious beef burgers with a wide assortment of toppings to satisfy any craving.
The classic keeps it simple with a juicy grilled patty topped with American cheese.
When you're ready to step it up to something more hearty, opt for one of the more extravagant burgers like The Western with toppings including fried onion strings and jalapeno.
They even feature a vegetarian burger for those who don't eat meat. Twisted Root Burger Co is the perfect choice when you're looking for a tasty burger.
Location: 2615 Commerce St, Dallas, TX 75226
Final Thoughts
No matter what flavor combination you're craving, these Dallas burger joints won't disappoint.
Amar was born and raised in England and embarked on an 11-country round-the-world gap year after graduation and then became well and truly hooked. The first gap year inspired a second, which ended up being a 23-country down-the-world trip from Canada to Antarctica. Since then, Amar has spent the last 14 years traveling the 7 continents.