Texas may be well known for their BBQ, but San Antonio should also be known for these killer burgers available all throughout the city.
The Best Burgers in San Antonio
Armadillos Texas Style Burgers
When you're craving a classic American burger with all the fixings, this is the spot to check out.
Armadillos Texas Style Burgers features old-fashioned burgers with an assortment of toppings and sides to fix your cravings.
With over 10 burger options to pick from, no matter what size or flavor combination you're in the mood for, they have it.
Almost all the burgers can be ordered in either ⅓, ½, or full 1-pound patties, with the exception of the giants, which come in 1 ½ or 3 lb sizes.
Be sure to save your appetite for a burger from Armadillos Texas Style Burgers.
Location: 2619 SE Military Dr, San Antonio, TX 78223
Benjie's Munch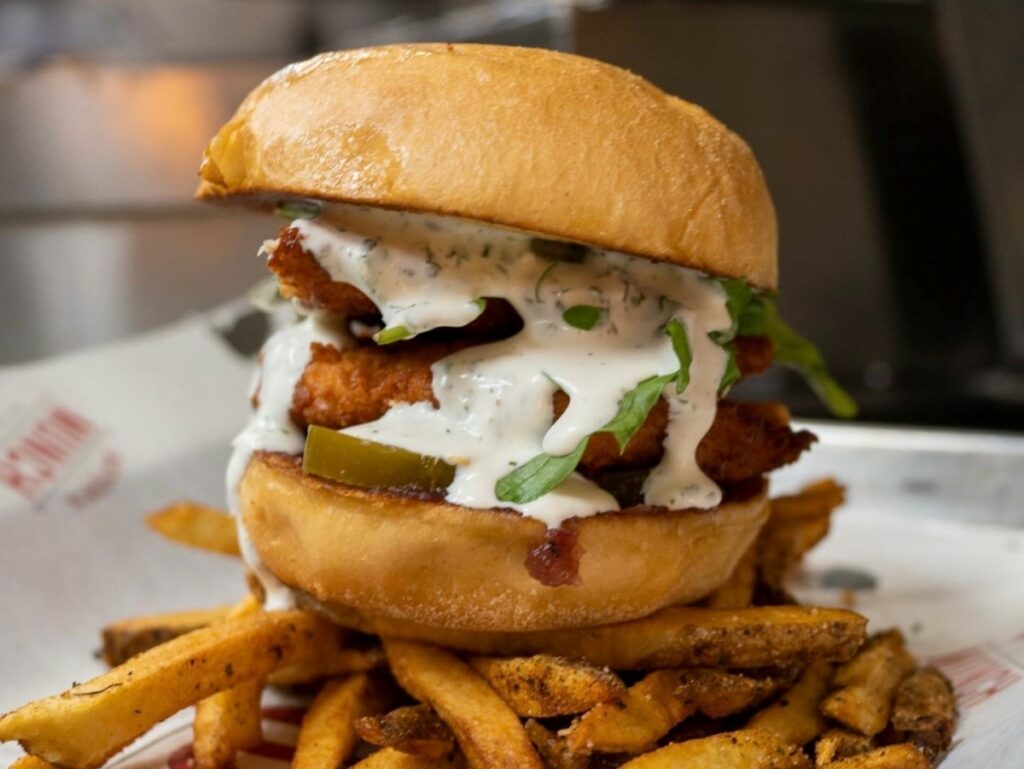 The perfect San Antonio location to grab some friends and indulge in a weeknight or weekend meal.
Benjie's Munch features a large menu filled with tons of options, from snack and share-sized portions to full individual entrees like their burgers.
While they feature an extensive array of handheld and other options, the burgers remain a must-have when you go.
All their patties are ½ lb hand ground Angus beef and come with a number of different topping combinations to kick your cravings.
An unforgettable option is their candied jalapeno bacon cheeseburger. No matter the occasion, Benjie's Munch is the perfect spot to indulge in a delicious burger.
Location: 1218 W Bitters Rd APT 107, San Antonio, TX 78216
Big'z Burger Joint

With multiple locations around the city of San Antonio, you have plenty of opportunities to enjoy their food.
Big'z Burger Joint creates juicy ½ lb burgers topped with all your favorite combinations of ingredients.
This family-friendly space is perfect for nearly any occasion, from weeknight to weekend, and for any group. You'll be impressed with the loaded burgers they prepare.
While the menu is simple, choose between 1, 2, or 3 patties, their chalupa specialty burger, or the beyond meat patty.
From there, they have an assortment of toppings and cheese options to make it your own. Big'z Burger Joint is easily one of the best burgers in San Antonio.
Location: 10106 TX-151, San Antonio, TX 78251
Bobbie's Cafe
Here you'll find a long-standing and humble restaurant that serves up breakfast, lunch, and dinner.
Bobbie's Cafe is a great choice in San Antonio when you're craving country-style food or a delicious juicy burger.
While they do have a classic American burger on the menu, they also have some stand-out options too.
The Zach Attack is a popular choice featuring the juicy beef patty between waffles instead of a traditional bun along with bacon, cheese, and a fried egg.
The Widow Maker is another favorite with a ½ lb burger loaded with toppings between two hot grilled cheese sandwiches. Bobbie's Cafe does not disappoint when it comes to burgers.
Location: 6728 S Flores St, San Antonio, TX 78221
Chris Madrid's
This long-standing eatery is a local favorite for its signature burgers and buns, plus other bar food. Chris Madrid's has been in business since 1977 and has no plans to slow down anytime soon.
On the menu here, you'll find unreal homemade burgers prepared to order, plus tons of specialty burgers you won't find anywhere else.
The Tostada Burger, complete with refried beans and salsa, is a popular option, while the original Cheddar Cheezy is always a favorite.
Chris Madrid's is a great choice in San Antonio to kick your burger cravings.
Location: ​​1900 Blanco Rd, San Antonio, TX 78212
Cheesy Jane's
In the heart of Broadway in San Antonio, you'll find this iconic mom & pop shop serving up a delicious menu.
Cheesy Jane's is well known for its classic American diner food, including its shakes and burgers.
You can find them at both their brick-and-mortar location as well as from their mobile food truck. Here you'll find nearly half of their menu dedicated to the grilled burgers they serve.
Go with the classic bacon cheeseburger, or go for something a little more adventurous, like their wurst burger topped with smoked kielbasa and BBQ sauce.
Cheesy Jane's will never disappoint when you're craving a burger.
Location: 4200 Broadway, San Antonio, TX 78209
Fatboy Burgers & Dogs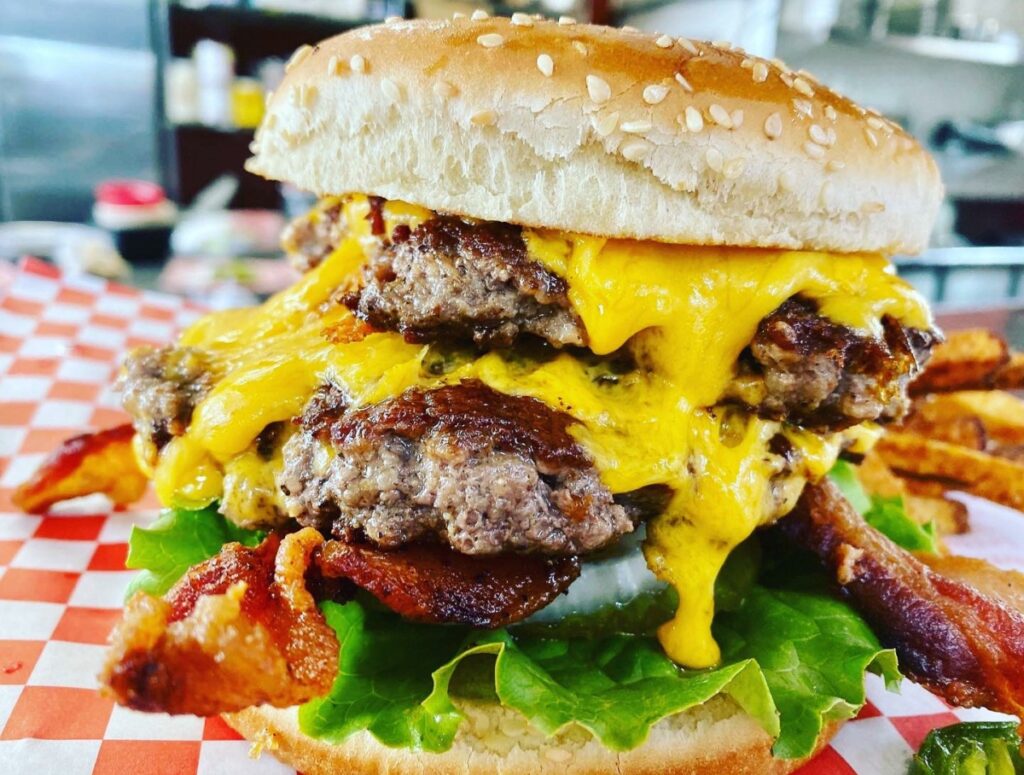 This casual and easy-going restaurant is the perfect choice when you're craving classic American eats.
Fatboy Burgers & Dogs is a premier family-friendly restaurant well known for their all-American cuisine.
Compared to other burger joints, they keep the menu simple with two burger options to pick from.
Either way, you go, you'll be able to add whatever toppings you want, and they'll prepare it fresh for you.
No need to complicate something that's already been perfected, and Fatboy Burgers & Dogs sure did perfect the burger.
Location: 2345 Vance Jackson Rd, San Antonio, TX 78213
Franklin Jack
Unlike most of the restaurants on this list with a brick-and-mortar location, this one comes to you in the form of a food truck.
Franklin Jack is one food truck you'll want to keep up with as they're serving some of San Antonio's best hamburgers.
Everything is made to order and fresh, plus they have some pretty wacky specialty burgers that might just become your new favorite.
Well known for their juicy signature burgers, they have plenty to pick from, including a Wagyu double burger and a bacon mac smash burger.
No matter what you're craving, this burger-centric food truck will be a go-to.
Location: Mobile Food Truck
Mad Mack's
This colorful restaurant is easy to spot, and you'll be back often after just one meal here.
Mad Mack's is a well-known, long-running spot where they serve up delicious classic hamburgers and cheeseburgers to satisfy all your cravings.
They've been called a must-stop for any burger lover, and after just one visit, you're sure to agree.
A couple of local favorites are the chalupa and the cowboy burger, but anything you order is sure to be great. The next time you're craving a classic, or creative burger, check out Mad Mack's in San Antonio.
Location: 2933 Roosevelt Ave, San Antonio, TX 78214
Muck + Fuss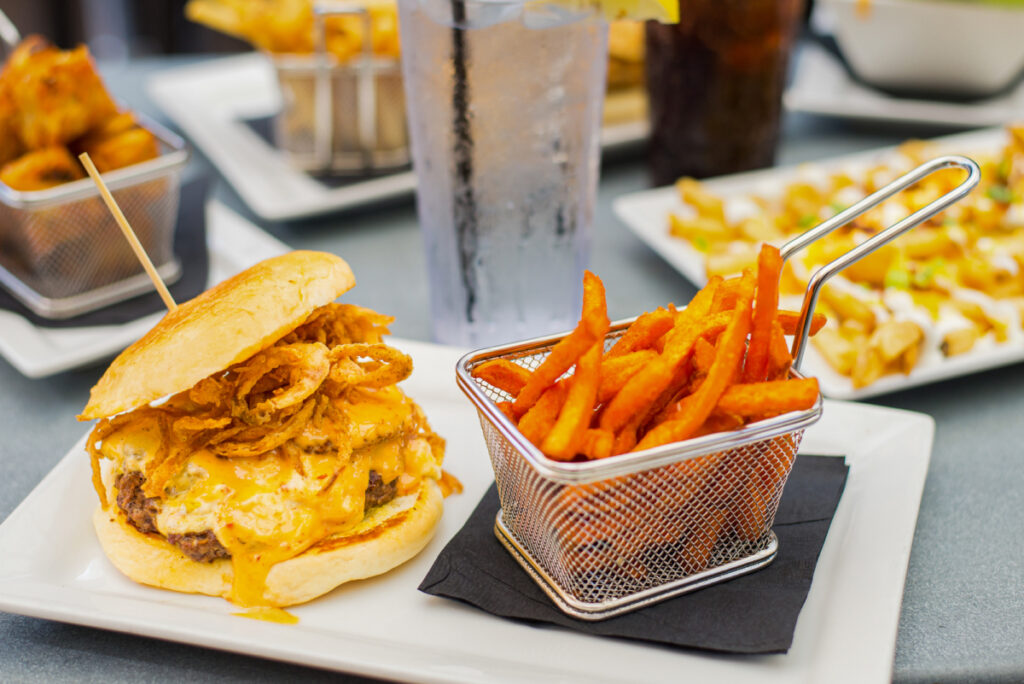 Just outside of the city of San Antonio, after just one visit to this burger joint and you'll know it's well worth the trip.
Muck + Fuss is a craft beer and burger restaurant that features a unique menu and curated selection of drinks.
The loaded burgers here range from classic to never-before-seen, and you're likely to find your new favorite among their menu options.
There are 13 different options to choose from, all loaded with unique combinations of ingredients sure to satisfy any craving.
Muck + Fuss will likely become your new favorite burger joint in the San Antonio area.
Location: 295 E San Antonio St, New Braunfels, TX 78130
Final Thoughts
No matter what time of day you're in the mood for a burger, the city of San Antonio has you covered with some of the best.
Amar was born and raised in England and embarked on an 11-country round-the-world gap year after graduation and then became well and truly hooked. The first gap year inspired a second, which ended up being a 23-country down-the-world trip from Canada to Antarctica. Since then, Amar has spent the last 14 years traveling the 7 continents.