Whether you're looking for American-style tacos or something more authentic like barbacoa, San Antonio has it all with some of the best Mexican Restaurants around.
The Best Mexican Restaurants in San Antonio
Acenar

Stop along the San Antonio RiverWalk to indulge in this contemporary Mexican restaurant.
Acenar serves up innovative fare, a fun happy hour, and patio dining to enjoy the surrounding views. Offering a more modern take on tex-mex, there are dishes on their menu that everyone will love.
Find all your favorites with an elevated twist, from tacos to enchiladas, shareable, and more. Plus, a terrific drink list to go with your meal.
Acenar is the perfect place to grab a Mexican-inspired dinner while enjoying the city.
Location: 146 E Houston St, San Antonio, TX 78205
El Buen Gusto
This is a casual and family-friendly spot where they serve up traditional Mexican meals.
El Buen Gusto is a great choice when you're craving authentic homemade eats in a comfortable environment.
Located within a shopping mall, this restaurant is also the perfect choice for lunch when you're spending the day running errands.
All your favorites can be found on this menu, from barbacoa to carne asada, even breakfast specialties like huevos rancheros.
El Buen Gusto is the spot when you need a place for the whole family to enjoy a delicious meal.
Location: 7709 Tezel Rd, San Antonio, TX 78250
Cascabel Mexican Patio
Here you'll find a local eatery serving up some of the best homestyle Mexican fare that the city of San Antonio has to offer.
Cascabel Mexican Patio can be found in a very colorful little building where they feature a menu of authentic eats.
You'll find yourself in a modest environment or out on their large patio space while you dine on delicious homemade meals.
Stop early for Tex-Mex breakfast options or plan a trip later in the day for their larger menu.
Tacos come in so many flavor combinations; they feature lunch specials and tons of flavorful and filling menu items. Cascabel Mexican Patio will quickly become one of your favorite spots in the city.
Location: 1000S St. Mary's St, San Antonio, TX 78205
La Fonda on Main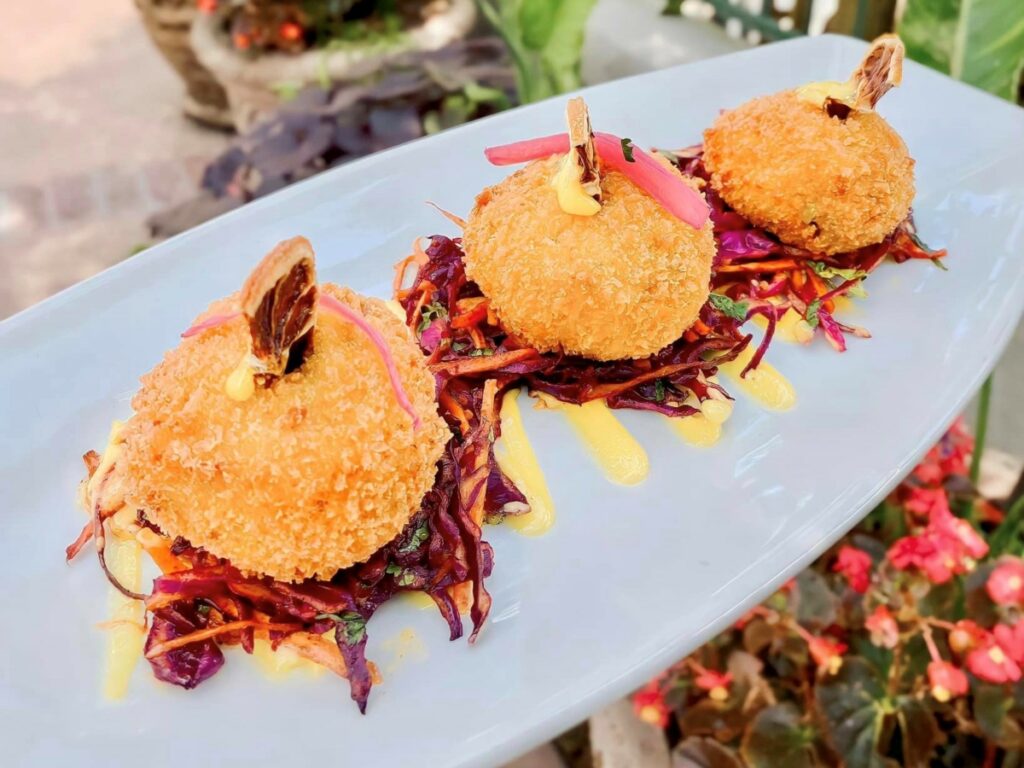 Open since 1932, it's no secret that this spot has some of the best Mexican cuisine you'll find in the city.
La Fonda On Main has bragging rights as the oldest Mexican restaurant in San Antonio, serving up classic Tex-Mex in a refined setting.
Indulge in one of their famous margaritas while sitting on their shaded patio. Open for brunch, lunch, and dinner, there's bound to be something on their menu that will satisfy your cravings.
Tacos with multiple protein options, enchiladas, fajitas and more. La Fonda On Main will quickly prove why it's the longest-running Mexican spot around.
Location: 2415 N Main Ave, San Antonio, TX 78212
Garcia's
This is a no-frills space where what they lack in decor is made up for in the quality of the food.
Garcias in San Antonio is an informal option when it comes to Mexican cuisine that will not disappoint.
While they don't have much dining room, you can also get their menu to go in case you're on the way home from work or grabbing a quick meal.
All your favorites will be found on this menu, including slow-cooked meats that they smoke on-site.
For 58 years, they've been family owned and operated, serving up delicious and authentic Mexican meals, which is what makes Garcia's one of the best.
Location: 842 Fredericksburg Rd, San Antonio, TX 78201
Mixtli
Here you'll take a step away from a traditional menu of Mexican cuisine for a more innovative take.
Mixtli features an intriguing rotating menu of regional Mexican tasting menus and drink pairings for a new take on the cuisine.
They understand that Mexican cuisine is as vast as the country and want to showcase that by creating dishes from different regions.
You'll travel across the country with your tastebuds and experience flavors and old techniques used to create each dish. Mixtli is a unique standout restaurant when it comes to Mexican cuisine.
Location: 812 S Alamo St Ste 103, San Antonio, TX 78205
Ocho
At Hotel Havana, you'll find this chic riverside restaurant serving up delicious cuisine. Ocho is focused on Pan-Latin fare and fun cocktails like mojitos paired with old-world charm.
This restaurant and lounge space is open from the early morning until late at night, serving up entrees and snacks that will satisfy your cravings.
Here you'll dine on innovative takes on familiar favorites from a menu that changes frequently. Choose from tortas, unique plates, salads, and soups, all of which create an unforgettable meal.
The views from the conservatory-like windows are nothing to complain about, either. All these things are what make Ocho easily one of the best restaurants in the city of San Antonio.
Location: 1015 Navarro St, San Antonio, TX 78205
La Panaderia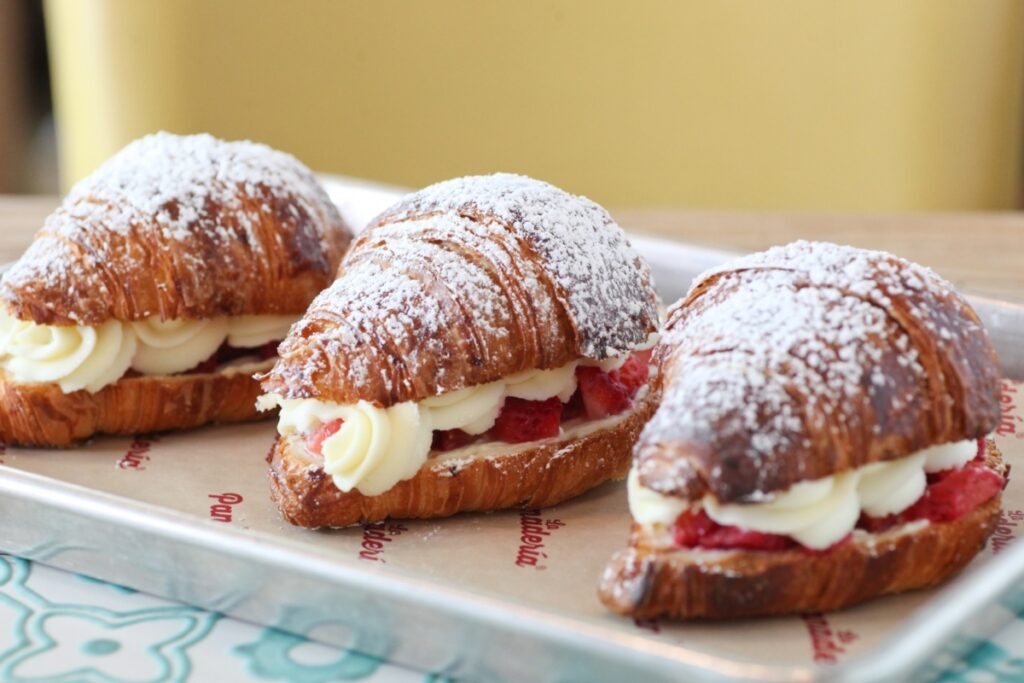 When you're hoping for a sweet treat to get the day started, this cafe is one you won't want to miss out on.
La Panaderia is a bakery and cafe with four locations in the city of San Antonio, so you can indulge in their freshly baked goods.
Each morning they bake new Mexican pastries and bread to be placed into the cases for sale.
Conchas, empanadas, oreja, and more goodies can be found, plus their breakfast and all-day menus when you're craving something more filling.
They offer a large selection of tortas, along with salads, brunch and breakfast items. La Panaderia is a great choice for a delicious Mexican meal on the go.
Location: 301 E Houston St, San Antonio, TX 78205
Panfila Cantina
Here you'll find a classic Mexican cantina where they serve delicious authentic food along with cold margaritas.
Panfila Cantina features a large menu of classic Mexican dishes, including all your favorites.
They have it all if you're craving tacos, enchiladas, seafood, or even elote. Everything is homemade, resulting in mouthwatering flavors and spice levels in each dish.
Even the margaritas are terrific with the perfect blend of tequila, sweet and sour, to make the perfect pairing. Panfila Cantina is one spot in San Antonio you won't want to miss out on.
Location: 22250 Bulverde Rd #114, San Antonio, TX 78261
Pollos Asados Los Nortenos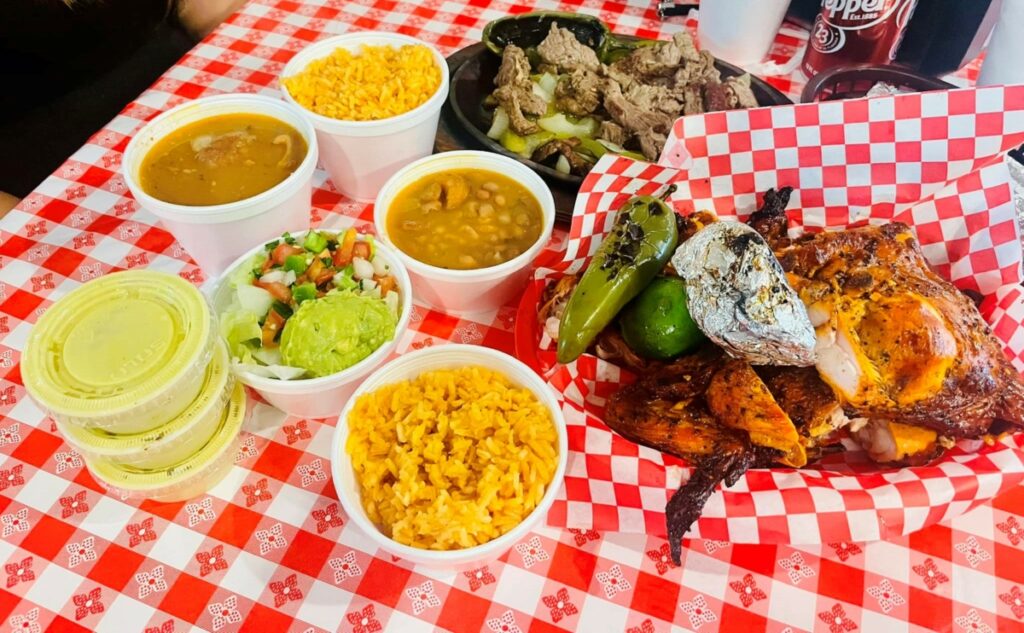 Well known as the People's Chicken, they offer two locations in the city of San Antonio for you to step into.
Pollos Asados Los Nortenos started as a church fundraiser and has since grown into an international business with locations in both Texas and Mexico.
While they continue to grow, they cut no corners in the kitchen, preparing only the most delicious meals.
Their marinated chicken is one of the favorites and can be purchased in a whole or half chicken in case you can't get enough.
Juicy burgers also make up a large part of their menu, along with grilled meats. Pollos Asados Los Nortenos will be one Mexican restaurant you go back to over and over again.
Location: 4642 Rigsby Ave, San Antonio, TX 78222
Final Thoughts
Whether you're in the mood for Tex-Mex or more authentic fare, these Mexican restaurants around San Antonio will cure any of your cravings.
Amar was born and raised in England and embarked on an 11-country round-the-world gap year after graduation and then became well and truly hooked. The first gap year inspired a second, which ended up being a 23-country down-the-world trip from Canada to Antarctica. Since then, Amar has spent the last 14 years traveling the 7 continents.