Jamaica is a beautiful island country found in The Caribbean. A little over 4 million tourists travel to Jamaica each year to experience adventure, history, and incredible food. Visitors love spending their time in the gorgeous resorts located on the long stretch of beaches in this tropical paradise.
The Best Party Hotels in Jamaica

Experience Paradise at Bahia Principe Luxury Runaway Bay. This adult-only, all-inclusive resort is the perfect place to unwind and make memories to last a lifetime.
This resort has three suite styles, each decorated in gorgeous neutral tones with subtle accents in vibrant colors. The rooms each come with a private furnished balcony, satellite TVs, a minibar, and a spa bathroom.
There are three stunning pools on the property where guests enjoy lounging and soaking in the rays of the sun. The pool bar is a great place to grab a snack and a refreshing drink, and there's even waiter service in a relaxing hammock area near the pool. This resort also has private access to the beach.
For those who enjoy an active day, there is soccer, volleyball, water polo, ping-pong, and darts available for your entertainment.
Bahia takes pride in its entertainment opportunities. There are nighttime and daytime international entertainment programs to enjoy on a regular schedule.
The property also has 5 restaurants and 4 bars where guests can indulge in a superior dining experience. Restaurants serve a variety of cuisine, including Brazilian, Asian, and Jamaican fare.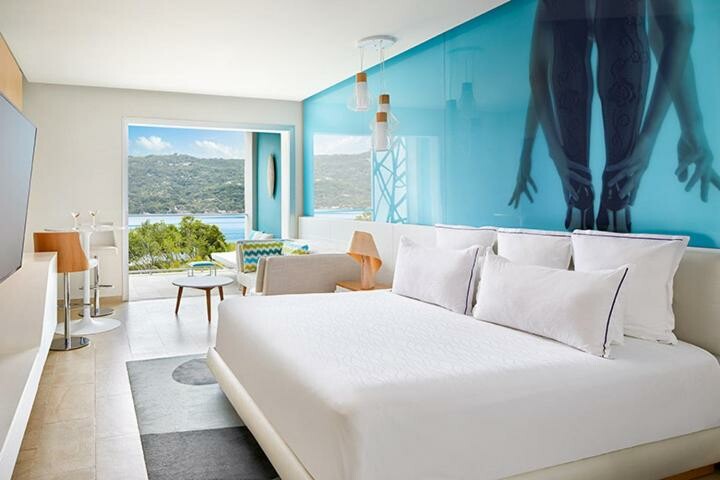 Breathless Montego Bay Resort & Spa is a place that will do exactly what its name says it will… leave you breathless. This stunning resort has a private beach just for its guests to enjoy as well as amenities, facilities, and services that will come together to create the dream vacation you need.
Breathless has 150 different rooms for guests to choose from. Each accommodation comes with gorgeous floor-to-ceiling glass doors that lead onto a private balcony equipped with a hot tub.
The rooms come with a tablet that keeps the room running effortlessly. Open the curtains, turn on and off the lights, and order a coffee or a Mimosa without having to leave your cozy bed. Each room is decorated in bright white with accent walls and decor in vibrant bursts of color.
The rooms also come with nightly turn-down service, a minibar that gets refreshed daily, and complimentary Wi-Fi.
For those who want to achieve inner peace, the spa is the perfect escape from your stress and worry. This amazing spa is perfect for facials, hydrotherapy, salon services, and incredible massages.
For entertainment, there are daily pool parties, live music, dancing, and exciting water sports offered by the hotel.
Those who enjoy culinary adventures will find amazing dining and drink opportunities at breathless. The hotel has four different restaurants, each serving international food and specializing in Jamaican cuisine. The 5 unique bars are the perfect place to drink and dance the night away while enjoying the company and the scenery.
This hotel has everything you could need or want in regards to entertainment, but for those who want to explore the nearby surroundings, there are several beaches and restaurants to explore within a short walking distance from the resort.

Try something new at GoldenEye, a private collection of villas, cottages, and beach huts for the perfect setting to experience Jamaican life.
GoldenEye has three different styles of accommodations for guests to choose from, including beach villas, lagoon cottages, and beach huts. Each room choice offers a unique living experience.
Guests enjoy staying at GoldenEye because instead of just a room to stay in, they get to spread out in a spacious home away from home. Each accommodation includes a complimentary breakfast, free Wi-Fi, flatscreen cable TVs, and furnished balconies.
Each accommodation comes with its own kitchen facilities, but when you want to enjoy dining elsewhere, you are just a few steps away from the beachfront Bizot Bar and The Gazebo. These restaurants serve authentic Jamaican cuisine in both indoor and outdoor dining areas.
When staying at GoldenEye, there's never a shortage of activities for entertainment and adventure. There are incredible water sports like kayaking, paddle boarding, sailing, and snorkeling.
There's also a gorgeous lagoon that's a mixture of seawater and fresh spring water where guests can enjoy a refreshing dip in the water and take in the beautiful sea life. The property also has freshwater pools and a saltwater pool for lounging and relaxation.

Let all your worries slip away when staying at Hyatt Zilara Rose Hall. This adult-only, all-inclusive resort is everything you need for the perfect vacation. This hotel takes pride in making sure that every need is met, so guests have the perfect getaway vacation.
The rooms at Hyatt Zilara Rose Hall are beautifully decorated in soothing neutral colors with gorgeous, modern furniture. Every room has a furnished private balcony that boasts striking views of the pool, gardens, and the sea.
Rooms range from standard rooms to swim-up suites, and the amenities are endless. Every room comes with large flatscreen TVs, complimentary bath robes and slippers, a minibar that gets stocked daily, and a separate bathroom.
Food enthusiasts love staying at Hyatt Zilara Rose Hall. There are 15 dining options to choose from, including fine dining restaurants, sports clubs, barbecues, and bars. Every restaurant uses locally sourced ingredients and offers cuisine from places around the world. Each dining facility offers its own unique atmosphere and ambiance.
You never have to wonder how you will spend the day when you stay at Hyatt Zilara Rose Hall. This incredible resort offers unique water sports, fitness classes, and sporting activities. Other daily activities included in the vacation packages include dance lessons, cooking lessons, and live Jamaican music and performances.
The hotel also has an on-site spa and golf course where guests can enjoy a day of fun. For those who want to venture away from the property, the hotel assists guests in planning day trips and excursions.
A guest favorite is exploring Jamaica's jungles with Jamaican Island Adventures. Guests are able to bicycle, innertube, and zip line on these exciting adventures.

Jewel Paradise Cove Beach Resort & Spa is where the fun in the sun meets the tranquility of tropical paradise. This all-inclusive facility is just what the doctor ordered for a vacation filled with relaxation and fun.
There are six room styles to choose from at Jewel Paradise Cove. Each room is beautifully decorated in a Caribbean-inspired fashion with soothing white linens and bursts of bold colors in the accents and furniture.
Each room comes standard with a personal balcony, flatscreen TVs, turn-down service, and a mini-bar that is restocked daily.
There are 12 different opportunities for dining and drinks at Jewel Paradise Cove, ranging from formal dining rooms to exciting nightclubs. The cuisine includes Mediterranean, Caribbean, and other international fare.
There is an on-site spa for those who want to focus on their health and wellness. The spa consists of a wonderful pool and personalized spa treatments.
For those looking to explore Jamaica, the hotel offers guests assistance in taking part in one of the many tours and adventures offered nearby. Some of these adventures include scuba diving and dolphin tours. There are also restaurants and bars near the hotel as well as several beaches.

The Ocean Coral Spring Hotel is located right on the ocean at Coral Springs. This five-star resort is newly built and has so much to offer its guests.
There are 11 different types of rooms available for guests to choose from at Ocean Coral Spring. Rooms range from junior suites to family suites to master suites with swim-up capability. Each room is decorated in striking white linens with a soothing Mediterranean blue and accents.
The rooms are designed with modern furniture and are very spacious with everything one could need while vacationing.
Rooms include a private furnished balcony, a coffee and tea area, a spa tub, and stunning views of the pool, ocean, or garden.
The hotel has many facilities that make for a perfect vacation. There are swimming pools, a lazy river, a water park, and private access to the beach.
For guests who choose to spend their days with physical activities, the hotel provides tennis courts, a bowling alley, and beach activities.
Everyone knows that a huge part of vacation is the fantastic dining experience. The Ocean Coral Spring has plenty of dining opportunities for its guests. There are 10 restaurants, nine bars, a coffee shop, and an ice cream shop.
The restaurants serve a range of international food, signature meals, and themed bars and restaurants. You can try something new every day when you stay at Ocean Coral Springs.
This resort has so much to do, you will never have to leave the property. Should you choose to explore the nearby surroundings, just a few miles down the road, you will find natural beauty in Martha Brae River and the Luminous Lagoon.

Ocean Eden Bay is a brand-new, five-star resort facing the Montego Bay area. This adult-only resort has private access to the magnificent beach and is the perfect location for an unforgettable vacation.
This hotel offers 8 different types of suites for guests to choose from, depending on their vacation desires. There are junior suites, swim-up suites, and privileged suites. The decor is absolutely stunning, with the main colors of the room in neutrals and the accents in gorgeous shades of green and blue.
The furnished balconies are perfect, with their beautiful, unique furniture and stunning view. Each room comes with a sitting area, cable flatscreen TVs, spa-like bathrooms, and a tea and coffee area.
This hotel has five restaurants and a dinner show restaurant. Each restaurant has a unique menu but serves a white range of international food and signature cuisine. There are also four bars on the property where you can grab your favorite drink and enjoy the Jamaican vibe.
For guests who are looking for adventure, Ocean Eden Bay has a long list of activities for both the daytime and the nighttime. Some of these activities include tennis, diving lessons, aerobics, and bowling.
Ocean Eden Bay has everything to offer, so guests don't have to worry about leaving the property. There are some nearby attractions, such as Luminous Lagoon in Martha Brae River, with rafting available, should you want to venture out and explore.

Experience royalty at Royalton White Sands Montego Bay. This all-inclusive resort in Montego Bay has something for everyone.
The luxury accommodations at Royalton White Sands range from standard luxury rooms to family jacuzzi suites to presidential suites. There are seven different room types to choose from, and each room comes with 24/7 room service, a furnished balcony, a mini-bar with complimentary snacks and drinks, satellite TV, and complimentary Wi-Fi.
For an unforgettable culinary adventure, Royalton has an incredible restaurant that serves international dishes and exquisite desserts. There are five different bars on the property, each with its own signature drink menus and unique atmosphere.
The bars have live music, and they are the perfect place to sit back and relax with friends and family.
Guests of all ages love staying at Royalton, especially young guests. This property has a kids club where kids are able to enjoy the beach, the pool, and the playground while parents take advantage of a kid-free day or evening.
For those who want to experience the ultimate feeling of refreshment, the on-site spa is the perfect place to receive royal treatments like facials, body treatments, massages, and manicures and pedicures. The royal spa has a hydrotherapy circuit and the perfect atmosphere to relax and achieve inner peace.

Enjoy feeling pampered at SamSara Cliff Resort in Negril, Jamaica. This oceanfront boutique hotel is located on a cliff overlooking the West Coast. Guests can enjoy a slower-paced lifestyle and completely relax and reset from the hustle and bustle of life.
There are three different room styles guests can choose from at SamSara. These beautiful rooms help guests fully embrace the Jamaican island vibe. Guests can choose from a garden view, a sea view, or a combination view of the pool and the sea.
Each accommodation comes with private, flatscreen televisions with cable, separate bathrooms with showers, hardwood flooring in furnishings, and complimentary Wi-Fi.
The on-site restaurant is a dining experience that will never be forgotten. The chefs at the restaurant have created a cuisine that is inspired by places around the globe. There are authentic Caribbean dishes, traditional Jamaican meals, classic cocktails, and signature drinks to enjoy.
Guests can also have a special celebration dinner privately catered on the beach, which comes complete with roses, chocolates, and couples massage certificates.
The resort spa is the perfect place for rejuvenation of the body, mind, and spirit. Services range from massage to body scrubs to facials. The spa is the perfect place to let go of all your worries and reconnect with your body and nature.
Guests enjoy spending the day lounging by the breathtaking swimming pool or enjoying the waves and sand on the pristine beach. For those who enjoy a more active form of entertainment, the property features a tennis court and game room as well.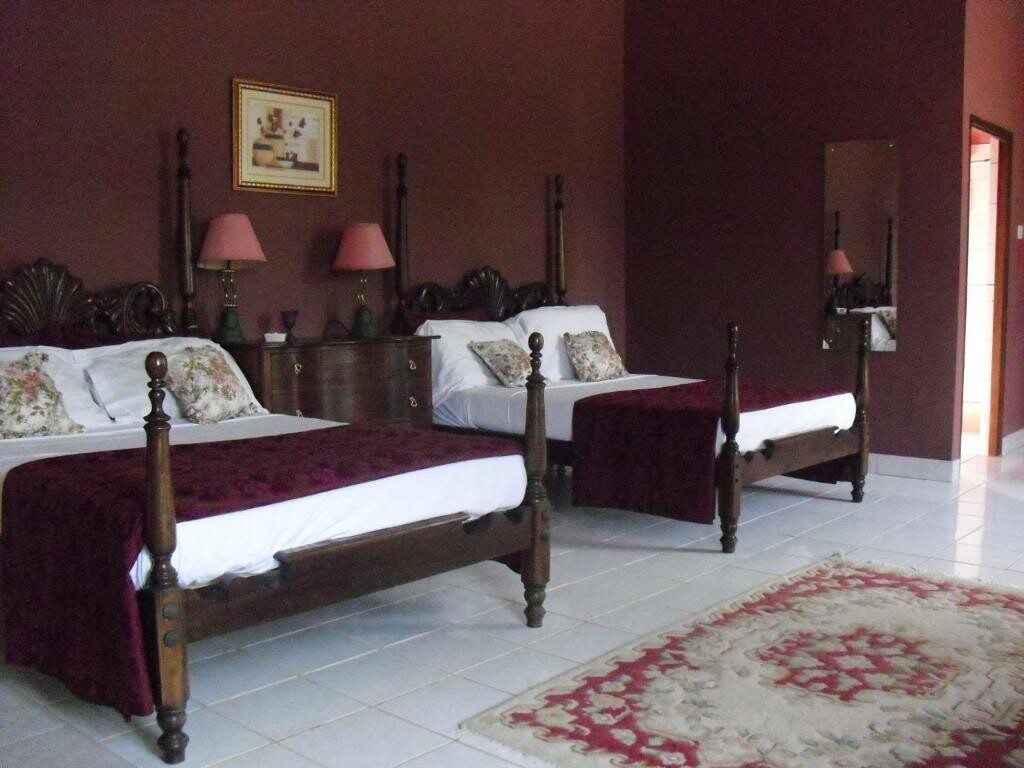 Tamarind Great House is a luxury bed-and-breakfast located in the hills over Oracabessa and surrounded by tropical gardens.
The rooms at this location are decorated in a colonial style. Guests are able to enjoy the feeling of a 19th-century great house. The ambiance is relaxed, and the bedrooms are spacious with large balconies. Guests love taking a step away from the busy city life and appreciate the calming and relaxing environment.
The food at Tamarind great house is remarkable. The on-site cook is a talented chef that serves incredible breakfasts and uses ingredients from her own garden.
There's a stunning pool on this property that is surrounded by lush, tropical vegetation. This is the perfect spot to cool off in the bright blue waters and soak in the rays of the sun.
Amar was born and raised in England and embarked on an 11-country round-the-world gap year after graduation and then became well and truly hooked. The first gap year inspired a second, which ended up being a 23-country down-the-world trip from Canada to Antarctica. Since then, Amar has spent the last 14 years traveling the 7 continents.