Until I embarked on my adventure, I had no idea that my backpack would end up being my most trusted friend, and that traveling light was a skill that I needed to learn, and not one that I was naturally blessed with. A carry-on sized backpack was the answer I was looking for.
What I didn't realize is how attached people were to their backpacks. The size, material and carrying ability were all important to me for sure, but I failed to understand why people where so obsessed with certain brands, and I had literally no idea what most of the jargon about peripheral frames, sternum straps and YKK zippers actually meant in the real world.
I eventually settled on the Osprey brand as I had heard nothing but good things about how comfortable and practical they were to carry, and, if I'm being honest here, I kind of like that way that they looked – fashionable and definitely not frumpy either.
After endless try-ons, and weeks spend fiddling with zippers and admiring the internal dimensions of different backpacks, I opted for the Osprey Fairview 40 litre version. It felt like it was built to last, was easy to place on and off my shoulders and it came with a load of features that I thought would be useful. I am glad I went with this one!
To this day, I struggle to leave the house without my trusty Osprey by my side. I would literally take it everywhere with me if I could, and I have yet to find another rucksack that is as practical, hard-wearing and well designed as this one. I even use it outside of travel when I have a large Tesco shop! Also, with it having laptop compartments and other clever storage, it's great for just taking to the co-working space or cafe.
Why I Love My Osprey Fairview So…
Osprey have designed the Fairview specifically with the needs of women in mind. By that, I don't mean that it has extra pockets for lipsticks or somewhere to hang your hairdryer (although I guess you could if you wanted to), I mean it has been carefully crafted to take into account the female frame, and every inch of it is designed to fit perfectly.
As an alternative to the unisex Osprey Farpoint, the Fairview was released in 2017 to fit the differing body shape and proportions us ladies have. While the Farpoint is still one of the most popular backpacks in the world, the Fairview is fast gathering its very own following as a lightweight, yet extremely durable backpack that is built with longevity in mind.
The Osprey Fairview is available in three different capacities – 40L, 55L and 70L. I chose the smallest of the bunch as that suited my needs better, and is the only one that is fits with the European carry-on regulations. I like to travel light and carry-on only seemed like the perfect way to travel.
Good Looking (For a Rucksack)
Let's face it, rucksacks aren't the most stylish of accessories and they do conjure up images of beaten up bags that have probably seen better days. But, I have to say, in a world where looks are not the most important feature, the Fairview is quite attractive.
The Fairview 40 comes in two different colors, rainforest green and misty grey. I wanted something bright that I could easily identify at all times, so I went for the beautiful rainforest green, and I am so glad I did. It is really eye catching and stands out among the sea of traditional grey, black and red rucksacks that seem to be standard issue the world over. It also does a really good job of camouflaging the usual marks and stains that are easy to pick up while travelling.
Material
Made from 210D Nylon Mini Hex Diamond Ripstop, the Fairview is really durable. It has never ripped or torn, no matter how much stuff I have thrown in there. Should the worst happen and a small tear arise, the ripstop material is designed to prevent more damage caused by spreading, and the unthinkable shame of all of your belongings falling out on the airport floor.
Size and Weight
The Fairview is incredibly lightweight! Period! It is one of the lightest on the market, yet still remains remarkably strong considering its size. With its lightweight peripheral frame, it weighs in at a feather like 3.17lbs (1.44kg). This means you can stuff it pretty full with clothing before you even approach the maximum cabin bag weight restrictions.
In terms of size, the bag is 21" (54cm) in length, 14" (35cm) in width and 9" (23cm) in depth. The compression straps help to retain its shape regardless of its capacity and can also help you squeeze a bit more in.
Security
Because these types of bags have lots of useful compartments, they need to be able to open and close easily for access, and remain fully sealed for security. With the Fairview there is no risk of the zips falling open and anything spilling out.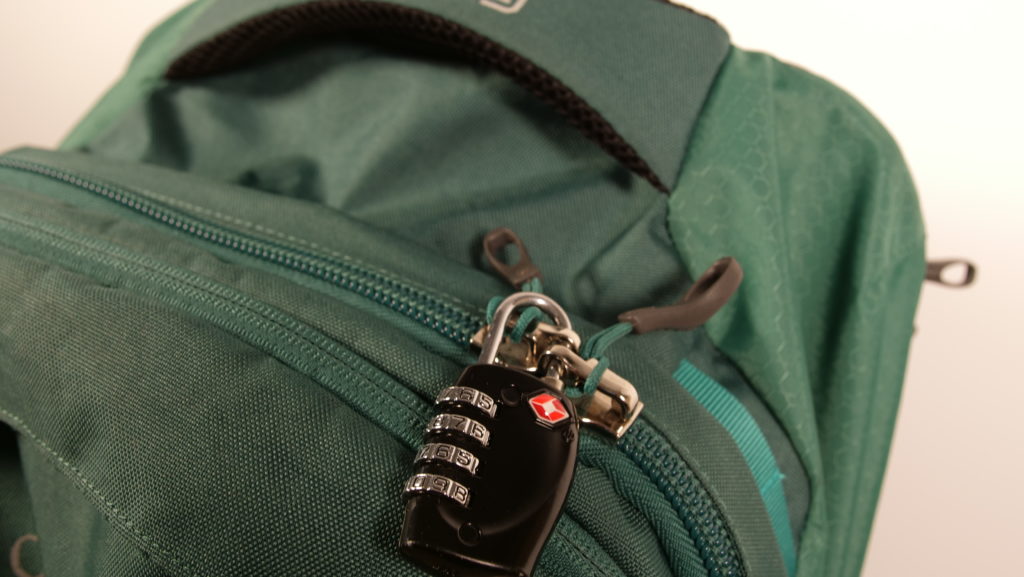 The chunky YKK 10 RC zipper on the body of the bag stays tightly shut and has a satisfying clunkiness about it. All of the rest of the zippers are YKK too, and the front compartment zippers come together to provide a handy hole to slot a travel lock through.
If you are heading somewhere where security is a major concern, I would also recommend closing the compression straps to secure the material over the zips, making them invisible to prying eyes.
Capacity and Compartments
The internal dimensions are impressive, and the soft shell material makes if easy to fill every last inch of space if you want to. The main compartment houses a large zipped mesh pocket as well as the main body of the bag, and there is a padded laptop sleeve in the front compartment, which fits any laptop up to 15 inches pretty easily.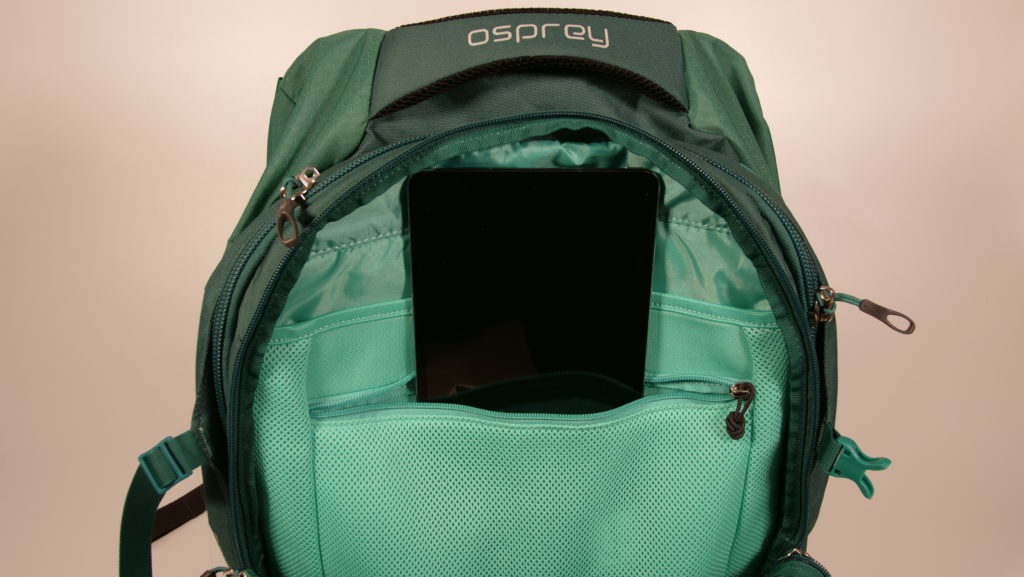 There is also a mesh tablet sleeve which I used for my tablet and kindle. There are smaller mesh pockets on the side of the compression straps which are useful for carrying a bottle of water or other slim shaped objects.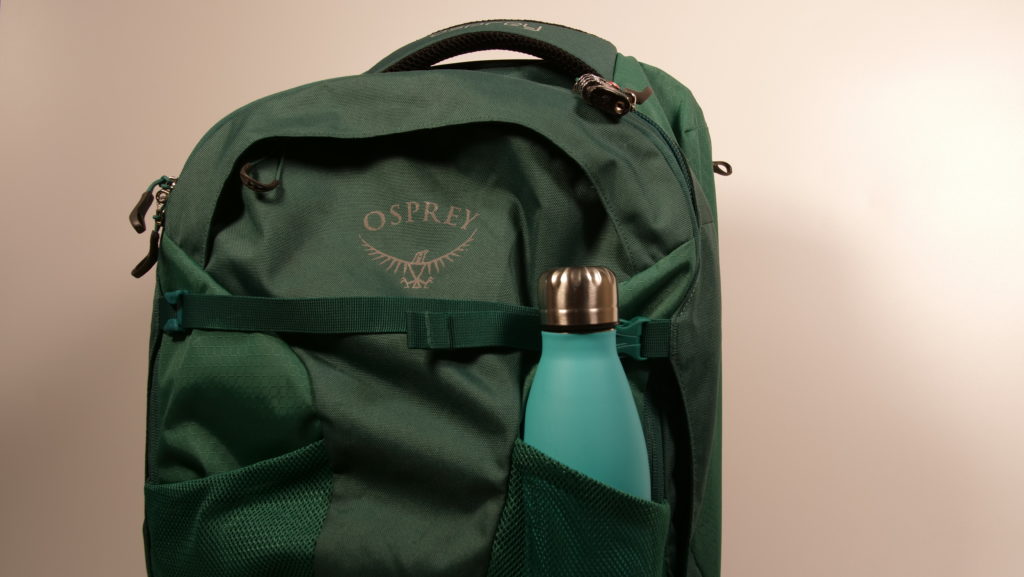 Another really useful feature both for easy access and practicality is a small zippered front pocket that is made of scratch-free materials which is ideal for phones or sunglasses.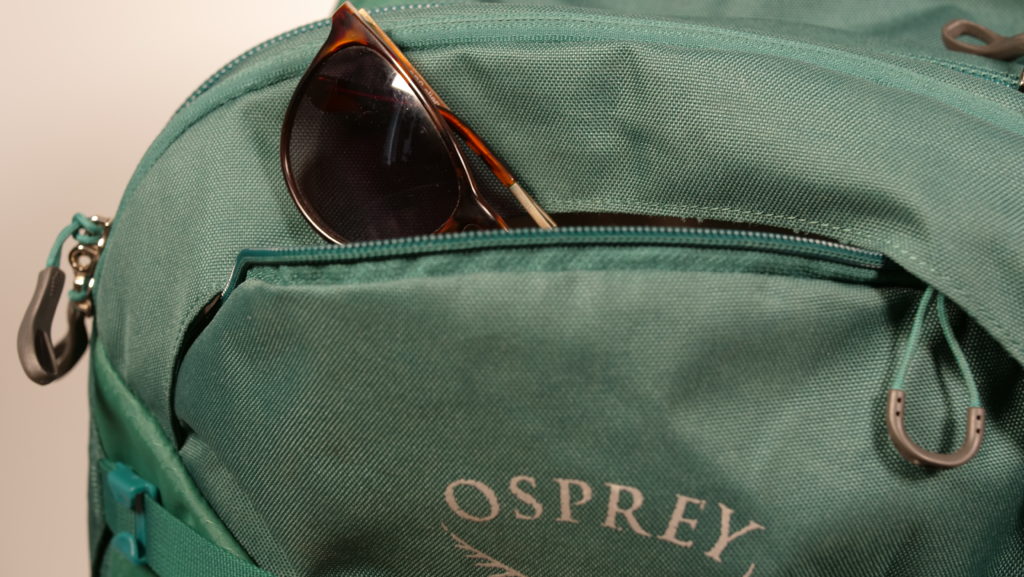 Travelling With My Osprey Fairview
I loved being able to sling this over my shoulder and be on my way. For times when I couldn't wear it on my back, I used the useful detachable shoulder strap that transformed it into a large tote bag.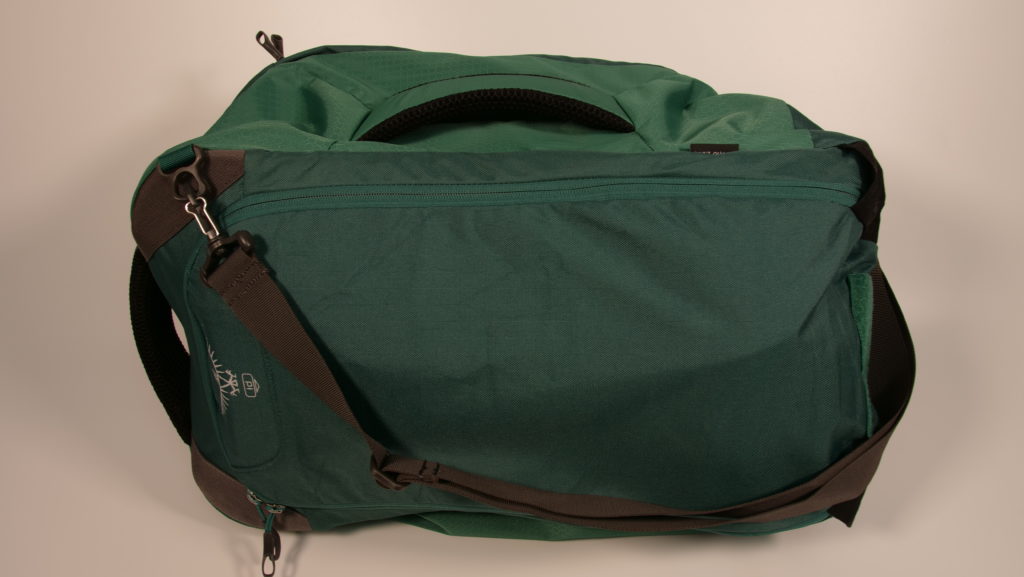 The hideaway strap system was also really useful as it allowed me to zip away both of the shoulder straps, turning it into a flat based bag that is far easier to stow in overhead airplane lockers. No more embarrassing myself and getting the straps caught on arm rests!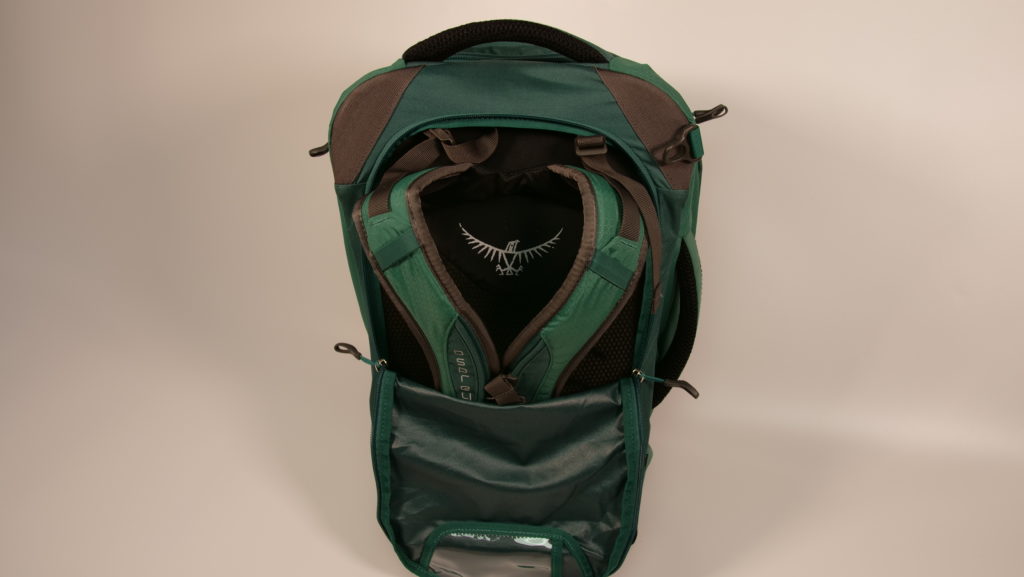 Final Thoughts
While no woman should feel that they have to buy a "ladies" backpack, I have to say that the size, shape and strap positioning of The Fairview was so super comfy, I just felt like it had been custom made to fit my frame.
The Farpoint is a great alternative if you are very tall, and as a multi-sex backpack I have seen them worn by both men and woman all over the place.
What I can say for certain is that the quality and practicality of the Fairview totally blew me away. I'm so glad I didn't over burden myself with a huge bag full of clothes and unnecessary items, but instead I learnt how to travel with a carry-on backpack in the form of my trusty Osprey Fairview.
Amar was born and raised in England and embarked on an 11-country round-the-world gap year after graduation and then became well and truly hooked. The first gap year inspired a second, which ended up being a 23-country down-the-world trip from Canada to Antarctica. Since then, Amar has spent the last 14 years traveling the 7 continents.