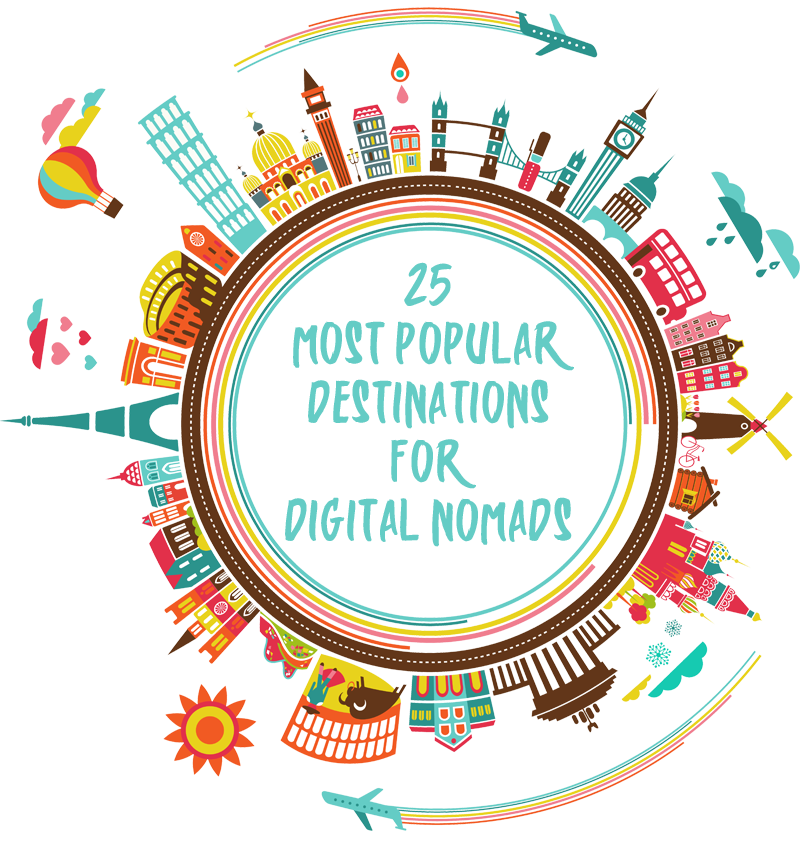 Want to enjoy the laptop lifestyle but don't know where to head on your next digital nomad adventure?
When the world is your oyster, digital nomads have an endless list of destinations to live, work and travel. Whether you prefer laid back beaches, tranquil jungles, bustling cities or cultural hot spots, there's a place for everyone. So, where to go?
We analysed over 12,000 images on Instagram to determine which destinations were tagged the most by digital nomads. As a result we've come up with 25 most popular destinations for digital nomads according to Instagam.
Check out our interactive map below or browse the polaroids of the top 25 destinations!
[image_slider_no_space navigation_style="dark" images="10643,10644,10645,10646,10647,10649,10650,10651,10652,10654,10655,10656,10657,10658,10659,10660,10661,10662,10663,10664,10665,10666,10667,10668,10669″]

Digital Nomads
Data Source: Instagram
Data Analysis: At the time of writing the total number of images tagged with the hashtag #digitalnomad on Instagram is over 1.9 million. We took a sample of the latest 20,000 images posted. Of those 20,000, 12,000 had location data. We removed any images from the data that were local businesses tagging themselves so that the results would not be skewed.
A digital nomad is someone who works online and leverages the internet to be able to work for anywhere in the world that has a sufficient wifi connection. Digital nomads utilise this flexibility to enable them to work and travel when and where they want. Some digital nomads prefer to use a base for a few months before moving on. Others may travel at a quicker pace moving from destination to destination.
Typically digital nomads will either be:
Entrepreneurs who run their own companies.
Employees who work for companies with remote work practices.
Consultants such as life coaches, accountants or business consultants.
Freelancers such as designers, writers or coders.
Not all on this list can be done remotely but check out this list of travel jobs.
What Are the Benefits of Being a Digital Nomad?
There are so many incredible benefits to being a digital nomad:
You can live and work wherever you choose.
Flexible work space. If you don't like it, just move!
No time wasted on commuting.
Immersion in different cultures gives you the opportunity to understand different mindsets.
Work your own schedule, feel inspired and be more productive.
Reduce your living costs.
Vacations and time off when you choose and no need to travel in peak times.
Are the Number of Digital Nomads Growing?
What Is the Cheapest Place To Live as a Digital Nomad?
According to Nomad List, some of the cheapest cities in the world to live as a digital nomad are:
Kathmandu, Nepal – £502 ($647) per month
Lviv, Ukraine – £646 ($832) per month
Hanoi, Vietnam – £668 ($860) per month
Kaohsiung, Taiwan – £744 ($958) per month
Colombo, Sri Lanka – £775 ($999) per month
The cost of living for digital nomads for the top five on our popular destinations list are:
Bali, Indonesia – £953 ($1225) per month
London, United Kingdom – £3251 ($4176) per month
Chiang Mai, Thailand – £812 ($1043) per month
Lisbon, Portugal – £1646 ($2115) per month
Barcelona, Spain – £2227 ($2861) per month
Bare in mind that these are averages based on "nomad" averages and there would be cheaper ways to live in all of these destinations if you lived more like a local, ate out less and worked from home rather than a co-working space for instance.