Enjoyed the world over, tubing is one of the best things you can do on a river. So what exactly is this must do Gap Year experience?
What is Tubing?
Tubing essential is the 'art' of floating down a river on a tube. These might be purpose built tubes in more western countries or the inner tubes of tractor tyres. Throw in scantily clad people consuming alcohol, sun and the occasional rope swing or slide and you have yourself a floating party.
Tubing in Vang Vieng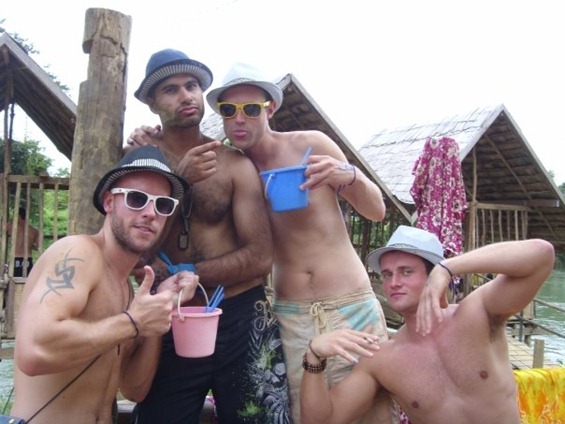 Vang Vieng is the perfect place for tubing. The Nam Song river cuts through a backdrop of green countryside and mountains and this tranquil setting is a stark contrast to the hedonism and debauchery that occurs during tubing. Vang Vieng is world renowned with world travellers and backpackers for being the tubing and party central in Laos. Doing a Gap Year in South East Asia? Put this as top of your list! It's easy to get sucked into this place and want to stay a while. It's a town centered around backpackers and perfect for partying followed by recovery. Trust me, you'll want to go tubing more than once!
How to Go Tubing in Laos
You'll want to start around lunch time to make the most of this. Grab a bite in town before you head to the tubing office. Tubing costs 60,000 kip and similar for the deposit for your tube. The price includes a tuk tuk ride upstream. You sign some quick safety forms and off you go. There's a couple of bars within walking distance at the start. There is a rope swing here too. I'd suggest doing this one first before you become too inebriated to try it later! Grab yourself a bucket or two, drink and be merry. Once you're ready to move on (yes it really is a bar crawl on water) you grab your tube, sit in it and float to your next destination! When you want to go to your next bar just signal one of the guys at the bar who will throw you a rope, hold on tight and they will pull you in. It's really that simple! Tubing takes as long as you want it to but a rough guess would be around 3-4 hours. Tubes need to be returned before 6pm to get your deposit back.
Tubing Video
Want to get a feeling of what Tubing is really like? Crank up the volume and watch the video below.
Tubing Tips
Towards the end of the tubing run the water becomes shallow. Watch your legs on the rocks. Do not jump in the water here!
Local kids will try and help you with your tubes when you're trying to get out at the finish. Some will expect tips others have a more sinister agenda. Watch your belongings.
At the last few bars, keep an eye on your tubes. At each bar, tubes are stacked by the water. This isn't a problem at the start, just grab any tube and float down. Towards the end people will often go tubing without one and take someone else's. If you're last on the river, you'll be tubeless and you won't be getting your deposit back.
Leave all valuables locked away at your guest house. I'd suggest taking money and a waterproof camera only. If you're going to take a dry bag with you, buy one rather than rent. Test it out before you put anything valuable in there.
It's cool in the water but ensure you sunscreen up to avoid the burn.
You probably won't be that focused on food while you're out on the river but it's cheaper in town. With tubing it's best to eat before you go – in this case; eating isn't cheating!
Don't wear flip flops, you'll lose them pretty swiftly. They may look ridiculous but a pair of crocs will protect your feet and they drain easy because of the holes.
Do you really need a tube? When it's not monsoon season, and the end being quite shallow, you can swim down the river rather than tubing it. It saves a bit of cash and you don't have to worry about a tube. I'd suggest doing it with a tube your first time though. Like I said, you'll want to do it more than once.
Don't bother wearing any nice clothes when you're tubing. You can buy ridiculous Hawaiian shirts in town for next to nothing. Why? Why not!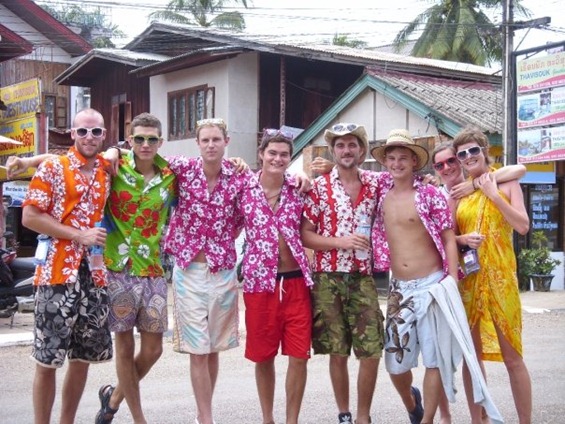 Is Tubing Safe?
Every now and again there's a sad story on the news about a backpacker who has died tubing. Don't become one of these stories. Thousands of people tube in laos successfully and have a great time and just to be on the safe side you should have adequate travel insurance. If you've drank too many buckets, taken mushrooms and then precede to go swimming in the dark you're going to have a bad time. Also, since when did being in a different country and having an audience give you the ability to fly on a trapeze upside down and flip off into the water? Tubing is fun but be sensible and follow these safety tips below: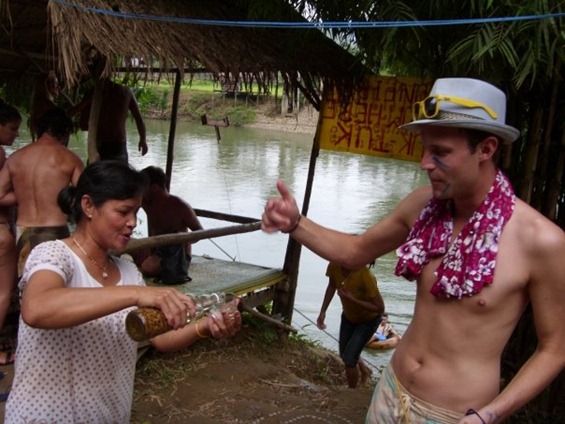 Know your limits. Tubing on an empty stomach for a start is dangerous. You also have no idea how many units you're consuming in those buckets. It's easy to get caught up in the moment but pace yourself.
Tubing is a great way to meet people so if you're travelling solo make sure that you team up with a group. There really is safety in numbers during a strong river current.
When you're floating past bars, be sure to keep a look out for rope swings and people diving off platforms.
It's pretty easy to obtain drugs in Laos but is it really worth the potential death penalty. There are scores of undercover policemen working for a bribe. Don't give them the opportunity.
Don't go tubing in the dark. Keep an eye on the time to ensure you get back as the sun is setting. If the bars start emptying up, move on too. Tubing in the dark is dangerous and if you get in trouble not only is there barely anyone around to help you but they won't even see you.
Have you been tubing? What do you think? If you haven't done it, is this on your bucket list? Comment below!
Amar was born and raised in England and embarked on an 11-country round-the-world gap year after graduation and then became well and truly hooked. The first gap year inspired a second, which ended up being a 23-country down-the-world trip from Canada to Antarctica. Since then, Amar has spent the last 14 years traveling the 7 continents.