Airbnb is a great alternative to hostels and couchsurfing and if you're on a very long trip, it can make a nice home away from home for a short while. I've booked Airbnb's in countries like Costa Rica, Slovenia, Argentina, Spain and Ecuador to name just a few! If you're looking for an Airbnb coupon code just scroll down a little further.
Here is the pool that came with the villa I rented on Airbnb during my second gap year!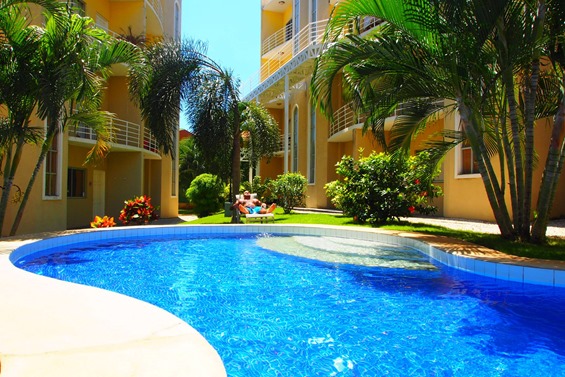 So what is Airbnb, how do you use it and do we have a coupon code for you to use? Read on for all the answers.
What Is Airbnb?
Airbnb is a community led accommodation marketplace that enables avid travellers to book an array of lodging all over the world online and via a smartphone or tablet. The company, based in San Francisco was founded in 2008 and has since exploded onto the travel industry through their unique approach to accommodation that can provide travellers with a "home away from home" feel; whether it be for days, weeks, or months. To date, Airbnb has had over 1,200,000+ listings worldwide.
What Are the Advantages of Airbnb?
Airbnb not only offers the travel lover an opportunity to stay in a literal "home away home", there are a number of other positives too:
You get to find accommodation that caters to your budget. Sure, you can book a castle in Munich if you really wanted to, but you can also find a one bed apartment in Manhattan for a fraction of the price you'd be paying for a hotel.
It's unique and you can experience your destination through the eyes of a local. The decoration will be different, and while there may not be any mini shampoos or body lotions (or maybe there will be) you have the opportunity to ask your host questions about their hometown and really get a chance to see the place for what it is.
More often than not, the property comes with amenities such as a kitchen! This is ideal for saving money on eating out – and you can cook or use it as little or much as you'd like.
[feature_box style="18″ title="Airbnb%20Coupon%20Code" alignment="center"]
Gap Year Escape can offer you £24 ($34) off your first booking with Airbnb. Just click here and sign up. It will automatically be applied.
[/feature_box]
Finding a Place on Airbnb
Airbnb offers accommodation ranging from flats to villas, castles to apartments. Choosing the length of time you want to stay in your chosen accommodation, you Airbnb boasts options of accommodation in over 34,000 cities, 190 countries, and has access to over 600 castles.
The global reach of Airbnb means that there is a wealth of accommodation to choose from, with over 800,000 unique listings from a broad range of destinations. There are some steps that you can follow to ensure you get the comfortable and enjoyable trip you are after:
Make a note of the amount of people you are travelling with, when you are planning to go, and what date you are departing.
Airbnb will then show you any relevant listings that can cater to your requirements on the dates you expressed.
With a plethora of listings readily available, finding the right location for your stay is of paramount importance. Utilising their maps and neighbourhood guidelines will help you ensure that the location is convenient and well positioned for your travel desires.
Each listing will state what amenities they provide, eg. Hairdryer and whether they permit smoking or not. Be sure to take note of these so you are prepared to bring extra items or look for somewhere else with suitable offerings.
If you require some insight into the accommodation you are considering, be sure to read any reviews left from previous travellers and visiters. This can give you an honest and clear idea of what to expect from that specific listing.
Finally, contact your host and introduce yourself. You're going to be staying in their accommodation so it is the perfect opportunity to ask them any last minute pre-destination questions that may be buzzing round your mind.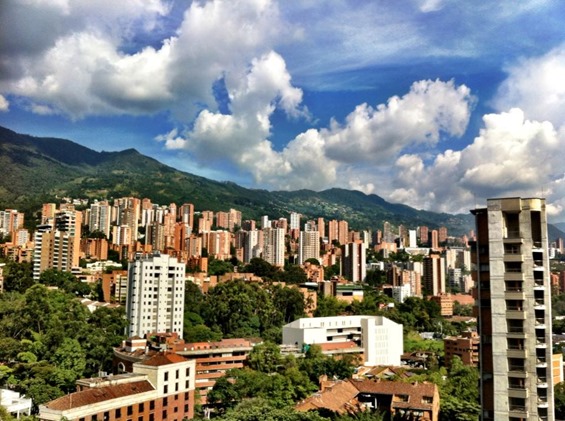 View from an apartment I rented in Medellin, Colombia.
How Much Does Airbnb Cost? What Are the Airbnb Fee?
Depending on the type of accommodation you are selecting, hosts decide how much they want to charge, including cleaning fees and extra guest fees. For easy booking, the price will be displayed once you enter your journey dates; prices are all up to hosts' discretion. In addition to these base fees, it is advisable to be aware of additional fees that can come in the following form:
Currency exchange fee
VAT – guests who reside in the European Union, Switzerland, Iceland, Norway, and South Africa.
Local taxes – dependent on where the host's listing is located
Do I Have To Pay a Deposit?
Because accidents can happen, such as breaking a door lock, leaving a stain on the carpet, or denting a table, your security deposit helps cover these accidents if they arise. The host will add a security deposit to the listing before you reserve and book, but it should be noted that off-site payments are prohibited and are a violation of the Airbnb terms.
What Happens Once I've Paid the Deposit?
Once your reservation has been accepted, your payment information is securely stored. No charges will be made to your choice of payment unless the host has a reason to make a claim, in which case they have 48 hours after your checkout date to do so.
What Happens if the Airbnb Hosts Make a Claim?
If a host is unhappy with the condition in which you left their property, or there is significant damage, after they have made a claim on the security deposit Airbnb will mediate, and as necessary will retract payment from the guest. You can read more about the claim process as a guest, here.
How Do I Book an Airbnb?
There are some steps to take in order to book your dream accommodation on Airbnb. First of all you need to sign up!
First of all:
1. Fill out your profile
The beauty of Airbnb is the variety of its accommodation, and with that comes a variety of owners and hosts too. While some hosts are comfortable letting you book their place instantly without approving it, others like to know who is coming.
Filling out a profile with photos and verified ID can help your host to know a little bit about you prior to your arrival and for their own peace of mind.
2. Find a suitable place to stay
Search the dates you wish to travel and the number of guests who are staying with you. Do your research and follow your gut instinct! It might be the best travel decision you will ever make.
3. Book book book!
There are a couple of ways to go about booking your ideal accommodation.
Firstly, you can instantly book:
-Enter your arrival and departure dates and the number of guests
Click "instant book"
Enter your payment details
Send an (optional) message to introduce yourself to your future host
Click "Book now" when you're ready and you're off!
You will then shortly receive an email confirmation including payment and your trip details.
Or you have to request to book:
In the interest of trust, which Airbnb is grounded on, many hosts prefer to approve reservations before they're confirmed.
If this is the case you just click 'Request to Book'
Enter your Payment details.
Your host then has 24 hours to accept, and once they do your request will automatically go through.
What if the Hosts Decline My Request?
If they decline your request, for whatever reason, or they do not reply within the allocated 24 hours, you will not be charged.
What if Something Goes Wrong With My Airbnb?
Airbnb recognise that travelling, be it alone, with friends, family, or partner, can be tiring and weary. The customer support team is there 24/7 to ensure that all your requirements are met and your questions, big or small, are answered, so you can rest assured your stay will be a pleasant and enjoyable one. If you have any concerns before, during, or after your stay with accommodation booked via Airbnb, you can contact them anytime at airbnb.com/contact.
How Safe Is Airbnb?
Due to the host and guest nature of Airbnb, there is a personal element supported by verified ID to ensure that the safety of guests and hosts is at the forefront of all they do. There are a few simple measures that you can take to provide yourself with the utmost peace of mind:
Read listing descriptions closely
Fail to plan, plan to fail – reading everything a host has included in their description will better equip you with the knowledge of what amenities the property includes, any cancellation policies, and where it is located in relation to your ideal destination so as to avoid any nasty surprises.
Communicate with your host
It is encouraged that you take some time to message your future host and acquaint yourself and your guests with whom you will be staying. This is not an obligatory requirement, however the opportunity to ask a local any questions about the are over a beer is always a plus.
Sign up for traveller's insurance
No one can predict the future, so having gap year travel insurance to cover you and your guests while you're abroad is advisable. In case of an emergency or injury on a trip, or lost bags and travel delays, your insurance might cover it. It is also advised to check with your local insurance provider for any details on what options you have.
Make copies of important documents
For vital documents such as passports, visas, and national insurance cards, it is recommended to have a paper and digital copy in the case of losing your ID while travelling.
A top tip is to keep your money and ID in different places, so that if you lost your wallet or bag or it is stolen, your entire identity and cash isn't taken too.
Enjoy your trip, and be a considerate guest!
Remember you are staying in someone's house, apartment, flat, or castle..treat it with the respect you would want someone to treat your home with, and enjoy the unique experience that Airbnb has to offer.
Why Would You Recommend Airbnb?
Airbnb is an innovative, fresh, friendly, and uniue approach to travelling, and can provide you not only with a comfortable, homely, and satisfying place to stay, but potentially with a new found friend – depending on how much time you'd like to spend with your host. There is no pressure to spend the majority of your stay with your host, however sharing a beer with them can provide you with an invaluable opportunity to find out about the local hotspots and ask any questions about the area – so it's up to you how you spend your time!
Cheap Airbnb in USA
If you are keen on having an American adventure, we've had a couple of accommodation ideas that might just get your wanderlust rolling without making your wallet roll too.
Cheap Airbnb NYC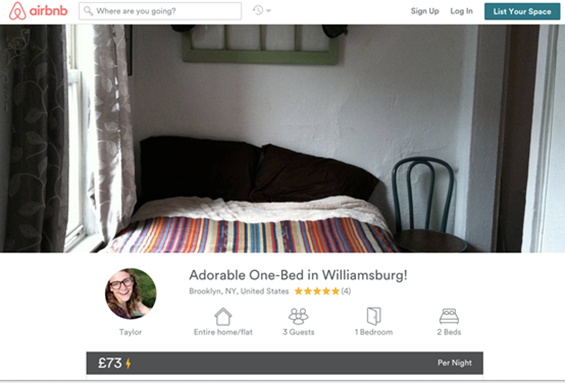 This adorable one-bed in Williamsburg, NYC is perfect if you are travelling on your own or in a couple, with a limited budget per night. Situated in Brooklyn, this property is situated in the heard of Williamsburg and can be reached by public transport in just under 30 minutes.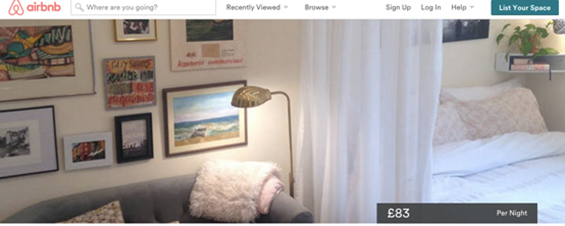 If you are more of a Manhatton inhabitant, this stylish 2 bed apartment offers smartly functional sleeping, living, and dining areas – so your stay is as convenient and comfortable possible.
Cheap Airbnb San Francisco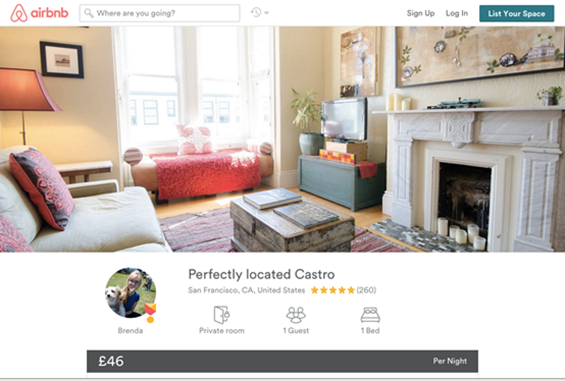 If an 1895 Victorian flat in the heart of San Francisco is your taste, this 1-bedroom bargain is perfect for you. With internet, kitchen, heating, and dry amenities, this Castro is a relaxing haven waiting for you.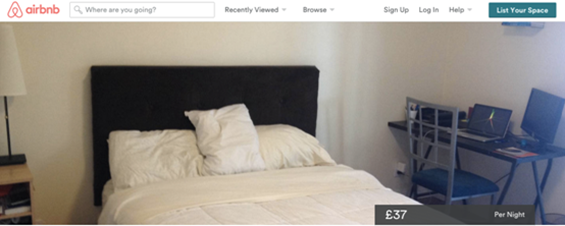 A spacious, inexpensive room located 25 minutes from Downtown San Francisco.
Cheap Airbnb Chicago
Comfortable Chicago guest room close to metro stations with resident cat – perfect if you're missing your feline friend.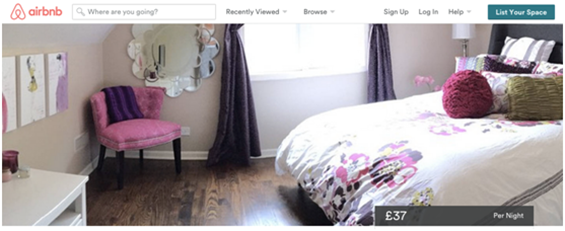 A bright and colourful bedroom located in the front of the house, so you can rest assured your stay in Chicago will be peaceful.
Airbnb Coupon
Don't forget, if you're new to Airbnb, just sign up by clicking here and you'll receive £24 ($34) off your first booking.
Amar was born and raised in England and embarked on an 11-country round-the-world gap year after graduation and then became well and truly hooked. The first gap year inspired a second, which ended up being a 23-country down-the-world trip from Canada to Antarctica. Since then, Amar has spent the last 14 years traveling the 7 continents.