I recently had the pleasure of visiting Basel during one of their most exciting times of the year. It had been some time since my last trip to Switzerland when I visited Interlaken for adventure sports but this trip was entirely different but no less spectacular.
Based on the banks of the Rhine, Basel has something to offer everyone year-round. From the architecture, art and numerous museums to restaurants, events and relaxations, It's all here.
I travelled to Basel for the Fasnacht Carnival with four other bloggers. They were not all strictly in travel which meant that we were all seeing the city through a different lens. Feel free to check out the blogs of Eulanda, Milly, Giulia and Gemma.
I'll be honest, the Fasnacht Carnival was not something that I'd heard of before but this is how it was pitched to me…
"It really is a feast for the senses as you can expect between 15 – 20,000 masked performers, roaming the streets of Basel for this three-day extravaganza of music and mayhem which is the largest of its type in Switzerland."
Count me in.
So off I went to Basel. Of course it couldn't be smooth sailing. After 8 years of doing this, I still managed to forget my passport and had to rush back to get it but made the gate just in time to meet the others.
How To Pronounce Basel in Switzerland
As I sat on the plane it soon became apparent that each of us were all pronouncing Basel differently and as time went on, my conviction that I was saying it right dwindled.
Don't worry, even BBC staff have trouble with it! The short answer is that there are four different spellings; Basilea, Basel, Bâle and Basle. Basel is the German spelling, used by both the tourism office, the football team and Google maps, so that's good enough for me.
Basel has nothing to do with the herb or the pronunciation of the herb Basil and is pronounced Bah-zul. There you go, confusion avoided!
Weather in Basel Switzerland
Basel has a pretty typical European climate with cold and wet winter months and summer's that can reach 25 degrees. That being said, Basel is a destination you can visit all year round with lots of indoor and outdoor options.
Also, having visited in March, it was cool on my first day, chucking it down on the second and sunny on the third. Don't let weather forecasts put you off!
In summer it's quite typical for the locals to go swimming down the Rhine. They put their clothes in a dry bag and float down the river. I'll have to try this the next time I am there.
Getting to Basel
British Airways, Easyjet, Ryanair and SkyWork fly direct to Basel from different London airports. Given that Basel is on the border of three countries, it also has three train stations; Swiss Railway Station SBB, French Railway Station SNCF and the German Badischer Bhanhof. As cities go, it's pretty well connected.
Getting in to the city from the airport is easy using the bus and then the tram.
One thing about Basel that is extremely useful is that if you are a guest of a Basel hotel you will be issued with a mobility pass which lets you use public transport for the duration of your stay in Basel.
If you're using public transport to get to your hotel, apparently you can use your hotel reservation until you get your mobility pass.
Hotels in Basel Switzerland
We stayed at the Swissotel Le Plaza which is a 4* superior hotel conveniently connected to the Congress Centre.
The location was great and only a 15 minute walk to the centre. This hotel had everything you'd expect from a 4* hotel including a sauna and steam bath. There were some extras I had never seen before.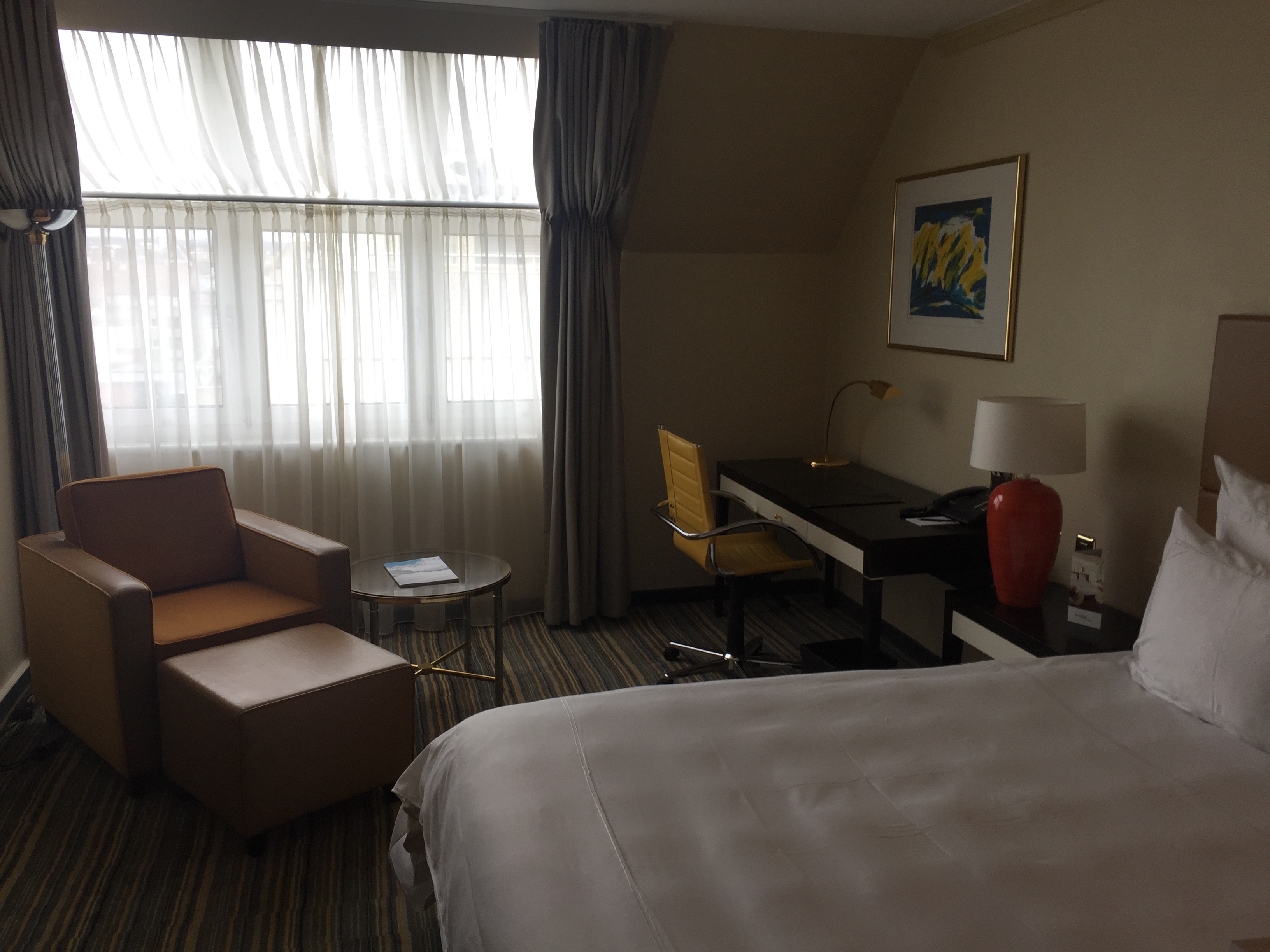 The first thing was a pillow menu. Yup, a menu where you could order different pillows. If the six pillows in my room weren't enough I could order a complimentary neck support pillow or neck roll. That not doing it for you?
How about a spelt pillow or a Swiss stone pine shaving pillow. I have to say I was rather impressed!
The other service I'd not seen before is the ability to have various pieces of basic gym equipment brought to your room if you didn't fancy using the fitness centre. There is even a running station for when you come back from your jog along the Rhine.
I'd be remiss if I also didn't mention the attached restaurant Grill 25 which we had dinner at one night and enjoyed breakfast there too. Was very impressed with the breakfast spread.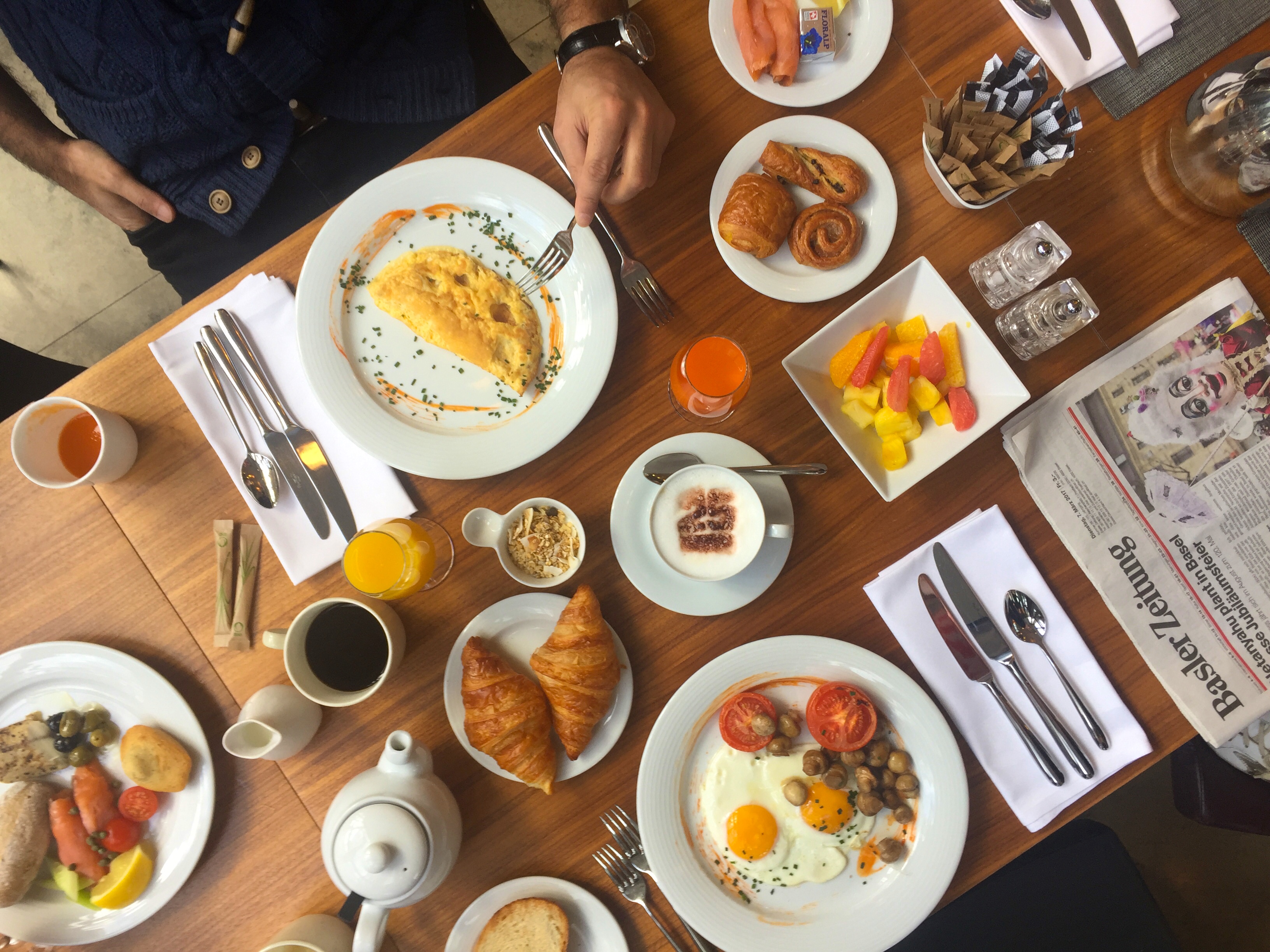 If you're looking for more budget accommodation options you can try the following:
The Fasnacht Carnival
The Fasnacht Carnival is the largest of its kind in Switzerland where the streets and alleys of Basel become a kaleidoscope of colour, music and celebration. More than that it's a family affair where tradition collides with modern affairs in what is a fascinating spectacle to observe.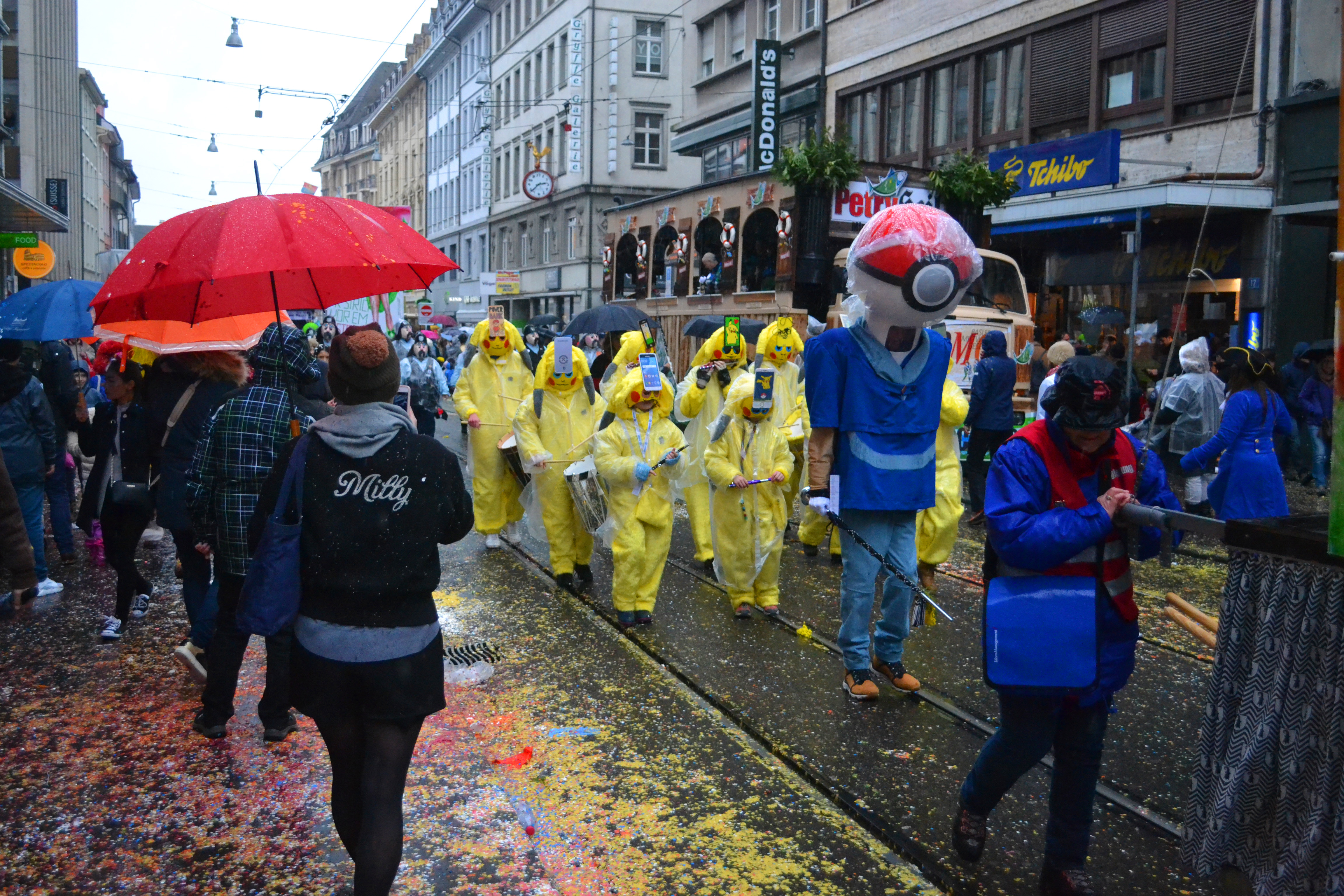 What are the origins of the Fasnacht Carnival?
The roots of the Basel Fasnacht go back to Celtic and Germanic times and are related to driving out winter, among other things. Later it became part of military traditions, medieval jousts and religious feasts during Lent.
The earliest recorded reference to the Fasnacht goes back to 1376. There may have been earlier references but an earthquake in 1356 destroyed most historical records.
When is the Fasnacht Carnival?
The carnival starts at the same time every year; 4am sharp on the Monday morning after Ash Wednesday and it lasts exactly 72 hours.
Morgenstreich to Endstreich – Fasnacht Start to Finish
With a 3am start we made or way to the Marktplatz for the Morgenstreich at 4. Get to the Marktplatz in good time to secure a good spot as it gets busy very quickly.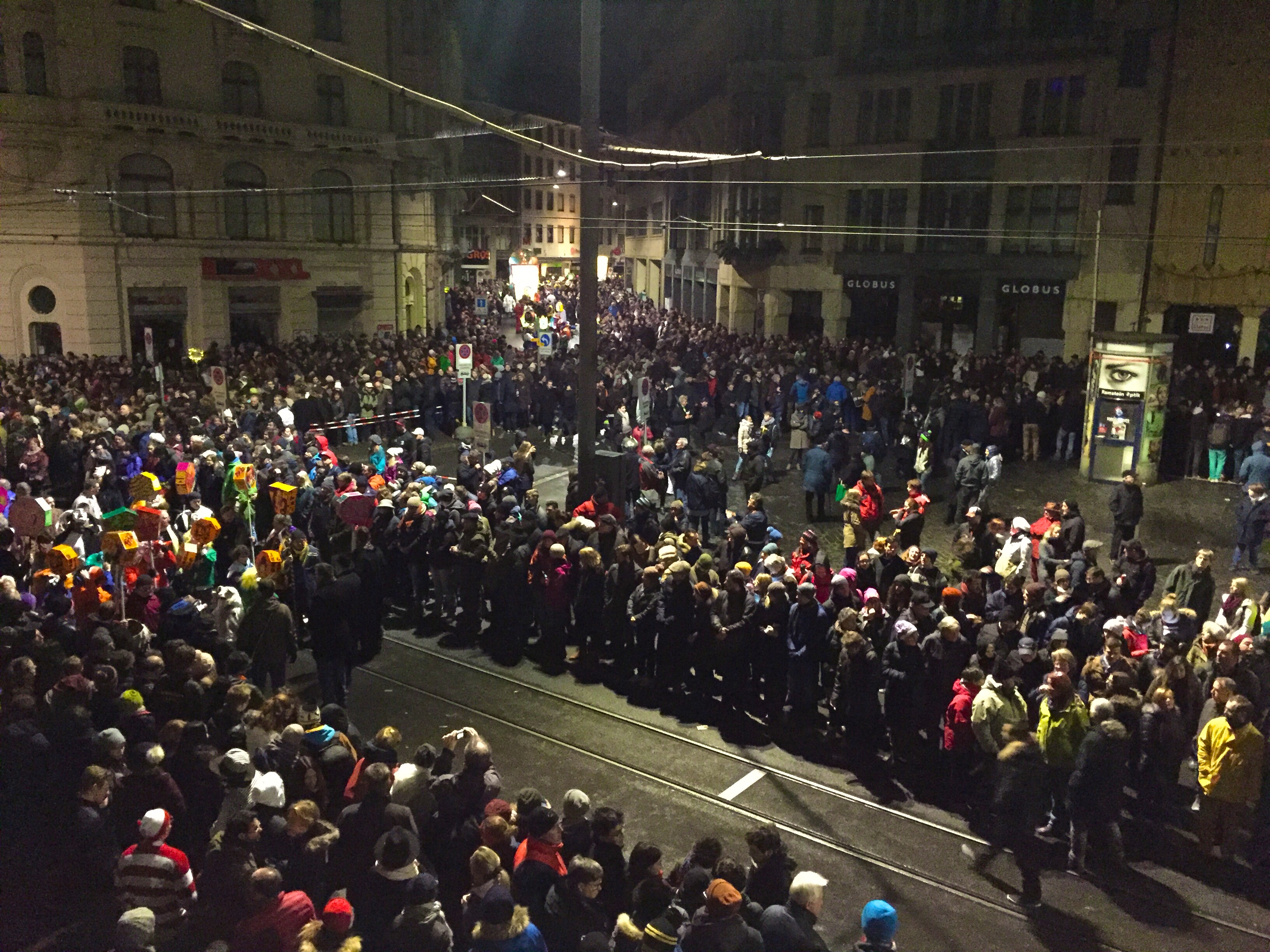 This impressive start to the Fasnacht is when the street lamps go off and the only light is emanating from the soft glow of large lanterns. The streets are packed with music and your ears become filled with a traditional marching tune played out by pipers and drummers. Pictures don't do it justice. The atmosphere is buzzing, even at 4am!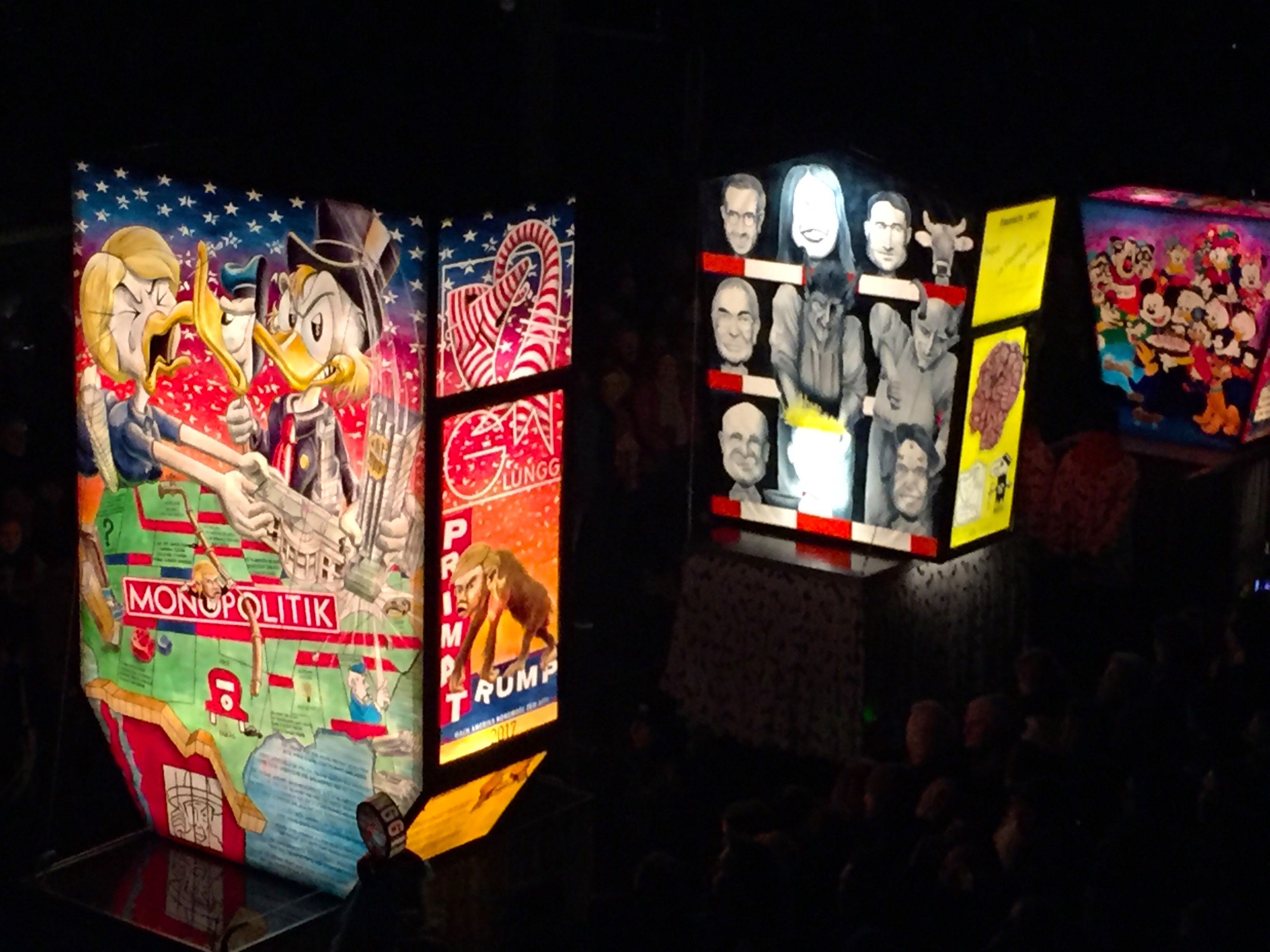 This continues until day break when it is then customary to go for a breakfast of which the traditional dishes are a roasted flour soup or a dish what could be described as a savory cheese cake. Time to get a quick nap in before the afternoon festivities.
On Thursday morning at 4am, exactly 72 hours later, the Fasnacht ends in a similar way with the Endstreich where they play their final piece.
The Sujet: Making a Statement
Each year the Fasnacht has an overarching motto but each clique (group) will have a sujet. For 2017 the motto was "breaking out of the frame".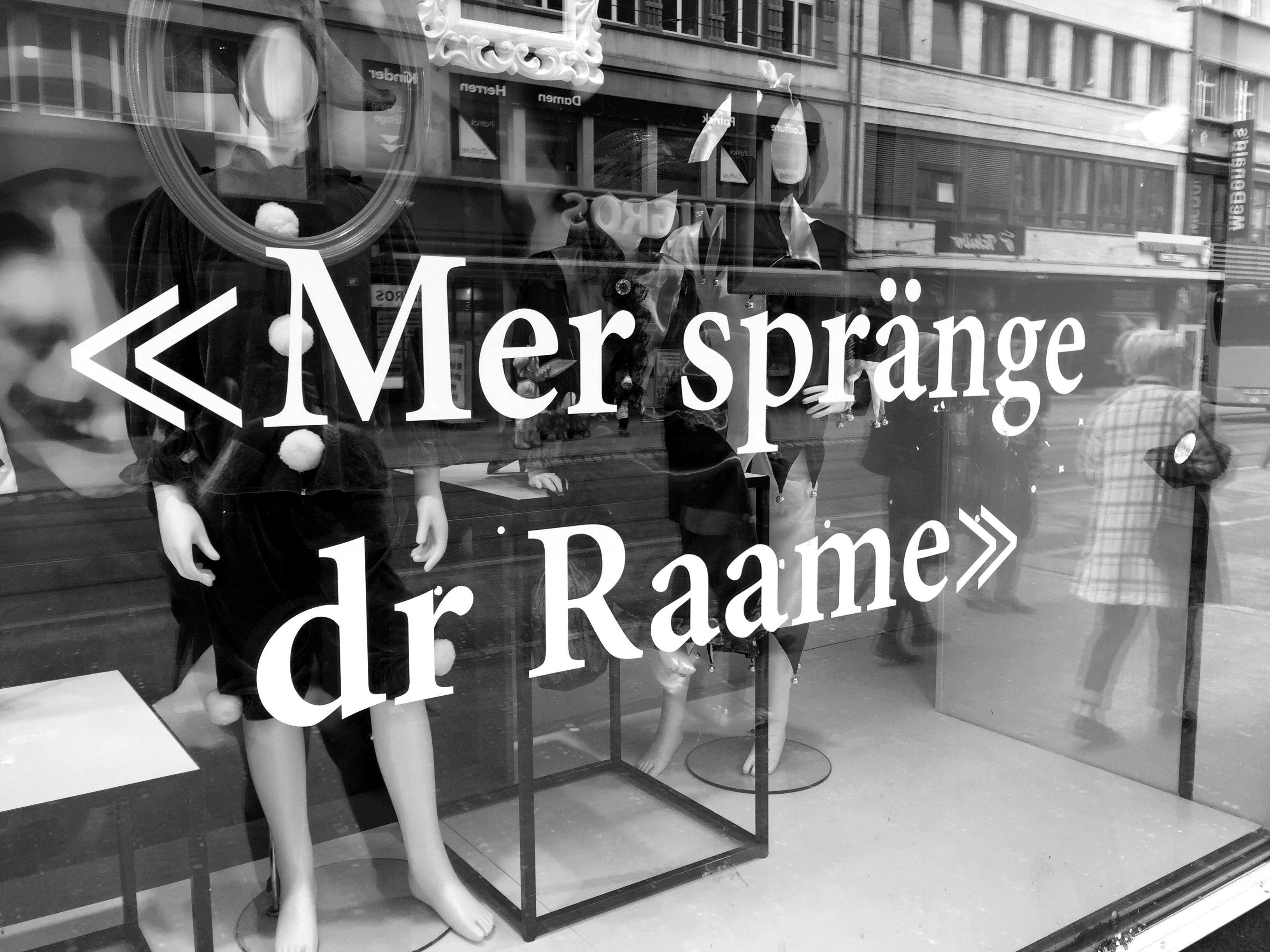 The sujet is a theme and an outlet for each clique to highlight a particular issue (quite often cultural or political) whether it be local or on the global stage.
The sujet also becomes the glue that holds the clique together and distinguishes them from every other clique.
Some messages were particularly obvious, like Brexit or the Scottish referendum (the kilts were a giveaway). On the other hand some I never would have worked out and it's like trying to figure out a piece of art; one that's lit up, moving, blaring drums and throwing confetti at you!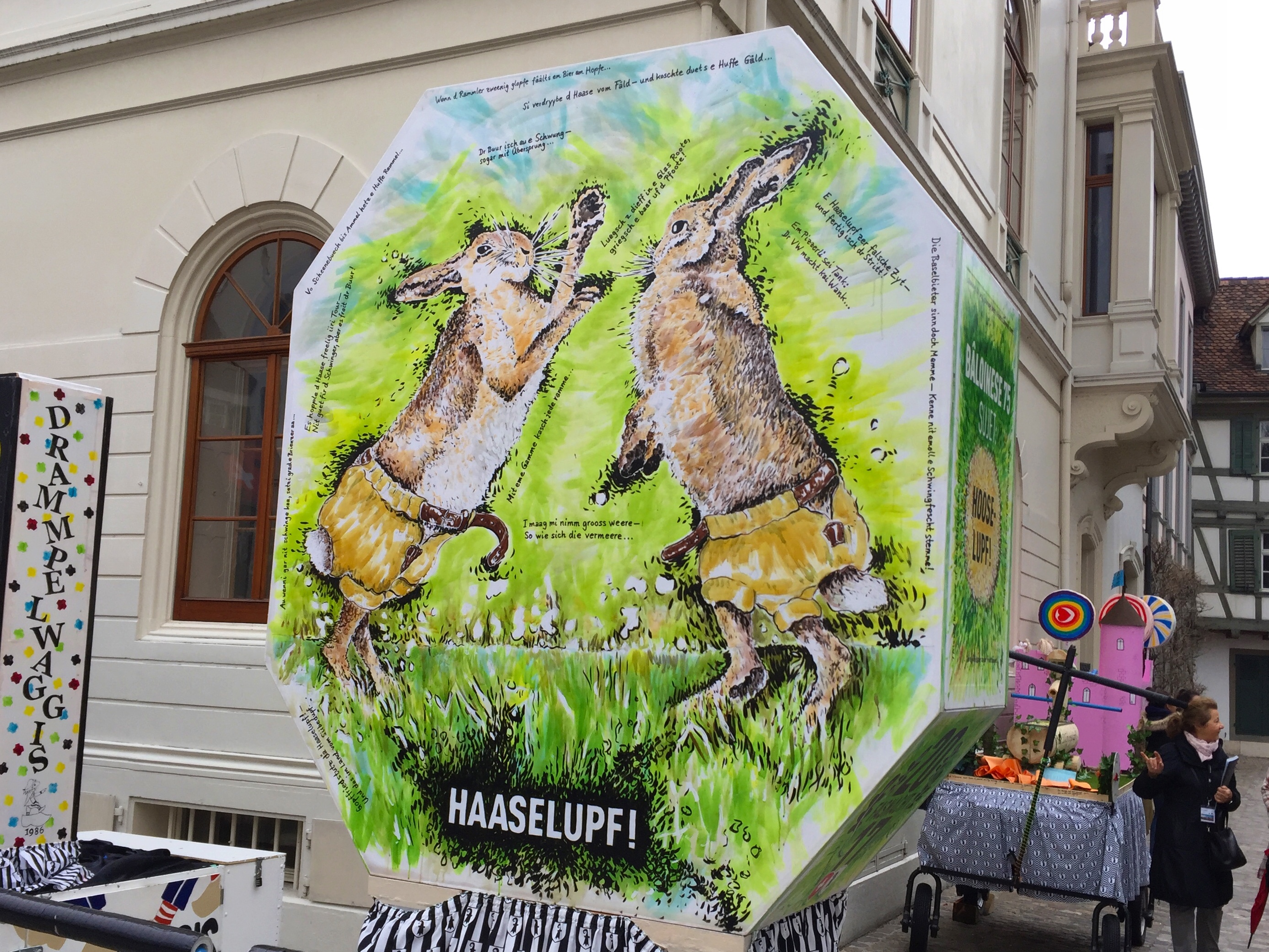 Take the above float for instance. This one was about the debate of holding a form of Swiss wrestling in the farmlands surrounding Basel. The Swiss farmers were against the move as it would damage their land and also endanger the resident hare population. Would you have got that?
No prizes for guessing what the below was about…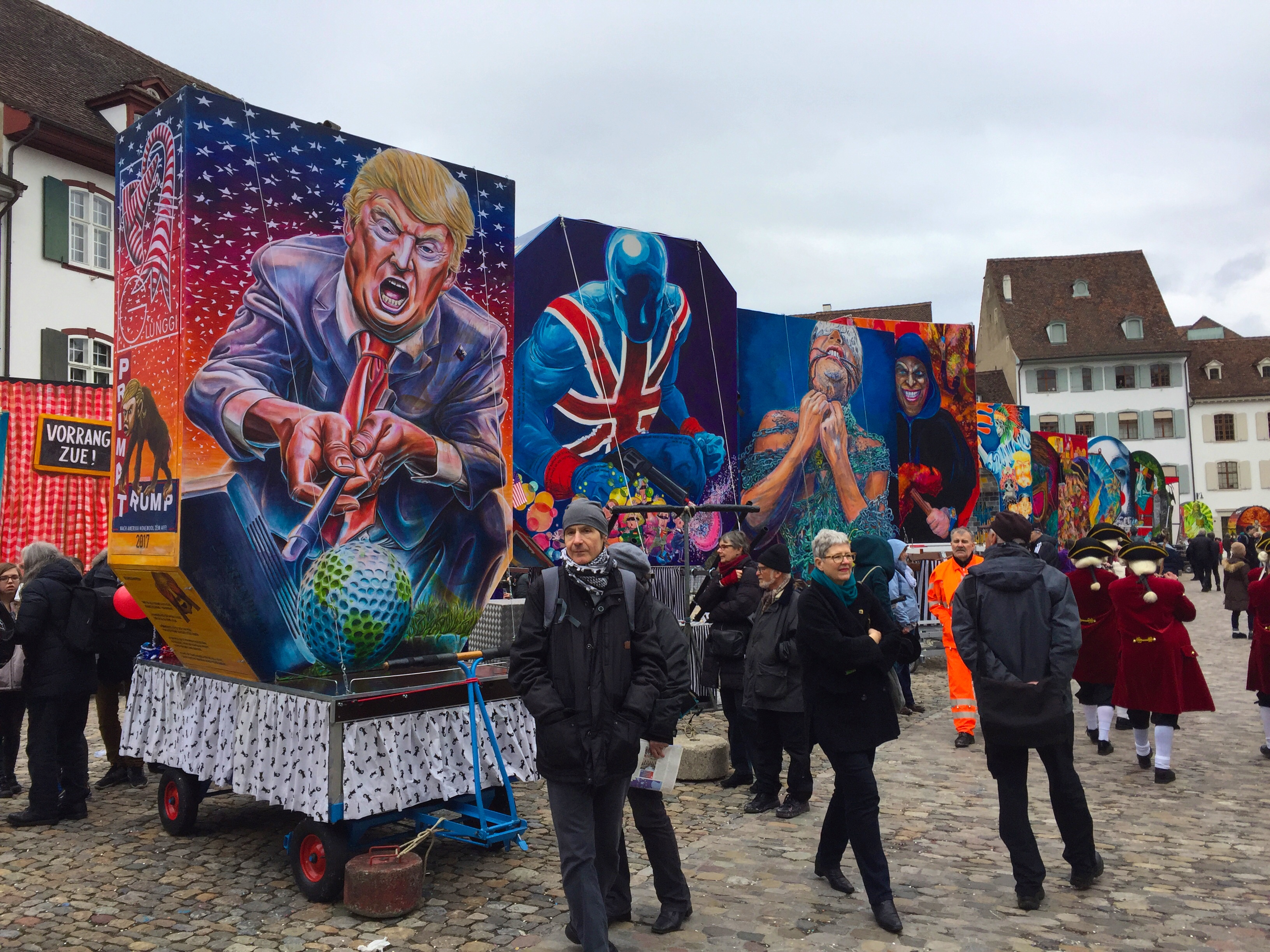 Masks at Fasnacht
Masks play a huge part of the carnival and are generally based upon the sujet the clique has decided on for that year. The time and skill that goes into them must be astounding. A lot of masks are re-appropriated from previous years to save on costs.
With identical masks and costumes it's quite difficult to gleam anything about the individual underneath. Aside from a wedding band, you don't know much else. I think the anonymity really helps illuminate the overall message of their sujet.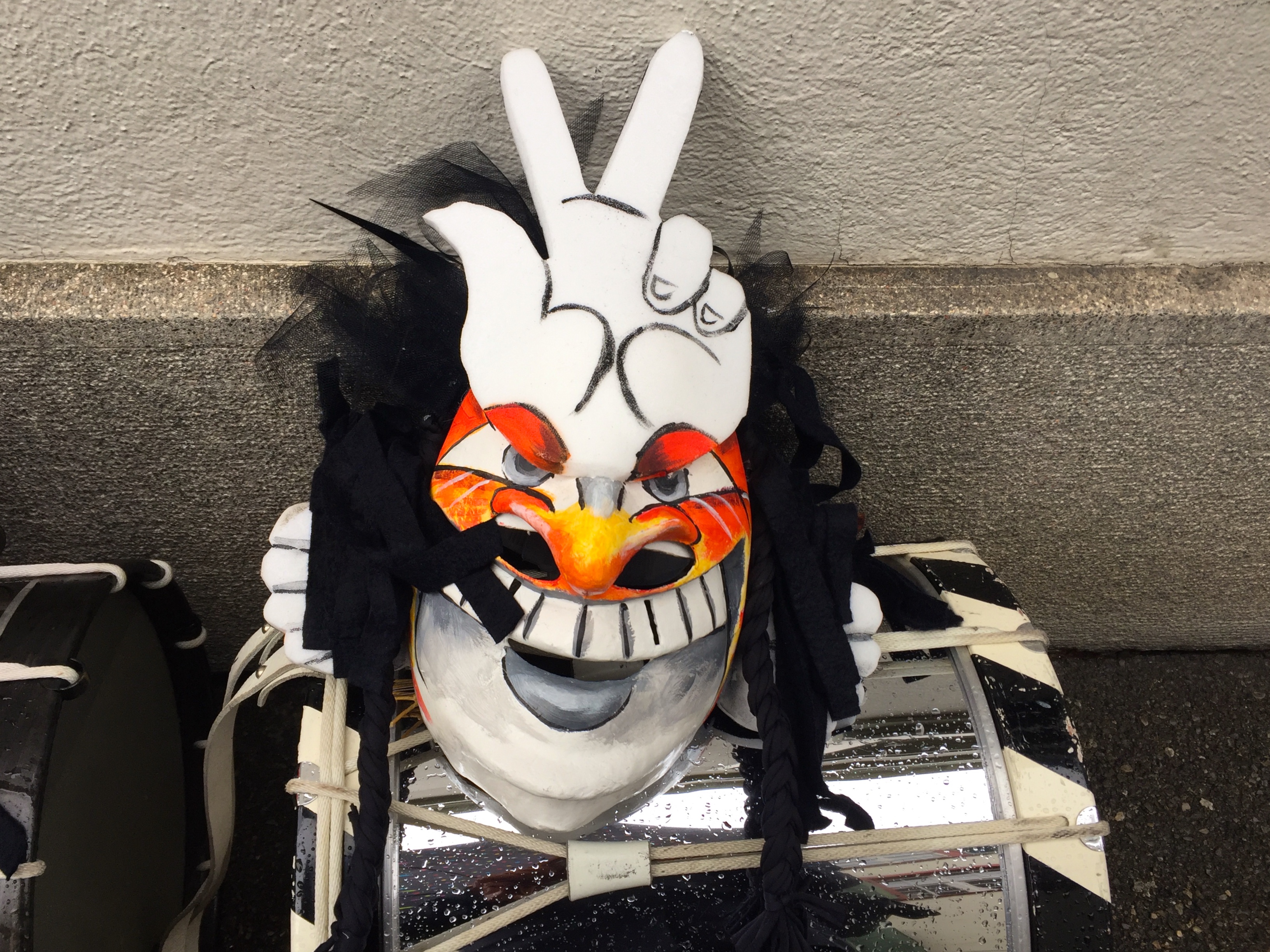 Music of the Fasnacht
The streets of Basel really come alive during the Fasnacht with the sound of piping and drumming, which you'll end up hearing in your head for days after leaving Basel!
Come rain or shine, the cliques will parade the streets of Basel playing various marches. Cliques will play around 15 – 25 different marches off by heart. Impressive right?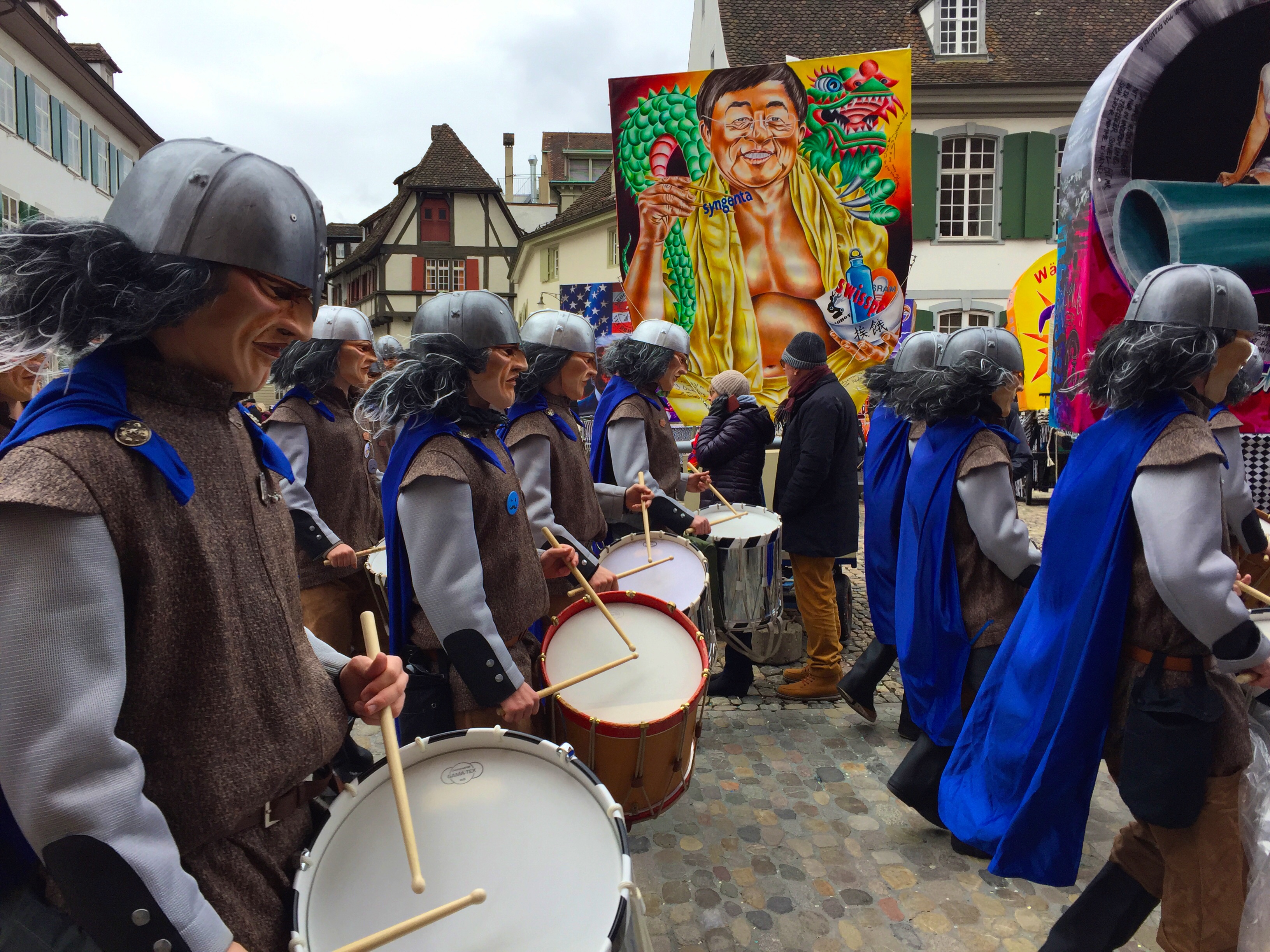 A few helpful hints about the Fasnacht
Do buy a Fasnacht badge. Proceeds from sales are split amongst the cliques involved and helps pay for costumes, lanterns and floats.
Do check restaurants and cafes you might want to visit beforehand as many will be closed or offer a reduced menu.
Respect the traditions and don't wear face paint or a wig.
Flash photography is prohibited during the Morgenstreich to maintain the atmosphere.
Floats will throw gifts like sweets and oranges. Some will land on the floor. Watch your footing.
Be caferul when crossing the road and remember cliques have right of way.
Don't throw confetti at the people in masks and certainly don't pick it up off the floor!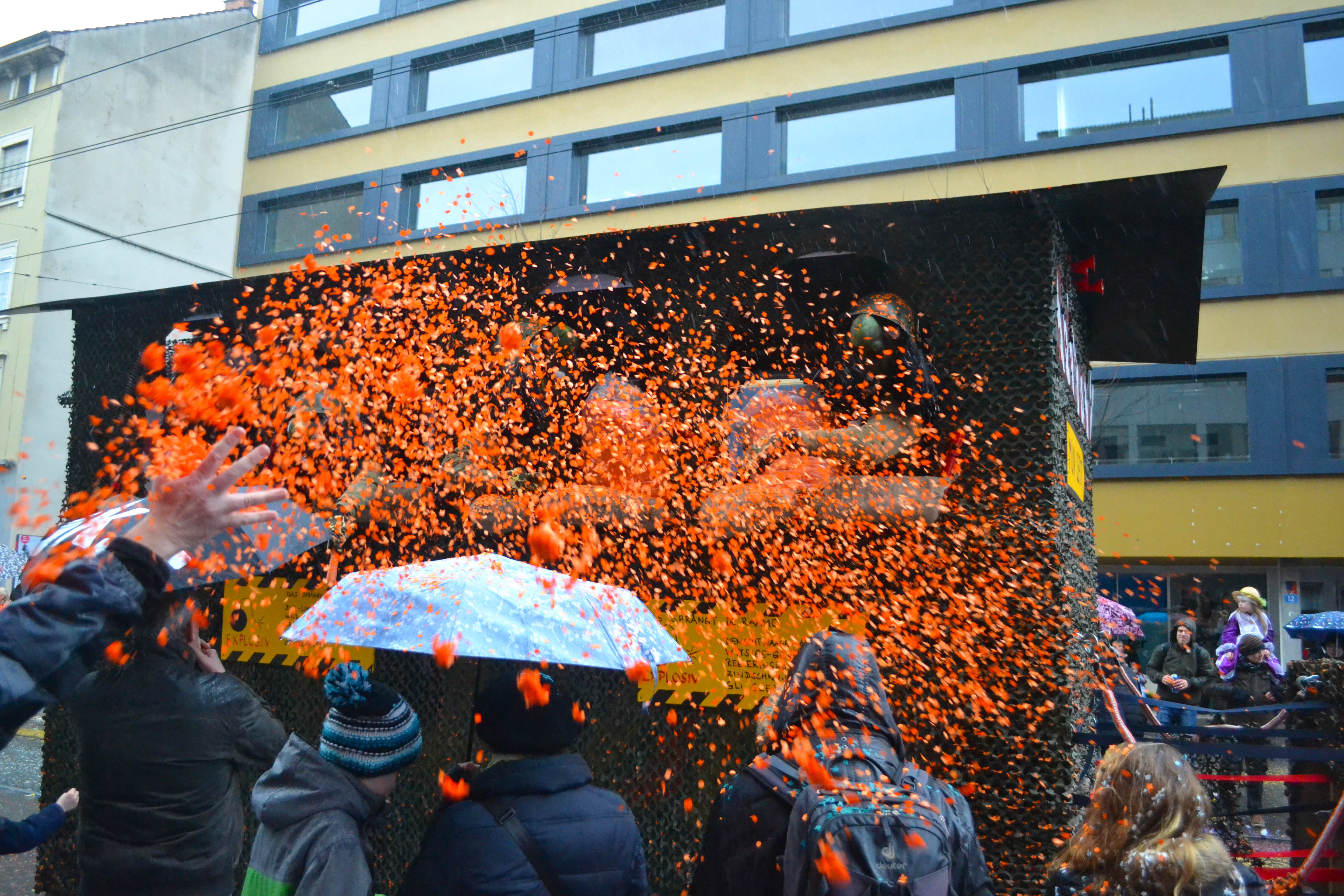 Other Things To Do in Basel Switzerland
Walk around the streets and old town – Basel has beautiful blend of traditional and modern architecture.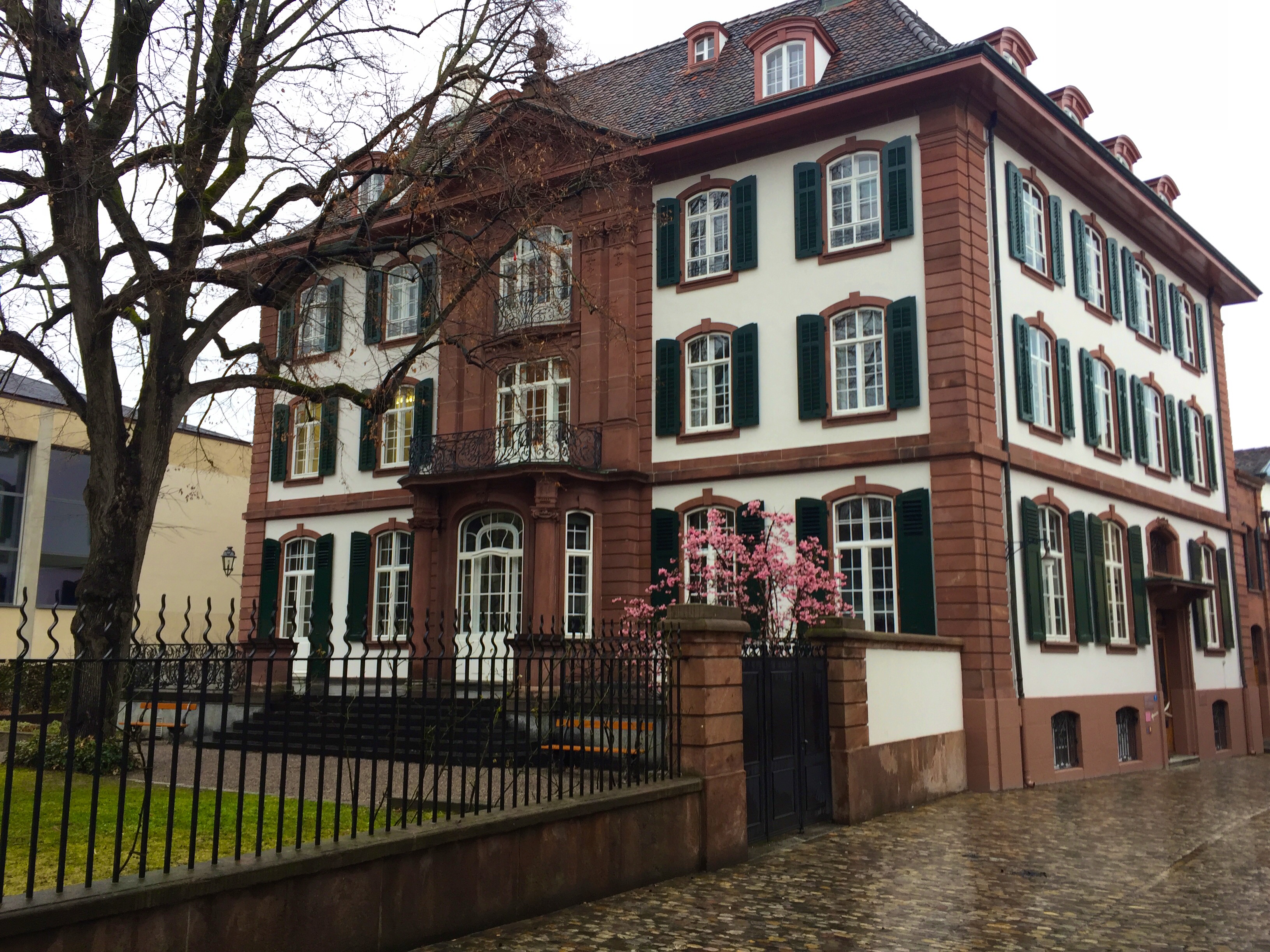 Eat and drink, a lot! – From chocolatiers and cafes to casual eating and fine dining, Basel has it all. Try the veggie burger at 1770.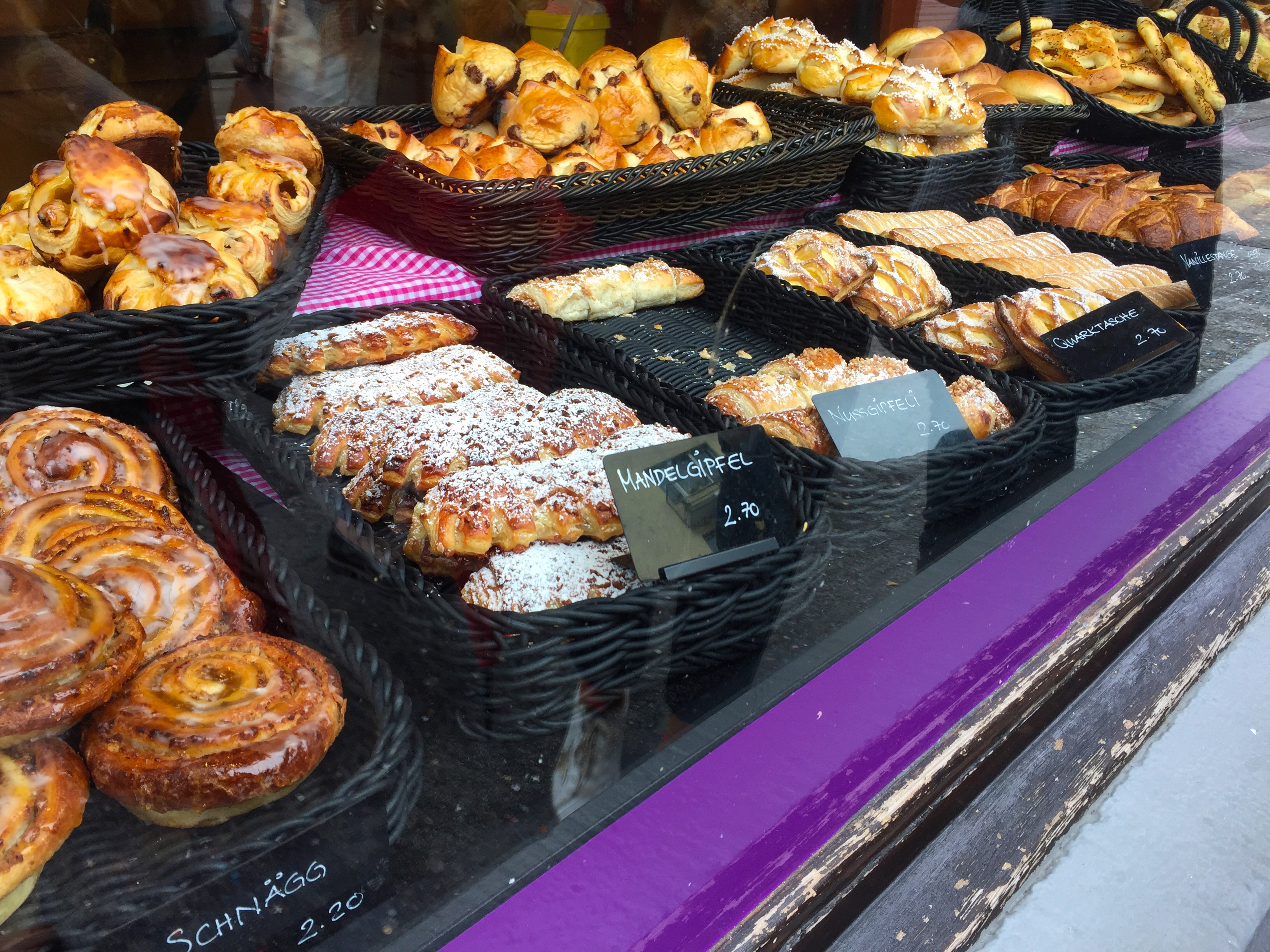 Do some sightseeing – Check out the façade of City Hall, the Tinguely Fountain and take a ferry across the Rhine. Better yet, doing a city tour will give you lots of insider info.
Check out a museum – If you're into art and museums, you're in luck. Basel has 40 museums in the city with something for everyone.
Final Thoughts on Basel Switzerland and the Fasnacht Carnival
Whether you're going for the carnival or a weekend break, Basel has something to offer everyone. I really enjoyed the Fasnacht Carnival. It was such a unique experience with it's vibrant colours, astounding sounds (loved the drummers) and great atmosphere. I'd certainly do it again!
Gap Year Escape attended the Fasnacht Festival as the guest of Basel Tourism.
Amar was born and raised in England and embarked on an 11-country round-the-world gap year after graduation and then became well and truly hooked. The first gap year inspired a second, which ended up being a 23-country down-the-world trip from Canada to Antarctica. Since then, Amar has spent the last 14 years traveling the 7 continents.