Travelling as much as I do it's quite difficult to nail down the best place I've ever been to. Every destination has its ups and down, it's food and culture, hidden gems and tourist traps. Nevertheless, Sri Lanka would be one of my top destinations ever and it is by far the most friendly country I've ever been to.
The diversity in landscapes and things to do make it a thrilling country to backpack.
Below is a detailed two week suggested itinerary including everything I wish I knew before I went that will help you plan your own trip. Firstly, there are two places that aren't featured but worth mentioning:
Kitulgala – We didn't have enough time to fit this in to our two weeks but this is the adventure activities capital of Sri Lanka and very popular for white water rafting.
Pinnawala Elephant Orphanage – I don't pretend to be an eco-warrior but I will educate where I can. This orphanage is extremely popular for tourists because it's such a "good" photo opportunity. It may be good for your photo collection but it's not for the elephants.
On reading reports from Born Free and Responsible Travel we decided to avoid this altogether. In Minneriya National Park you can see up to 300 elephants roaming free like they were meant to.
If trains aren't your thing you should check out this guide to private drivers in Sri Lanka.
Suggested Two Week Itinerary for Sri Lanka
Colombo
Habarana
Minneriya National Park
Sigiriya and Pidurangala
Polonnaruwa
Dambulla
Old Village Spice & Herbal Garden
Kandy
Kandy to Ella Train – Advice and Timetable
Ella
Kataragama
Yala National Park Leopard Safari
Mirissa
Blue Whale Watching in Mirissa
Galle

Sri Lanka
Colombo
Colombo is like a lot of major cities in South East Asia; areas of opulence and money with a mix of poverty. That said, its quite a modern city and a great starting point for exploring Sri Lanka.
If your onward journey allows, don't stop the night in Colombo unless you have to. There's nothing "wrong" with the capital, more that there are better things to do and places to stay.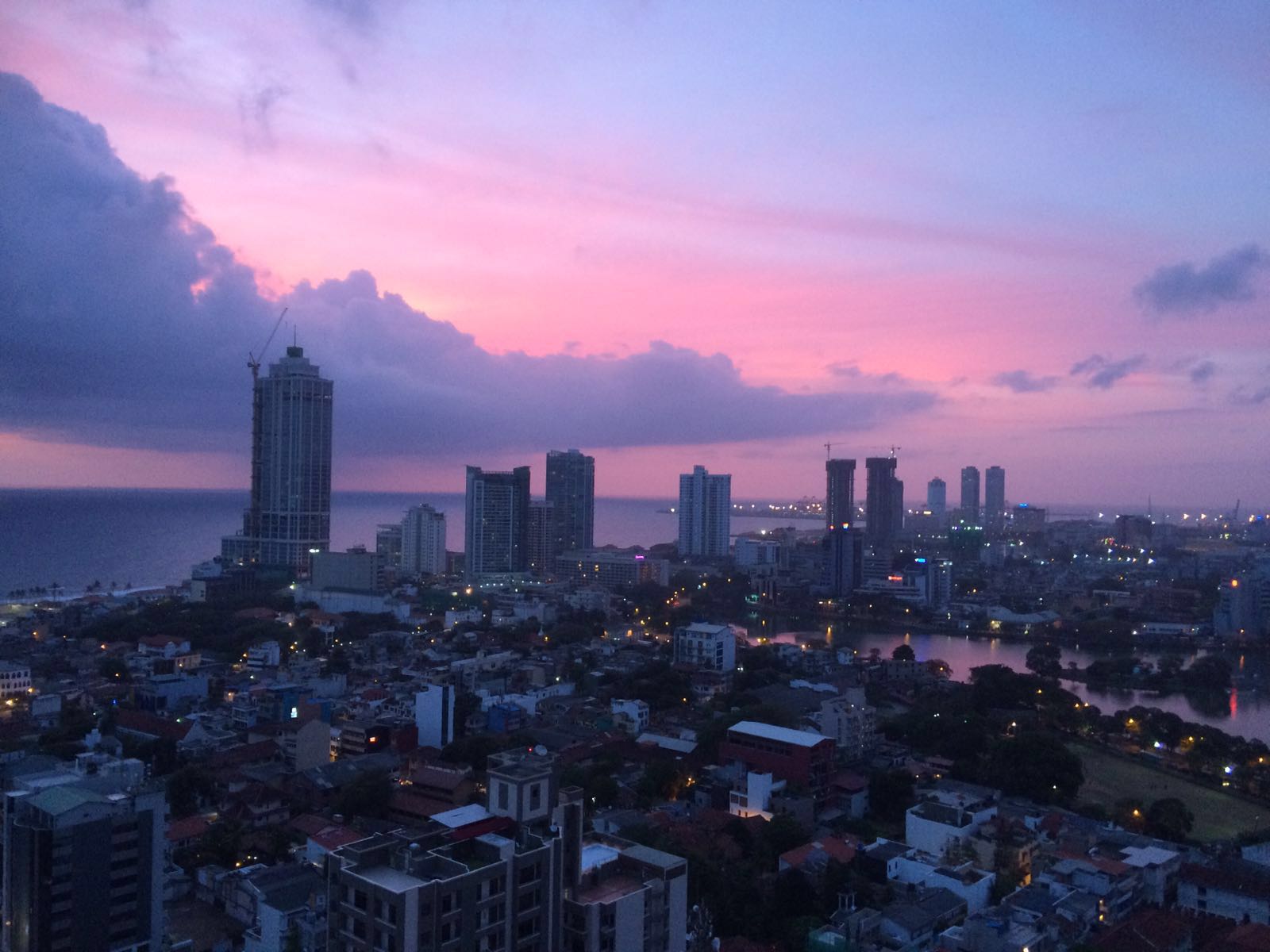 The airport has several ATMs in the main arrival hall. Some of them didn't accept my card but all the national banks are represented so just try another that works.
Also, security in the airport is strict and you will need both a passport and your ticket to get in. Make sure you withdraw cash before you leave the terminal if you need it.
Getting in to Colombo
The airport is a fair distance outside of the main city area. Most major train journeys will depart from Colombo Fort Train Station.
The easiest way to get into into the city is by tuk tuk which should cost around Rs 1500. You can pre-arrange a transfer by car for around $25. The journey can take up to an hour depending on traffic.
With our flight arriving in the late afternoon it made sense to stay the night and take a train first thing the next morning.
Knowing we were departing from the main station Colombo Fort at the crack of dawn, we made sure to book a place right near the train station to avoid any shenanigans that might make us miss our train.
We also made sure to buy our tickets in advance because it can be a bit of a faff finding the right window and getting your ticket. Not the hassle you want at six in the morning!
If you want to buy a sim card, which can come in handy for organising rides and locating guest houses later in the trip, try the World Trade Center (level 3) located near Colombo Fort. Most locals recommend Dialog which has various minute and data packages.
Accommodation in Colombo
We stayed at a hotel called City Beds, a very short walk away from the train station. Accommodation is generally much higher in Colombo than anywhere else in the country but it's just one of those things and only for one night.
Still, City Beds was in the location we wanted to be. Simple, clean and super helpful staff.
With an evening in Colombo, there are definitely places to go for drinks and a nice meal. Getting around is simple because of the metered tuk tuks which are Rs 50 per km. Avoid tuk tuks without a meter.
Colombo also has their own tuk tuk version of Uber called PickMe. It's good for taxis and the tuk tuk rates are the same as what you would get in a metered tuk tuk. If you don't want the hassle of hailing a tuk tuk, use the app but expect a five to ten minute wait.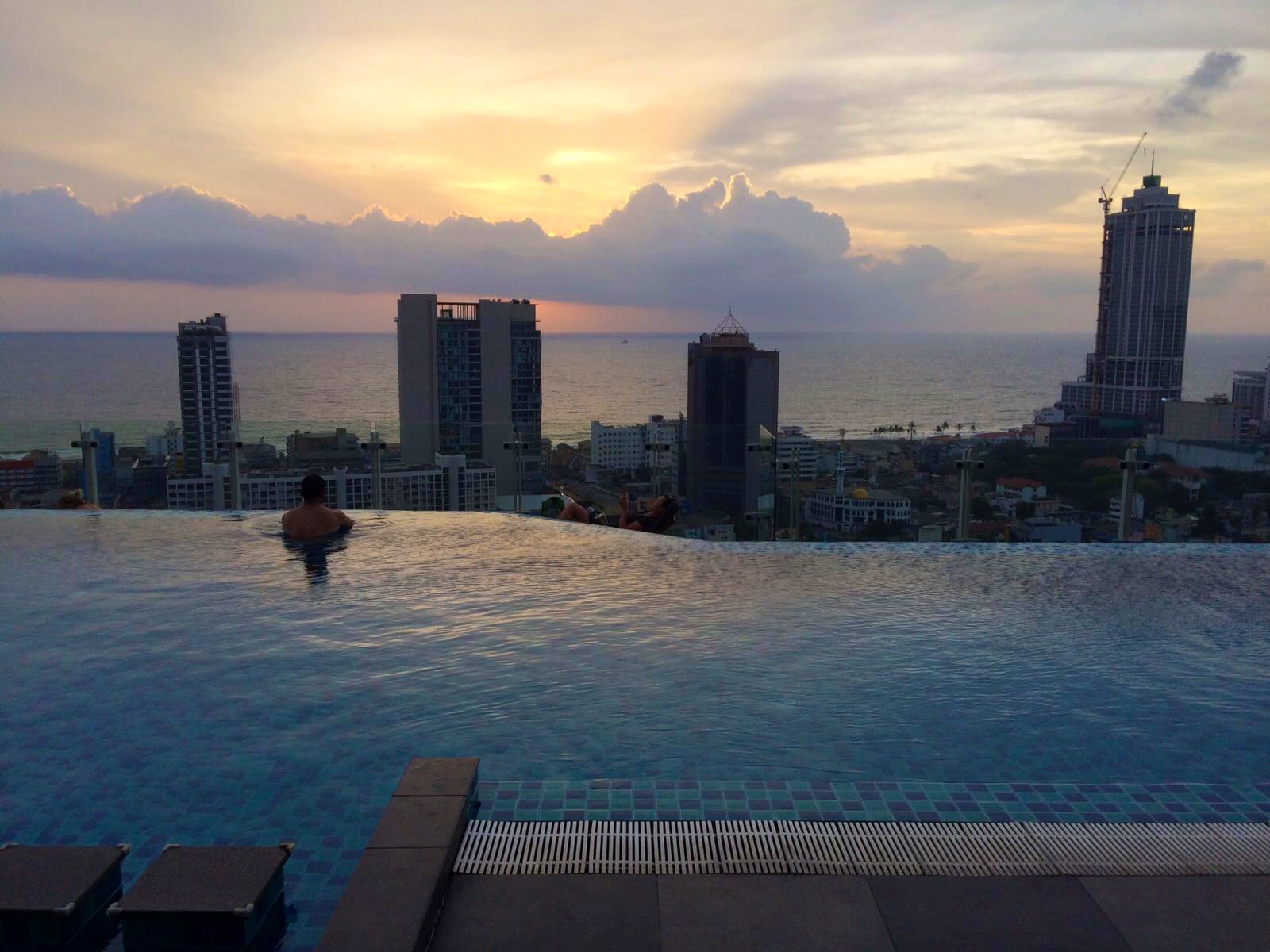 Colombo is quite a hectic city so I'd recommend a drink on the rooftop of the Cinnamon Red Hotel. We heard several times that the food wasn't up to scratch but the view of the city skyline at sunset was certainly worth it.
As for food, we had an amazing recommendation from the hotel owner. He said whenever he has friends from overseas visit he always takes them to Palmyrah which is the restaurant in the Renuka Hotel.
It's not often a hotel restaurant is recommended as the place to go for Sri Lankan food but we went along with it and we were certainly not disappointed in the slightest. Not a budget place to eat but still very reasonable.
Plus it was the first night, needed to celebrate! It set a very high bar for the rest of the trip.
Habarana
The first stop on our tour around Sri Lanka was Habarana. Armed with our Rs 1600 tickets, we got the train at 6.05 and started on our six hour journey to Habarana.
I think it was supposed to take less than six hours but there were a few random stops that had no explanation. The train was nice enough and people do come through with snacks and drinks should you not have come prepared beforehand.
Habarana is quite a sleepy town and it's basically a big cross road with a few shops. There's nothing much to do in Habarana but it's a great place to base yourself to do explore the surrounding area such as Minneriya National park, Sigiriya, Polonnaruwa and Dambulla. All are within easy reach of Habarana.
We stayed at Dudley's Guest House which is a little way out of town (tuk tuk costs Rs 250 from the station). You could walk it but I'd recommend a tuk tuk the first time. Dudley run's a three bedroom homestay verging on hotel with his wife and son.
His family actually have great banter and Dudley has worked in hospitality most of his life both in Sri Lanka and abroad before starting his own guest house.
If you do end up with some free time it's worth going to Cinnamon Lodge which is a short walk from Dudley's. You can pay Rs 1000 to use the pool facilities or just go to the bar for a drink. The sunset over the lake is pretty epic.
Minneriya National Park
You can go into town and speak to various drivers and guest houses about arranging a safari to Minneriya National Park. Dudley offered us, what we thought was a reasonable deal; $65 for two people sharing a jeep with two others.
Minneriya is not far from Habarana and we spent around two and a half hours in the park total which was more than enough time.
During July to October you can witness what they call 'The Gathering'. When the dry season kicks in you may see up to 300 elephants descend on the lake. This will happen in the afternoon and is the best time to see elephants.
We saw around 100 elephants when we were there and caught them as they went for a dip! You'll see monkeys and water buffalo too but for me it was all about the elephants! There were quite a few jeeps, maybe about 20-30 but they all seemed well behaved and driving sensibly.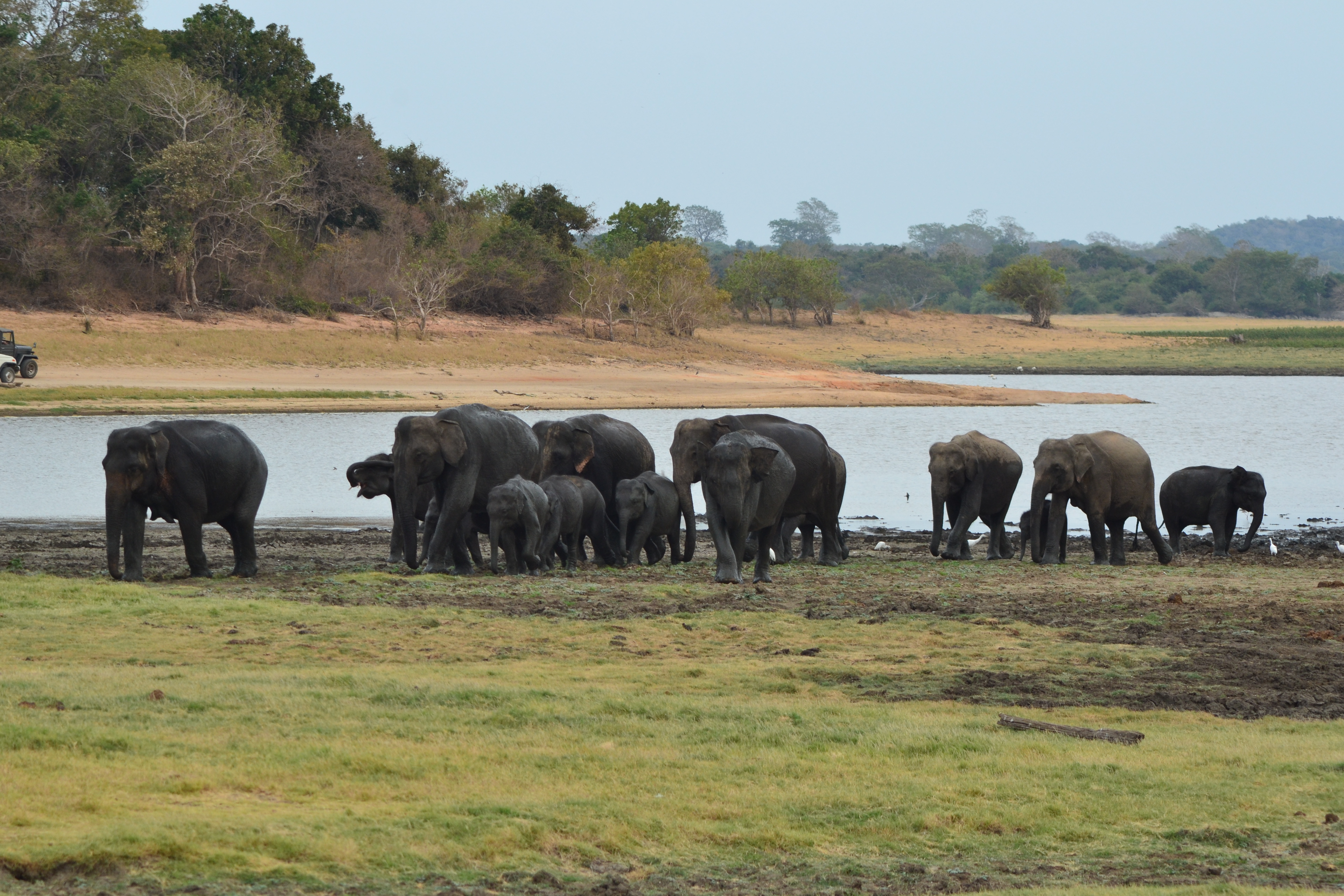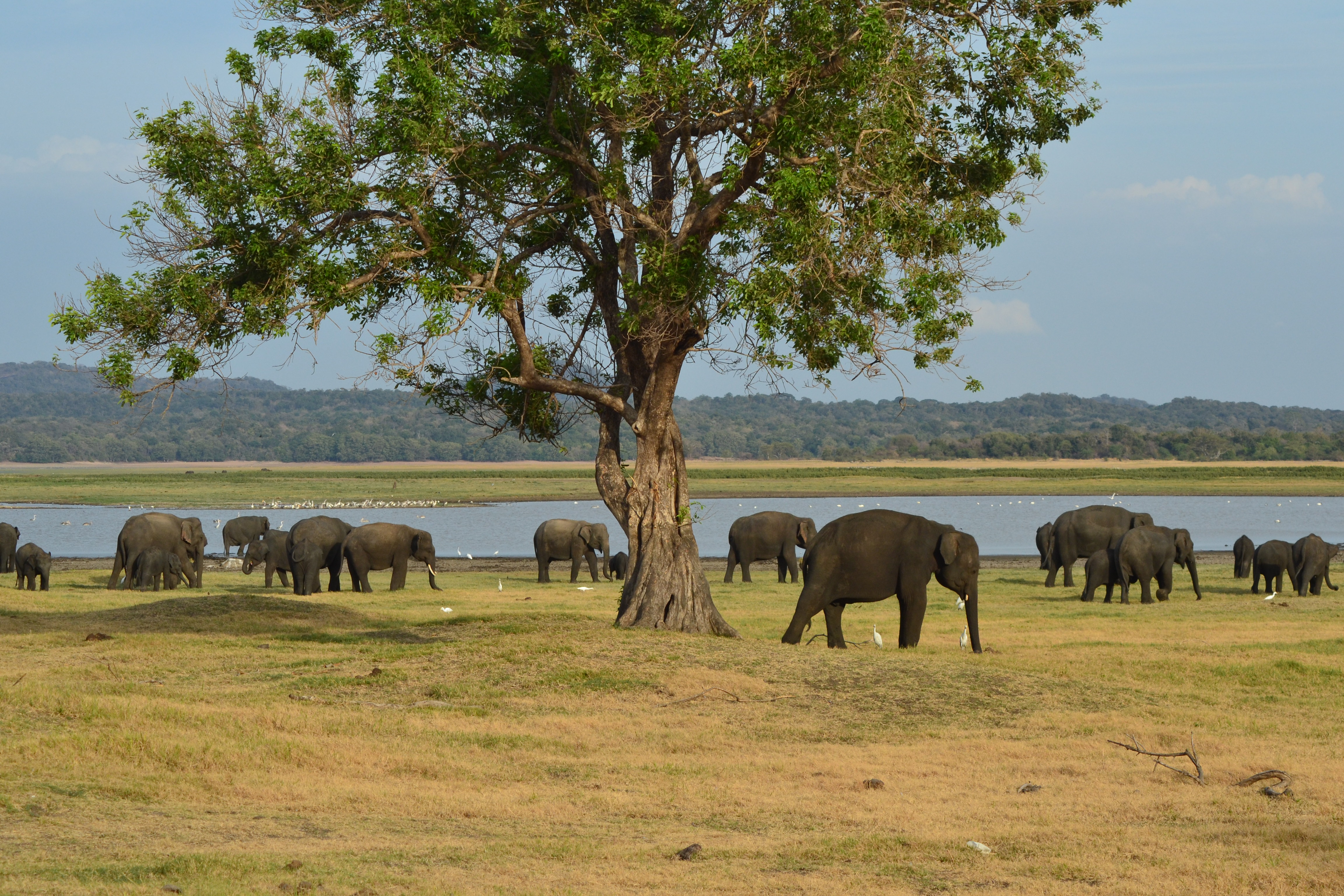 Sigiriya and Pidurangala
Sigiriya is one of the most iconic landmarks in Sri Lanka and the 200m high rock fortress is both impressive historically and geologically.
Now, Sigiriya is one of those tourists attractions that attracts every single traveller imaginable from backpacker to giant organised bus tours.
I'd been told that Sigiriya is incredibly busy and the climb up becomes arduous as the narrow staircase becomes a game of waiting for people to take pictures and move on. Not quite the experience I wanted, especially with a $30 price tag to boot.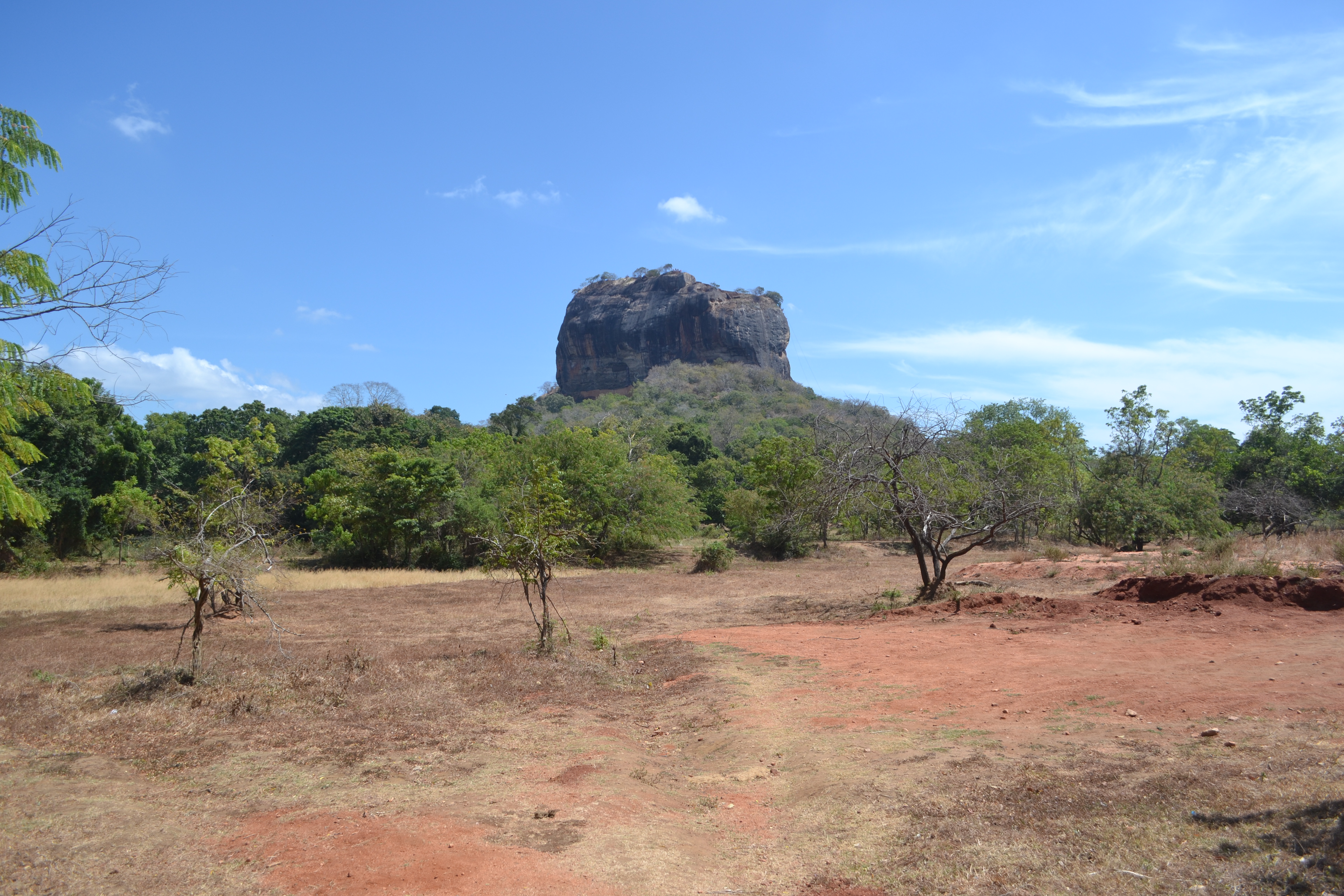 There is however an alternative….
A mile or so north of Sigiriya is another rock called Pidurangala where the monks relocated from Sigiriya when the king built his palace there. Pidurangala offers an incredible view, without the crowds and at a fraction of the cost.
We opted for a tuk tuk to take us to Pidurangala which took about 20 minutes. We arrived at 08.30 and there were only two people ahead of us.
Given that it opens at 7 and most people opt to do climbs early to avoid the heat, it really just goes to show how unpopular it is (which is a good thing!)
Pidurangala doesn't have an entry fee but a Rs 500 'donation' per person which is practically a tenth of the price of Sigiriya. Also, not sure why lots of websites say there are no toilets on site, there are but there isn't much of anything else.
Aside from the price and the quietness of Pidurangala the other noticeable difference is that the climb is harder than Sigiriya. The distance is comparable but the first stage is rough uneven steps which give you a bit of a lunge work out.
The last part of the climb is more like a scramble over boulders. The little information booklet describes it as "definitely not for the unfit or obese".
Now I'm not the best hiker by any stretch but I managed to do this with relative ease in about 45 minutes and the last stage was actually kind of fun. If you do have mobility issues I wouldn't recommend this and footwear is a must (trainers are fine).
The views and quiet climb were definitely worth it and I'm just so surprised that more people don't do Pidurangala instead. Perhaps the unmarked paths near the top put tourists off.
As we arrived the two people ahead of us left so we had the whole summit to ourselves with great views of Sigiriya in the distance.
Polonnaruwa
Polonnaruwa is an ancient city that is now listed as a UNESCO World Heritage Centre. Whilst in Habarana we felt it was important to visit one of the ancient sites in the area.
Given time constraints we had to make a decision between Anuradhapura further north and Polonnaruwa in the east. Polonnaruwa is closer to Habarana and covers a smaller area which suited our plans to cycle around the site.
Anuradhapura is less well preserved and spread over a larger area but it is a pilgrimage centre so there is more active worship and has more of an atmosphere.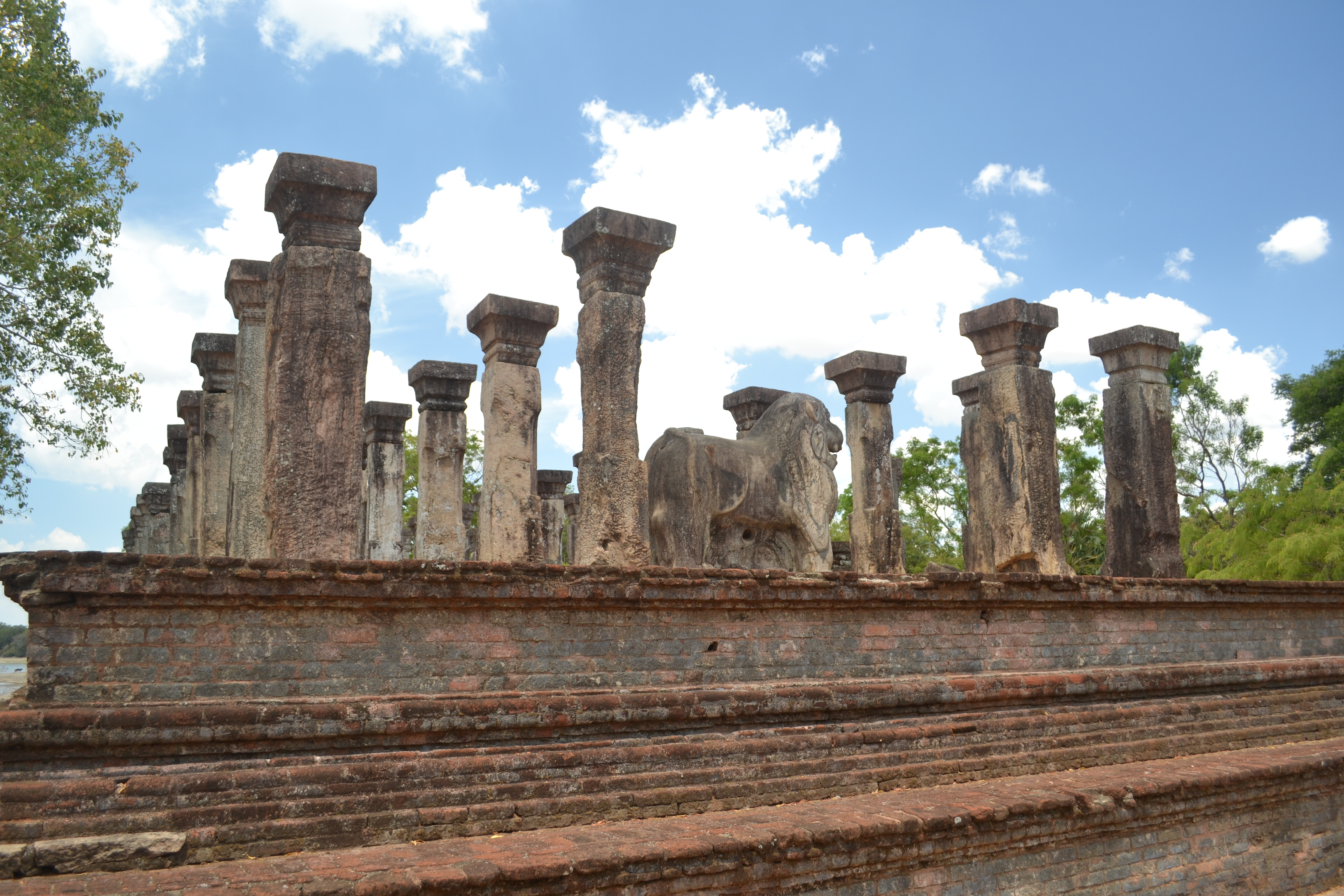 We were tight on time and needed to fit our cultural visit into an afternoon so Polonnaruwa it was. You can arrange a tuk tuk to Polonnaruwa which would also drive you around the sites.
You're effectively hiring a driver for half a day rather than a taxi ride from a to b. We got the bus there which takes an hour and costs Rs 99 and Rs 69 on the way back (no idea why!).
The bus will drop you at a cross roads and the ticket office is in the opposite direction to the main sites. This is crucial to note as you cannot get a ticket for entry at the entrance.
Now in principle I liked the idea of hiring bikes (which should cost you around Rs 300 each) and frolicking around ancient ruins by human power.
What actually happened was it was the hottest part of the day and I was sweating buckets and couldn't face walking, let alone riding a bike!
So we arranged a tuk tuk driver to take us around while we were there. I know, terribly lazy but it was handy being picked up and dropped off around the different sites.
Also to note, these are religious temples so in some areas you will be required to take off your footwear. As this is quite often, slip on shoes would be ideal.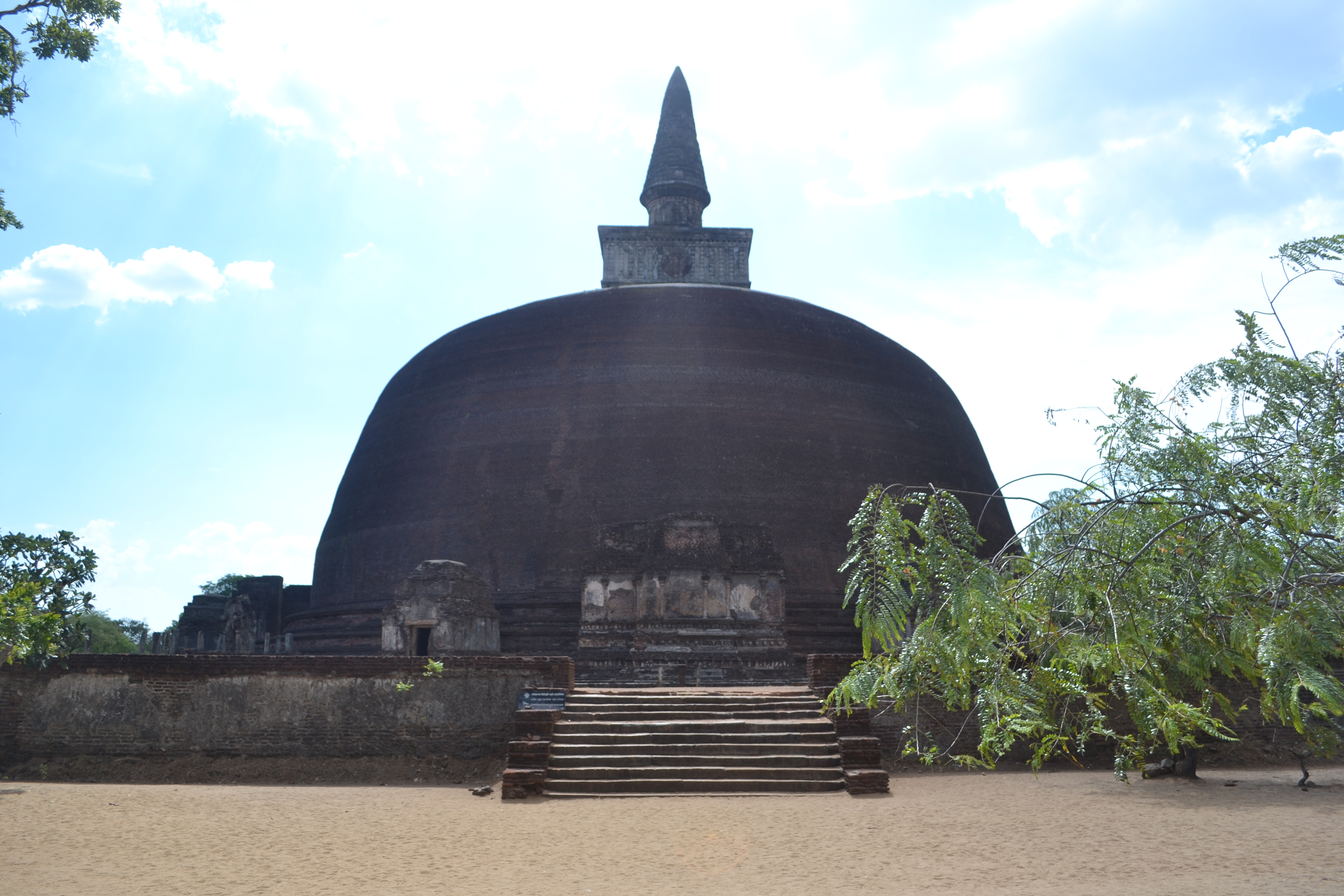 Dambulla
Given that we based ourselves out of Habarana, we didn't see the need to spend a night in Dambulla but pass through it on the way to Kandy.
There are buses that go from Habarana to Kandy but we were advised that because they start further north and are infrequent, they become full rather quickly which could mean a long journey standing.
We managed to arrange a car from Habarana to Kandy for Rs 8000 (for four people) which included a stop at Dambulla's famous cave temple and a spice village.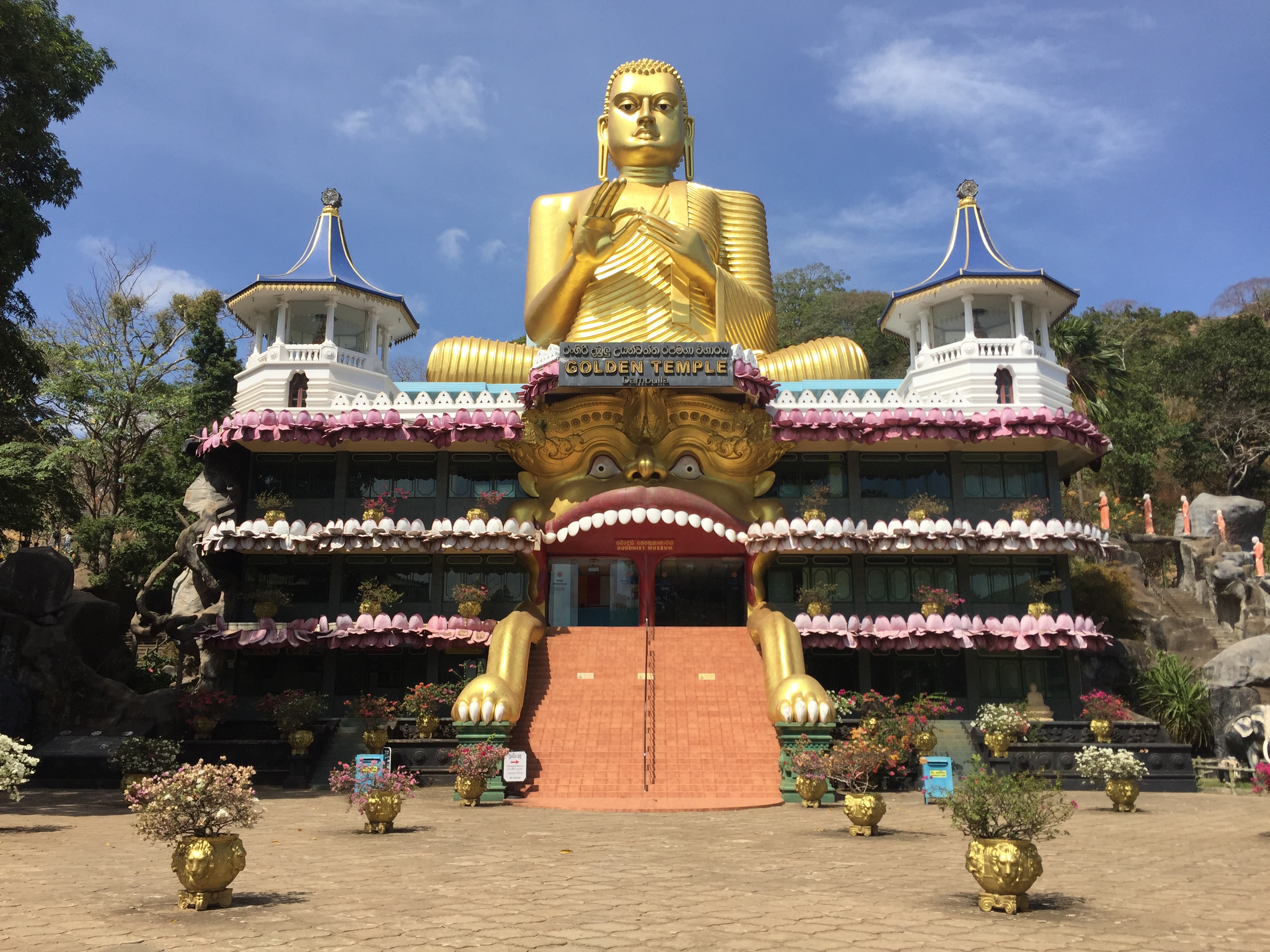 I wouldn't have made a special overnight stop in Dambulla to visit this temple but it was worth going to on the way to Kandy as we had a driver. The cave is at the top of a steep hill but it's perfectly climbable at your own pace.
Just watch out for the monkeys who will grab at any food or bottles of water. They may look peaceful but I saw many tourists mugged of the offerings they were carrying to take to the temple.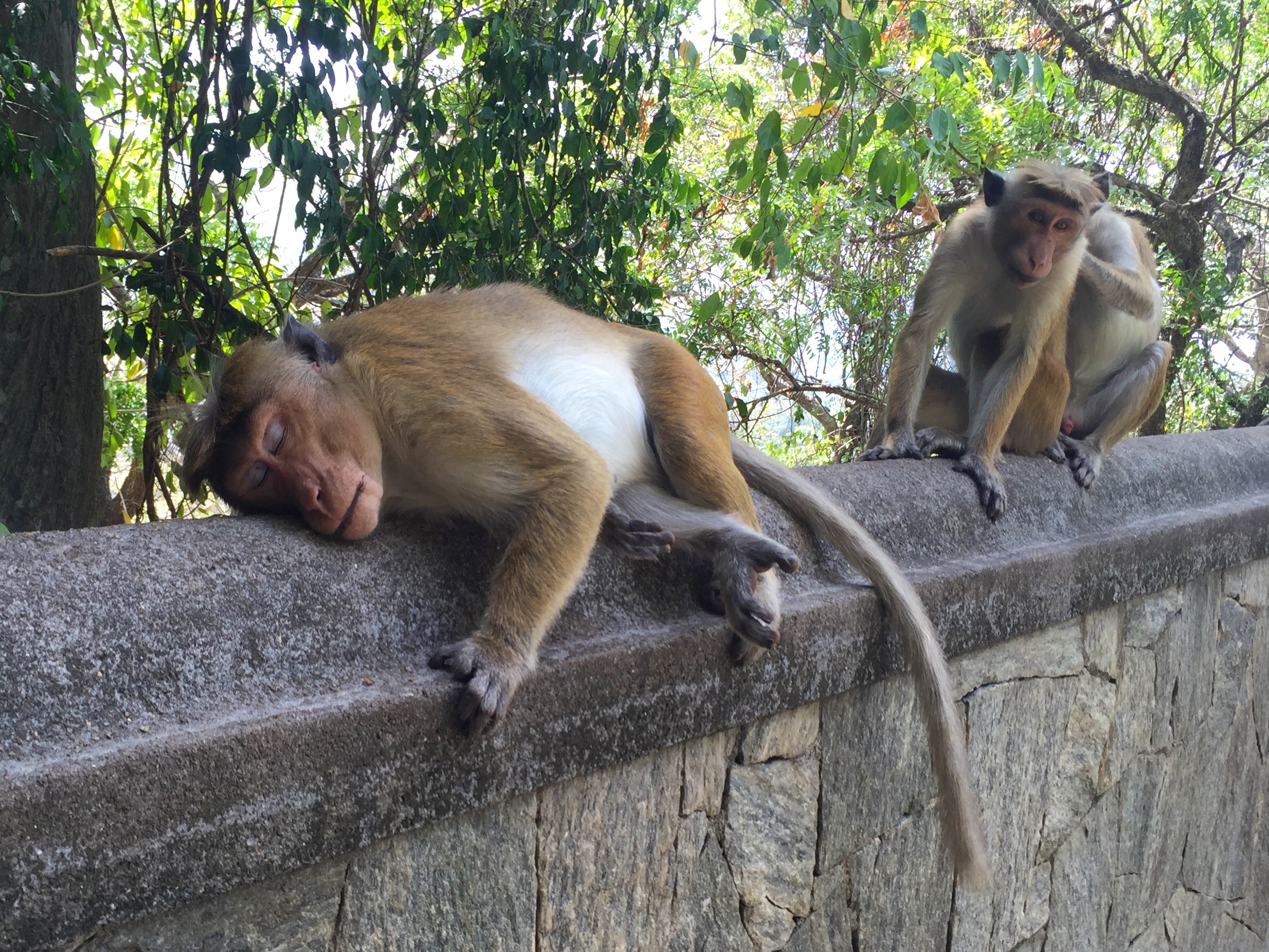 There's great views from the top and with it being the best preserved temple complex in Sri Lanka, the Buddha statues and paintings are certainly worth a look.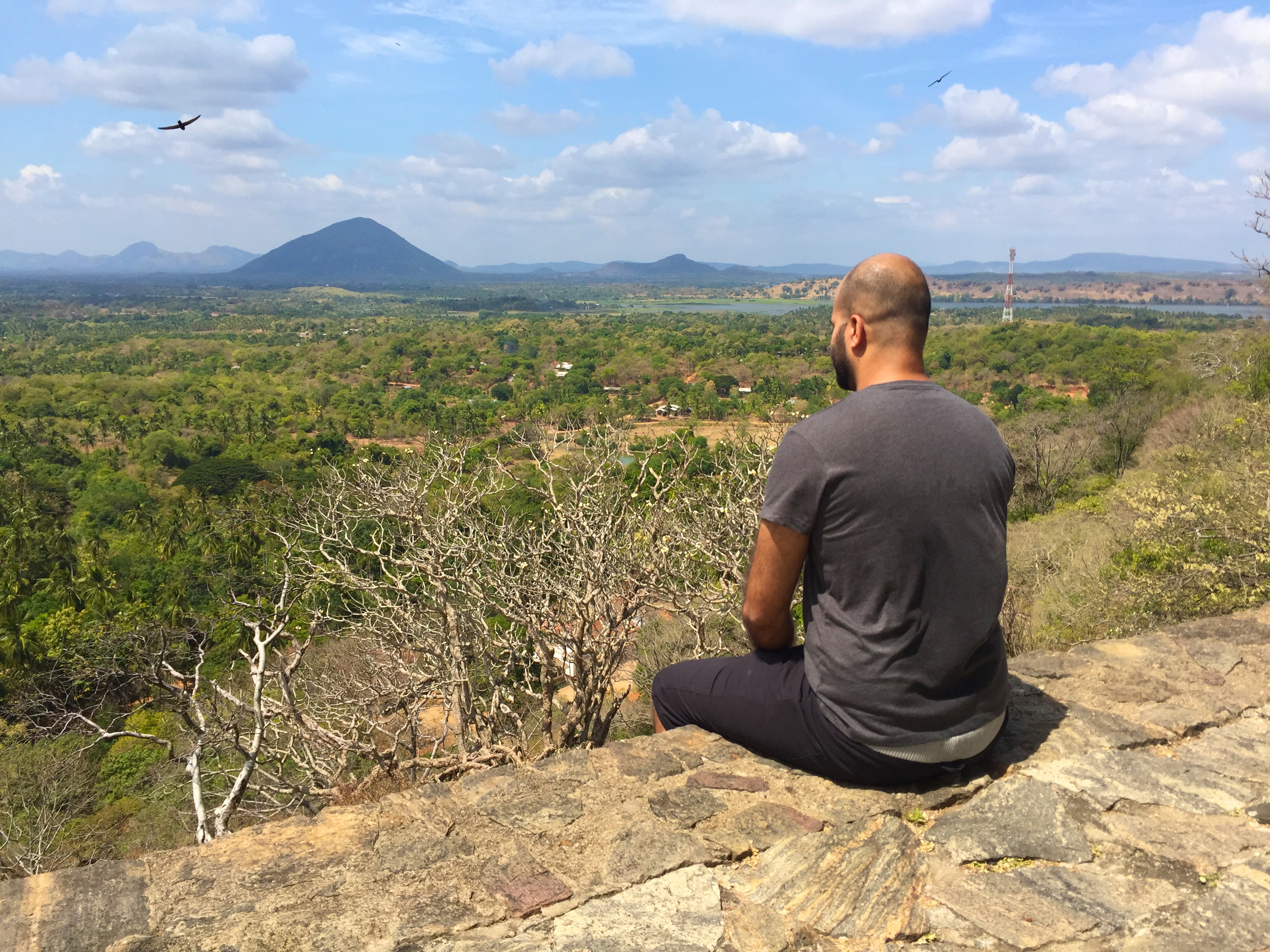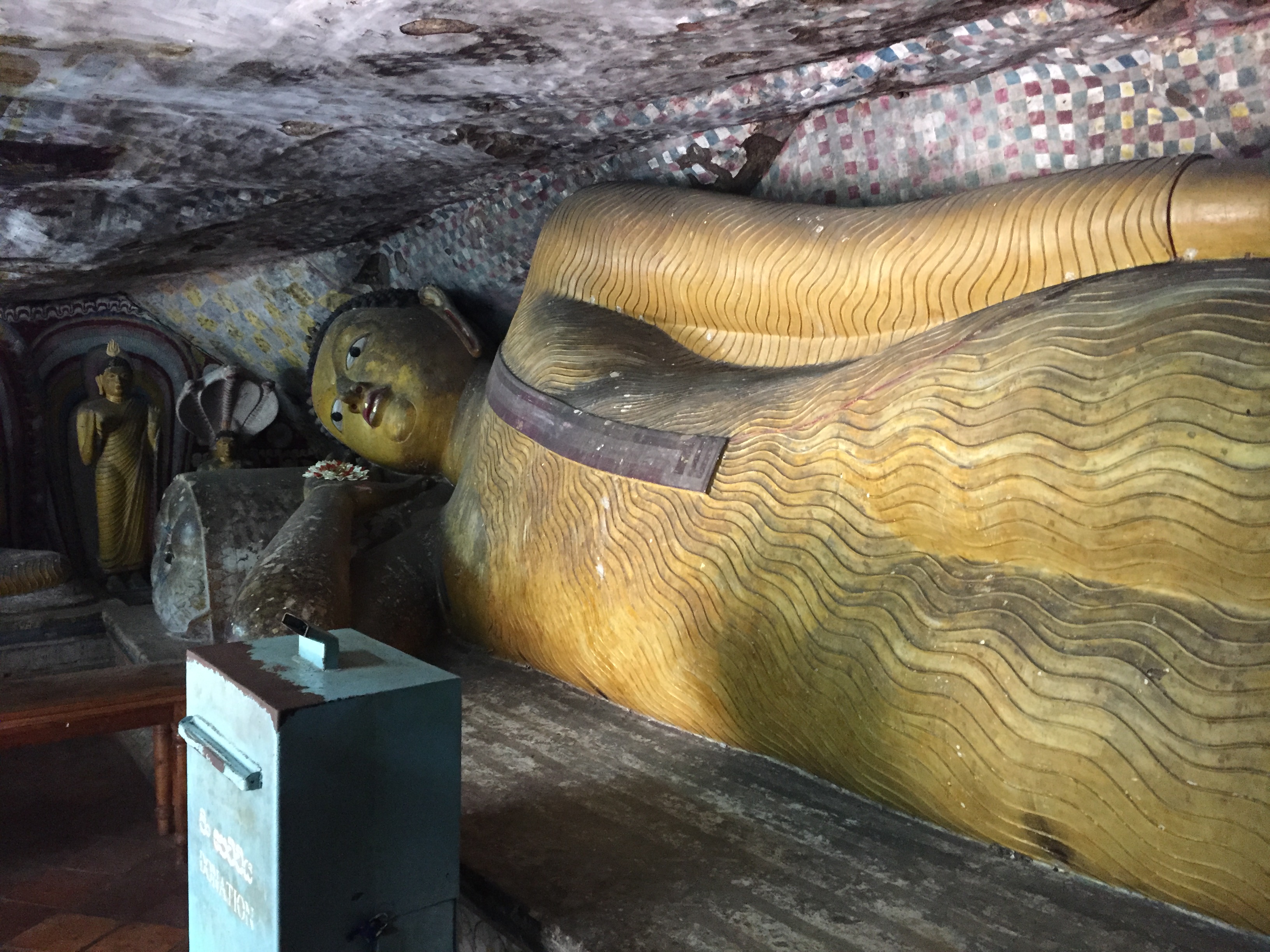 Old Village Spice & Herbal Garden
After Dambulla we set off on route to Kandy with another stop at a spice village. We'd heard from other travellers that you could see where the spices are grown and have a tour.
In fairness to our driver we did ask to be taken to a spice garden but had I been told the name before, a quick Google search would have told me how terrible this idea was.
Old Village Spice & Herbal Garden is outside of Kandy and offers a tour around a variety of herbals plants and spices, which granted, was pretty informative.
However, it does drag on and it becomes very clear that the guide is remembering each ailment you or a family member has so that you can be given an incredibly hard sell later on.
There's nice tea, smiles and even a "complimentary" massage but when all is said and done they hand you a piece of paper to tick the items that you want but no prices are indicated.
The prices were extortionate, even by UK standards, and the treatments "don't work" unless they are combined with a few items on the list which makes it even more expensive. I was happy to tip for the massage and the tour but not buy anything.
Apparently this was not good enough all smiles were now gone when it was clear that none of the group were going to buy anything. The whole thing left a bitter taste and in hindsight I would have avoided completely. You have been warned.
Kandy
The busy city of Kandy centres around a lake and is surrounded by mountains. We had two nights scheduled for Kandy and to be honest one would have been enough. There's nothing inherently "wrong" with Kandy, its culturally interesting and there are a few things to do.
More than that, given its geographical location it's a central transportation hub for most destinations and it's hard to avoid. However, given how much there is to do in Sri Lanka, in hindsight I would have done only one night here and stayed an extra night elsewhere.
Temple of the Sacred Tooth
One of the key attractions in Kandy is the Temple of the Sacred Tooth. There is a daily ceremony where you can see the relic where you effectively queue and file past it.
Personally, I felt a bit uneasy about this part as there were people there who were leaving offerings and there to pray and it somehow felt wrong to be in this procession of people filing past the sacred tooth.
You can still go to the ceremony and just watch from the side though. The rest of the complex is fascinating, beautiful and deeply spiritual.
The ceremony is at 6.30 but get there before as it gets pretty busy. Both men and women will need to be covered. Guys will need to cover their legs too but there are quite a few sarong sellers just around the entrance.
Entry is Rs 1500 per person and you'll need to leave a donation for using the shoe storage.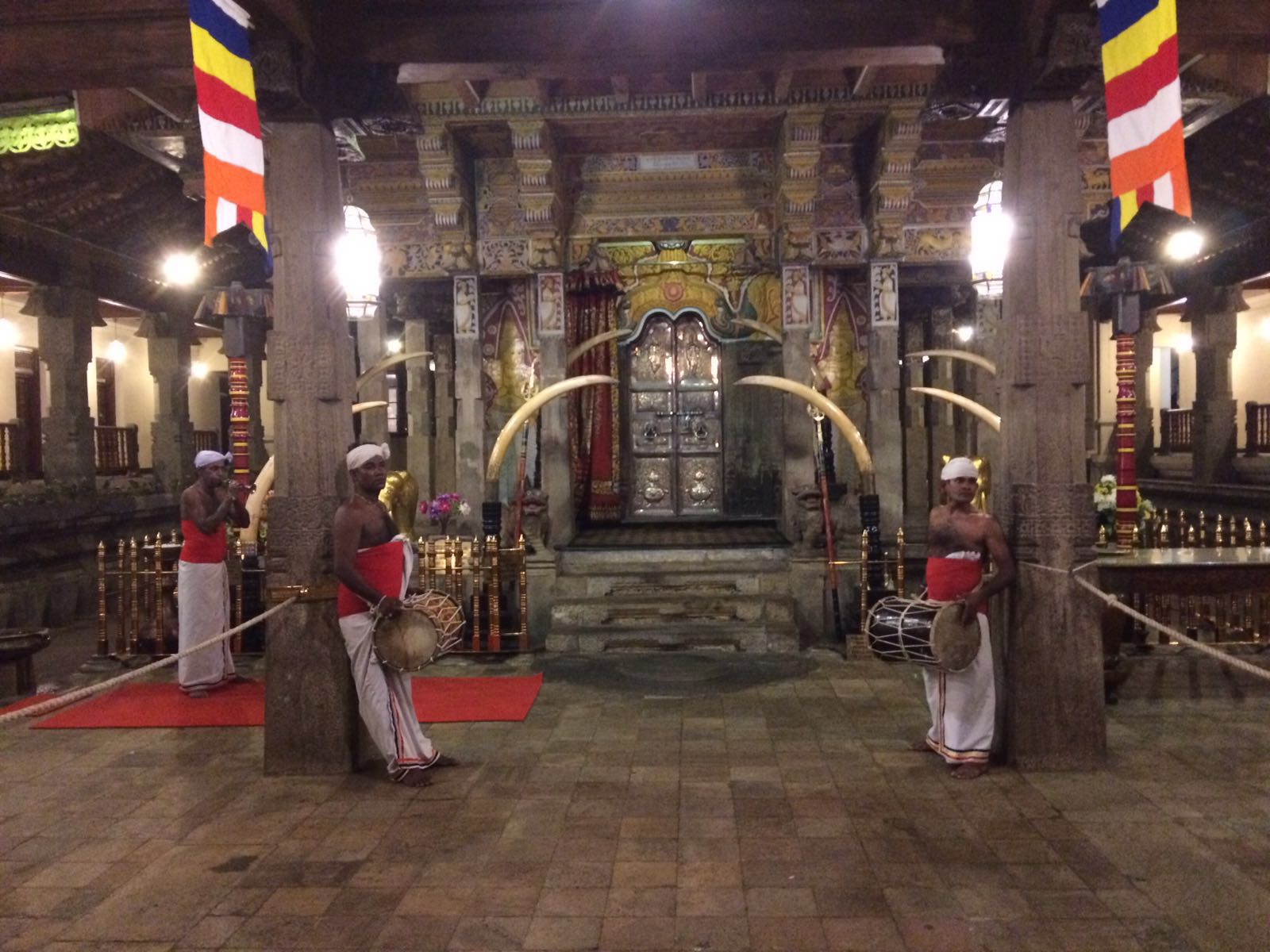 If you're looking for other things to do you can walk around the lake or to walk up to the viewpoint. Both activities to me were more time fillers and not particularly highlights. The viewpoint ended up being mostly a building site sadly.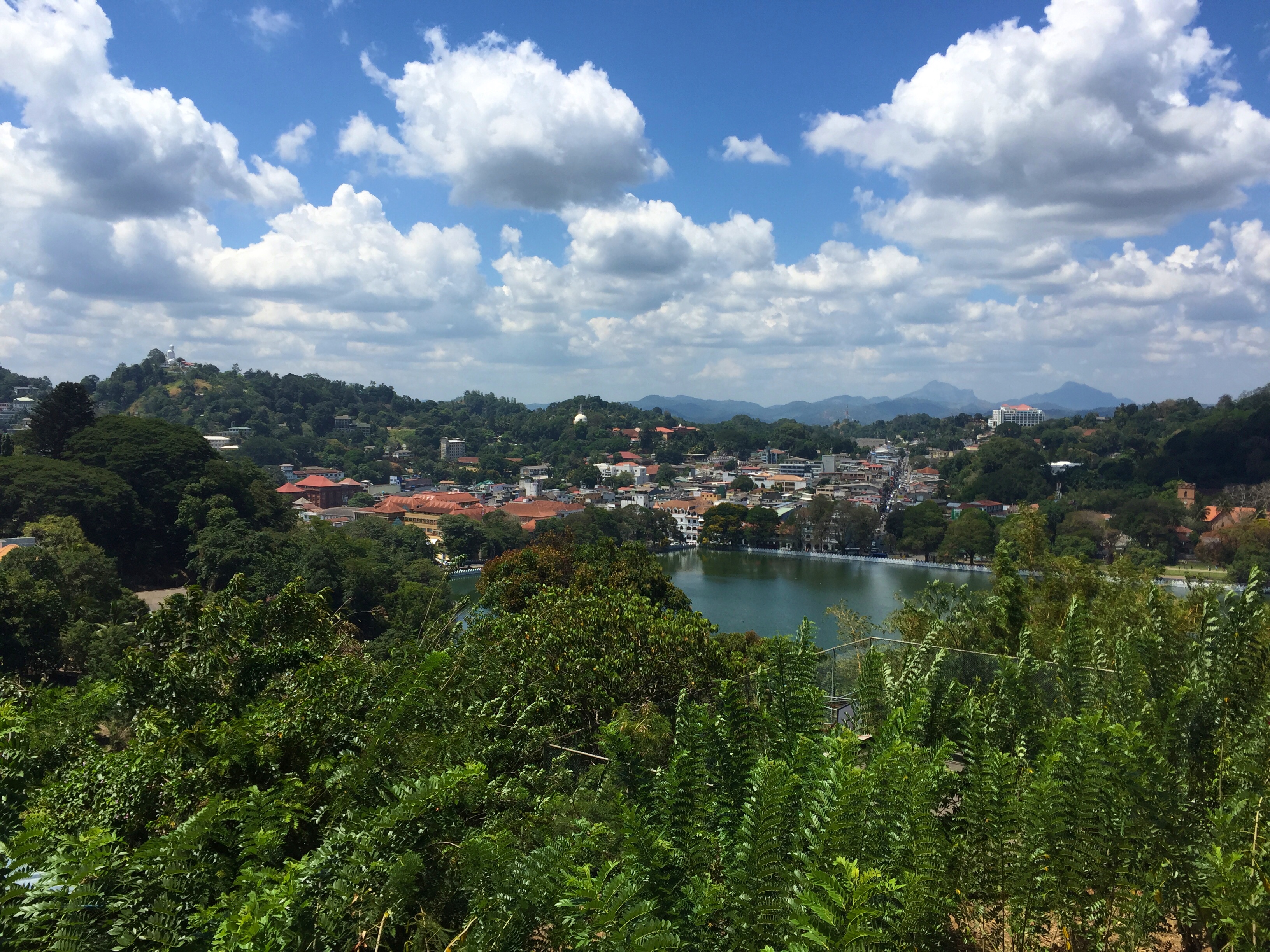 We stayed at 38b Homestay which turned out to be a little out of Kandy but this ended up being a blessing given it was quieter and close to Amaya Hills (more on that shortly). Again, this homestay was run by a lovely couple.
If you're staying for multiple nights definitely opt for a home cooked meal one evening but make sure you come hungry. Portion control is not an option here! Tuk Tuks into the main Kandy strip were Rs 300 but the bus is Rs 9, takes about ten minutes and way more fun.
Eating Out in Kandy
There's some great food spots in Kandy. White House was recommended to us by several locals but it has poor ventilation and the heat wave that hit us on entering put us off.
The Pub is exceptionally touristy and the menu is average but it does have a good terrace to sit and watch the busy street with a drink in hand. The Muslim Hotel, ironically not a hotel, doesn't look like much but serves exceptional cheap eats.
The Kabul chicken with cheese for Rs 360 was an absolute winner and I highly recommend it.
Amaya Hotel
After exhausting the list of things to do in Kandy and with time to spare we thought we'd look to see if there were any fancy resorts like Cinnamon Lodge that would let you use the pool facilities.
We were in luck when we called up Amaya Hotel and they would let us use the pool for Rs 1000 per person for the day (this seems to be the going rate across the country).
After all the walking around in the heat it was great to have a bit of relaxation and cool off. Amaya is south of Kandy and near 38b Homestay and has incredible views from the pool area. It's worth just coming here for a drink to escape the busy Kandy centre.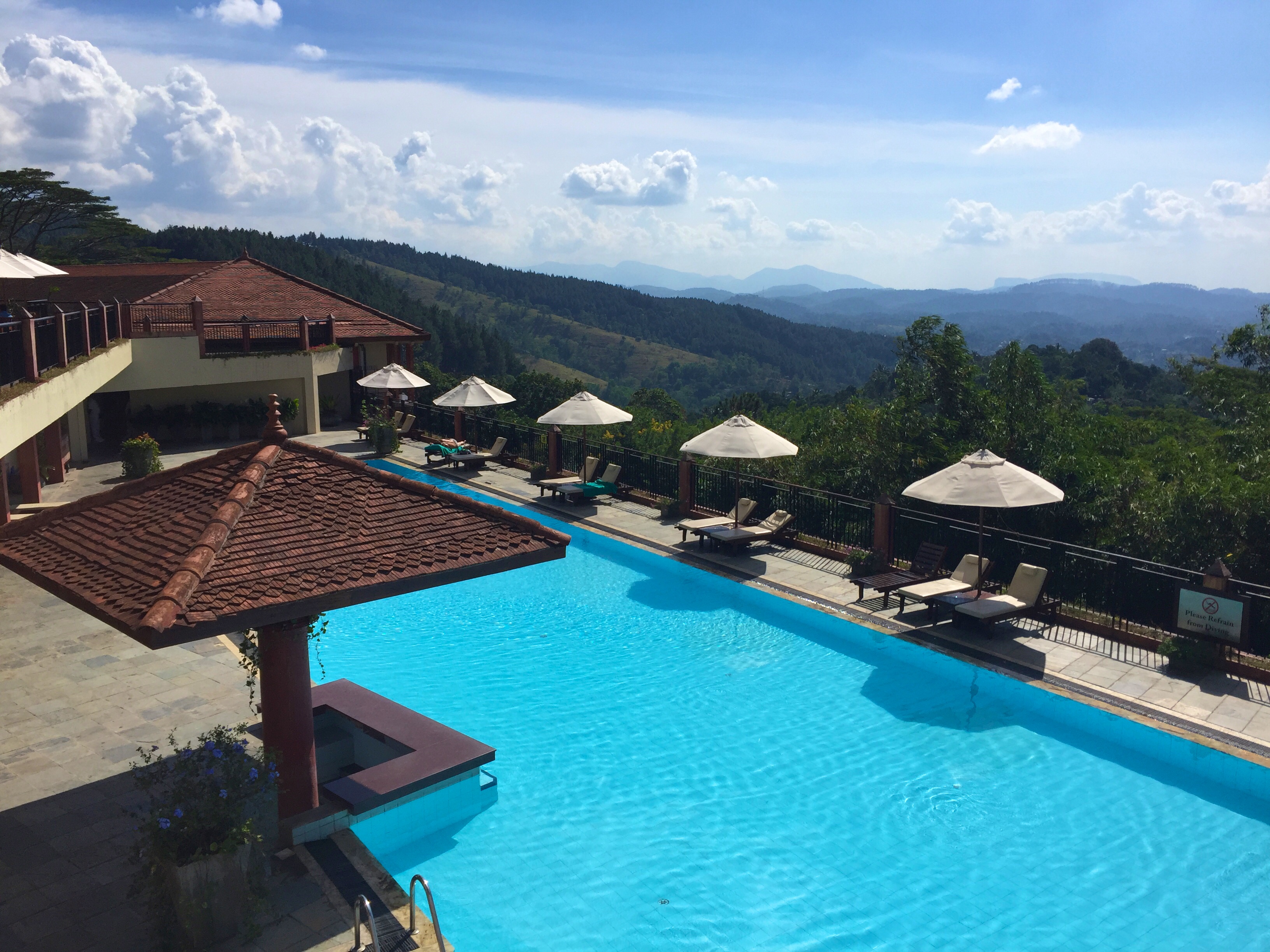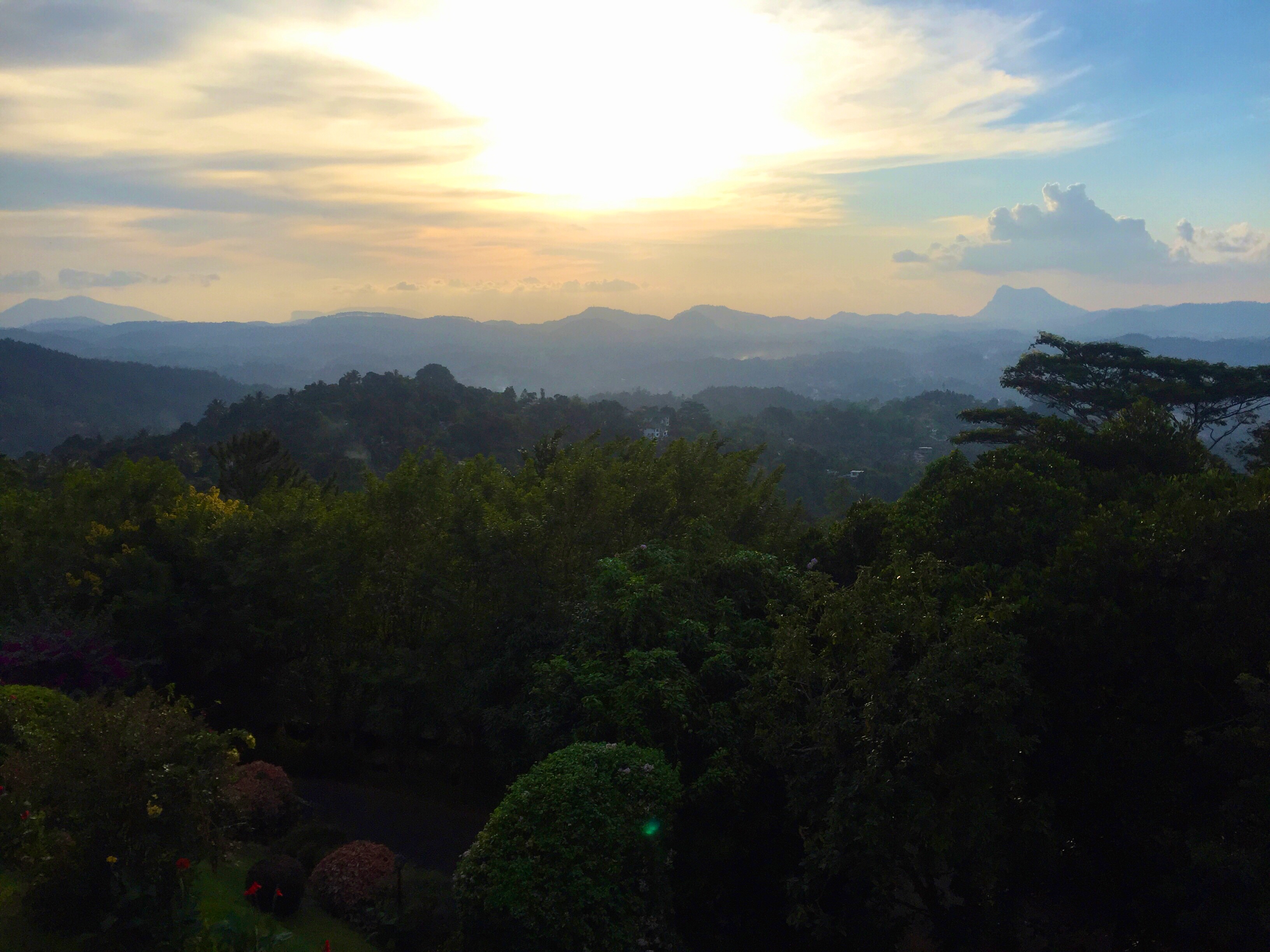 Kandy to Ella Train – Advice and Timetable
If you read any top 10 list about train travel or any articles on Sri Lanka, this train ride is always featured. There's a reason for this and it's because it deserves the accolade. It simply is a stunning.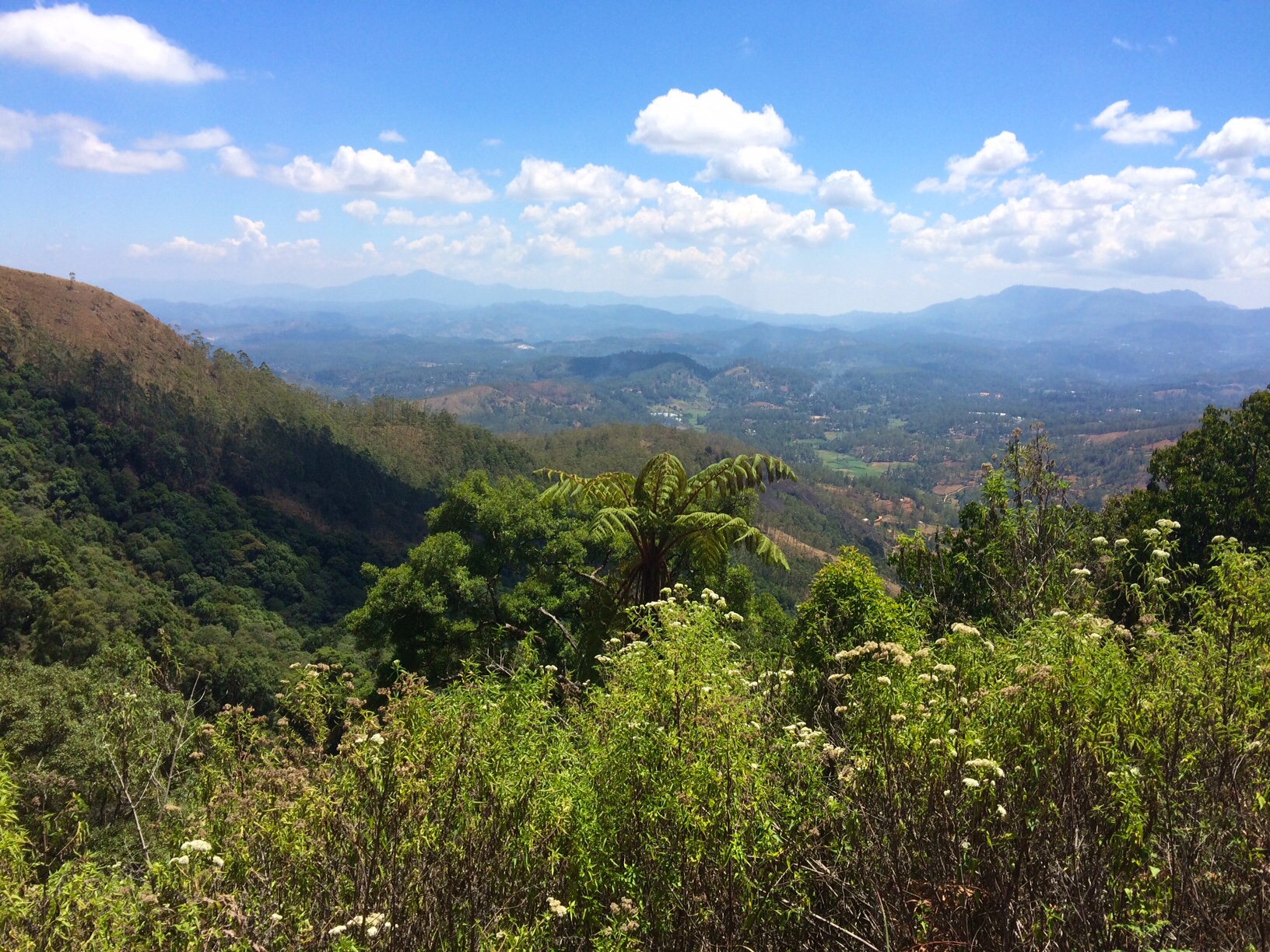 Now I'm a fan of doing things last minute and on a whim but sadly taking the train to Ella is one of those things that requires a bit of forward planning.
There's a timetable here but here's the details you really need to know:
There are three trains per day from Kandy to Ella at 03:30am, 08:45am and 11:10am.
The later two trains are the most popular and usually sell out two weeks in advance at least.
The later two trains have 1st (aircon) and 2nd class reserved seating options and take around 6.5 hours.
You can book in advance using an agent 30 days before your departure date. I've not used this company but you can try this one.
The 03.30am train is a slow train that takes 10 hours but has an observation carriage.
Of course, I wasn't prepared with any of this information and I turned up at the train station the day before hoping to get reserved tickets.
Not a great plan.
I only knew about the 08:45 and 11:10 trains and the man at the counter just shook his head with a face that just said "amateur". I looked up at the timetable and noticed the slow train and went back and asked.
"Two seats".
By sheer luck there were two seats remaining, in the observation cart no less. Without any pre-booking the options were turn up in the morning and get an unreserved second or third class ticket where there was no guarantee of a seat or take the slow train and have an early start.
With this being one of the most scenic journeys in the world I wasn't going to let an early start or longer journey stand in my way. Oh how it worked out beautifully!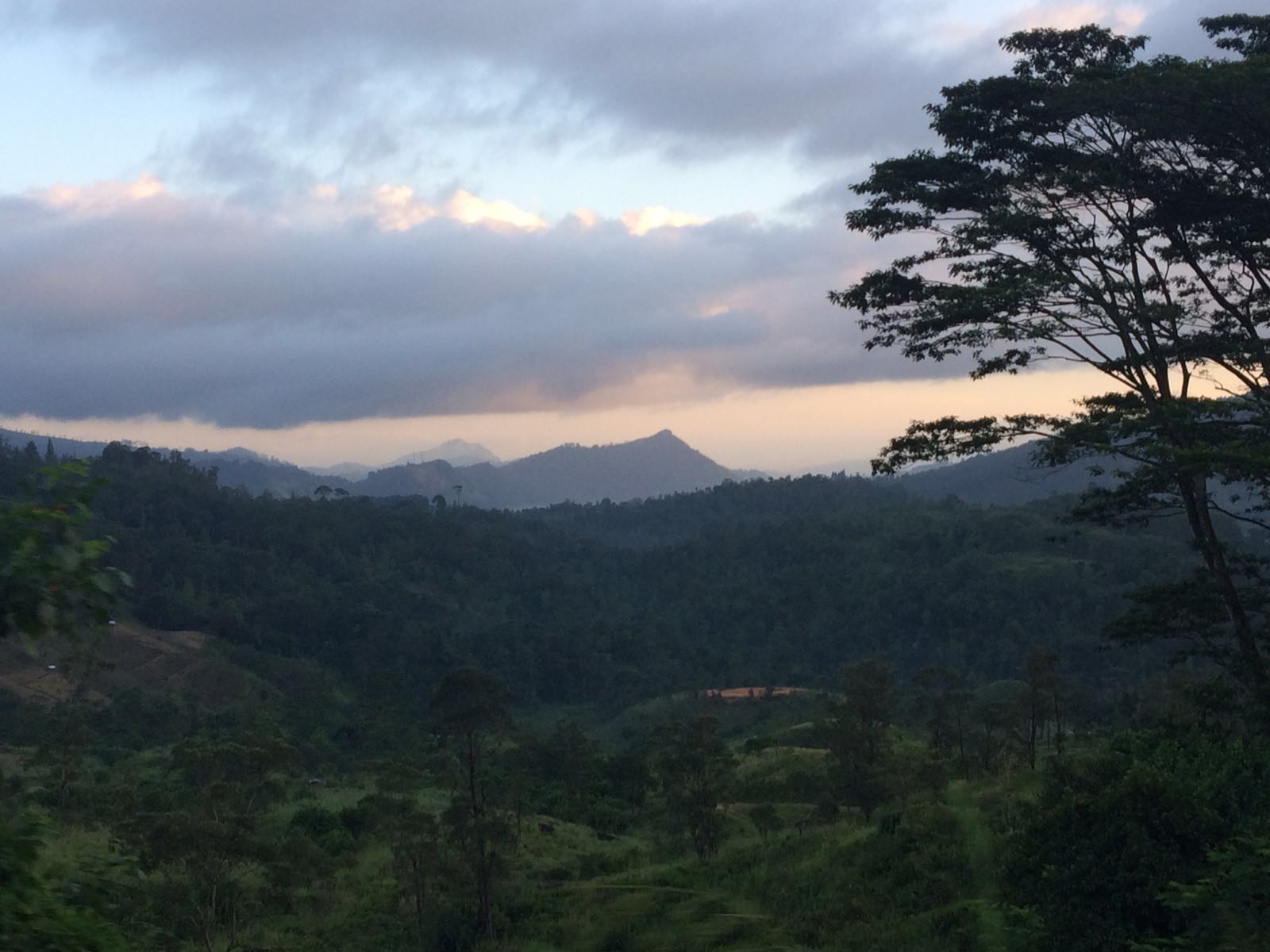 There are no Tuk Tuks around at 2.30 in the morning so if you do get the slow train make sure you book one in advance. The observation carriage was completely empty because the other reserved seats were for passengers who get on further down the line.
The other benefit of the slow train is that you start to enter the tea plantations around sunrise so you have epic views with stunning natural light.
The windows on the observation cart also slide open meaning you get a nice breeze while you're taking it in and it's easy to stick your head out and take great photos.
My final tip, if possible, is to book seats 11, 12, 23 or 24. These are right at the front of the observation carriage and have the big open windows.
Failing that, the side with the best views were seats 13 – 21 (on our journey anyway!).
Ella
It's hard to pick a favourite destination in Sri Lanka but Ella would be a strong contender.
Given time constraints it made sense to pick between Ella and Nuwara Eliya. The latter is on the way to Ella via train so either destination would have meant the epic train trip.
The consensus from online research and again confirmed by other backpackers we met who had done both said that Ella was better.
It's a gorgeous town and with some of Sri Lanka's top highlights in one place it was busy.
Not busy in a bad way, the restaurants and bars were the right level of buzz but as soon as you're off the strip it's completely tranquil.
Accommodation in Ella
We'd pre-booked the Welcome Inn which had great reviews and looked like it had good views. It looks out of town on the map but by cutting along the railway track it's not far at all.
Now for the epic fail.
I was using Google Maps and the blue dot told me I was close. We spotted a yellow house that looked like the one in the pictures and it was a homestay.
The cleaner showed us to a room and we went about exploring the town and finding somewhere for dinner.
It was only when we returned that evening that the owner said he didn't have a record of our booking but was happy for us to stay.
Turns out because of the steepness of the hill, from a birds eye view the distance on the map isn't that far and the homestay we had booked was further down the hill. We'd walked into the wrong homestay and made ourselves comfortable.
Happy with the room and the view (which turned out to be better as it was higher up) we decided to stay in the Brilliant View Homestay. I think it was ideally located just outside of the main strip and a good place to start the Ella Rock hike.
Things to do in Ella
The main highlights in Ella are:
Nine Arch Bridge
Tea Factory Tour
Little Adam's Peak
Ella Rock
If you are super tight on time and only had one full day you could probably fit this into one day as the Ella Rock hike can be done in the morning with an early start and the bridge, tea factory and peak can be done in a long afternoon and early evening as they are all part of a nice circuit you can do.
Not that I would recommend this at all, Ella and it's activities deserve some time and it's a great place to base yourself for a few days.
Nine Arch Bridge and Little Adam's Peak – Optional Tea Plantation Tour
If you plan on seeing the bridge and the peak there's a great circuit you can do. If you want to catch the sunset (and don't plan on doing the plantation tour), leave the town at around 3.30.
If you plan on doing the plantation tour, you'll need to factor in more time. Walk to the train station and then head right along the tracks. You'll shortly end up at the Nine Arch Bridge!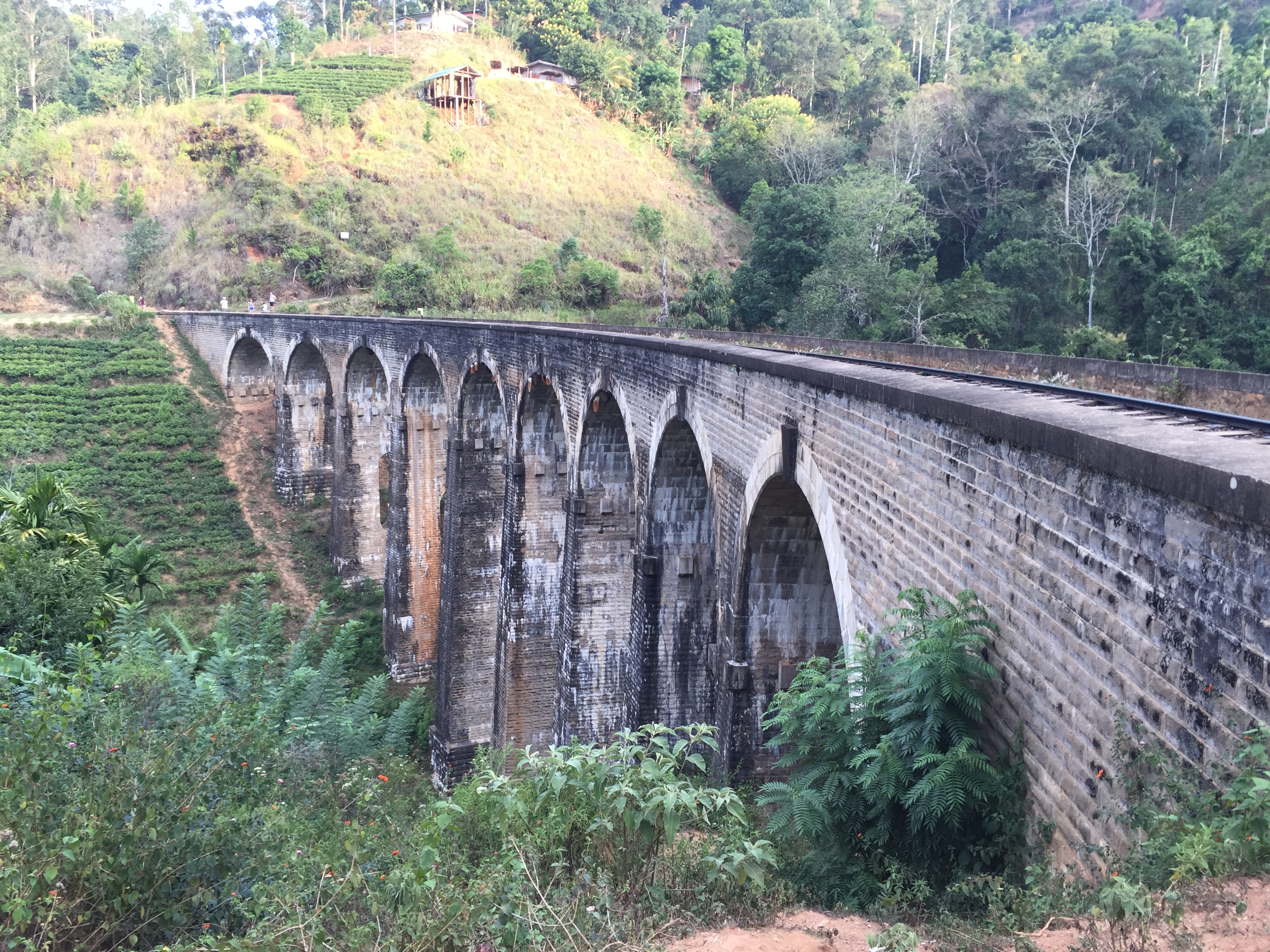 After you're done with taking pictures of and on the bridge (remember trains do pass through!) cross over the bridge and head right up the hill.
There isn't any roads just a dirt path that heads up and eventually you'll connect with a road. Don't forget to turn around and take in the bridge from the other side.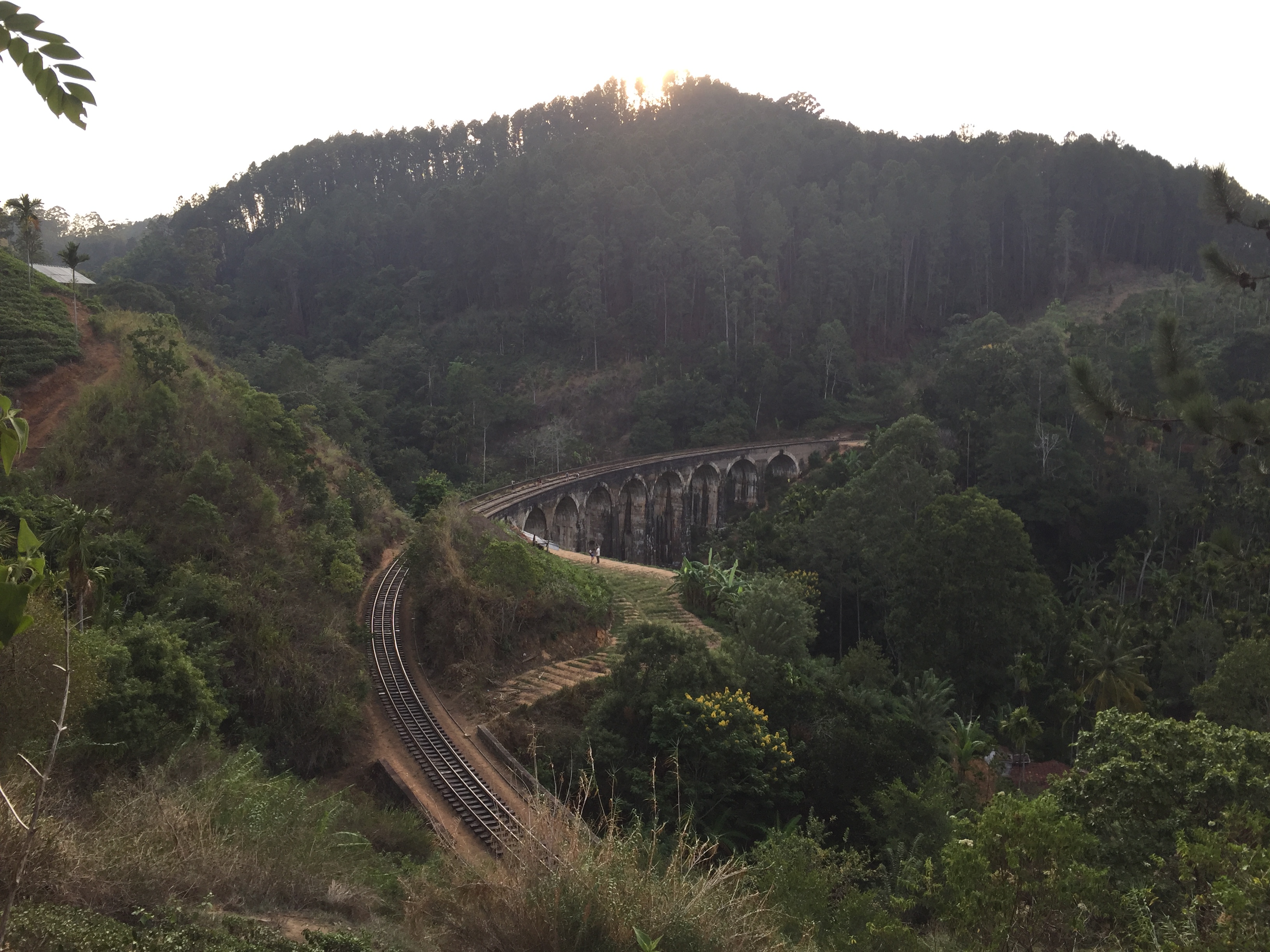 Once you get onto the road there's only one way you can go until you hit the main road. You'll want to turn right (left takes you further away from Ella) and you'll see the entrance to the Finlay Tea Plantation.
The plantation was on strike when we were there which ended up being a blessing in disguise (more on that shortly). Keep heading down the road, and there will be a turning on the left which will take you to Little Adam's Peak.
You'll walk through the 98 Acres Resort on the way which looks incredibly swanky.
The walk up isn't too challenging and if you timed it right you should be able to summit the peak in time for sunset.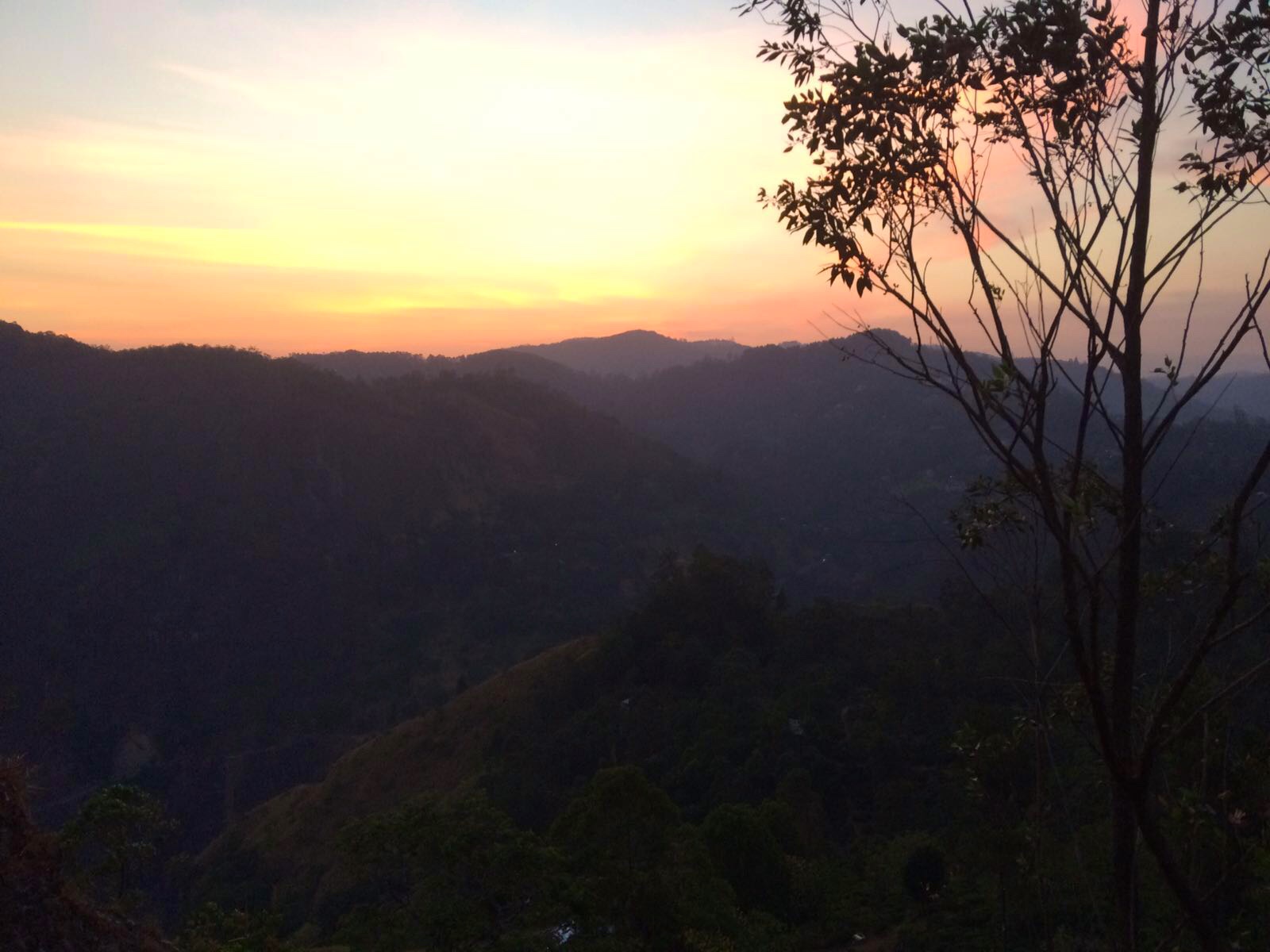 Once the sun sets start to make your way down. When you get to the bottom turn left and follow the road until it connects with the main road and turn left again.
This will take you straight back to the main Ella strip. It is pitch black after sunset so a torch is advisable.
Tea Plantation Tour Demodera
As I said above it's possible to do a tea plantation tour in-between seeing the Nine Arch Bridge and Little Adam's Peak. The Newburgh Green Tea Factory lies between the two and costs Rs 500 per person for a tour. The tour has very mixed reviews online where some people have stated it was very rushed.
The Newburgh factory was on strike when we were in Ella and the owner of Brilliant View suggested that we see the black tea factory instead based in Demodera. I don't drink green tea but I'm mad on black tea so from that point of view it made more sense.
I couldn't find anything about the factory online but thought we'd give it a go. Entry is Rs 350 per person and rather less popular than Newburgh because of the location. That however, is why I think it might be better.
The tour was super informative, not rushed and we were given a one on one tour. Twenty types of tea are manufactured here of different grades and sold in big tea exchanges in Colombo.
These grades are then blended together by the buyers like PG tips etc and that's what ends up in your tea bag!
It was also quite interesting and yet heart-breaking to learn that the workers who pick the leaves get paid Rs 1000 a day to pick 12kg of tea leaves and Rs 30 per kilo after that. In the wet season they pick 18kg a day with many hitting 20 or 30kg.
Even just walking around in the heat is hard enough. Hearing this sobering information made me respect my morning cuppa even more.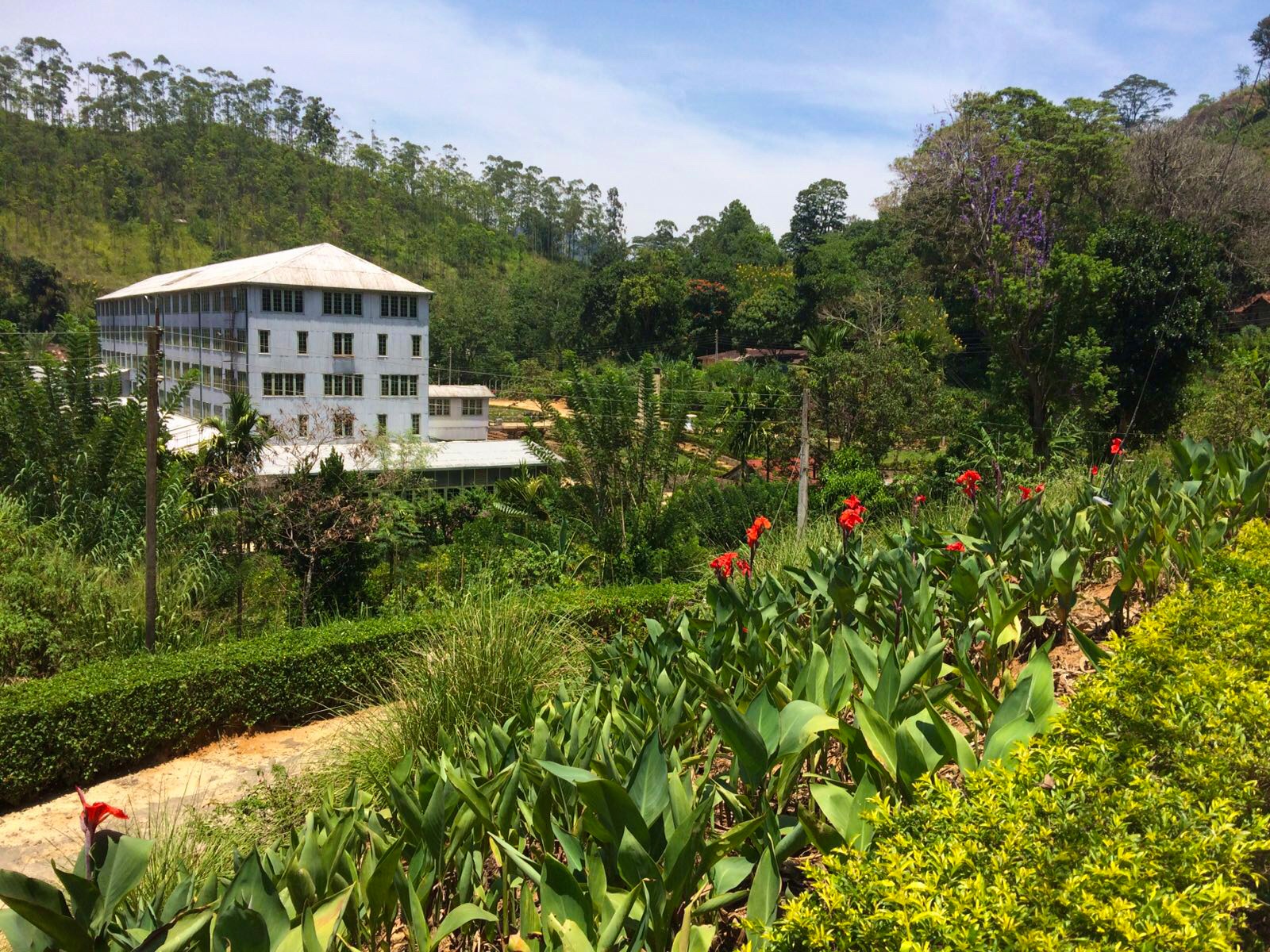 Demodera is outside of Ella and requires a tuk tuk at Rs 1500 return. You'll want a driver for the whole thing because Demodera is also home to a great feat of engineering – The Demodera Loop.
The railway line passes under itself by running through a tunnel in a loop which is directly beneath the Demodora railway station. Time it right and you'll see a train do the loop!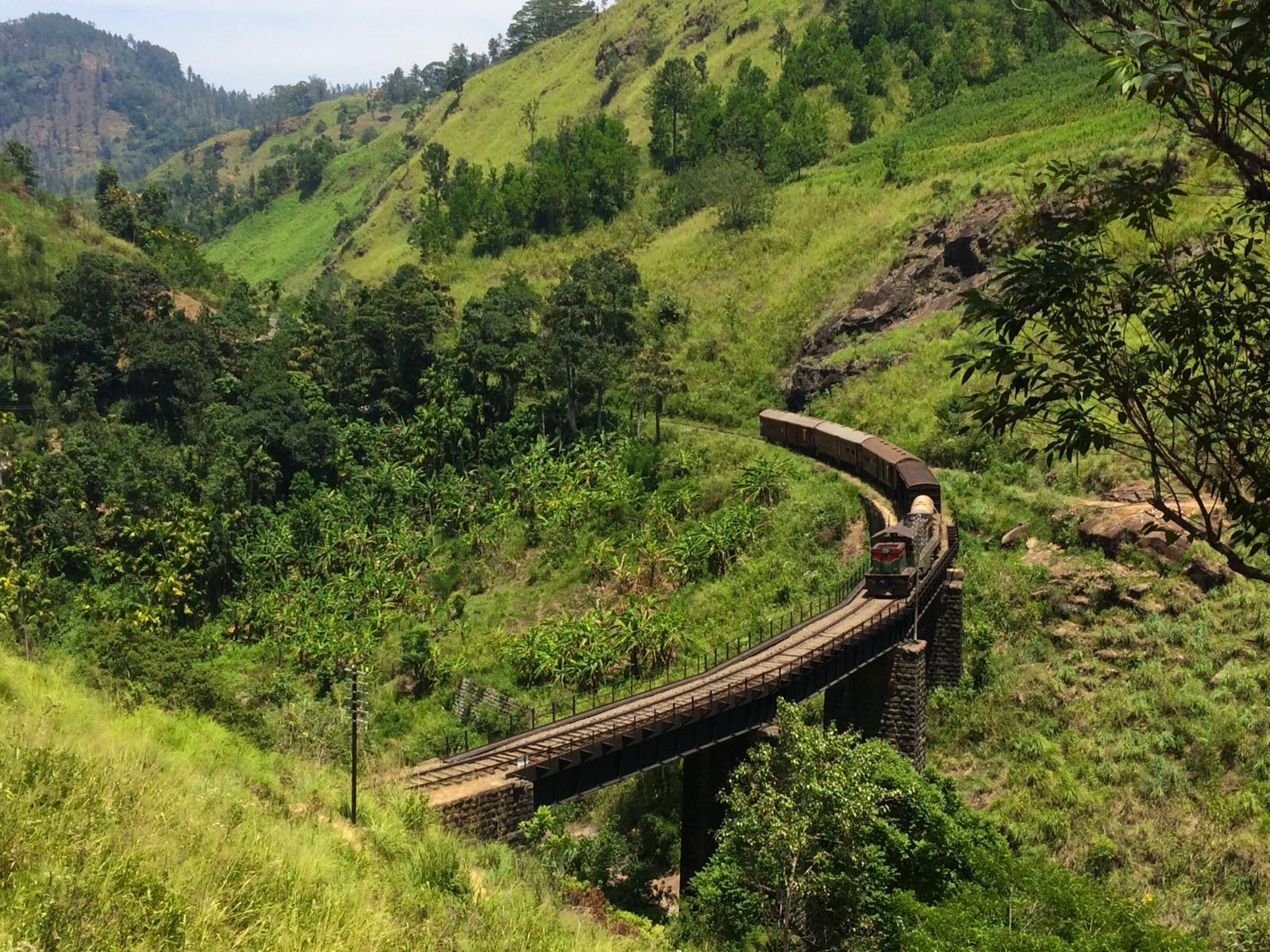 Eating out in Ella
Ella has a lot of really great food options and had some of the best food we had all trip.
Matey Hut is at the top of the strip and it's a small charming place with a really friendly owner. Pumpkin curry here was fantastic.
Cafe C also has an amazing set menu curry dish.
Ella Village Inn has a buzzing atmosphere and is good for just drinks or food too. The food portion sizes here are massive and great after a hike. Would highly recommend the devilled chicken at Ella Village Inn.
Finally, only went to Dream Cafe for dessert but it was just as good as everywhere else. Also, it's worth noting that Dream Cafe has the bus timetables in the restaurant on the wall which is pretty helpful.
Ella Rock Hike
This hike is a must do for anyone heading to Sri Lanka. It's a little bit of a challenge and requires an early start but the views are worth it. I'm not the best hiker and with a bit of huffing and puffing I still managed it.
It's a great walk along the train tracks, through plantations and then a climb. The Ella Rock hike can be a little tricky to navigate so it deserved a whole post of its own.
Check out this step by step guide to doing the Ella Rock Hike.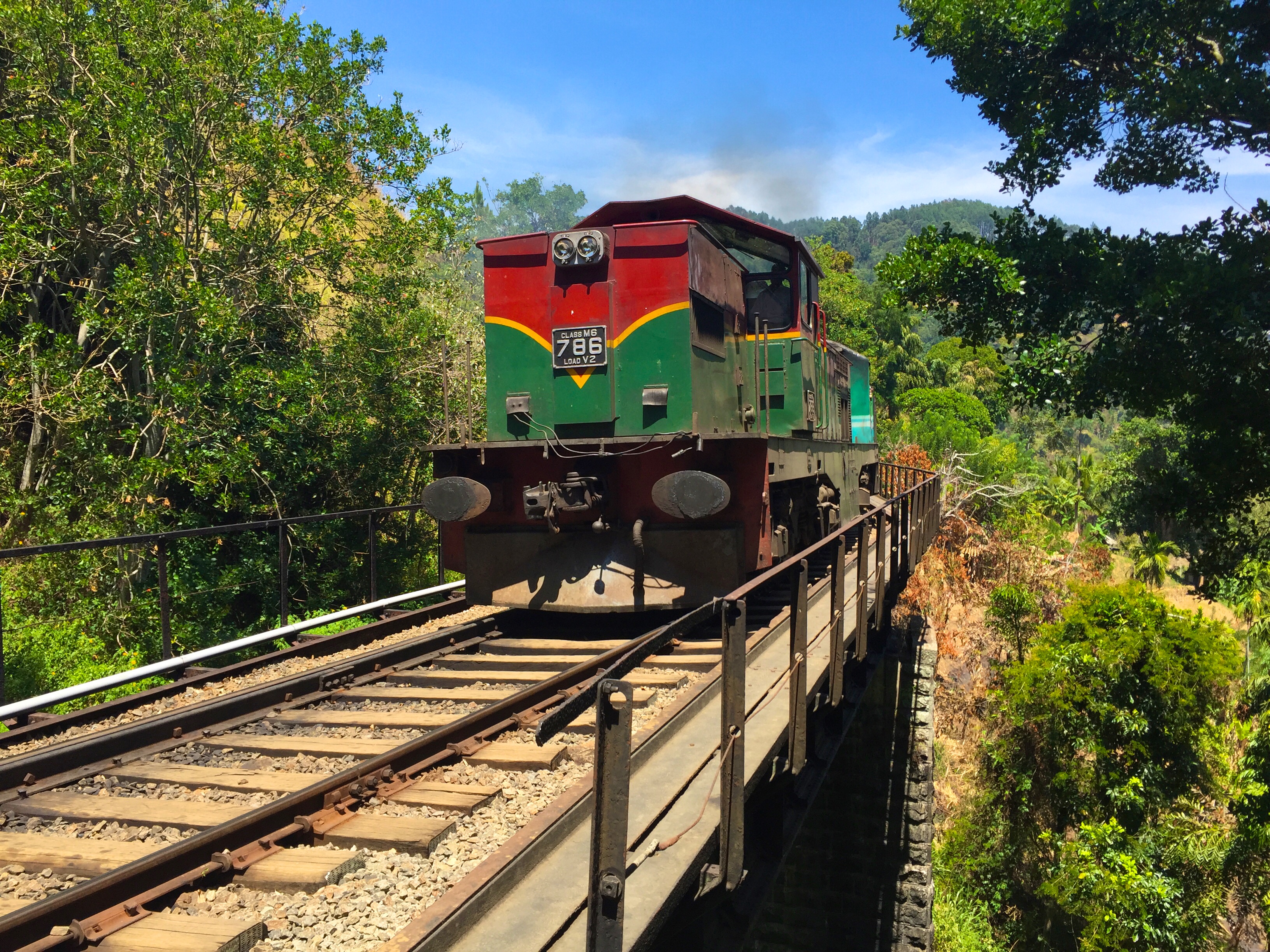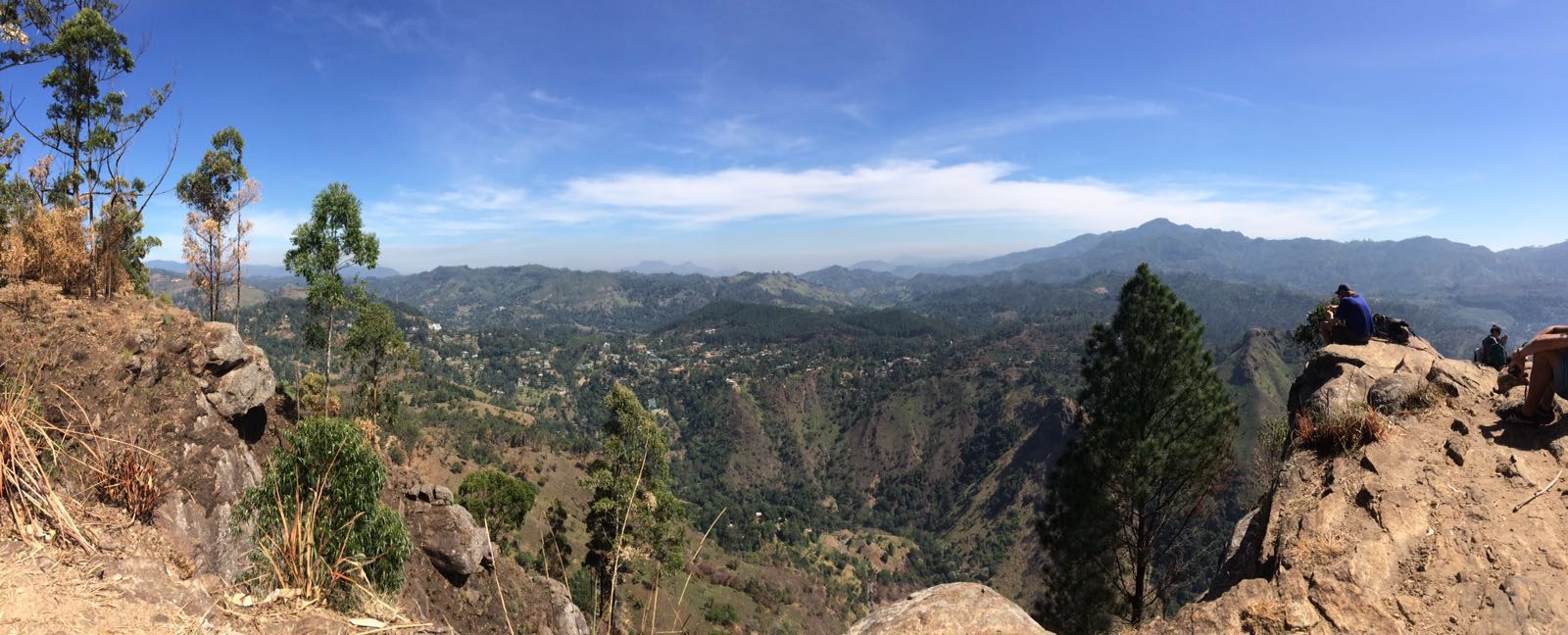 Wellawaya
Now as you may have guessed by now, after a few days of being active I like a nice dip and to cool off. We yet again found another luxury hotel that allows you to use their pool for Rs 1000.
Wellawaya is 45 minutes on the bus from Ella (Rs 60 to get there Rs 80 to get back) and is the same bus you'll take if you want to see Ravana Falls.
You'll need to take a tuk tuk from town (don't walk it, it's longer than it looks) which will cost Rs 300.
I'm not suggesting this as a must do but if you have a spare afternoon and fancy a swim in a nice pool with a view, give it a go. Just remember the last bus back to Ella is 6.20pm.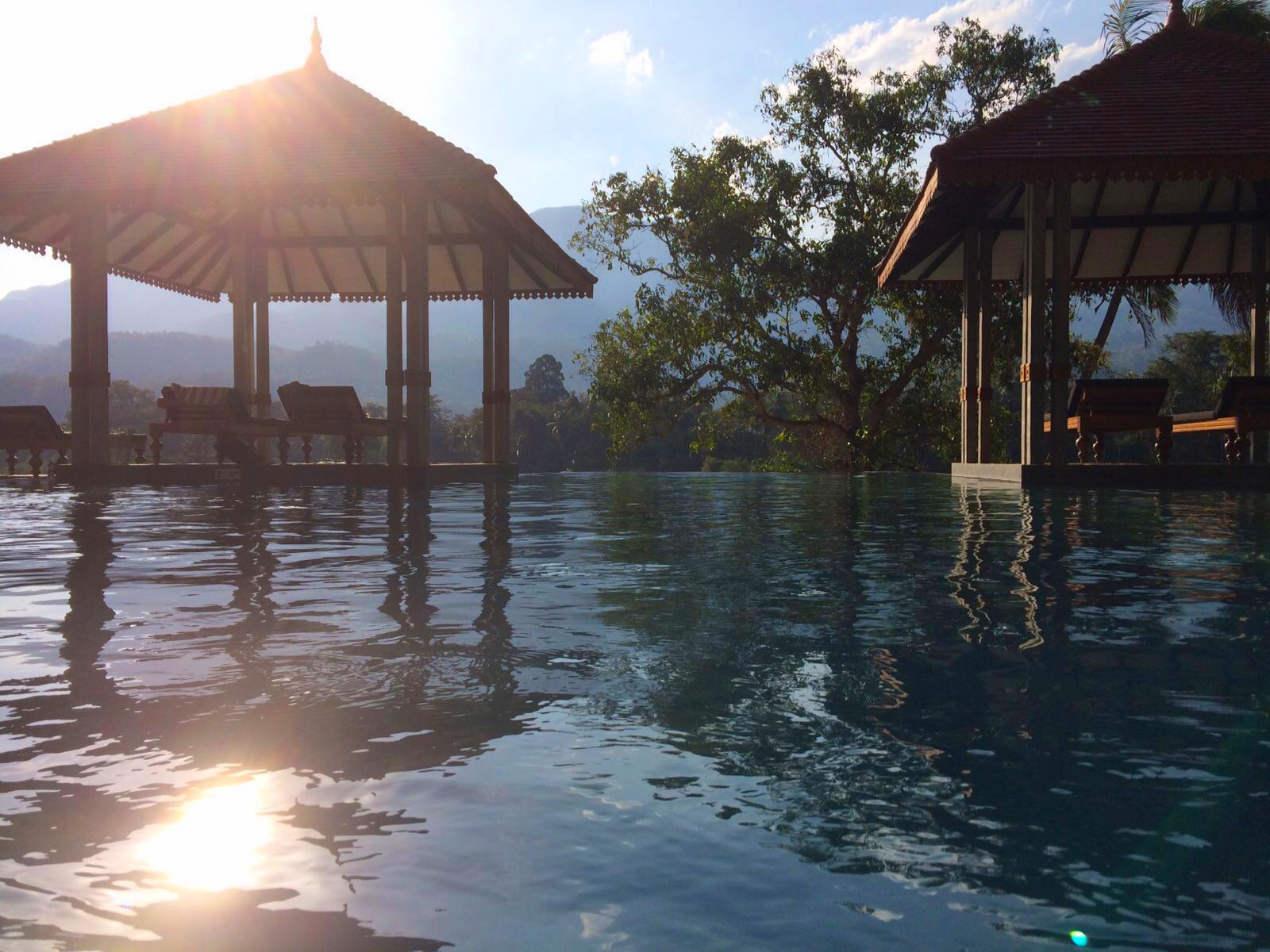 Kataragama
Most people visiting Yala National Park will base themselves out of Tissamaharama otherwise shortened to Tissa. I would urge you to consider the less popular but culturally significant Kataragama.
The whole country is friendly but because Kataragama is less touristy, the locals here seem to be the most friendly we met our whole trip.
There are direct buses from Ella to Kataragama at 08.15, 12.30, 02:00 and 02.30. If you miss any of these and end up on the wrong bus (like we did) you can go indirect via Buttala which will cost Rs 100 and Rs 90 for the two buses and take two hours.
Gem River Edge Eco Lodge
There are few accommodation options in Kataragama but the Gem River Edge Eco Lodge may well have been the best place we stayed the whole entire trip.
Our host Carla clearly knows what she is doing and pretty much planned our whole day. It was all suggestions but we couldn't argue with any of it so we went with it.
First a spot of lunch at the lodge which was great and then a swim…
The Gem River runs through the back of the eco lodge (named so because gems are found in the river, see what they did there?).
After our bus journey it was truly incredible to break out the board shorts and cool off in a stunning, clean river.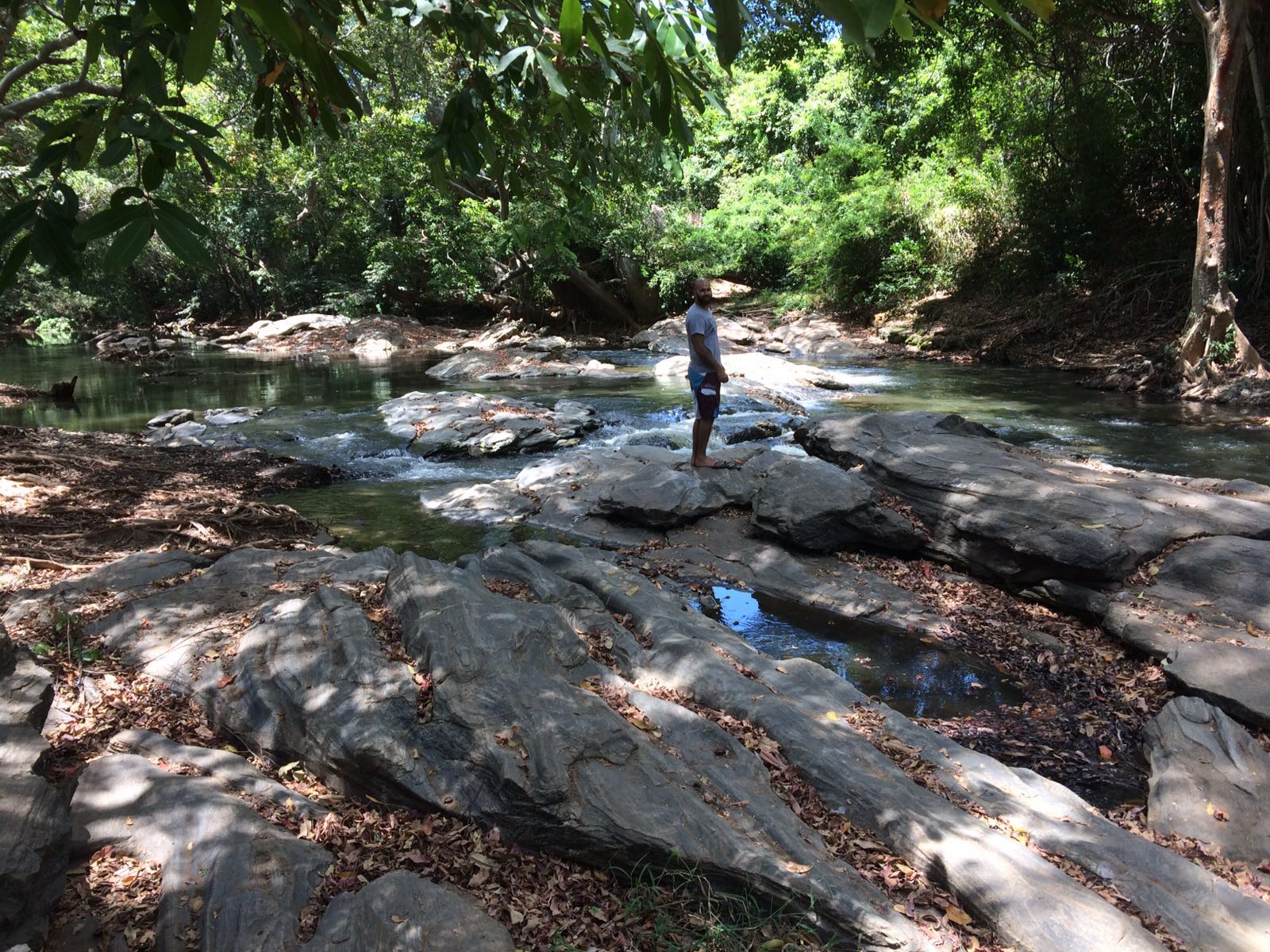 After cooling off, Carla gave us some retro looking bikes and suggested we cycle to the lake. I loved this, not only for the bike ride and the views, but literally every man, woman and child would wave or say hello as we passed.
There were even some workers who were covered by bushes who said hello and it scared the crap out of me!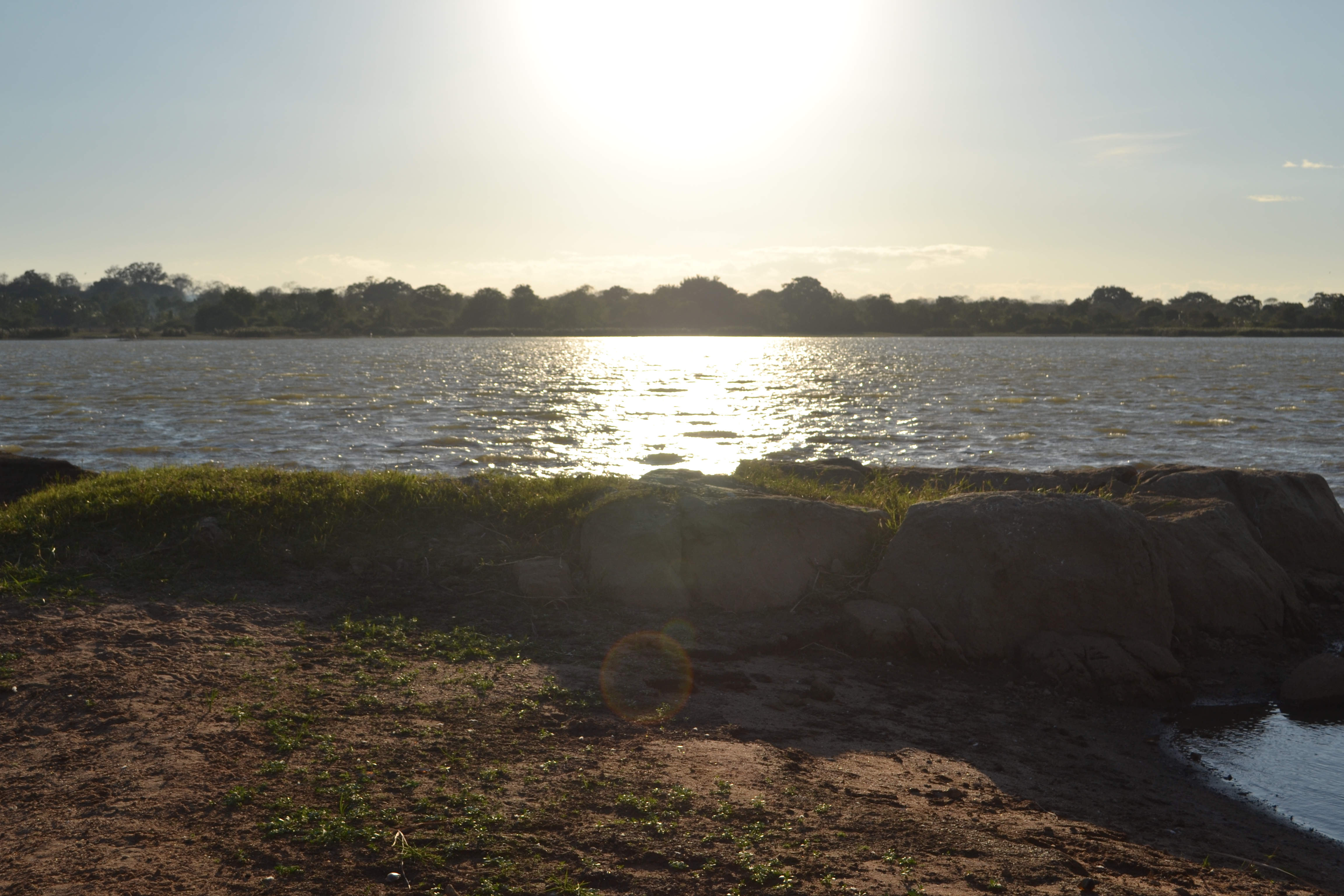 Kataragama is one of the most holy places in Sri Lanka and a pilgrimage destination. There are three Pujas daily 04:30am, 06:30am and 06.30pm. Naturally, you'll probably aim for the evening one.
Get there around 6 to give you enough time to walk around the sacred area. In a world where differences are highlighted I felt much respect and awe that this area housed places of worship for Buddhists, Hindu's and Muslims right next to each other.
The religious harmony here was humbling to witness.
The next morning the river was too good not to swim in again so we snuck in another hour before breakfast and departed for our Leopard Safari.
Yala National Park Leopard Safari
Yala National Park is the most visited national park in the country and home to one of the highest densities of leopards in the world. Naturally, leopard safaris are a huge draw here.
As we'd budget backpacked the rest of the country we decided that the leopard safari would be our treat. Most homestays can arrange a safari for you and there are lots of operators, too many I'd say.
Also, operators is a loose description. From the way some of them drive they appear to be just guys with trucks rather than having any kind of qualifications. We were told that last year a driver was going to quick rushing to a leopard sighting and ended up hitting a leopard.
One of the most prestigious safari camps is Noel Rodrigo's Leopard Safaris which is a luxury safari camp with game drives led by experts with a real care for the park and the animals within it.
The game drives were twice daily and offer a chance of seeing leopards. Just remember this isn't a zoo and nothing is guaranteed. Although your chances of seeing a leopard are good (even better in June – September) sometimes humans can just mess things up.
On our first day someone had lit a fire that scared away the leopards. On the second day we'd come across some leopards but they had gone behind a bush to nap (I assume they were napping!).
Regardless of whether you see leopards or not there is some other stunning wildlife to see and it was great to bust out my SLR and a long lens to take some snaps.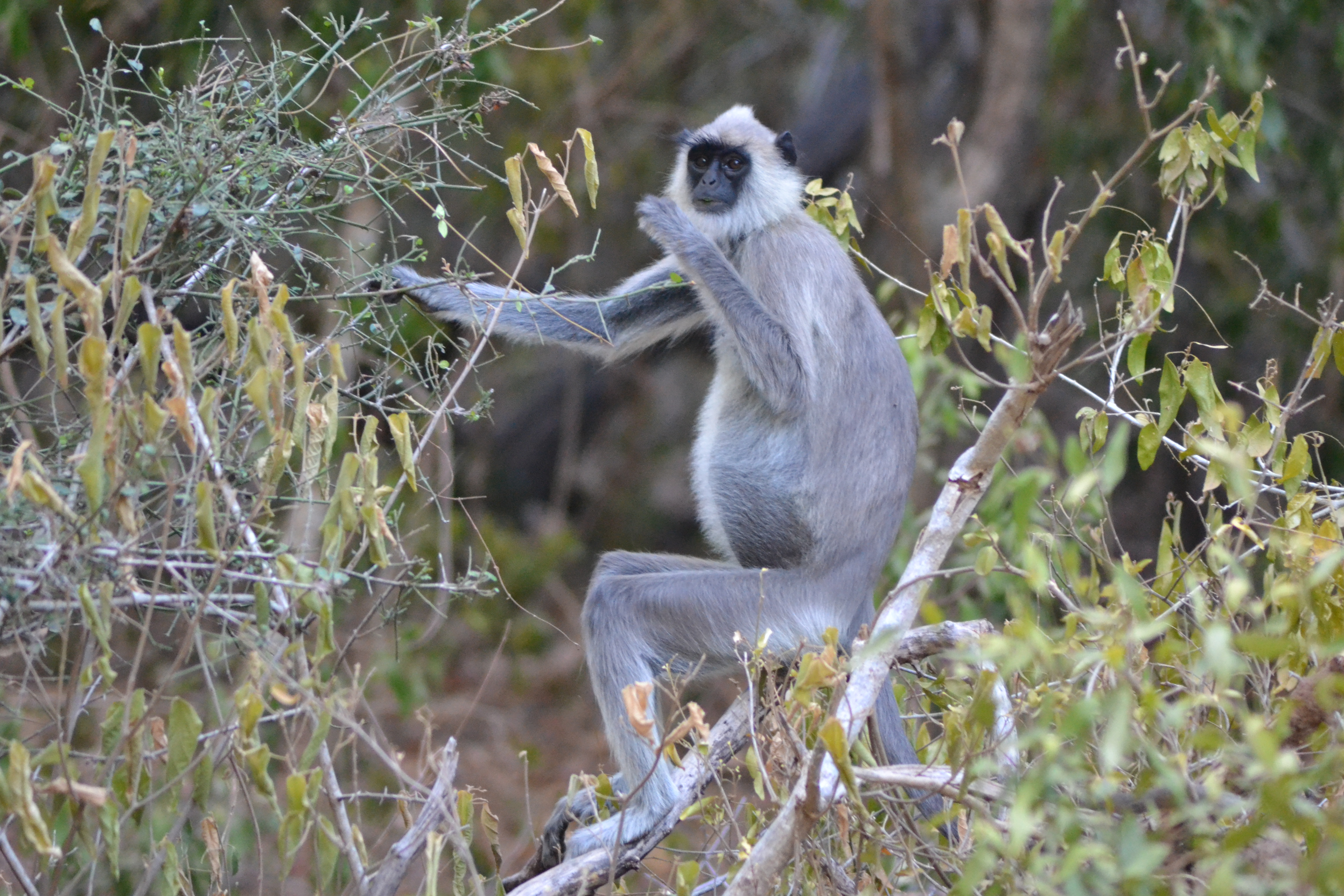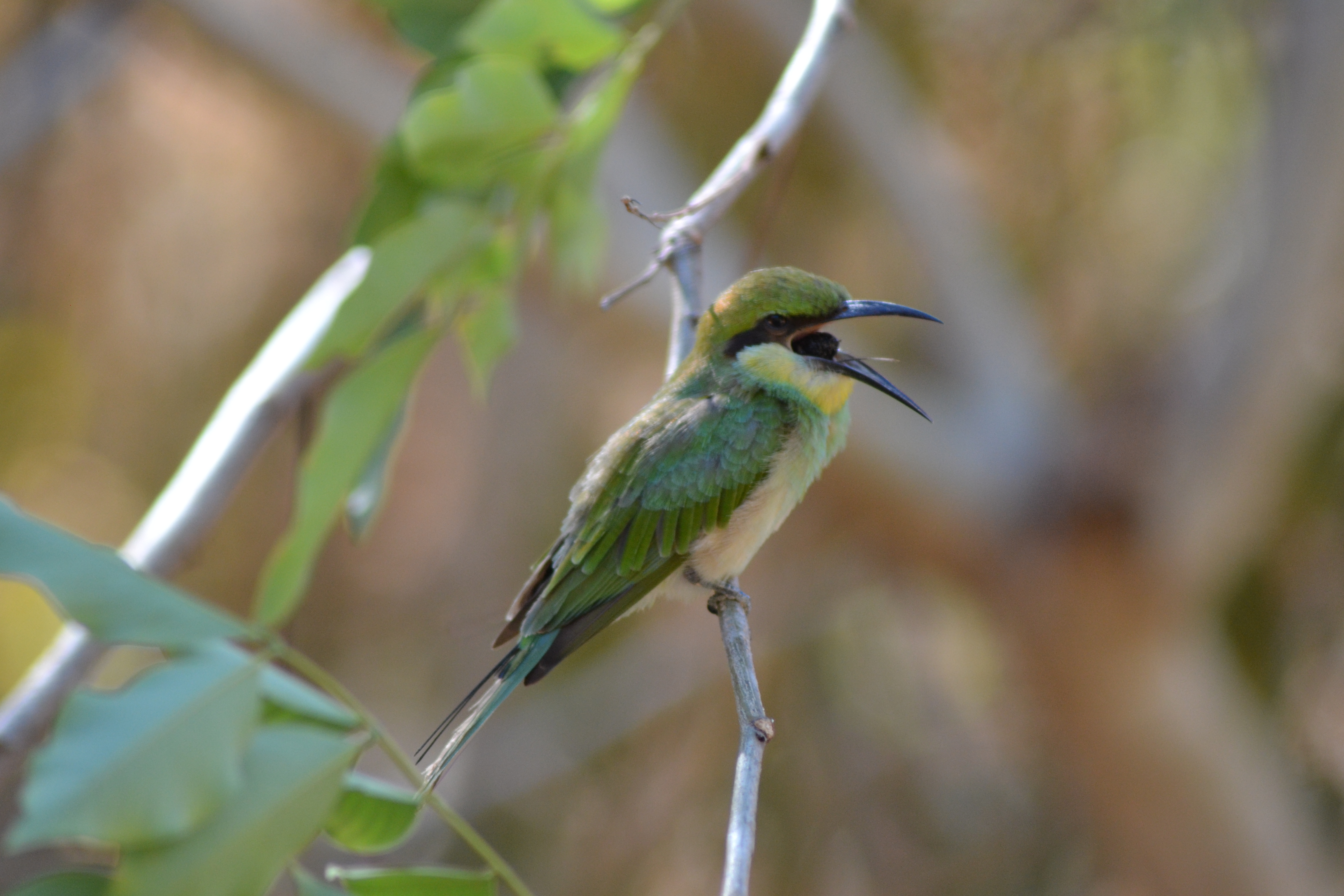 (This picture above is actually a bit misleading. The bird is throwing up, not eating. Maybe it was a bad nut?)
The other draw of doing a safari with Noel's is the camp itself. They'd literally thought of everything to make the tented safari camping experience comfortable and luxury.
For me the highlights were the meals, particularly the dinner under the stars and the camp lit up a night by lanterns.
Mirissa
After the lush hill country and dry national parks it was now time to move onto the beach. Mirissa beach seemed like a no brainer from what we'd read.
To get from Kataragama to Mirissa you can arrange a car for Rs 10,500 (probably cheaper if you share or negotiate harder) which takes 3 hours by car or alternatively take the bus which takes 4 hours. As we'd managed to keep under budget, for this leg we opted for the car just for comfort.
Mirissa is a crescent-shaped beach town popular for its chilled vibes and nightlife. There is also the added draw of the popular blue whale watching tours.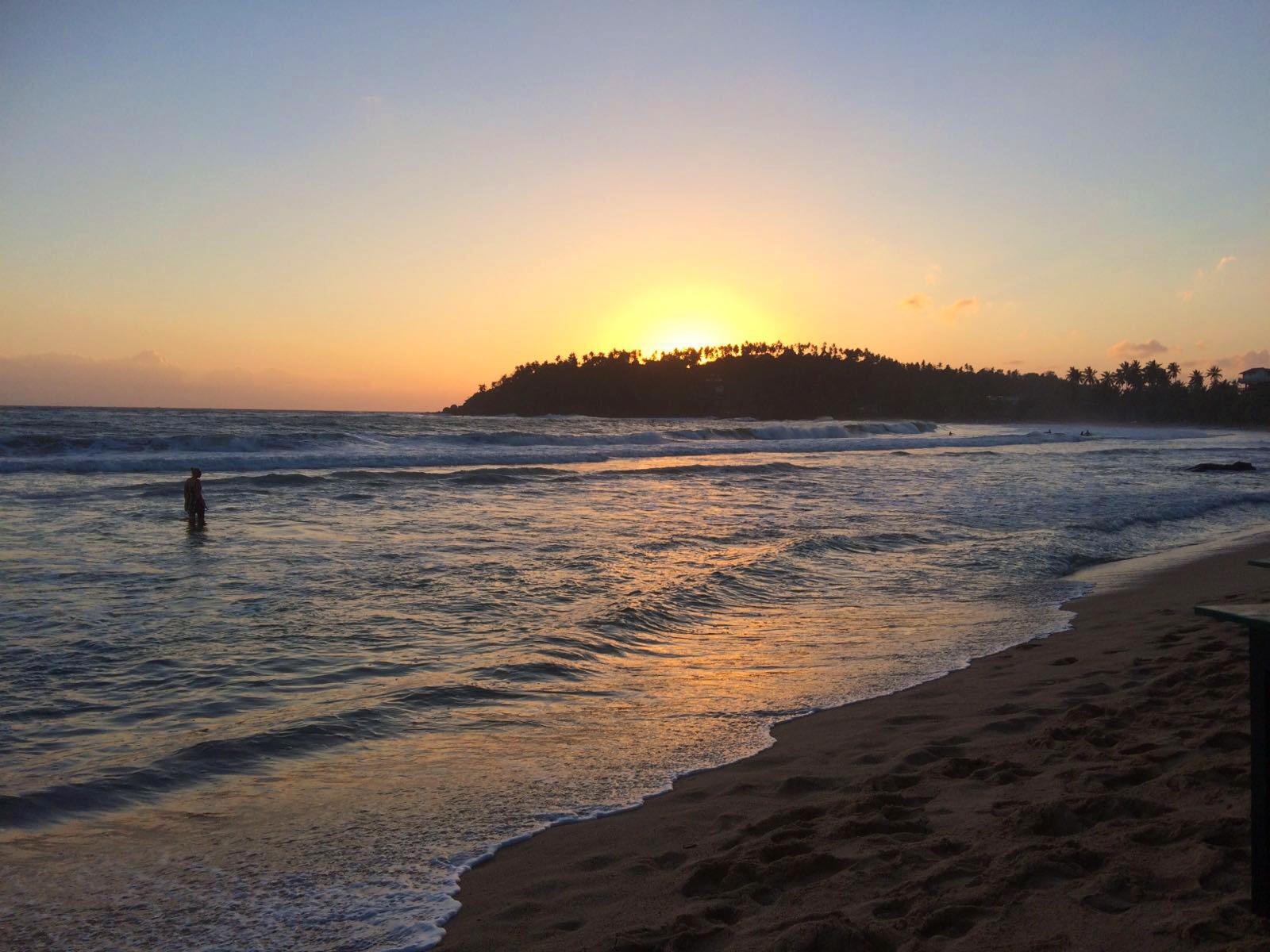 We'd originally booked Morning Star as we were sold on its ocean view. Sadly, the ocean view turned out to be a construction view and even without the building work it wasn't much of a view. I'm not one to be too fussy but given where we were and the various other options available we decided to hunt for something else.
We ended up coming across Palm Villa which had a great location right on the beach at one end. It had great breakfast options included and offered a yoga class at 11 everyday.
Mirissa really is a really chilled out town and you're spoilt for choice with beach bars and restaurants. I don't think there's much in it between the restaurants but Zephyr and Sunshine Beach were two places we tried and thought the sea food was great (red snapper for the win).
You can surf at Mirissa but it's quite unforgiving if you're a novice or beginner.
I'd actually suggest heading to Weligama for surfing if you're really keen as the conditions are better. A tuk tuk to Weligama will cost Rs 300 and you can rent surf boards from Weligama Beach Resort for Rs 400.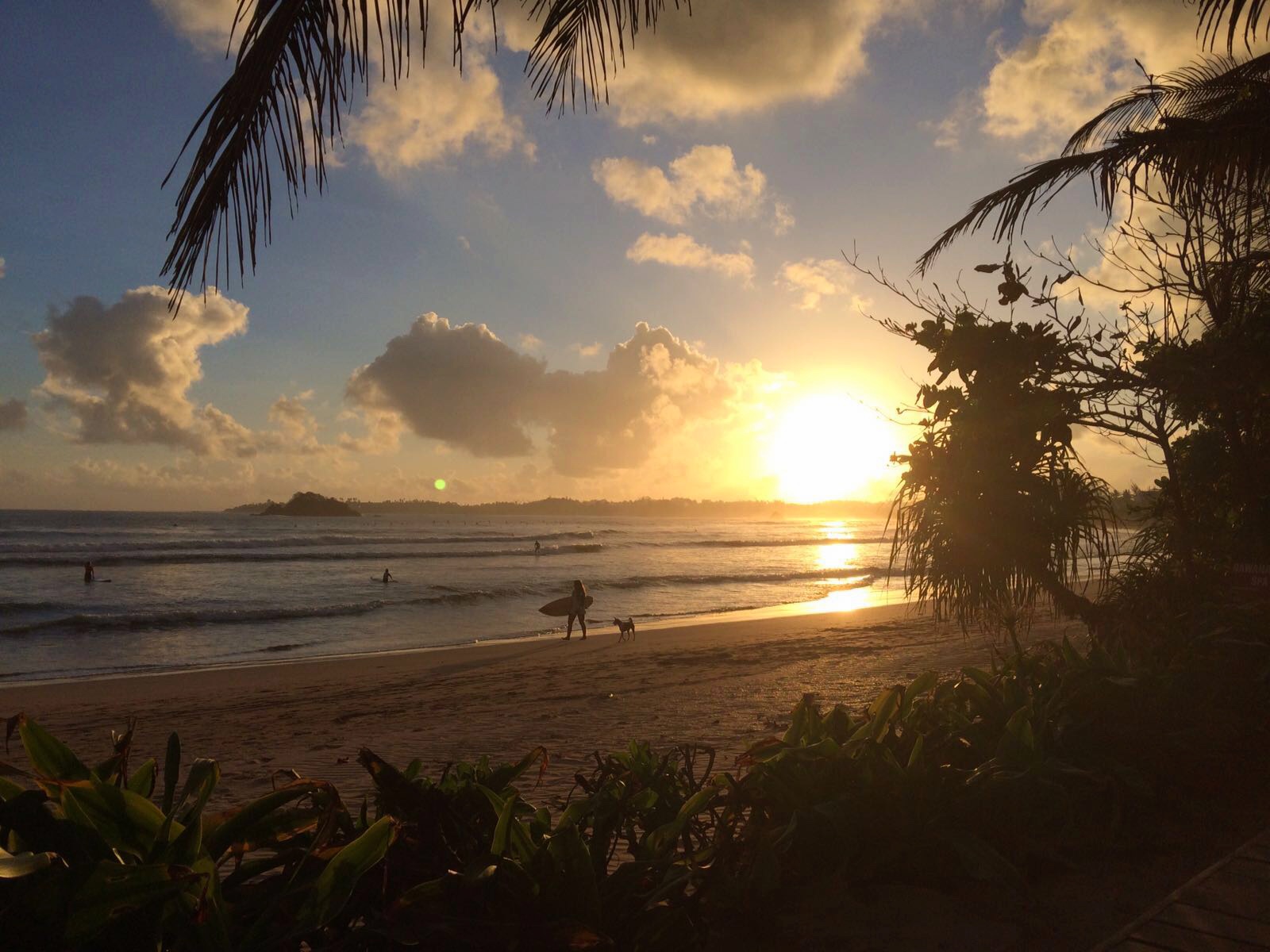 Blue Whale Watching in Mirissa
Blue Whale Watching is a pretty popular activity for those visiting Mirissa. There's quite a few operators who tout on the beach selling tickets for Rs 4000 – 5000. The most reputable company is Rajah and the Whales who sell tickets for Rs 6000.
Being quite animal conscientious we opted for Rajah based on their reputation and were quite happy to pay the extra if the animals are respected.
Thankfully, there was a lot of talk about zones and degrees of approach as to not alarm the blue whales, something our boat stuck to (but not all the other boats did).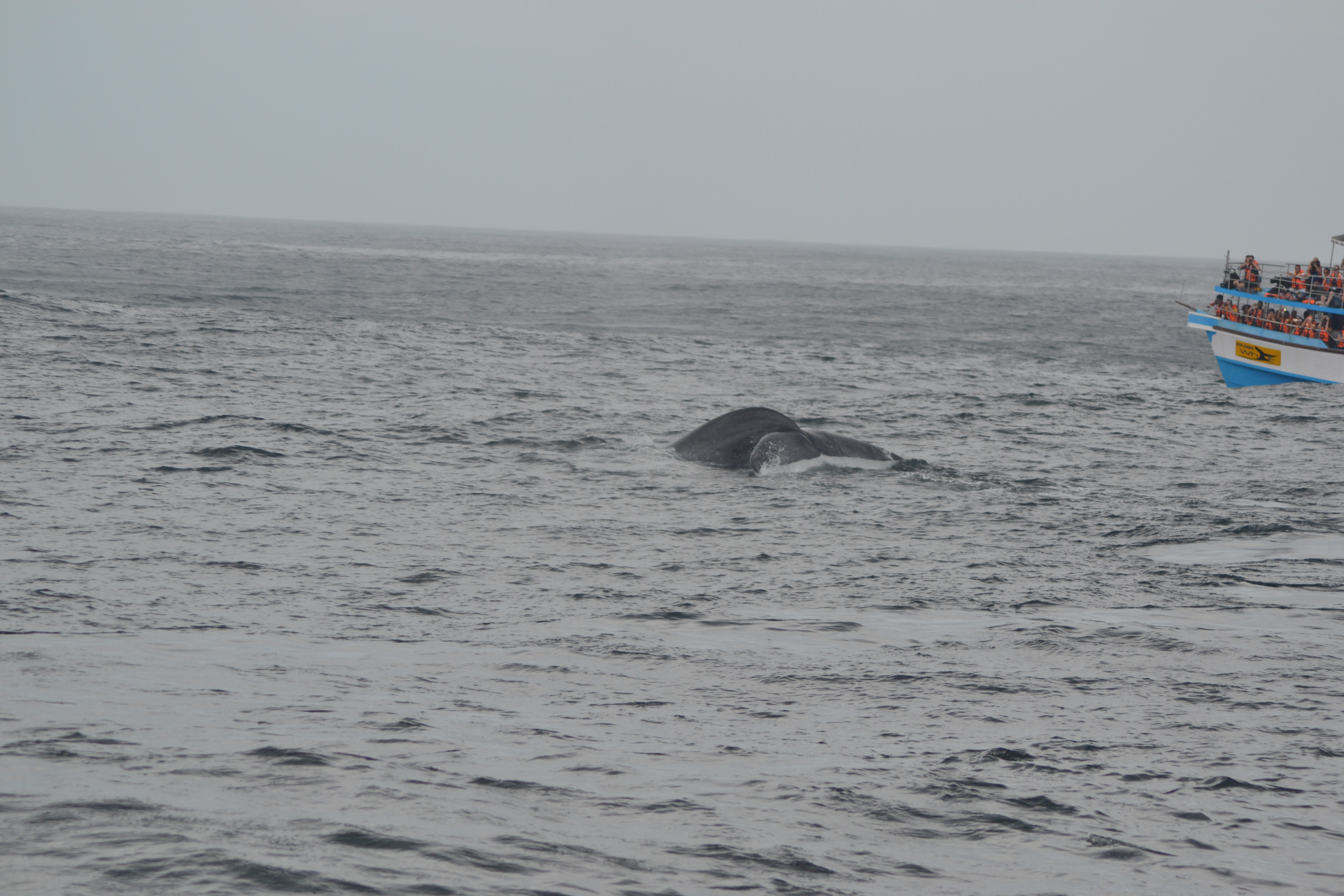 (Not my best photography skills but the conditions were ridiculous!)
Now would I say this tour was worth it? It depends on two things really; how much you like whales and do you suffer from sea sickness?
You're pretty much guaranteed to see blue whales, the question is more how long it takes. The Rajah team will pick you up at 6am for a 6.30 departure. The average time at sea is 4 hours but be prepared to be out for up to 8 hours.
The sea is extremely rocky and sea sickness hit me hard, even with a sea sickness tablet (strongly recommended).
You'll glance the top of a blue whale for a very short while before they dive and it'll be a fair time before they surface again.
For me, the length of time at sea and for what you see, I personally didn't think it was worth it. Felt more like a box ticking exercise and an uncomfortable one at that.
Jury is out on this activity.
Galle
Galle was the next stop along the coast before heading back to Colombo. The Galle Fort is a world heritage site in its own right and a bit of a beautiful oddity in that it was in stark contrast with any of the rest of Sri Lanka we'd seen.
There are two buses to Galle from Mirissa at 10:55am and 02:45pm and cost Rs 50.
I'd say Galle was a little more expensive than other places we'd been but not by much. It's also geographically small so picking an accommodation really doesn't need to be based on location. Everywhere is within walking distance.
We opted for Millennium Rest & Gems which was nothing special but did the job and reasonably priced.
If you're looking for an authentic meal Lucky Fort does a 10 curry course for Rs 950 which was fantastic. More modern but equally as delicious is A Minute By Tuk Tuk on the right side of Galle Fort with a great view of the sea. I can highly recommend the chicken and roti.
If you're craving Gelato, try Pedlas Inn Gelato on Pedlar Street and Fortaleza has a really lovely courtyard for dinner or just drinks.
Finally, a walk along the fort walls at sunset is a must.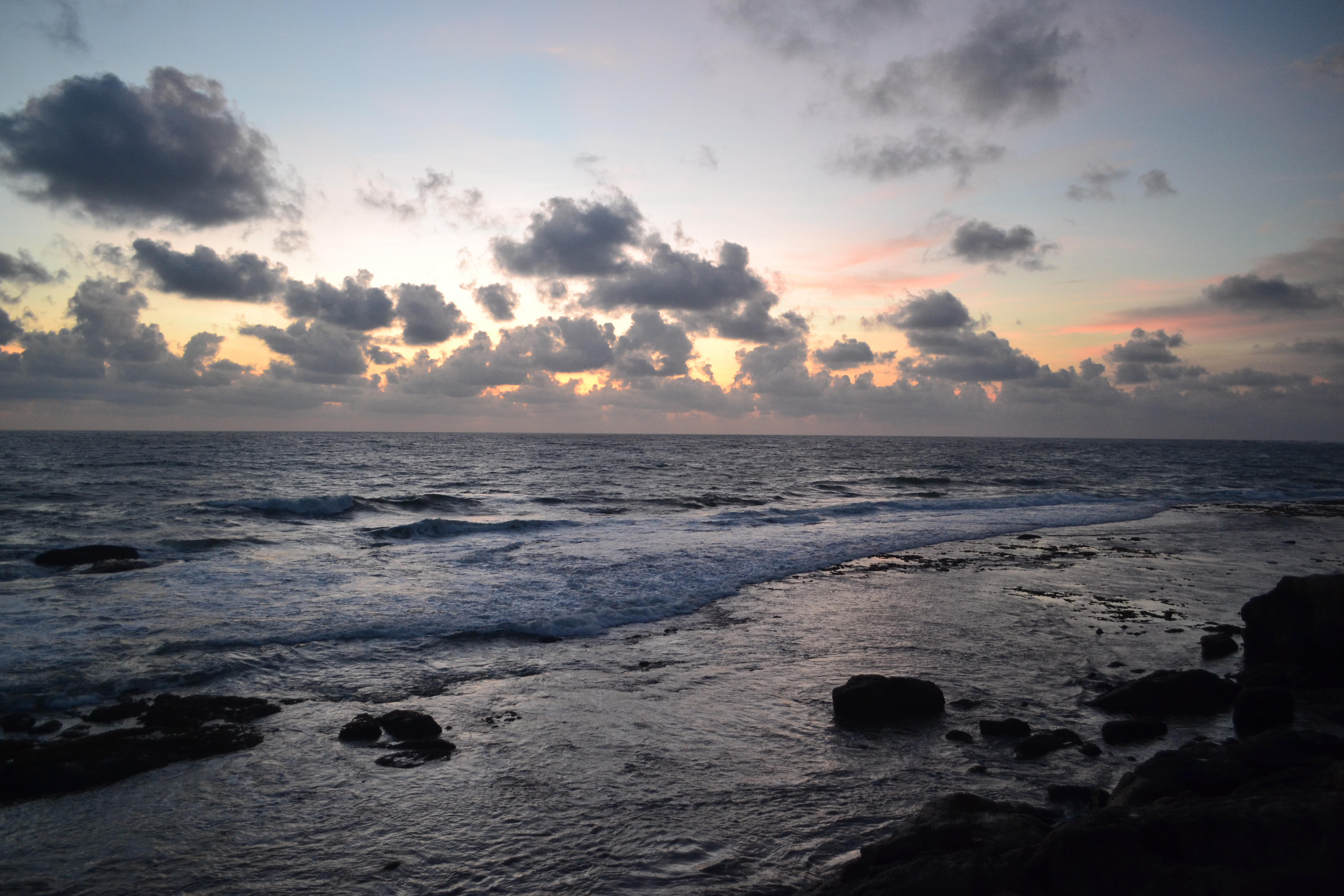 Getting Home
We opted for a train rather than a bus back to Colombo as the route up the coast is quite scenic. First-class tickets will set you back Rs 800.
We arrived back in Colombo that evening, and wanting an easy transfer back to the airport we opted to stay in a homestay near the airport rather than in Colombo so we took a tuk tuk from the station to our accommodation for Rs 1500.
Now admittedly when we booked Palms Villa there wasn't much thought that went into it. It was close to the airport and that was enough to meet our criteria.
Ironically it ended up being one of the best places we'd stayed. It was incredibly well designed for guests complete with a pool and a great dinner menu. It really was a great way to round off the trip with this place.
Sri Lanka Summary
It was a busy two weeks and we packed in a lot to our itinerary but I regret nothing. Sri Lanka and its people are beautiful. It's one of the best countries I've had the privilege to travel to. I'd recommend it to anyone.
Amar was born and raised in England and embarked on an 11-country round-the-world gap year after graduation and then became well and truly hooked. The first gap year inspired a second, which ended up being a 23-country down-the-world trip from Canada to Antarctica. Since then, Amar has spent the last 14 years traveling the 7 continents.