Whether you are a lover of history, enjoy the nightlife, a shopaholic, or even a lover of nature and animals, in Atlanta, everyone will surely find something that will occupy their attention.
From Martin Luther King Jr.'s birthplace, the Fox Theater, Piedmont Park, and the Zoo, to sports sights like Centennial Olympic Park and top nightclubs throughout the city,
Atlanta is a great place for both family and friends to travel. Here are the best hotels with the most beautiful views from private balconies where you can stay alone or with your chosen companions!
The Best Hotel Rooms With a Balcony in Atlanta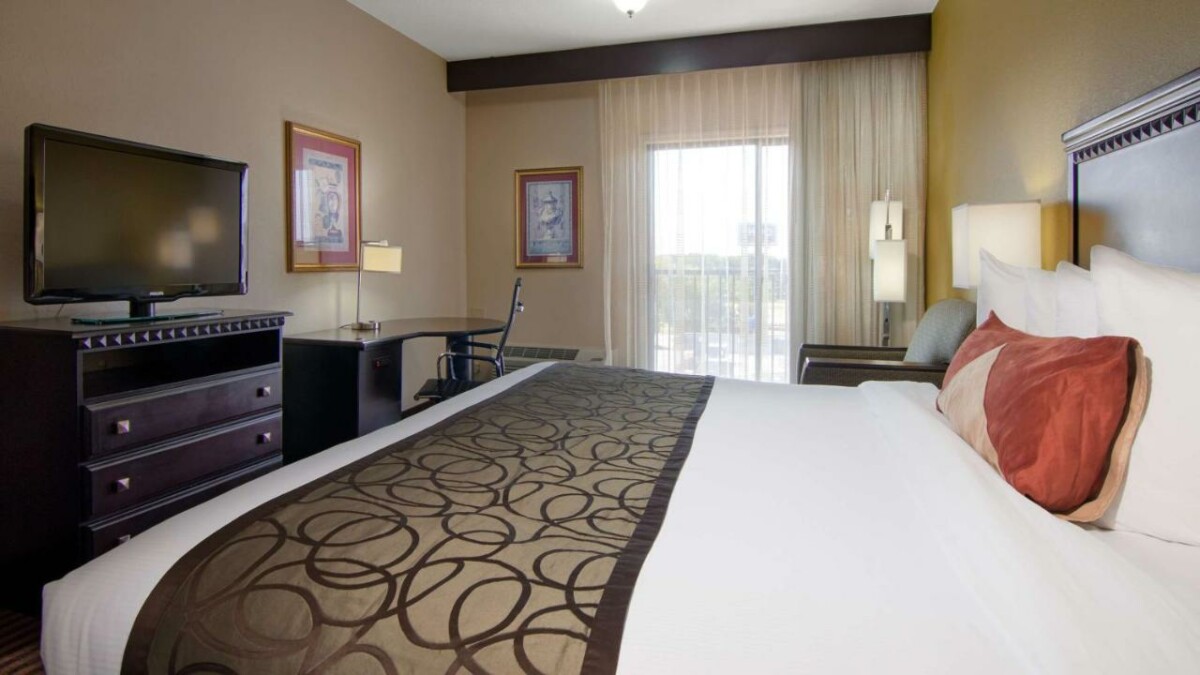 Located minutes from Hartsfield-Jackson Atlanta International Airport, the Best Western Plus Atlanta Airport East Hotel is a real hit any time of the year. Arranged to make guests' stay as comfortable and private as possible, you will surely find a true oasis of peace here after sightseeing in Atlanta.
From the outdoor swimming pool and state-of-the-art fitness center to the stylish guest rooms with all the top amenities, this hotel is definitely not to be missed. Each room has king beds, a work desk, a TV, as well as balconies with a view of the Atlanta panorama.
You can dine in the excellent IHOP restaurant that works 24/7, and there you have the opportunity to try local as well as international cuisine. The hotel also includes free parking.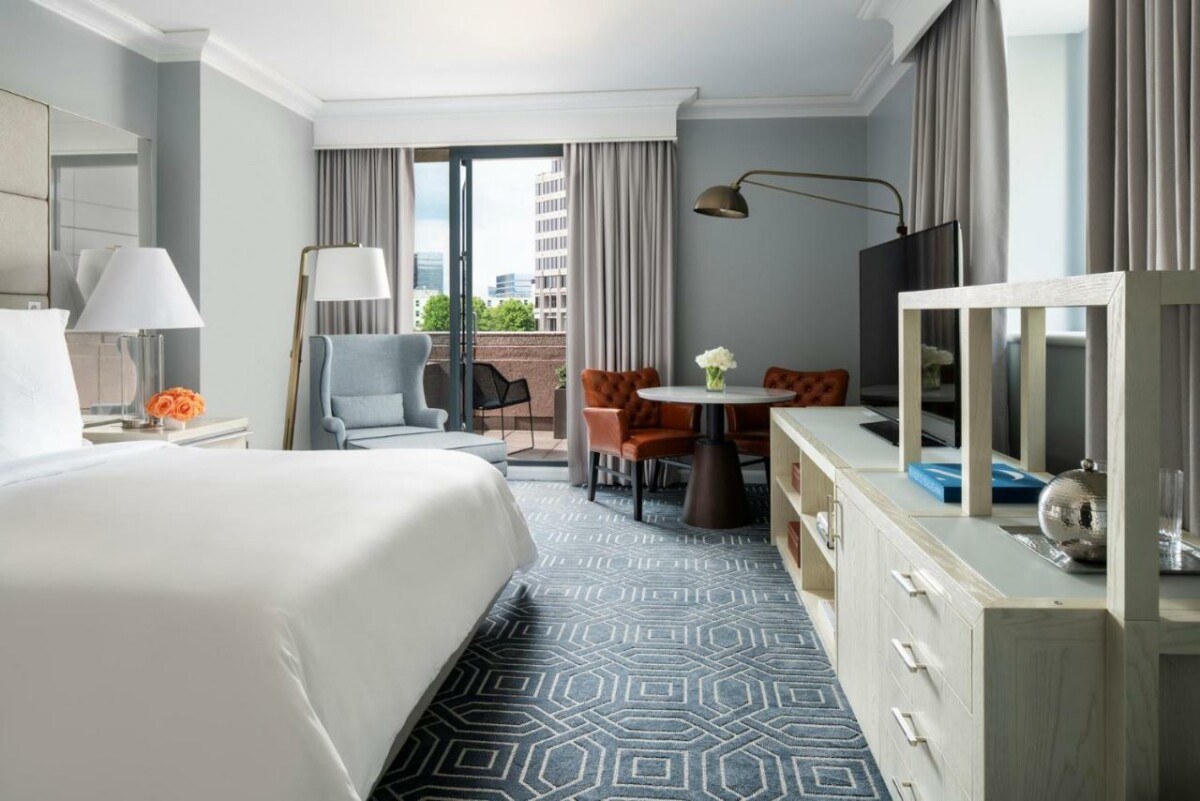 Situated in the center of Atlanta, the Four Seasons Hotel Atlanta is a great place for a family and friendly stay. Sophisticated design that exudes the Atlantic spirit can be seen in every corner of this hotel. The variety of on-site content will certainly not make your stay boring.
Enjoy the pool alone or with your companions, and then completely relax in the superb spa center that offers a sauna or steam room. Each room offers a beautiful marble private bathroom with a hot tub or shower, as well as a sitting area and balconies with a view of the city.
Dine at the on-site Bar Margot, then burn calories in the fully-equipped health club. In the vicinity of the hotel, there are numerous restaurants, shops, and bars, as well as the High Museum of Art – something for everyone.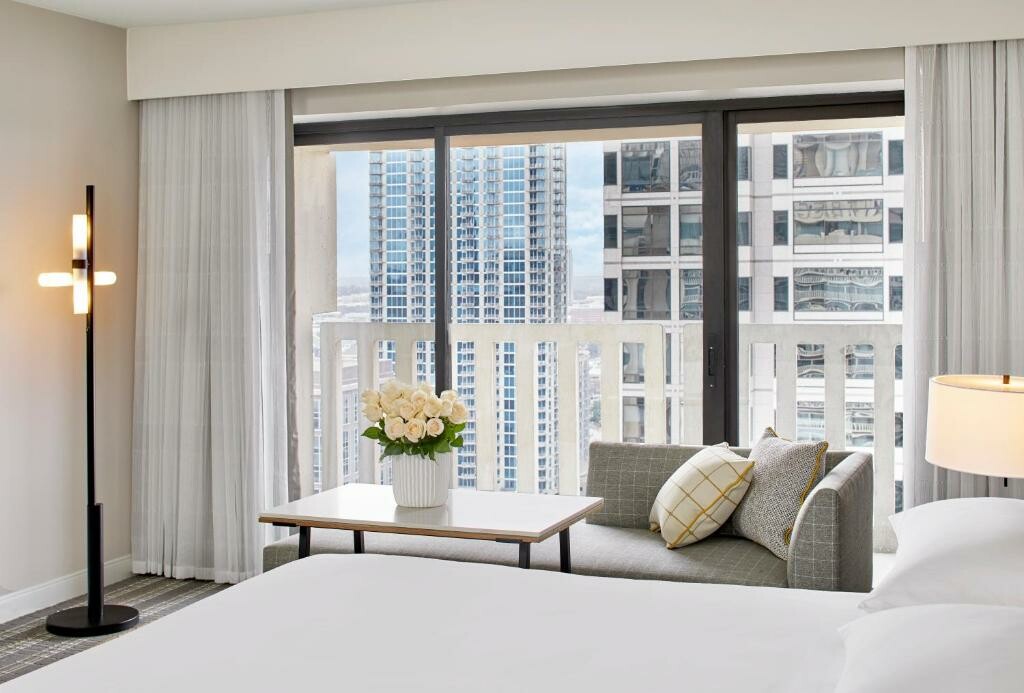 Arranged with the ultimate goal of the satisfaction of its guests, this 4-star Hyatt Regency Atlanta hotel has such an offer and features that you will not have to leave your accommodation while staying.
From 3 top restaurants, including a rotating one, swimming pool, and fitness center, to luxurious, spacious guest rooms decorated according to the latest sophisticated trends and chic design, you will certainly not run out of things to do.
Each suite includes an oversize work desk, sofa, and dining table, free WiFi, a flat-screen TV, and an iPod docking station, as well as Phamacopia organic bath products.
In addition, some rooms have balconies with stunning views of the city. Hyatt Regency Atlanta hotel is just minutes away from Mercedes-Benz Stadium, State Farm Arena, the Georgia Aquarium, Krog Street Market, Piedmont Park, the BeltLine path, as well as historic neighborhoods, shops, and dining.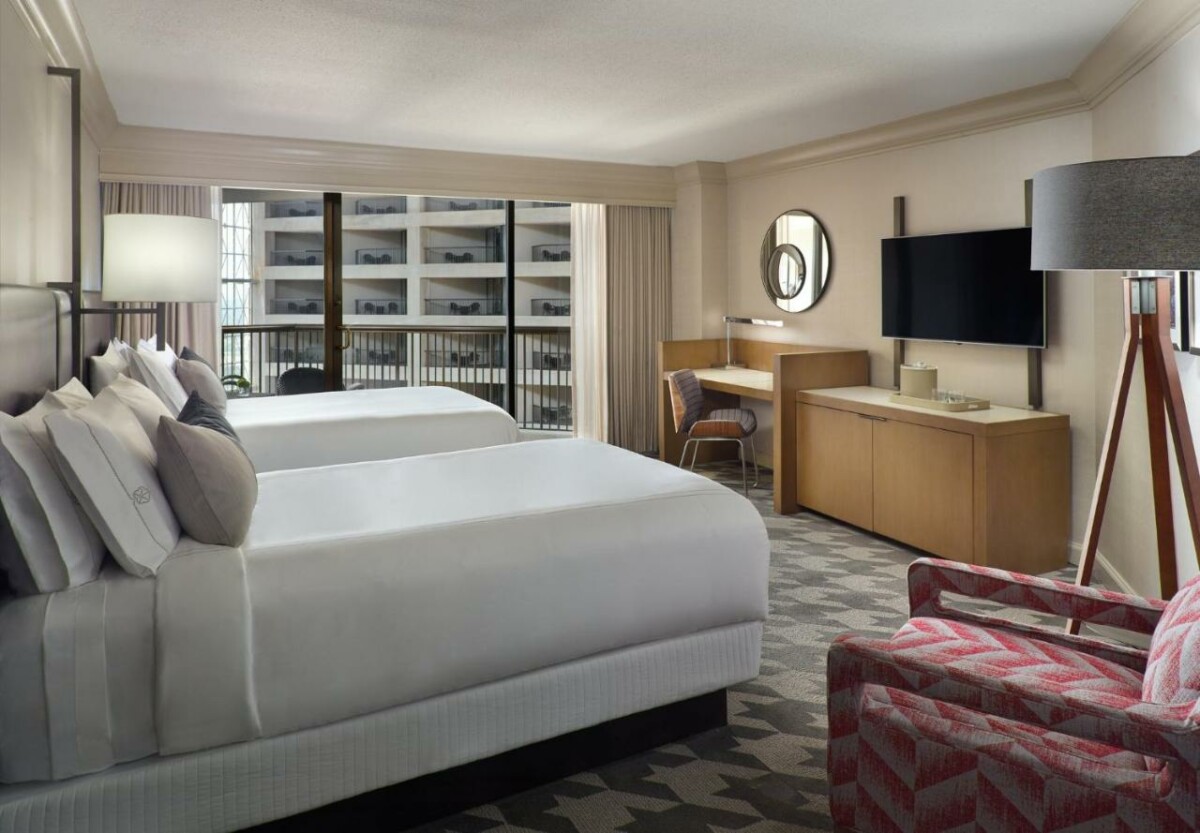 If you want to experience all that Atlanta has to offer, the Omni Atlanta Hotel at CNN Center is a safe choice. Located in the bustling Centennial Park District, the heart of downtown Atlanta, the hotel offers a peaceful stay and a location where everything is within easy reach for all guests.
Each of the 1,067 spacious and elegant rooms is decorated according to the latest trends and minimalist-sophisticated design, including all top amenities, as well as beautiful balconies and floor-to-ceiling windows with a view of downtown Atlanta.
Dine or grab a drink at Centennial Grounds, Top Draft, New South Kitchen, or Vues lobby bar, or take a look at available shops, a beauty salon, and a kids' club program on-site. The hotel is connected to State Farm Arena and the Georgia World Congress Center and very close to Mercedes-Benz Stadium.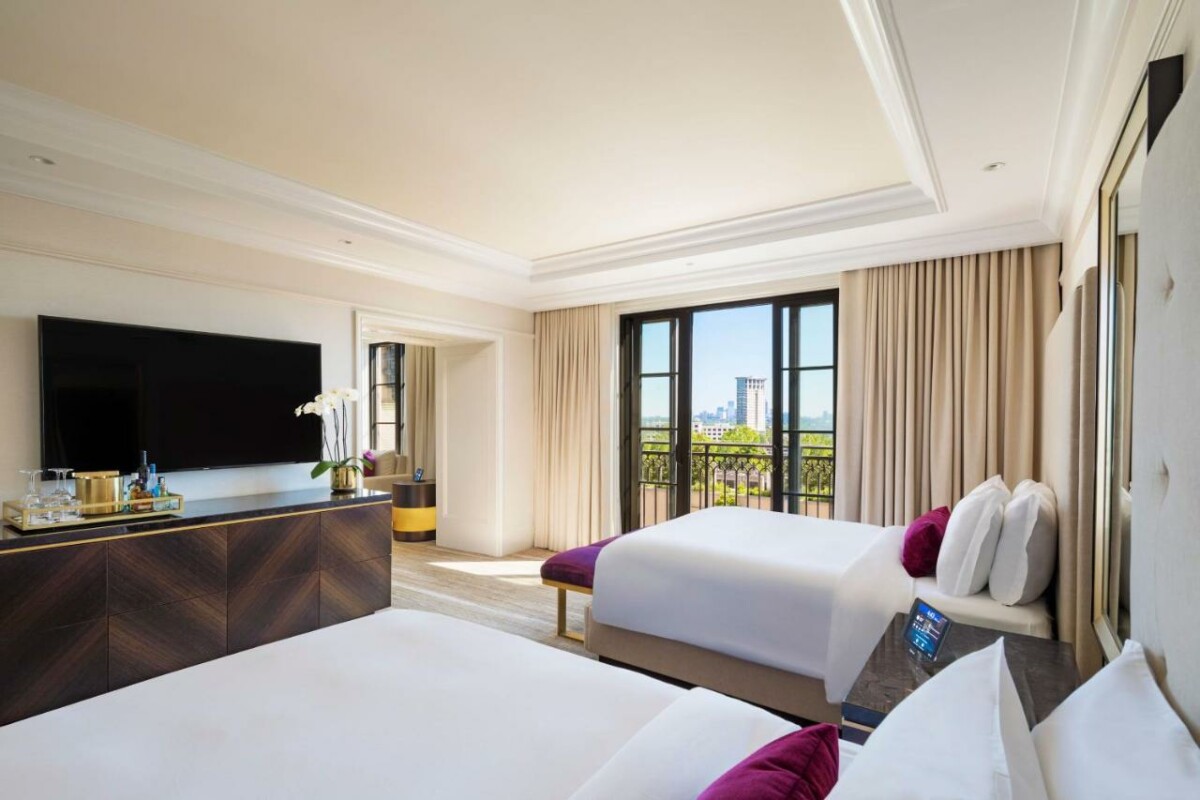 The St. Regis Atlanta is a AAA Five Diamond hotel located in Atlanta's affluent Buckhead neighborhood, designed with distinct taste and style. Experience what a royal stay means by enjoying the numerous hotel amenities and features that it offers.
From the resort-style pool, butler service, and high-quality dining in hotel restaurants to exceptionally well-appointed guest rooms and suites and The St. Regis Atlanta Spa, 5-star service during your stay will leave you with a mark of a nice experience.
This exquisite hotel offers luxuriously designed rooms in which you will have complete privacy and incomparable service. In each room, you have beautiful views from the balcony or window of the magnificently landscaped courtyard or the city.
At every step in this hotel, you will be dazzled by huge crystal chandeliers, interior design, and staircases reminiscent of a palace. In addition to everything, St. Regis Atlanta also has an excellent location and is within easy reach of Phipps Plaza, Lenox Mall, and numerous other tourist attractions.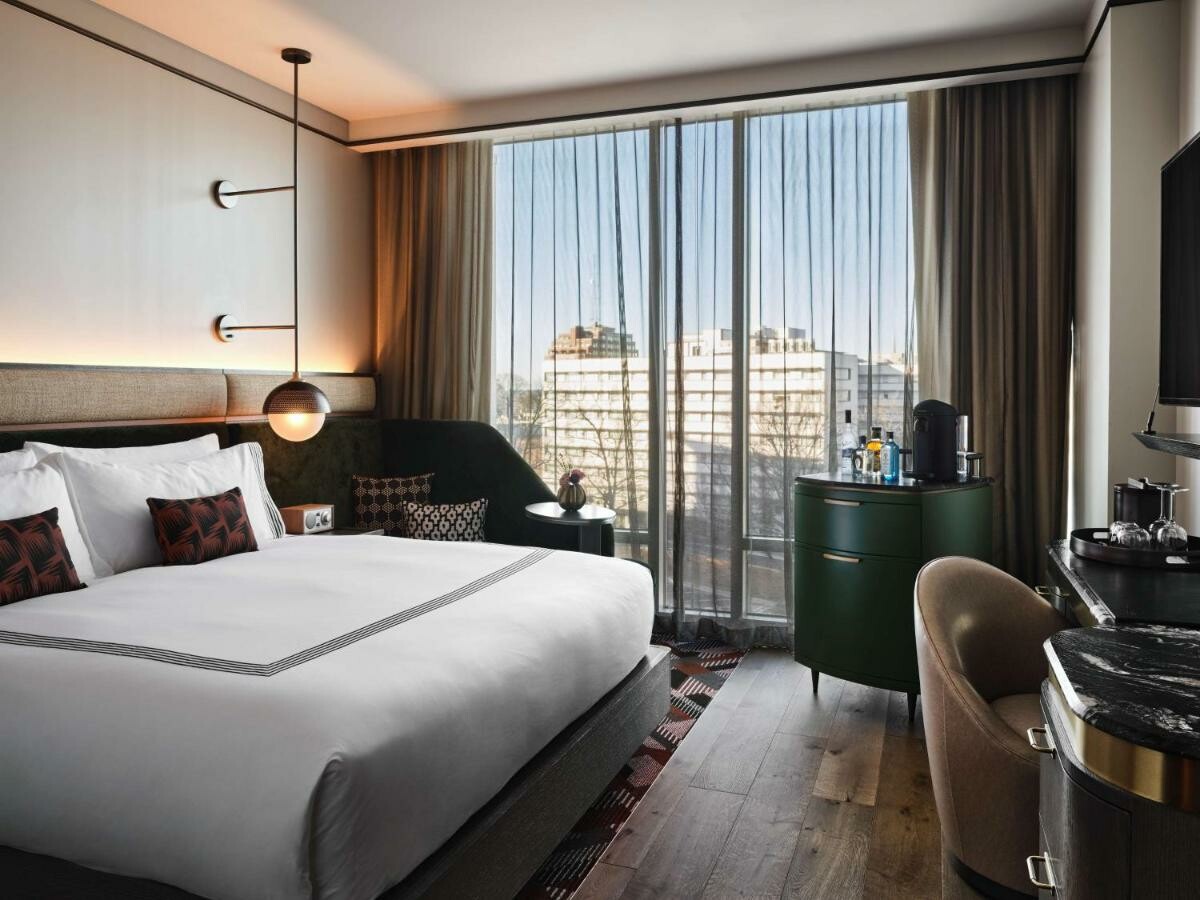 The perfect blend of modern innovation and influential design is available to you in one of Buckhead's most beautiful boutique hotels, Thompson Buckhead.
From the seasonal outdoor pool, fitness center, and bar to beautiful, well-appointed rooms with private sophisticated bathrooms and balconies with a wonderful view of the city, this 5-star hotel will certainly not disappoint you with its incomparable service.
Explore the incredible flavors in the superb restaurant Dirty Pascal or drink interesting cocktails in the Lobby bar. Just a few steps outside the hotel, there are numerous shops, fun nightlife, and numerous restaurants where you can spend quality time during your stay.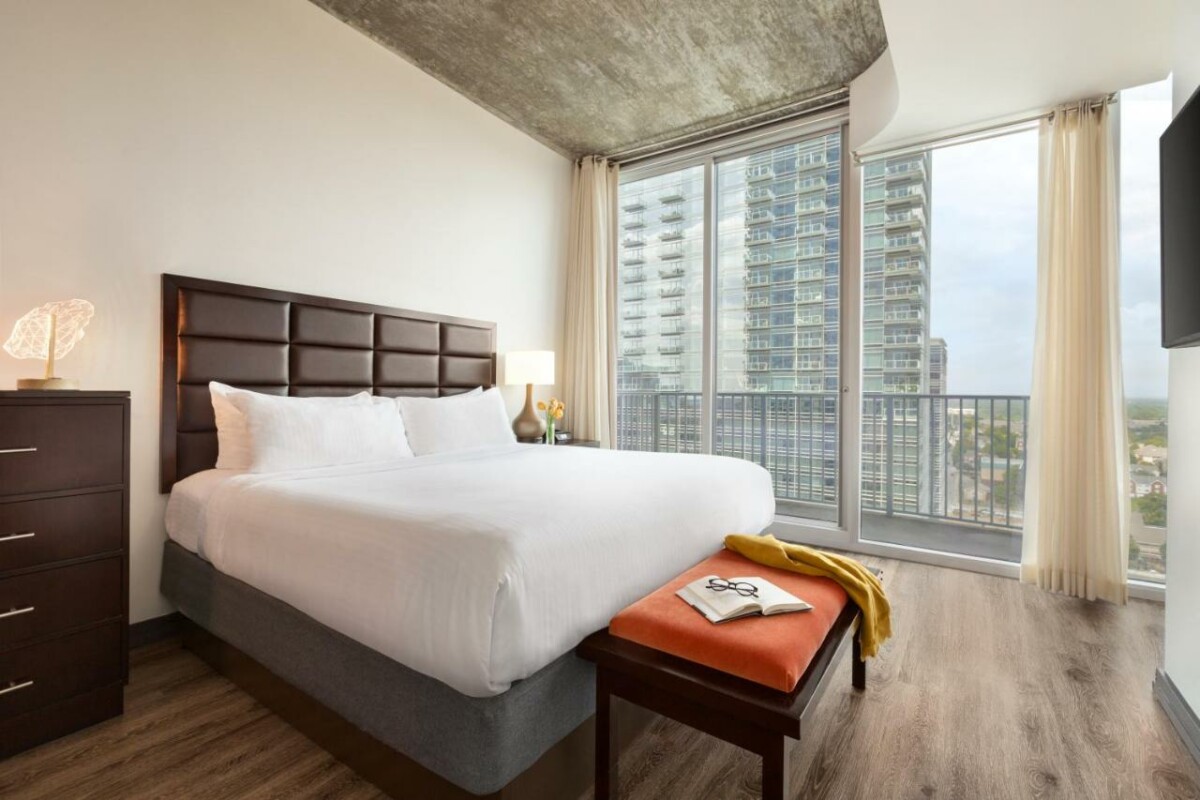 Suitable for short and extended stays, Twelve Downtown Autograph Collection, located in downtown Atlanta, is a great place to stay if you want peace of mind that you can enjoy during your entire stay.
Each suite is equipped with contemporary furnishings – it has a kitchen, a sitting area, beds, bathrooms, and hotel services can be requested at any time. In addition, it has special rooms and balconies with a view of the heart of Atlanta and everything it has to offer.
You can eat everything like meat, fish, and other specialties in the in-house American-style restaurant and then relax in the roof-top pool with deckchairs.
Twelve Downtown Autograph Collection is an 8-minute walk from Centennial Olympic Park, and the World of Coca-Cola, as well as Georgia Aquarium, is 15 minutes walk away.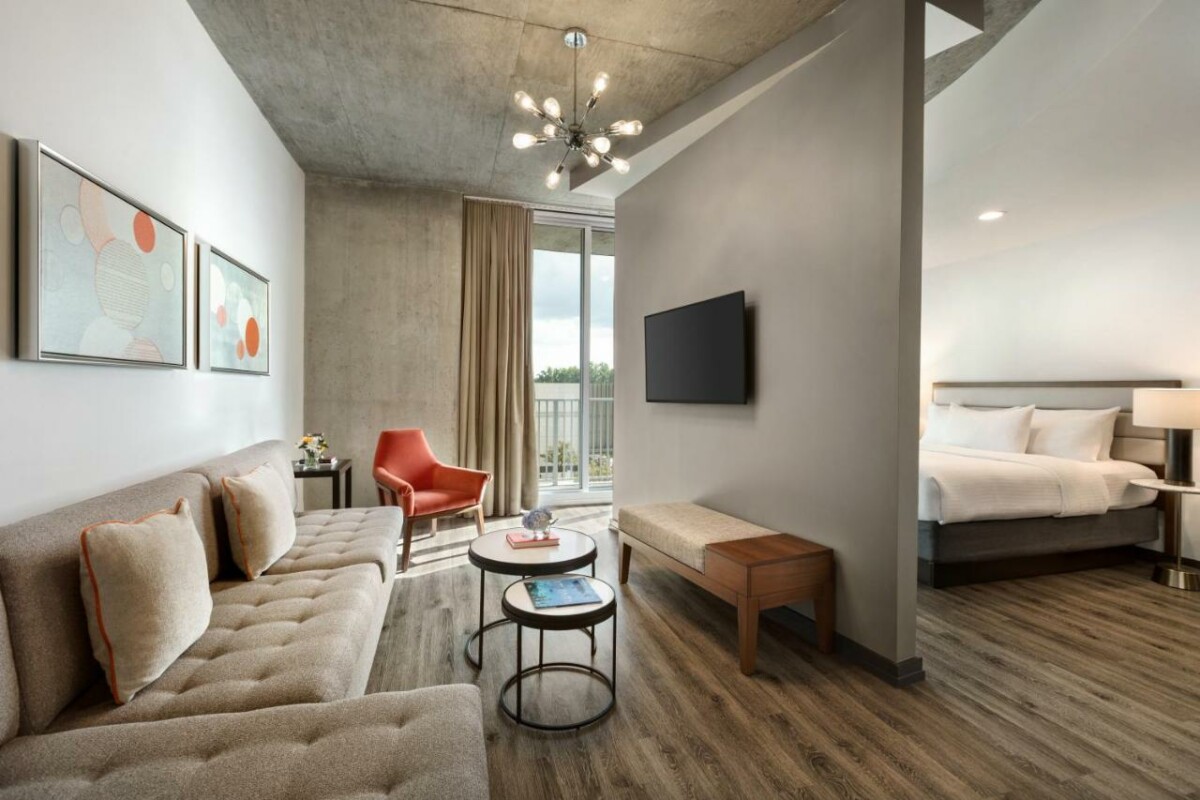 Designed in Atlanta's true spirit and sophisticated-luxury ambiance, Twelve Midtown, Marriott Autograph Collection is an excellent choice for business and leisure travel. As soon as you enter the spacious lobby, you will surely be amazed by the architecture and beautiful interior that can be seen in every corner of the hotel.
In each suite, you can find floor-to-ceiling windows and a full kitchen with stainless steel appliances, kitchenware, cookware, and other top amenities, and in the extra rooms, you can have your own private balcony with a stunning view of the city.
Relax in the outdoor pool that offers poolside food and beverages, a private guest lounge, or train in the state-of-the-art fitness center. Dine for breakfast, lunch, and dinner at Allora at TWELVE, an on-site restaurant that offers mostly Italian cuisine and everything made to order.
Twelve Midtown, Marriott Autograph Collection is located in Midtown Atlanta's Atlantic Station and is thus close to all major tourist attractions such as The High Museum of Art, which is 1.5 mi from the hotel.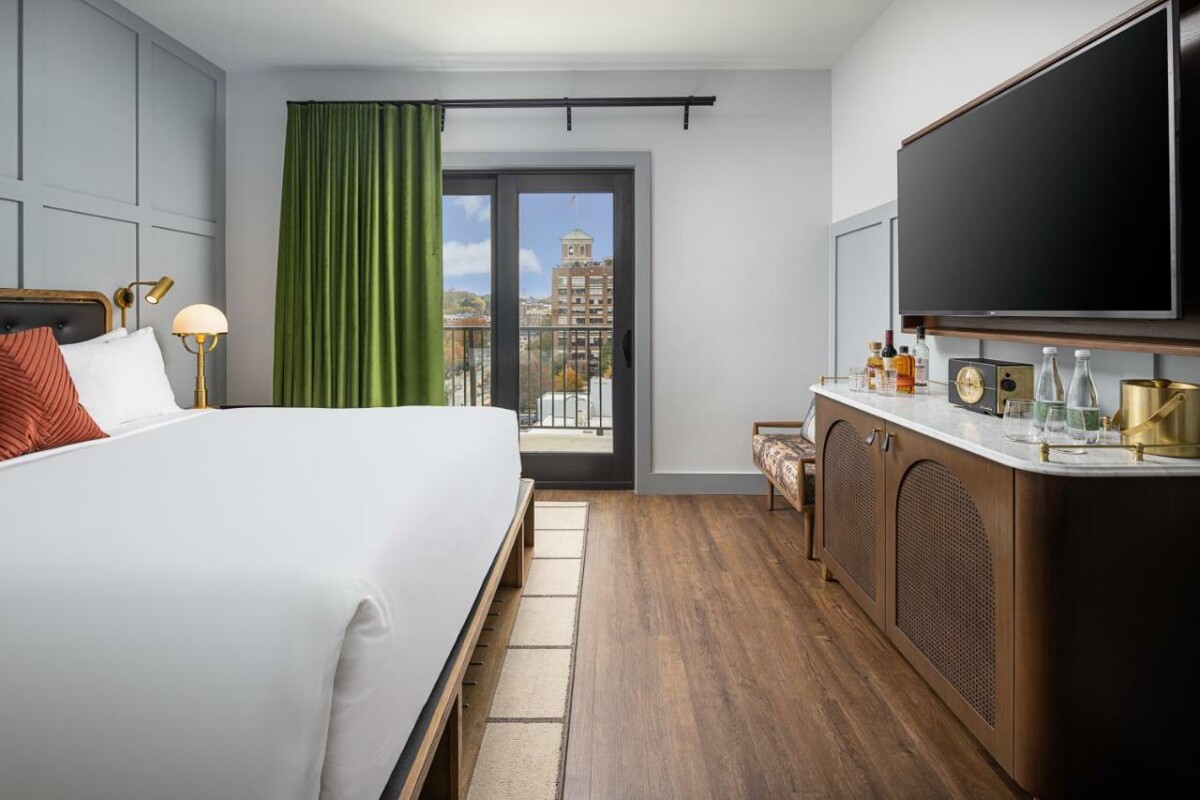 Whether you are visiting Atlanta for leisure or business, the Wylie Hotel is a place where you are sure to have a peaceful and comfortable stay. Built from the former 551 Ponce, the hotel exudes charm and comfort inside and out.
Each well-appointed room offers a view of the city and nature from the window, while some deluxe rooms have private balconies. Decorated in a chic-minimalist style, every corner of the hotel provides complete comfort and pleasantness while surrounded by warm tones.
From the terrace with wonderful views and the fitness center to the bar and restaurant decorated to meet luxury standards, the Wylie Hotel is a hit at any time of the year for both locals and foreign visitors.
Not far from the hotel, you have the opportunity to walk to Piedmont Park, Martin Luther King Jr. National Historic Site, Atlanta Botanical Garden, and Fox Theatre.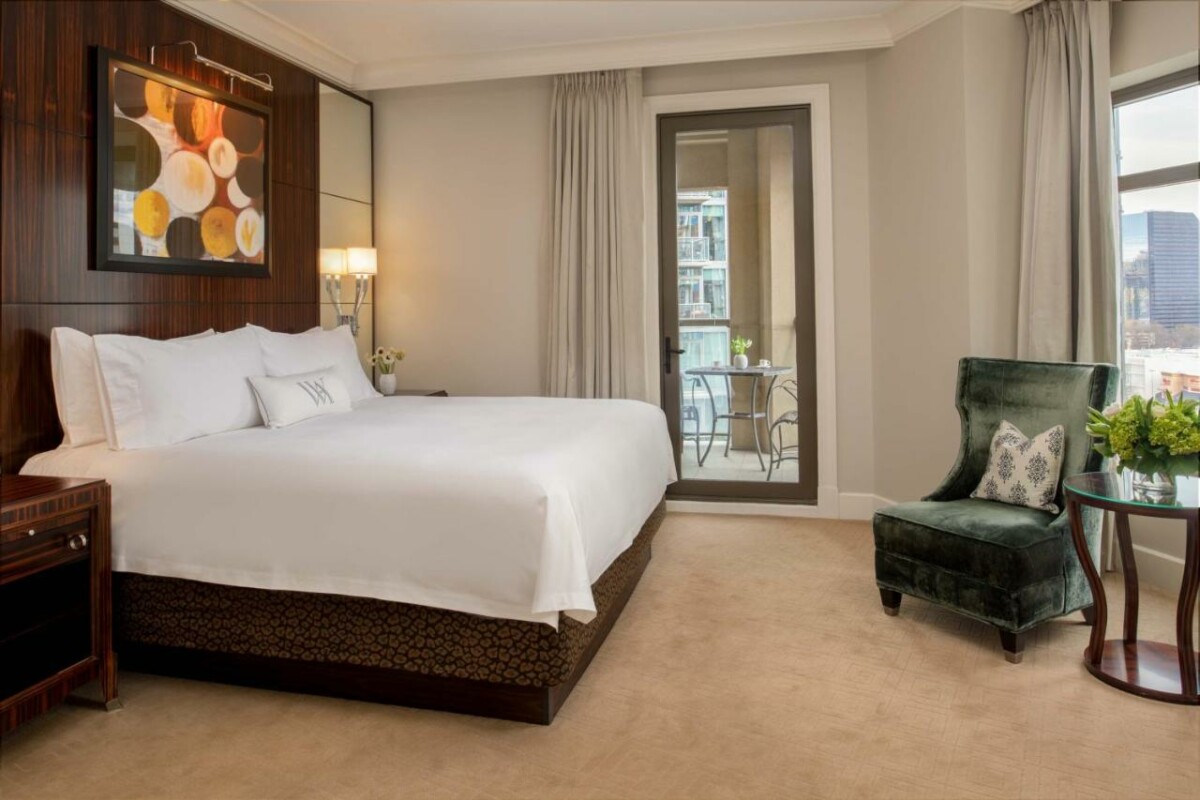 Specially tailored for elite guests and ready to meet all your expectations, the Waldorf Astoria Atlanta Buckhead awaits you in the stylishly decorated Atlanta's Buckhead neighborhood.
Enjoy the private English gardens that provide a tranquil escape around the hotel, or indulge yourself in the indoor pool and the Waldorf Astoria Spa that offers relaxation for all the senses.
The hotel's incredible service is there at every step to make your stay as pleasant as possible, and it's useless to talk about the design of the luxurious rooms until you see for yourself. King beds, work desks, TVs, and stunning views from the windows or private balconies await you in each accommodation.
Feel The Waldorf Astoria tradition in the Afternoon Tea, and drink cocktails in the jazz ambiance of the Brassica Bar and Restaurant. The boutiques, shops, and restaurants of Phipps Plaza and Lenox Square are a five-minute walk away from the hotel.
Final Thoughts
Whether you are traveling for business or pleasure, alone or with family and friends, Atlanta is a great place if you want a peaceful and interesting stay at the same time.
There are certainly a lot of places to visit, so choose your hotel from our list as soon as possible and let yourself fully enjoy your visit to this famous center of Georgia!
Amar was born and raised in England and embarked on an 11-country round-the-world gap year after graduation and then became well and truly hooked. The first gap year inspired a second, which ended up being a 23-country down-the-world trip from Canada to Antarctica. Since then, Amar has spent the last 14 years traveling the 7 continents.