Good weather all year round, great parks, river access, hike and bike trails, good food, great music, and a hospitable population are just a few reasons you should visit Austin!
In addition to being named "No. 1 Best Place to Live in the U.S." by U.S. News & World Report for three years in a row, Austin also has a unique tech culture that gives a special atmosphere to this city.
Keep reading to find the ideal hotel for you among our list of the 10 best hotels with balconies!
The Best Hotel Rooms With a Balcony in Austin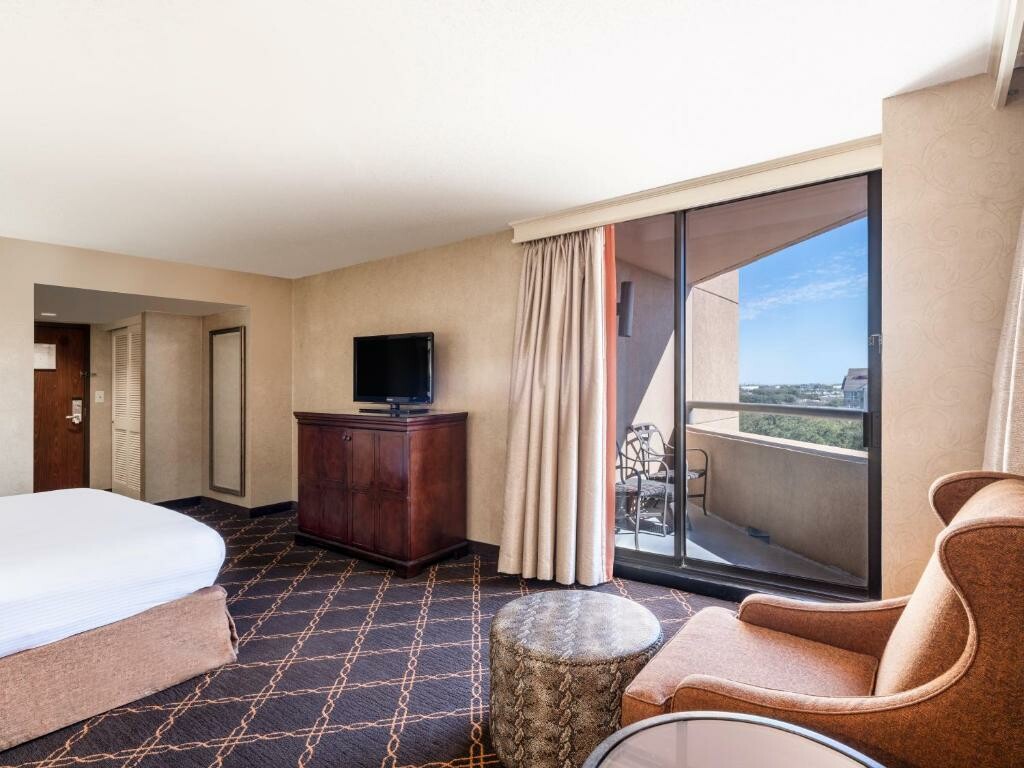 Located in the heart of Austin, the Austin Southpark Hotel provides you with direct access to all important attractions while allowing you a pleasant and peaceful stay at the hotel. The peaceful atmosphere, relaxation, and incomparable service will not miss you during your stay.
From the spa, outdoor pool, and premier rooms decorated with granite vanity tops and porcelain tile floors to the ultimate dining of American cuisine in a relaxing atmosphere at the Onion Creek Grille Restaurant, you can be sure you will return to this place.
If your form of relaxation and peace is training, you also have the opportunity to enjoy your stay in the hotel's fully equipped gym. Enjoy the fresh air and beautiful views of the Austin sky from private balconies.
The hotel is located just minutes from all of Austin's main attractions and from Barton Springs Pool 3.7, while from the Capitol Building 4.3 miles.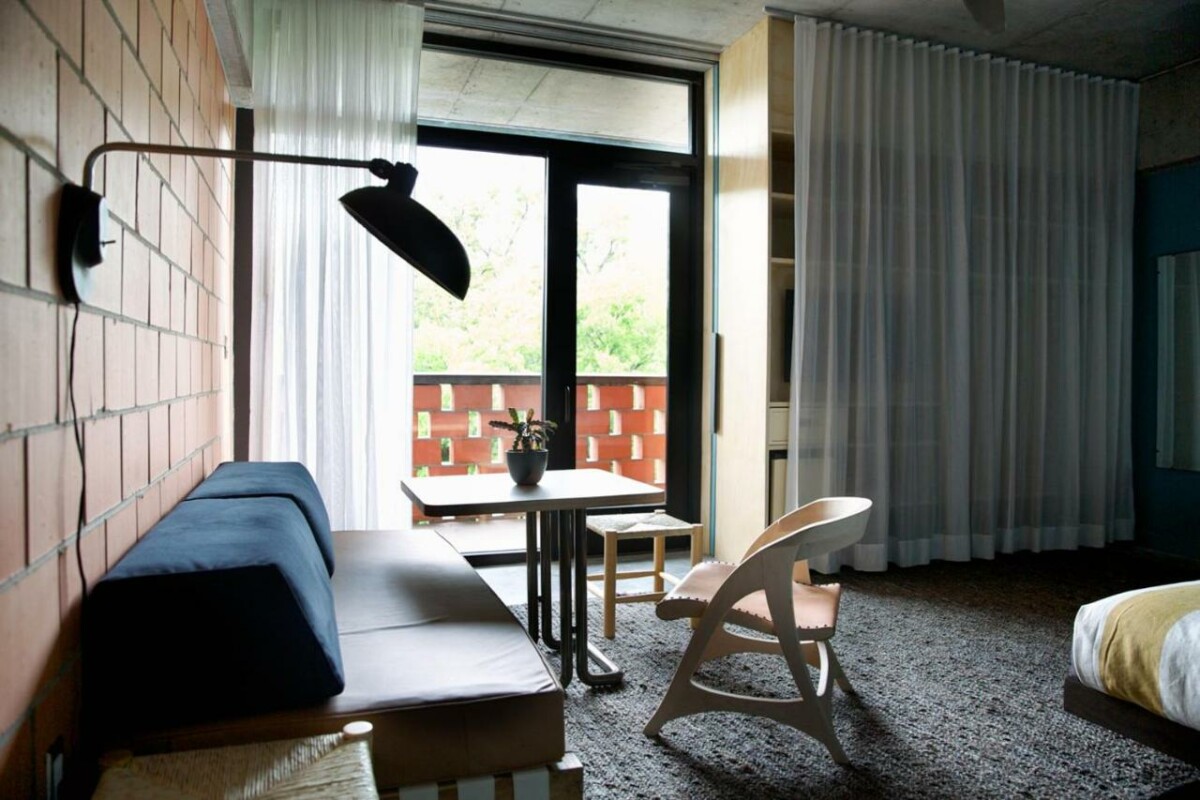 The enchanting hotel imbued with a decor of woody notes gives the feeling as if you are in some distant sea resort.
Each spacious room at The Carpenter Hotel includes huge beds, a safety deposit box, concierge service and luggage storage space, and private balconies with stunning views of the pool and courtyard.
A beautiful blend of Austin history with modern designs that give a special warmth when staying at a hotel. Swimming in the outdoor pool is the perfect way to relax and refresh yourself from the high Austin temperatures, and along the way, you can have a drink in the available lounge.
The hotel is very close to Zilker Park, Hiking Trails, and Barton Springs, as well as the Palmer Events Center and Austin-Bergstrom International Airport.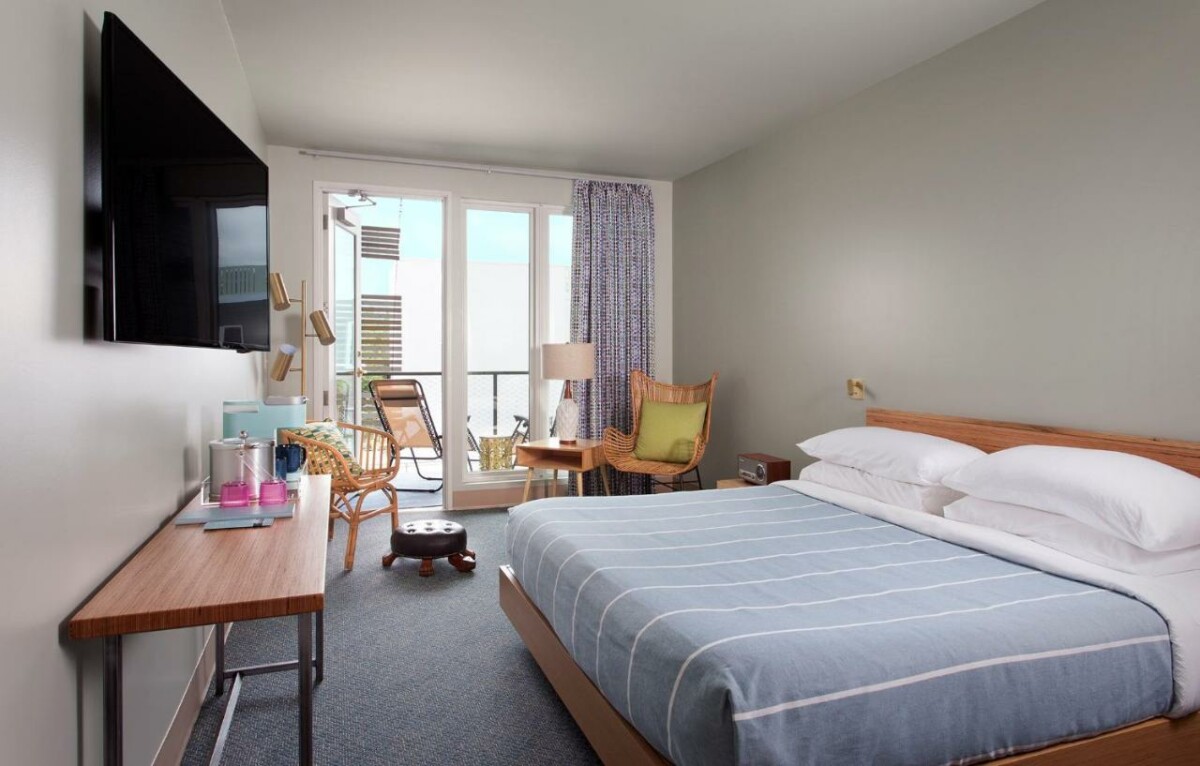 Modeled on European elegance, this Scandinavian-inspired hotel provides the perfect atmosphere at any time of the year. The East Austin Hotel is located in the center of the bustling East Austin neighborhood, and you can certainly feel the true Texas spirit in it.
Each room features locally crafted furniture and vintage decor, free Wi-Fi, 50-inch LED LG TV, safe + hairdryer, Keurig single-cup coffee machine, mini-fridge, signature robes & caftans, deluxe custom-scented Red Flower bathroom amenities, and many more useful amenities.
Each room has a terrace or balcony with stunning views as well as the hotel itself. You can cool off in the outdoor pool, which makes you feel like you are in Palm Springs, or you can work out in the fitness studio a short walk from the hotel.
You can dine at Sixth & Waller and refresh yourself with a drink at The Upside rooftop bar. The hotel is 5 blocks from downtown and a 15-minute walk to the Austin Convention Center.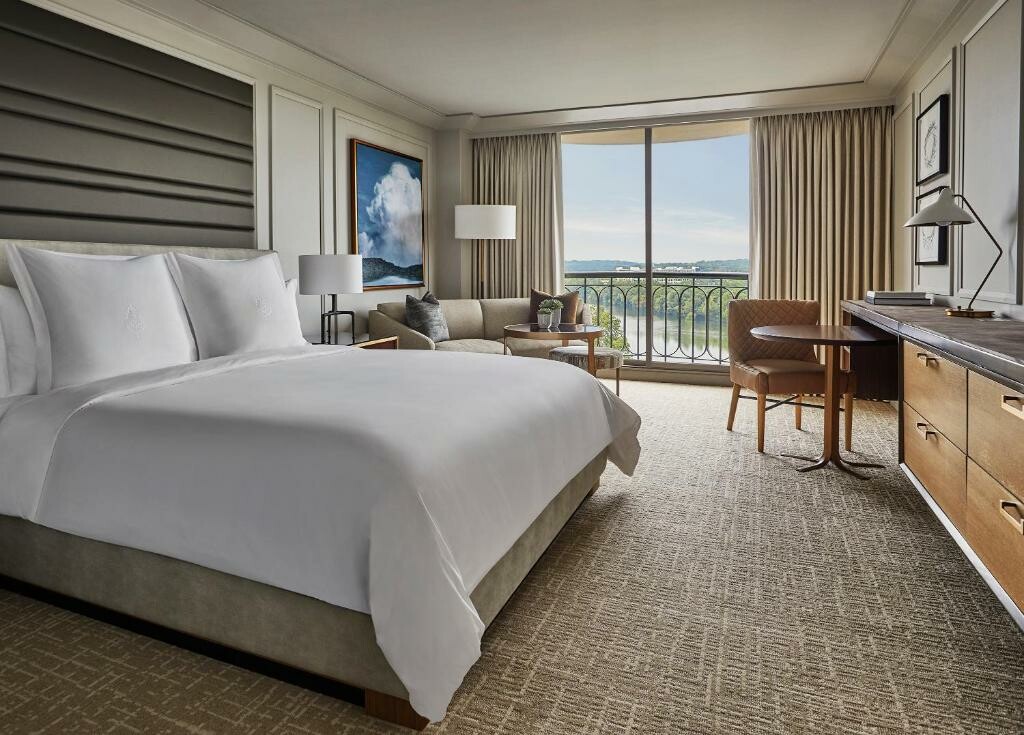 This luxurious 5-star, lakeside hotel is perfect for making beautiful memories with your loved ones. From local art and a fitness center where you can work out both indoors and outdoors to a Texas-inspired spa, saltwater pool, and miles of lakeside trails, the Four Seasons Hotel Austin is a true little paradise located in downtown Austin.
Specially designed on the most modern principle and decor, each room with balconies and windows provides a beautiful view of the stunning Lady Bird Lake. You can try delicious Texas cuisine at Ciclo Restaurant, then refresh yourself at the Live Oak Bar with beautiful views by the lake.
Located close to the city's shopping, dining and entertainment districts, the Four Seasons Hotel Austin is located right in the heart of the city. 2nd Street's upscale bars and restaurants and nightlife on 6th Street are just a short walk away.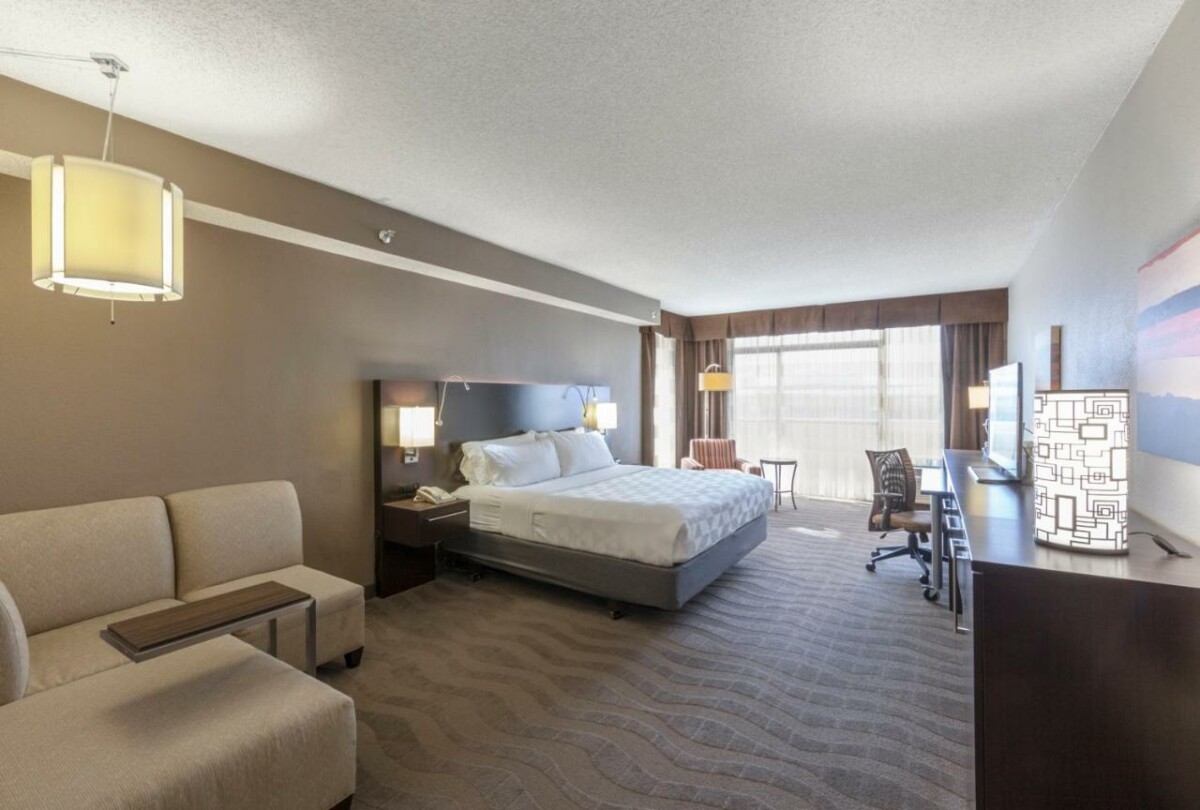 If you want to experience true Texas culture and history combined with modern elements, the Holiday Inn Austin Midtown, an IHG Hotel, is the best place for your stay.
You will have complete privacy and a place to relax in ideal, spacious rooms with huge beds, free WI-FI, flat-screen TV, and private balconies with city views.
On hot Texas days, you can also unwind in the outdoor pool, and you can stay fit and healthy in the fitness center. You can dine at the Red Pepper Bar & Grill, which serves Texas barbecue grills and American cuisine. The hotel is 10 minutes from downtown, just off Interstate 35, and right next to Highland Mall.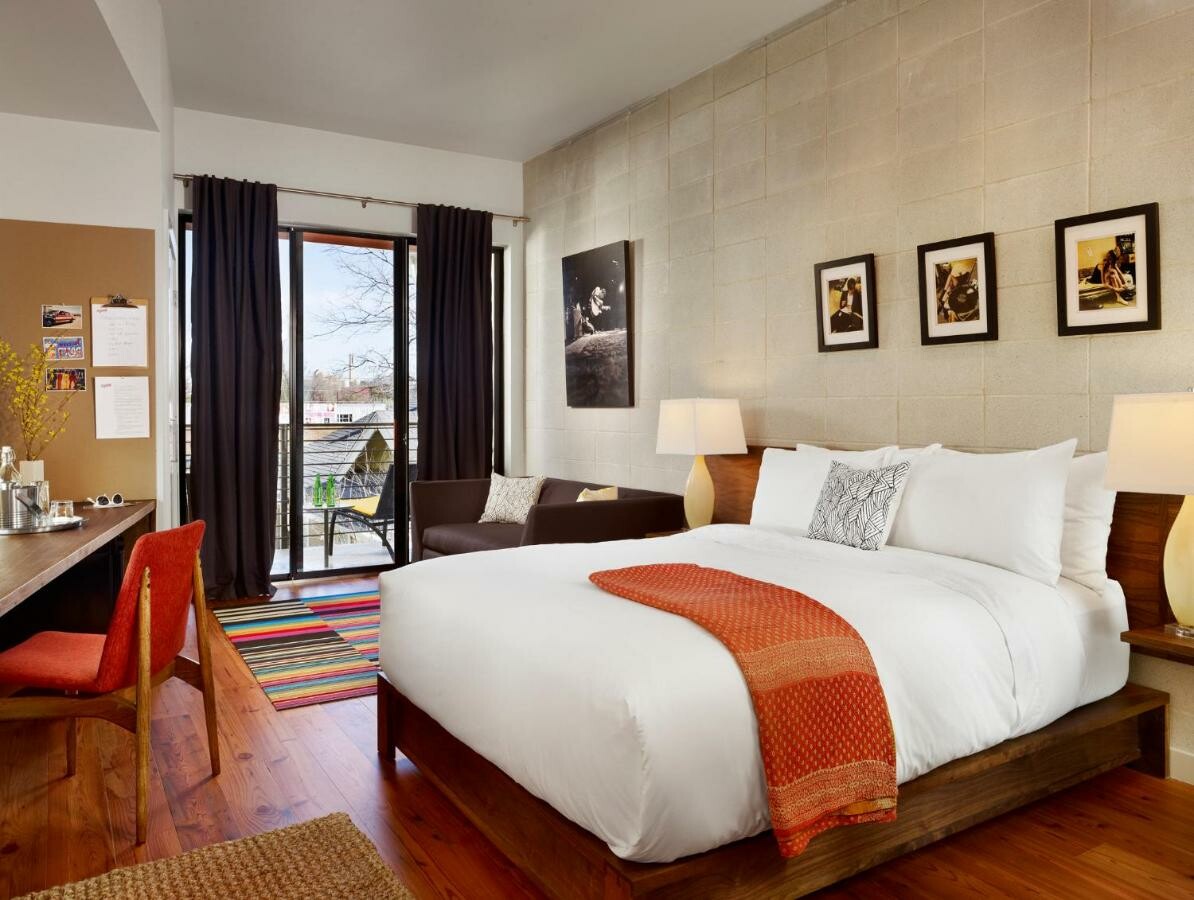 Boutique Heywood Hotel with its creative and modern design, does everything day by day to make your stay with them as perfect as possible.
From award-winning architecture, private terraces, a beautiful courtyard, and thoughtful room design to extremely comfortable beds in rooms and all other top amenities, the incomparable service of the hotel strives to make your stay pleasant and to have complete privacy.
Of the 7 beautiful rooms, 5 courtyard guest rooms feature exterior entrances, private baths, personal air conditioning, and heat and share no ventilation with other rooms. You can walk from your car to your personal sanctuary without entering a public building or elevator!
A hotel that fully reflects true Austin culture is located in the East Austin neighborhood, just a few blocks from downtown and Sixth Street, which is known for its great nightlife.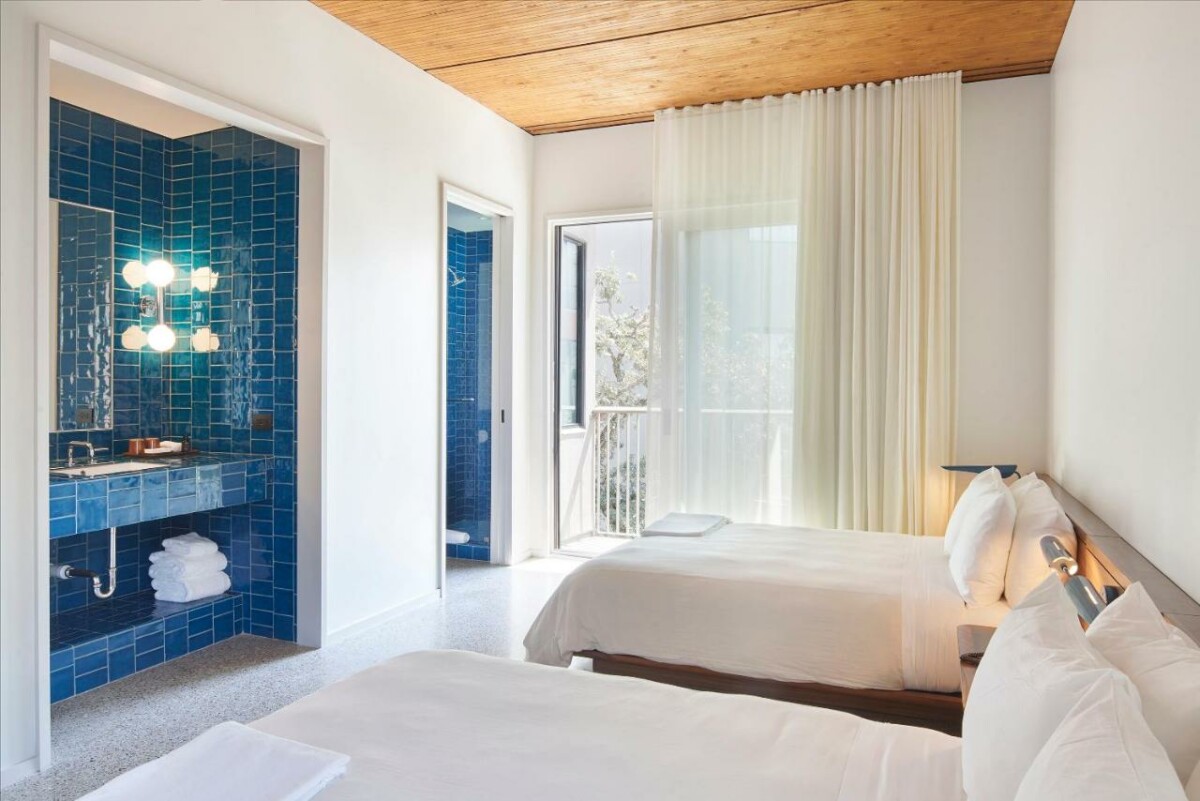 If you love retro style, a luxury from the last century with notes of modern decor, then Hotel Magdalena is the right place for your stay in Austin. 89 rooms make this hotel the largest of 4 Bunkhouse's hotels to date, and special attention has been paid to each.
Each of the guest rooms offers beautiful terraces or balconies overlooking the courtyard, the city, or the luxury pool. On the sun loungers by the pool, you can completely relax with a refreshing drink in the Summer House on Music Lane at the full-service restaurant at Hotel Magdalena, and you can dine on wonderful dishes from their rich traditional cuisine.
Hotel Magdalena is located close to popular tourist attractions such as the Austin Convention Center, Palmer Events Center, Congress Avenue Bridge, and many others.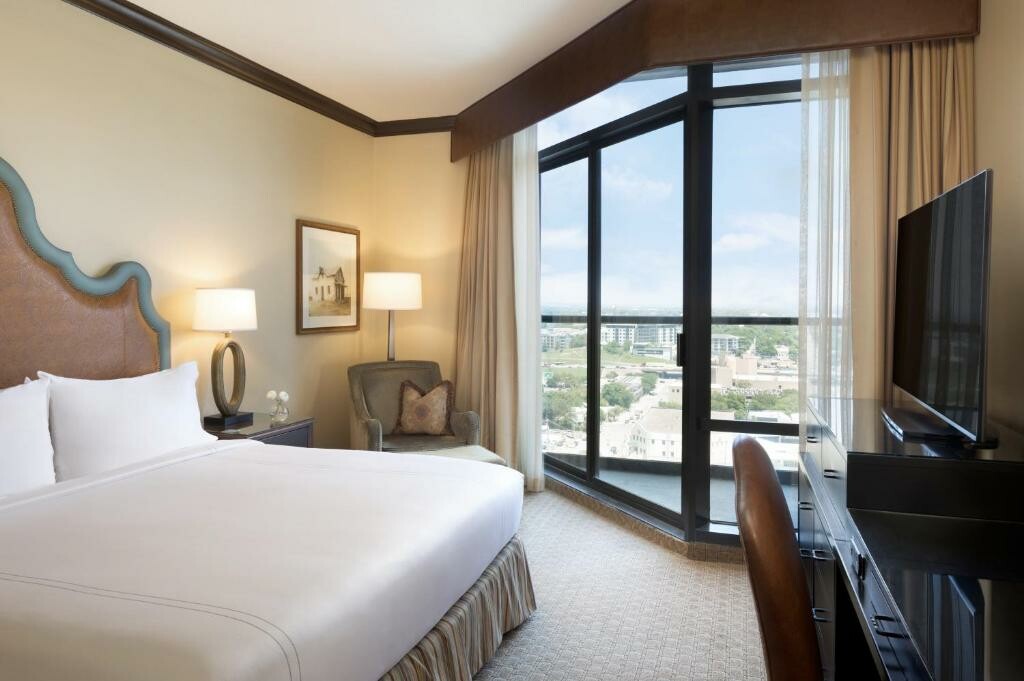 Whether you're seeking high culture, live music, or an unforgettable event, the Omni Austin Hotel Downtown in downtown Austin itself is a great choice from where everything is available to you. If you want a perfect golf outing or spa vacation, here you can find every form of relaxation.
Comfort along with modern and luxurious design is further emphasized with the last renovation in 2021, where the hotel has made progress towards premier rooms and luxury suites.
Austin's iconic entrepreneurial spirit with playful details, energetic colors, and sophisticated textures are visible in all corners of the hotel, sometimes mingling with mid-century notes that accentuate the feeling of warmth.
Equipped with all the top amenities, the rooms offer stunning views of the city or the hotel atrium. You can have a snack in the Atrium Lounge Bar, while you can dine and taste excellent food from different parts of the world in Capital A Restaurant.
With a great hotel location, you will certainly not miss any of the popular Austin attractions which you can enjoy.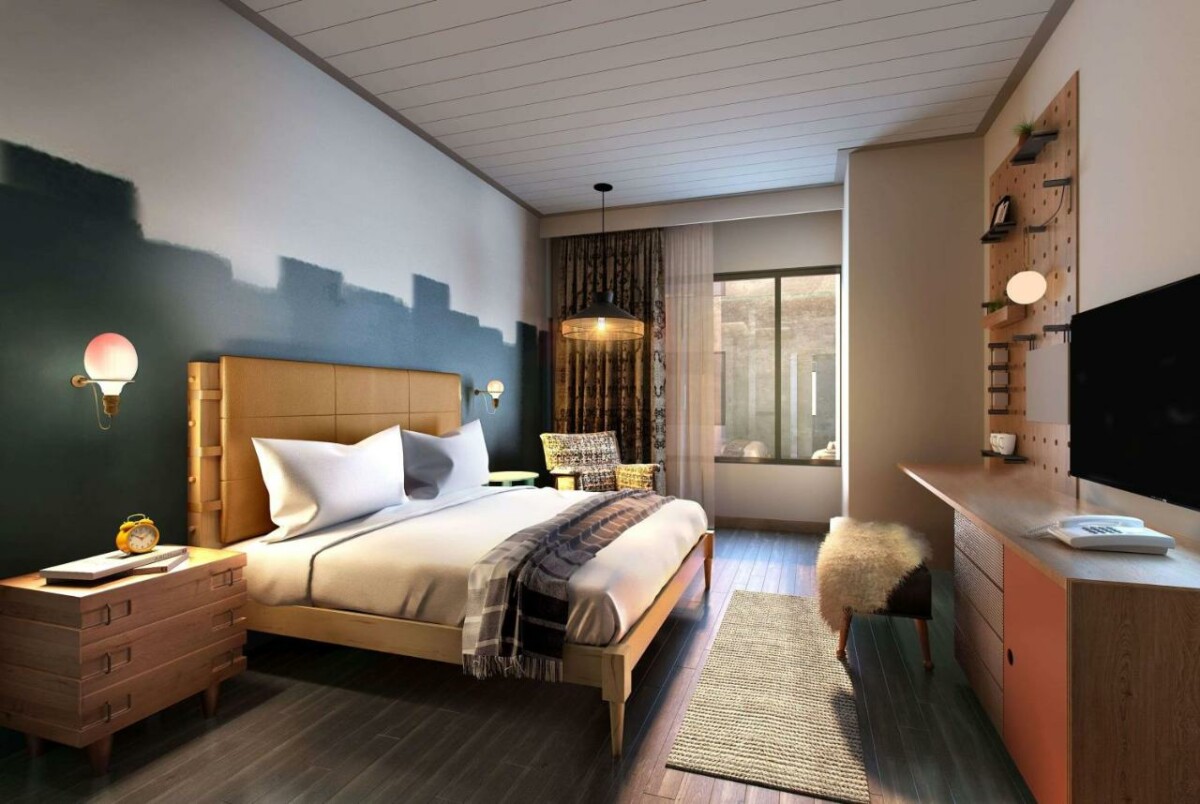 A luxury hotel located away from the hustle and bustle of the city is ideal for relaxation and peaceful vacation.
Urban-chic guest rooms and luxury hotel amenities in Origin Austin, a Wyndham Hotel, provide a comfortable stay experience with unparalleled service and hotel staff. The cutting-edge fitness center is here to help you unwind with exercise, and the a la carte restaurant serves delectable recipes from the rich American cuisine.
Each room includes a desk, a flat-screen TV, a private bathroom, bed linen and towels, and a safety deposit box, and some have a lovely private balcony with amazing views of the city.
The location of the hotel is quite satisfactory even if you are here for business or leisure as it is located in a pleasant eco-conscious Mueller Neighborhood.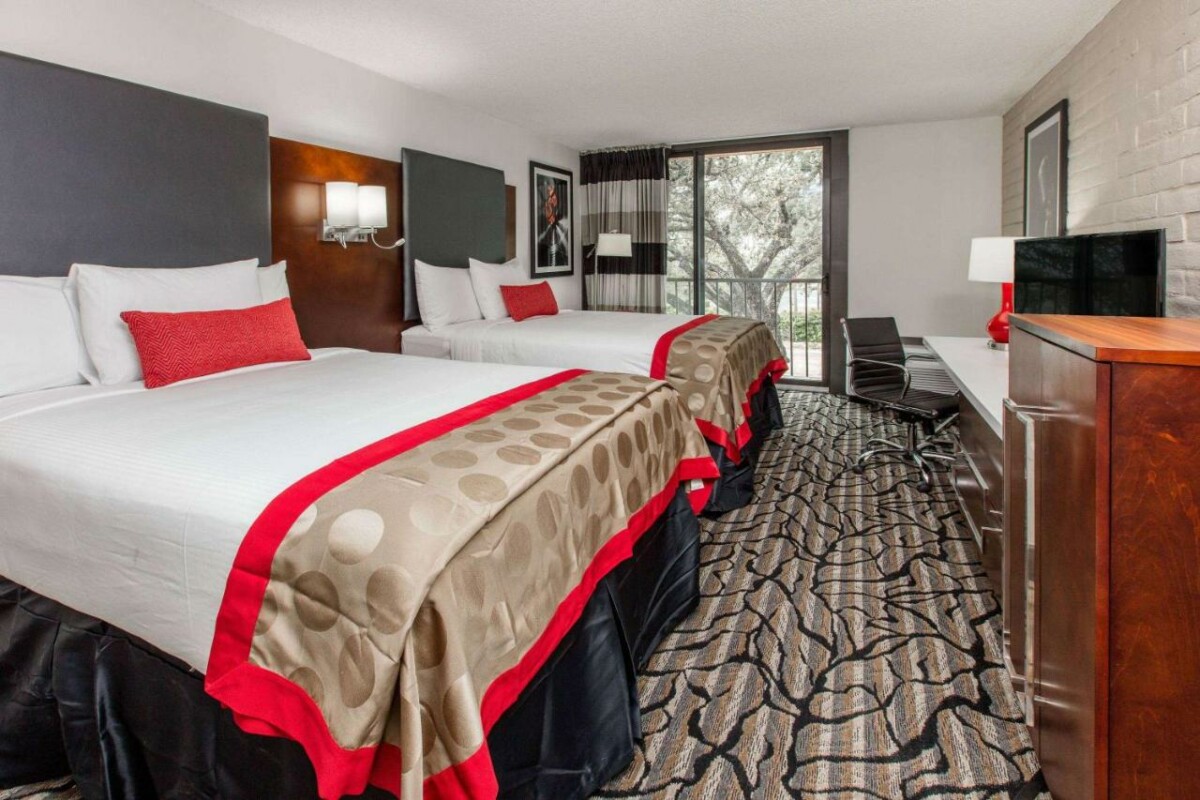 Take a peek at Ramada by Wyndham Austin South and try the real Southern charm and the scorching sun on your skin. Enjoy a refreshing outdoor pool or work out in the well-equipped fitness center.
Each modernistically designed room at this family-friendly hotel on the Colorado river coast offers a flat-screen HDTV, mini-refrigerator, microwave, ironing facilities, sitting area, workspace, and coffee and tea maker.
Enjoy the beautiful panoramic views and breathe some fresh air from your private balcony or terrace. Try some of the best Texas recipes, or refresh yourself with a cocktail in the lounge bar.
The welcoming atmosphere of the hotel and the great location from which Zilker Park and downtown are only a few minute's drive away will surely leave you amazed.
Final Thoughts
Whether you are traveling for business or leisure, Austin is the right place to visit at any time of the year. A long and rich history mixed with modern entertainment and hospitable hosts will surely satisfy you during your stay.
Choose and visit one of the 10 best hotels from our list, and you will certainly not regret it!
Amar was born and raised in England and embarked on an 11-country round-the-world gap year after graduation and then became well and truly hooked. The first gap year inspired a second, which ended up being a 23-country down-the-world trip from Canada to Antarctica. Since then, Amar has spent the last 14 years traveling the 7 continents.