San Antonio is not only the seventh-largest city in the United States, but it is also a popular tourist destination with numerous attractions.
There will surely be no shortage of things to do in San Antonio, from the Alamo historical sites where the battles for Texas were fought to the Cultural Festivals, The Tower of the Americas, and countless amusement parks and world-class museums.
Here are some of the greatest hotels in this unique city with the most breathtaking views.
The Best Hotel Rooms With a Balcony in San Antonio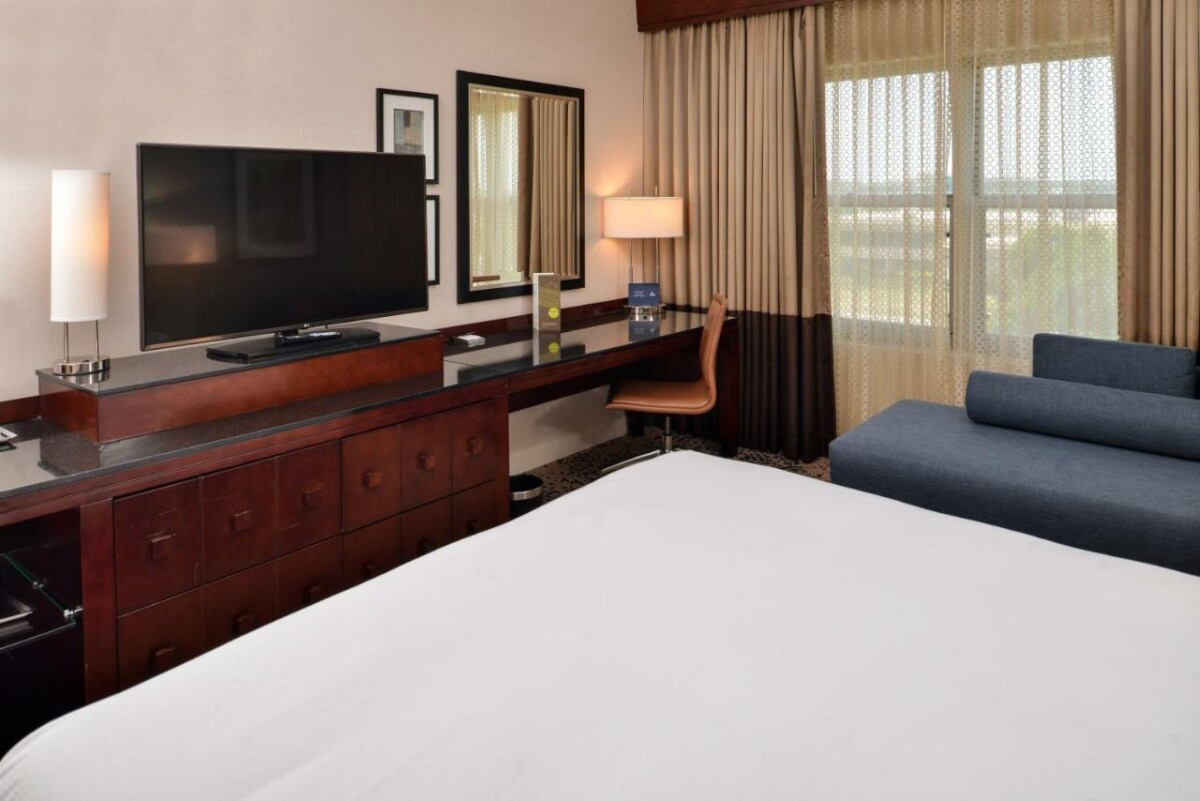 Situated among the hills of San Antonio, the resort hotel provides an unforgettable stay for families and couples. Hilton San Antonio Hill Country, as its name suggests, is a hotel of luxurious decor located in nature. It allows you to escape from everyday life and enjoy the beautiful hillside of San Antonio.
In addition to three pools with a whirlpool and a seasonal pool bar, you can enjoy movie nights and s'mores by the fire pit or maybe continue the continuity of training at the state-of-the-art fitness center. You can dine by the pool, indoors or outdoors, while enjoying Texas cuisine.
Queen guest rooms feature a balcony overlooking beautiful courtyards and are appointed with items from the Hilton Serenity Collection.
Rooms are also equipped with mattresses from the exclusive Suite Dreams collection and feature LCD TVs, large desks, and all other hotel amenities.
Numerous RiverWalk restaurants, entertainment attractions, and SeaWorld are close to the resort, while San Antonio Airport is just a short drive away.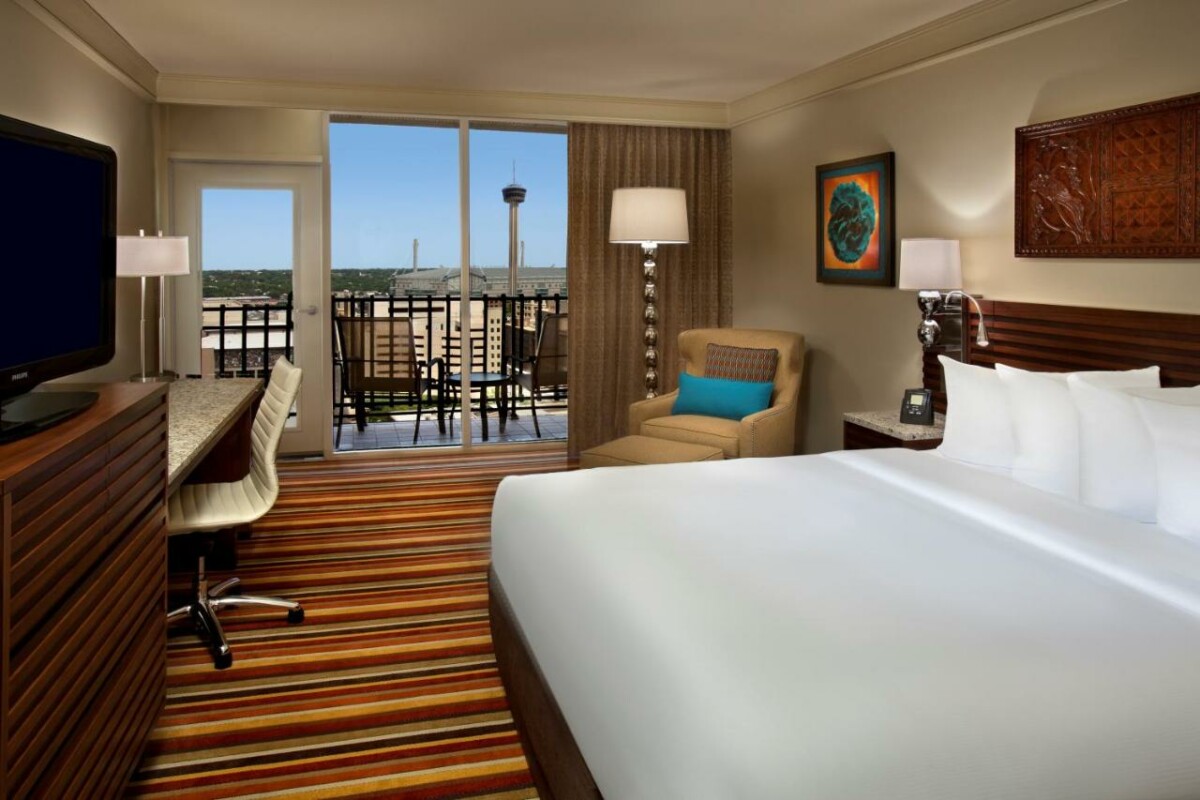 This exceptional Hilton Palacio del Rio hotel features luxurious decor, unparalleled service, a beautiful setting, and a comfortable stay. The popular attractions and breathtaking views are just a few steps outside this superior complex, which is located just alongside RiverWalk.
All 485 guest rooms at this hacienda-style hotel have private balconies with panoramic views. Each unit is outfitted with superior and thoughtful amenities to ensure that you have the most comfortable stay possible.
You can spend your time alone by swimming in the outdoor pool or working out in the fitness center. Enjoy al fresco dining on the RiverWalk at The River's Edge Cafe and Patio Bar, which serves breakfast, lunch, and dinner, and then loosen up with an evening drink at the Rincon Alegre Lobby Bar.
The Henry B. Gonzaléz Convention Center is directly across from the hotel, and the Arneson River Theater is also nearby.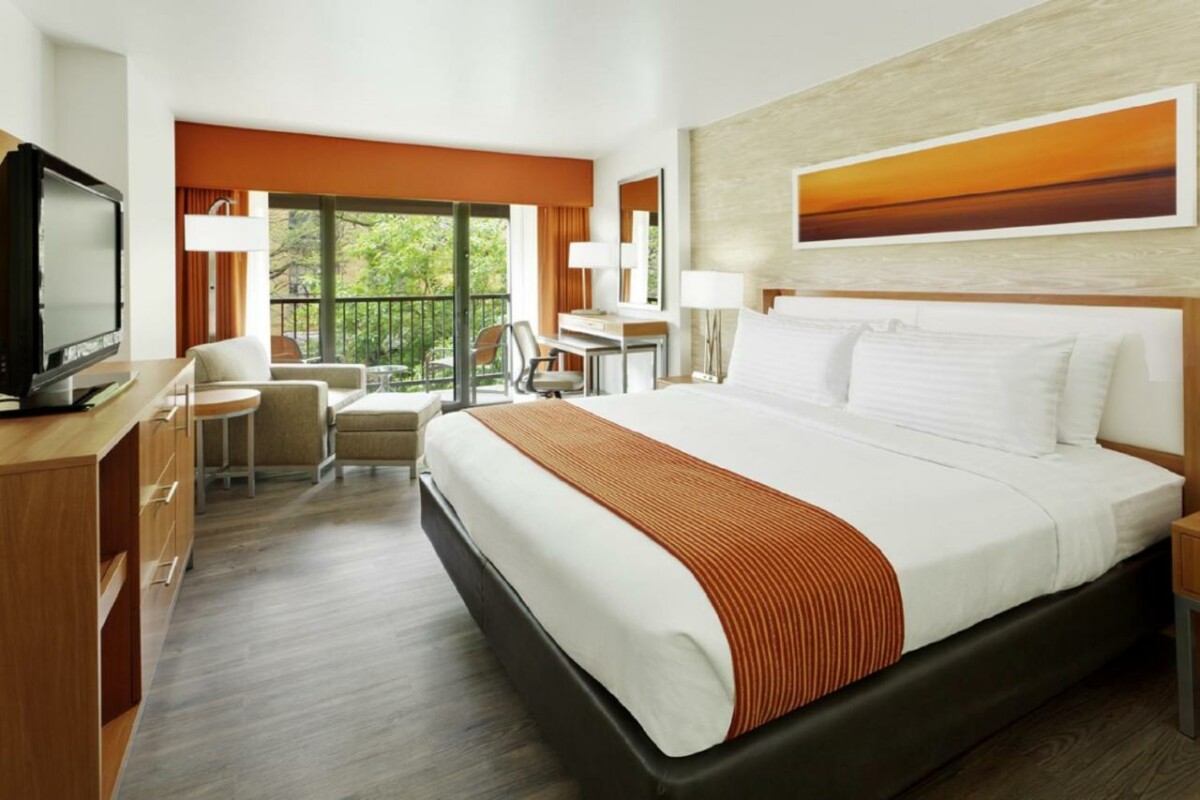 Explore the beautiful and rich attractions of the RiverWalk coast in the Holiday Inn RiverWalk hotel that will surely not disappoint you. Fill the batteries in the exclusive pool, then continue your training routine in a superb-equipped fitness center.
You can dine in the Windows Restaurant and Lounge, which offers a variety of homemade and seafood recipes, all while enjoying the stunning views of RiverWalk. Comfort together with modern and sophisticated amenities are noticeable in all rooms.
LCD TV with numerous channels, free Wi-Fi, stylish bathroom accessories, and king beds along with beautiful views through private balconies are really just the beginning of the phenomenal experience in this hotel.
Holiday Inn San Antonio-RiverWalk is located 3 blocks from "Alamo" and a few miles from San Antonio Museum of Art and San Antonio Airport.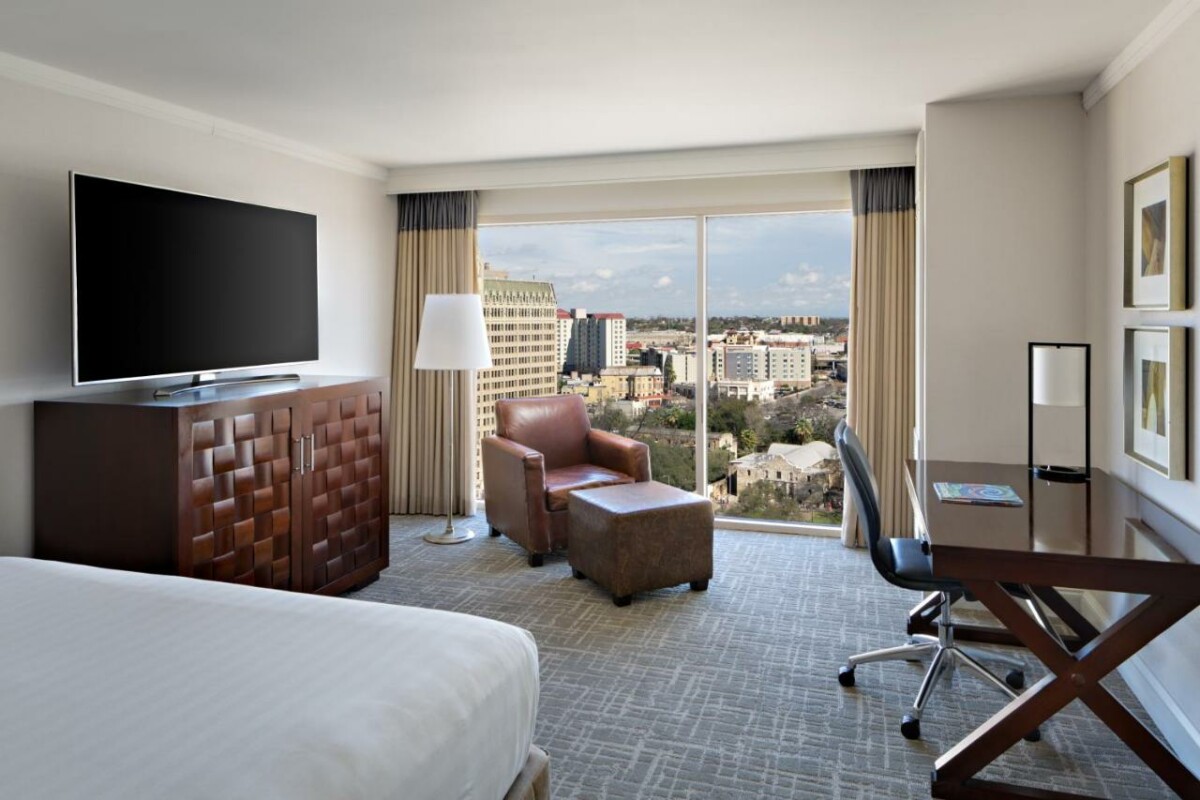 Located directly on the RiverWalk, the Hyatt Regency San Antonio is a true display of the city's past, present, and future, all combined in one place to satisfy its guests.
Designed to satisfy your most luxurious desires, the hotel offers a variety of attractions, such as a rooftop pool with 360-degree city views and an exclusive spa that is sure to leave you satisfied. Within the hotel, you can find and enjoy the best restaurants, shops, bars, and fitness centers.
A total of 630 rooms, including 28 suites, offer high-class accommodation with superior beds, floor-to-ceiling windows offering views of the Alamo, and individual atriums include private balconies with seating and mostly panoramic city views.
The hotel's doors are directly open on the RiverWalk, thus offering the ideal starting point for discovering the city's charm. Located in the city center, close to the hotel are all important both historical and entertainment attractions.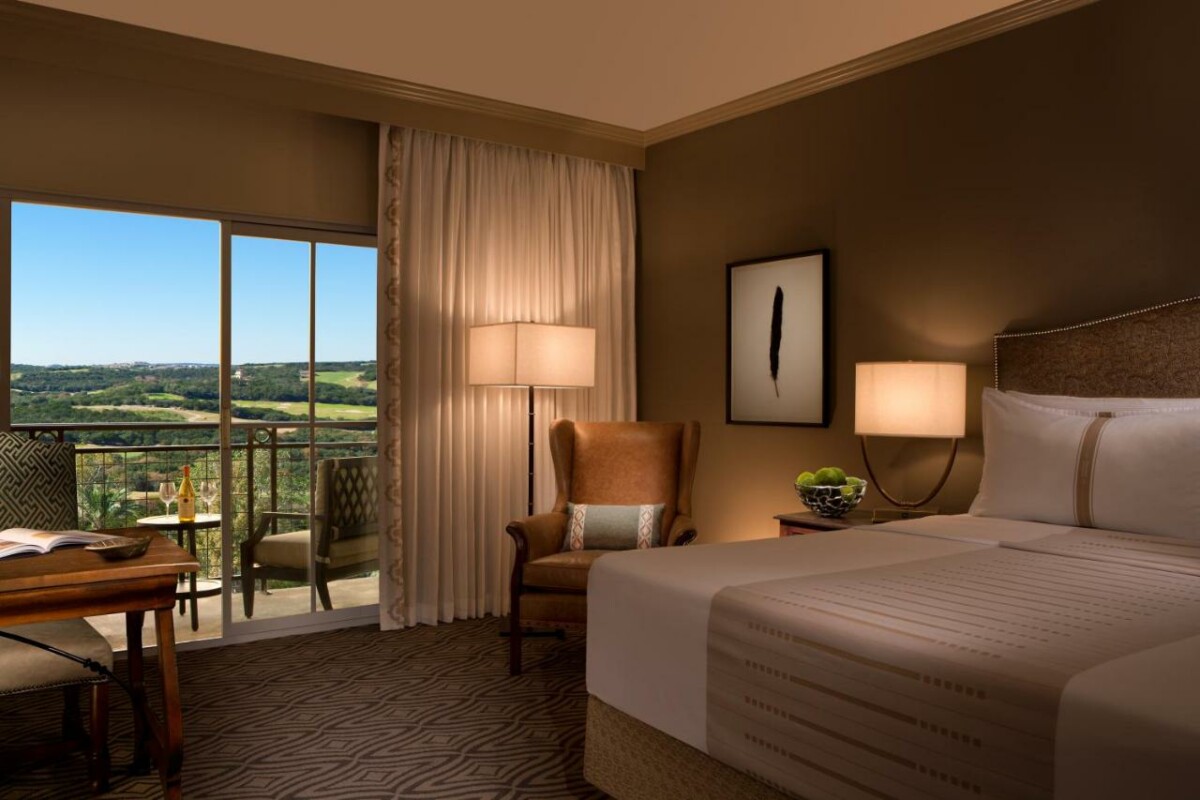 Want to get away from the city? La Cantera Resort and Spa is a true piece of heaven on earth that offers a high-class vacation and perfect getaway for couples or families.
From the destination spa to the world-class golf course, five sparkling heated pools, luxurious cabanas, and state-of-the-art fitness centers, you will quickly become accustomed to this relaxing way of life.
Each room is thoughtfully designed and decorated to reflect its Hill Country surroundings. The luxurious and sophisticated decor ensures a peaceful atmosphere, while textures such as rich cherry wood and rustic linen add to the comfort.
The rooms have private balconies and access to the terrace with seating areas, and the view of the Hillside surroundings will surely not disappoint.
Just a 20-minute drive away from San Antonio RiverWalk, the resort shuttles can take you to the surrounding Shops at La Cantera or other exciting attractions (within a 3-mile radius).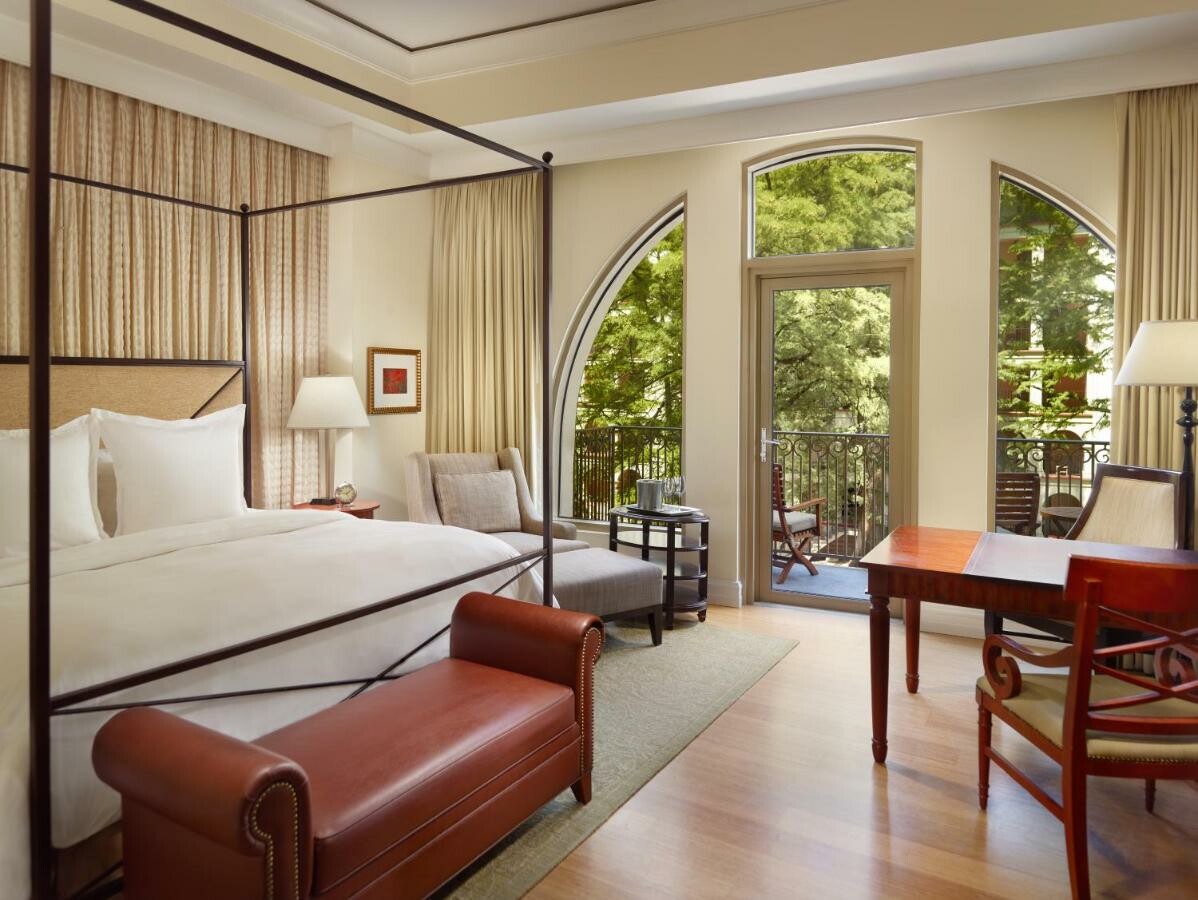 Mokara Hotel & Spa brings you a complete luxury atmosphere located alongside the RiverWalk.
The heated rooftop pool with city views and the exclusive spa allows guests to completely relax, while the rooms with their perfect and striking design offer relaxation on their own. Once you step into a Mokara hotel, you will have no desire to leave it at all during your stay.
Showcasing high ceilings and marble finishes, elegant spa baths, and a minimalist concept, decorate each room individually.
In addition to the framed beds, the room has a balcony that offers a beautiful view of nature around the hotel, and the retro bathrooms are especially accentuated with wooden accessories.
You can dine in the Ostra restaurant, while you can easily taste certain cuisine and drinks in the bar by the rooftop pool. Each room has WI-FI, and room service and concierge are available throughout the stay.
The hotel is centrally located and less than a mile from the Henry B. Gonzalez Convention Center.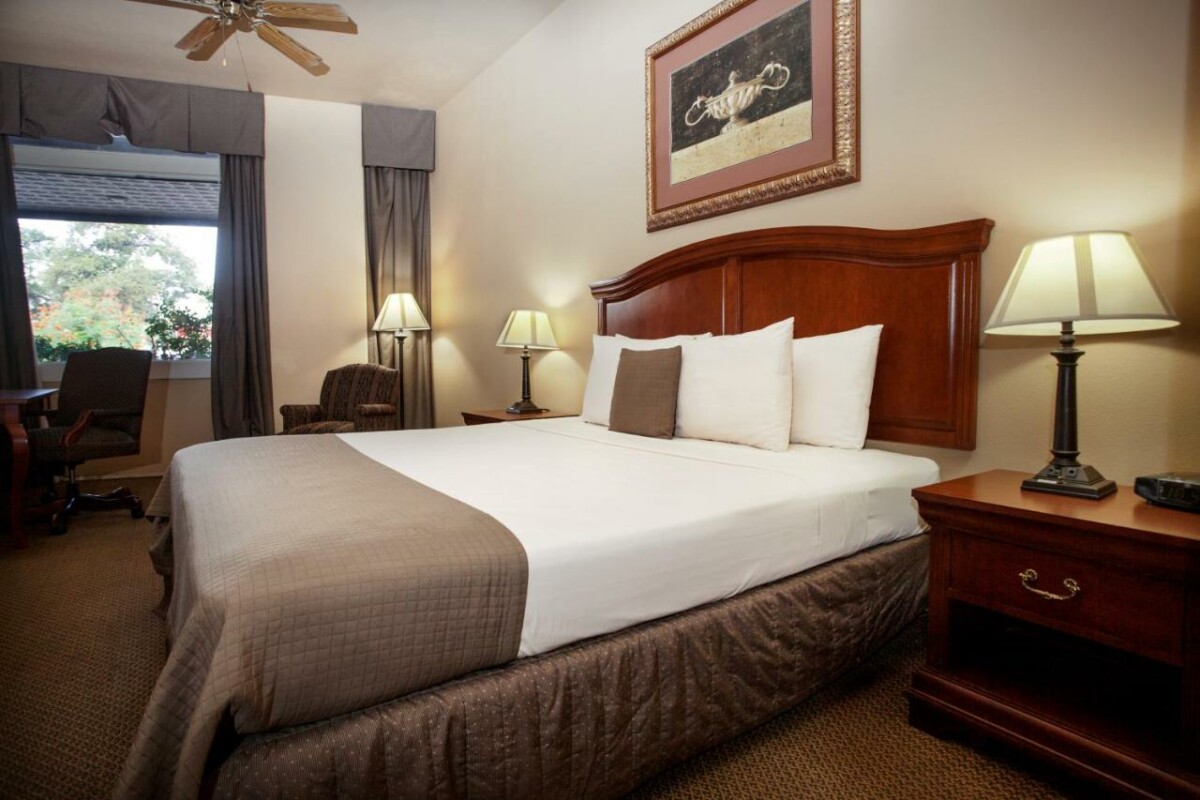 The charming O'Brien RiverWalk Boutique Hotel perfectly combines home comfort and hotel elegance.
Built in the 1800s and completely renovated in 2003, the hotel radiates warmth with its wooden finishes, decorations, and earthy sophisticated tones.
This hotel, which combines historic and modern architecture, is an excellent choice for a romantic or family getaway. Enjoy city views from your balcony while relaxing in your room, which includes bath linens, luxury king beds, air conditioning, a flat-screen television, and free WI-FI.
Certain luxurious guest rooms include a jetted whirlpool tube for an even more relaxing stay.
The Alamo Museum is a 10-minute walk away, and the San Antonio RiverWalk is one block away.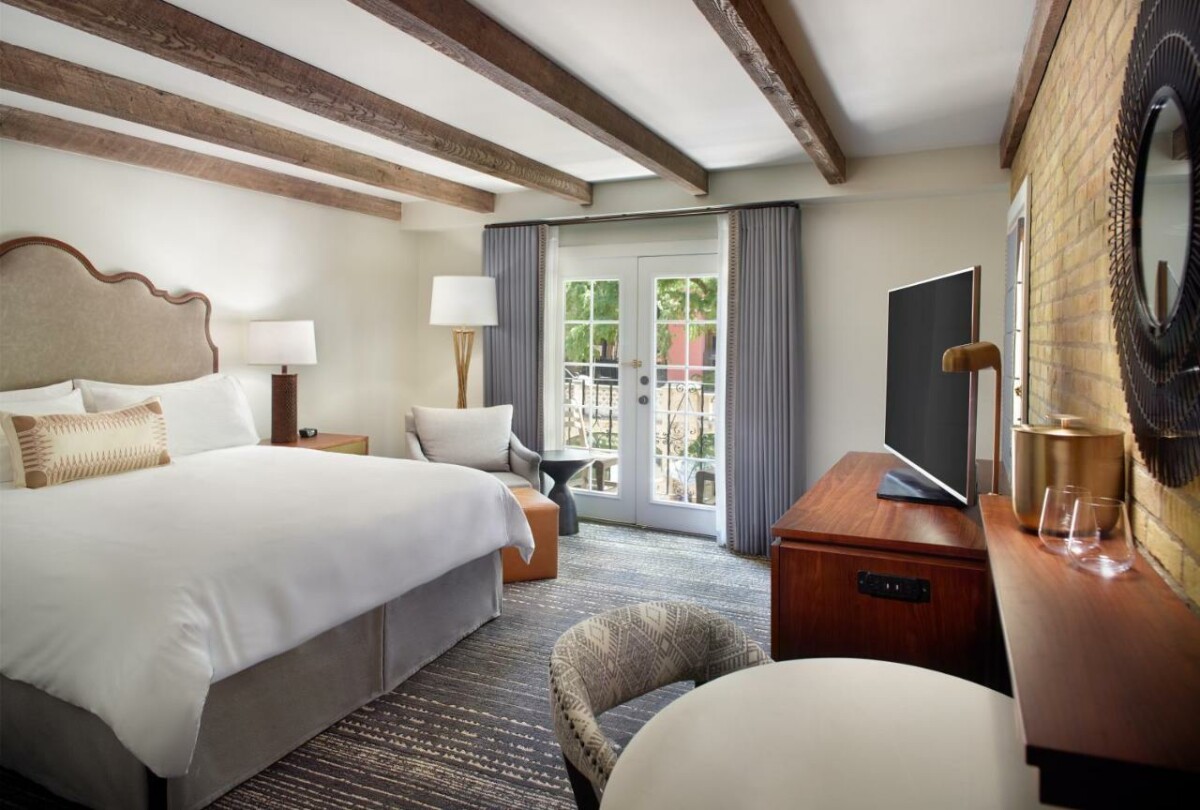 The Omni La Mansion del Rio luxury hotel, centrally located in downtown San Antonio, offers the ideal vacation for all visitors. Its ideal location along the RiverWalk allows it to provide an exclusive outdoor pool, tropical garden, and stunning courtyard.
There is a spa where you can completely relax in the sauna or receive first-rate massages, as well as a fitness center where you can stay in perfect shape throughout your vacation.
Each room is extremely spacious, with a 49-inch LCD TV, a marble bathroom, and beautiful views of the courtyard, RiverWalk, or the city from the private balcony.
Les Canarias, a top restaurant on three levels, not only offers stunning, relaxing views but also allows you to enjoy the delicious Southwest cuisine.
The Alamo Museum is a 5-minute walk away, and all restaurants, bars, and famous shops are just steps away surrounding the hotel.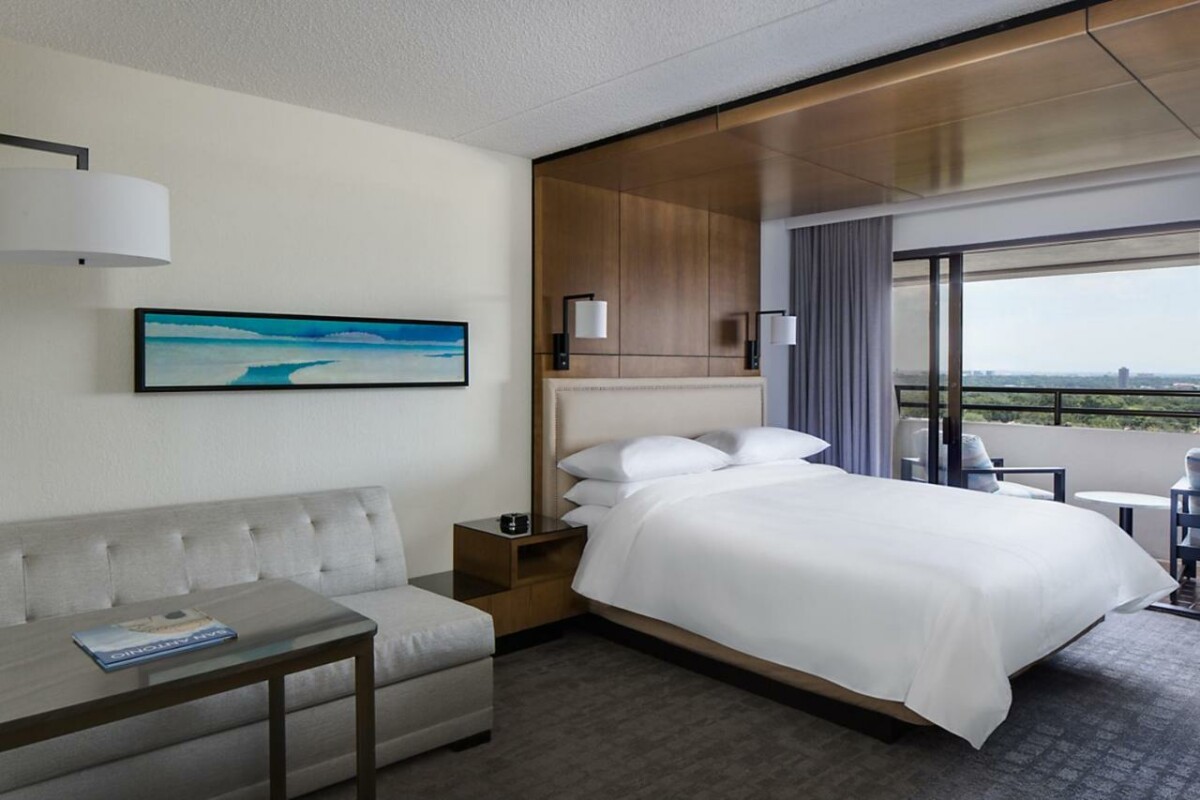 Full-service, high class, and spacious, the San Antonio Marriott Northwest is a true blend of the uniqueness of staying in San Antonio and the modern and sleek design of the Marriott Hotels.
The ultra-modern design concept of the rooms with high-quality wooden accessories give the complete comfort of staying in the rooms, while plush pillow-top mattresses, chic bathrooms, HDTV with numerous channels, and fast WI-FI complete the quality time spent in guestrooms. Private balconies offer city views that you can enjoy all day long.
Guests can spend quality time in the state-of-the-art fitness center or relax in the outdoor pool. You can dine privately in your rooms with the excellent room service or in the hotel restaurant.
The hotel is located just 15 minutes from the city center and is even closer to San Antonio Airport, to which you have shuttle service provided.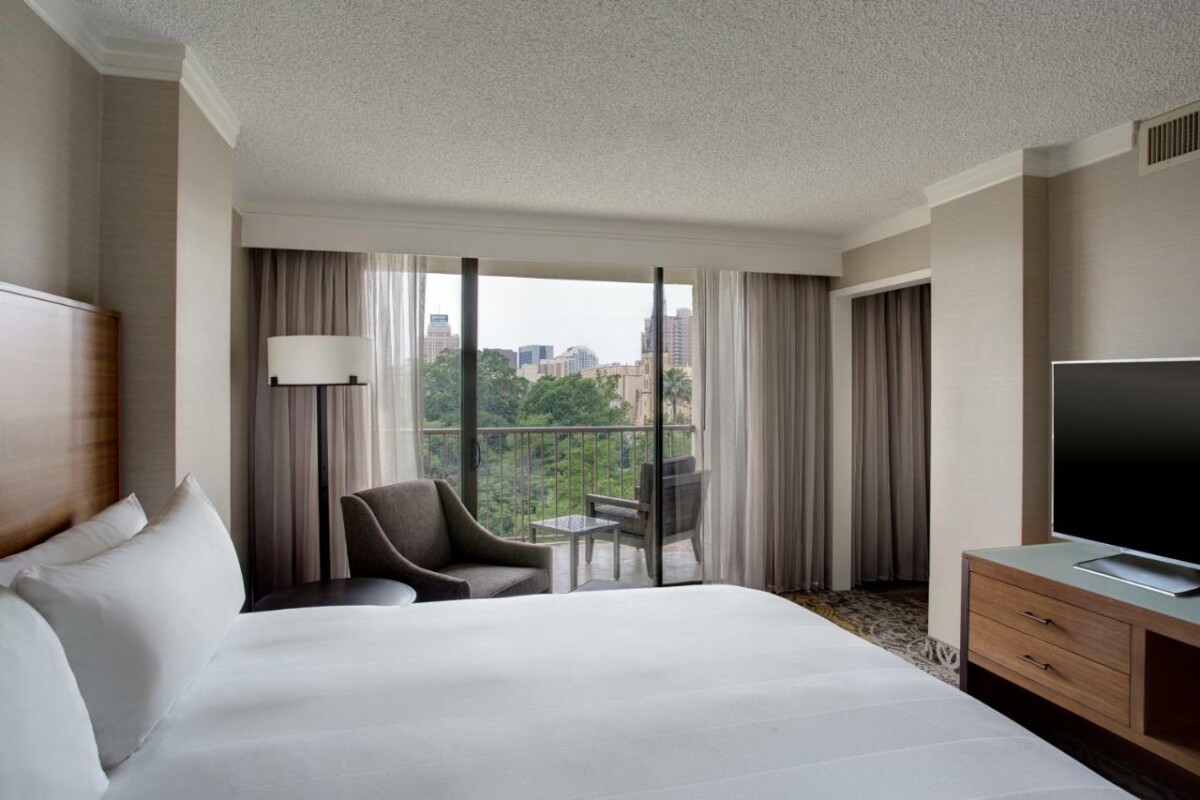 If there was one sentence that could describe the San Antonio Marriott RiverWalk, it would be "A perfect local feeling!" From a world-class spa and fitness center to an indoor and outdoor pool and stunningly sophisticated and minimalist décor, this hotel is here to exceed your expectations and present San Antonio in the best possible light.
Each room is individually decorated with the intention of pleasing the guests and is equipped with a flat-screen TV, seating, a work desk, and balconies with beautiful views of the city.
It is only a few miles from Sea World and less than 1.5 kilometers from the Henry B. Gonzalez Convention Center.
Final Thoughts
Whether you're visiting for business or pleasure, San Antonio is a great place to visit at any time of year. There is a lot of uniqueness, history, and fun in this place, and you can have the time of your life staying in the best hotel.
Amar was born and raised in England and embarked on an 11-country round-the-world gap year after graduation and then became well and truly hooked. The first gap year inspired a second, which ended up being a 23-country down-the-world trip from Canada to Antarctica. Since then, Amar has spent the last 14 years traveling the 7 continents.