The world's largest center of the gambling industry, good times, crazy nightlife, and fine dining – you guessed it right, it's Las Vegas!
Whether you are visiting this city with your partner or friends for an important occasion such as a bachelorette party or birthday, this city's reputation for creating unforgettable parties will certainly not disappoint you.
Which are the best hotels with balconies that you can visit during your stay in "Sin City," and which are the main attractions to see? Read below!
The Best Hotel Rooms With a Balcony in Las Vegas

Designed according to French-Mediterranean principle, this family-friendly hotel and spa is a perfect little paradise on earth located minutes away from the famous Las Vegas Strip, to which even a shuttle service is provided.
Incomparable service, diverse content, and stunning surroundings of the hotel, including a phenomenal location in the heart of Las Vegas, are just some of the many reasons to visit this hotel.
From the beautiful outdoor swimming pool and exercise facility to the stunning tennis court, Club de Soleil All-Suite Resort is a hit at any time of the year. All guest rooms and suites are decorated in neutral colors with a touch of elegance, providing all guests with an unforgettable and pleasant experience.
All top amenities, starting with a coffee maker, DVD player, and a kitchen or kitchenette, including a private balcony, are available in almost every room.
Located on West Tropicana Avenue, if you are looking for the right place for a peaceful and exciting stay, Club de Soleil All-Suite Resort is a must-visit location.

Located just a 15-minute walk from the Las Vegas Strip, Ellis Island Hotel Casino & Brewery offers unparalleled service and features you can rarely find anywhere else.
From a private casino that offers over 300 slots, blackjack, roulette, craps, and a sports book, 4 on-site dining options to an outdoor pool with sunbeds and a hot tub, this hotel offers everything in it that represents the magnificent city of Las Vegas.
Each room of the hotel is decorated in golden-red shades, giving a royal feeling to its guests, and offers top amenities and balconies with a beautiful view.
The on-site Ellis Island Barbecue Restaurant offers a variety of BBQ, pizza, and tacos, while the Village Pub and Café serves steak specials. The Fremont Street Experience is 10 minutes drive from the hotel.

Just a 5-minute drive from all the main casinos in the city, and a 10-minute walk from the largest shopping and dining center, situated in the luxurious Jet Luxury at The Signature Condo Hotel.
Perfect for short or extended stays, each guest room has a kitchen with a microwave, refrigerator, coffee maker, and dining area. Also, in the rooms, you can find a sitting area with sofas, TV, iPod docking station, and beautiful private balconies with a view of the city.
You can relax in a variety of activities from the spa and health club, fitness center, an outdoor hot tub, and pool, as long as your children play in the kid's club.
Staying in Las Vegas, you must have thought that you would spend the least amount of time in a hotel, but at The Signature hotel, you will simply be sorry to miss all that it has to offer, starting with top restaurants and bars available on-site.
So get ready to experience all that Las Vegas has to offer both inside and outside of this luxury hotel!

What better describes Las Vegas than luxurious casinos and royal interior and design?
At the JW Marriott Las Vegas Resort and Spa, you can not only find a 50,000-square-foot casino on-site, but the entire hotel exudes the real Las Vegas rich energy where you will feel and have a good time as you can only see in a movie.
If you want to relax completely, try the Aquae Sulis Spa with 36 treatment rooms and feel the enjoyment you have never experienced before.
In addition to a gym, an outdoor pool with cabanas and a waterfall, a full-service salon, and over 100,000 square feet of event space, including a conference center, ballrooms, meeting rooms, garden, and waterside venues, this resort has guest rooms and suites decorated on first-class standards.
Each room has pillowtop bedding, jetted tubs and high-speed Wi-Fi, a spa bath for 2 people, and many rooms also have a balcony. In the incredible 8 restaurants on-site, you can try American, Italian, Japanese and Mediterranean cuisine.
JW Marriott Las Vegas Resort & Spa is just minutes away from popular tourist adventures in the west, Downtown Summerlin, Red Rock Canyon, and the beautiful, surprisingly colorful Mojave Desert.

Located in the heart of the famous Las Vegas Strip, Polo Towers By Diamond Resorts provides excellent accommodation and incredibly easy access to premium shopping, excellent nightlife, and dining and fun, no matter how old you are.
Relax from the hustle and bustle of the city during the day in the rooftop pool with sunbeds or massage spa or by working out in the fitness center, and during the night, experience the real magic of the Las Vegas Strip.
Each suite in the hotel is very spacious and has comfortable interiors, well-appointed kitchens, and private balconies with a beautiful view of the city or the mountains. The hotel is only a 10-minute walk from the MGM Grand entertainment complex and a 5-minute drive from McCarran International Airport.

Enviably located near all sought-after attractions is the The Platinum Hotel with special-made suites rarely found anywhere in Las Vegas.
Each suite ranges from 910 to 2,100 square feet, which means that the smallest accommodation in this hotel is three times larger than any hotel room in Las Vegas, and each individual has walk-out private balconies with stunning views of Las Vegas.
After an exciting day, spend some time for yourself either in the outdoor or indoor pool, and train in the fully-equipped hotel gym.
Dine in your room via room service from 4 pm to 10 pm every Thursday-Sunday. The Platinum Hotel is located in the center of all the famous attractions of Las Vegas, thus only 2 blocks away from the Las Vegas Strip and 3.1 miles from McCarran International Airport.

Made in the Mediterranean style, Serene Vegas Boutique Hotel is the perfect place if you want a quiet vacation while being close enough to all the popular attractions of Sin City.
Each hotel room is designed with the aim of bringing you the comfort of home and the luxury of a hotel in one so that you feel as comfortable as possible, surrounded by soothing tones during your stay.
Each suite has air conditioning, a refrigerator and a 50" flat screen TV, and private balconies overlooking the pool or courtyard.
The hotel has a European design and two resort pools with a hot tub and is located just a 25-minute walk from the Las Vegas Strip and just a 1-minute walk to the brand-new Virgin Casino.

Luxury in Las Vegas can hardly be lacking anywhere, but a stay at The Signature at MGM Grand – All Suites can surely exceed everyone's expectations.
Decorated according to the latest trends, American modernism and elegance can be seen in every corner of the hotel, combined together to make your stay as comfortable as possible.
Unwind yourself in the seasonal outdoor pool, and then completely relax in the comfort of your suite in a private tub with a whirlpool.
Each room is decorated with state-of-the-art entertainment technology, a full kitchenette, a king-sized bed with upscale linens, and a sitting area, and some have a balcony with a view of the glittering city.
At the hotel, you have the opportunity to dine with famous chefs, tasting the best Nevada cuisine and recipes known around the world. MGM Grand Casino and The Park are within walking distance from the hotel, while Harry Reid International Airport is 2.5 miles away.

Designed on the basis of an island, Tahiti Village Resort & Spa offers a peaceful and pleasant stay to all guests, hiding you from the hustle and bustle of the city while also offering access to the main attractions of Las Vegas.
From a well-appointed spa, 2 nicely equipped fitness centers, an award-winning Polynesian-themed pool area with a one-of-a-kind sand beach entry to a renowned relaxing Lazy River with cascading waterfall features, in this resort, you will feel as if you are in a distant overseas tropical resort.
Choose one of the three suites: "Bora Bora, Royal Tahitian, or Moorea" and completely leave all your worries to the superior and incomparable staff of the hotel, which offers you shuttle transportation and concierge services on a daily basis.
Certain suites also have balconies with beautiful views of the stunning tropical design of the resort. In addition, there are two restaurants available on-site where you can choose what to eat, whether you are more the type who prefers pizza and burgers or slightly more classic dishes.
In addition to offering a prime location close to all major attractions, Tahiti Village Resort & Spa is also just a few miles from The McCarran International Airport.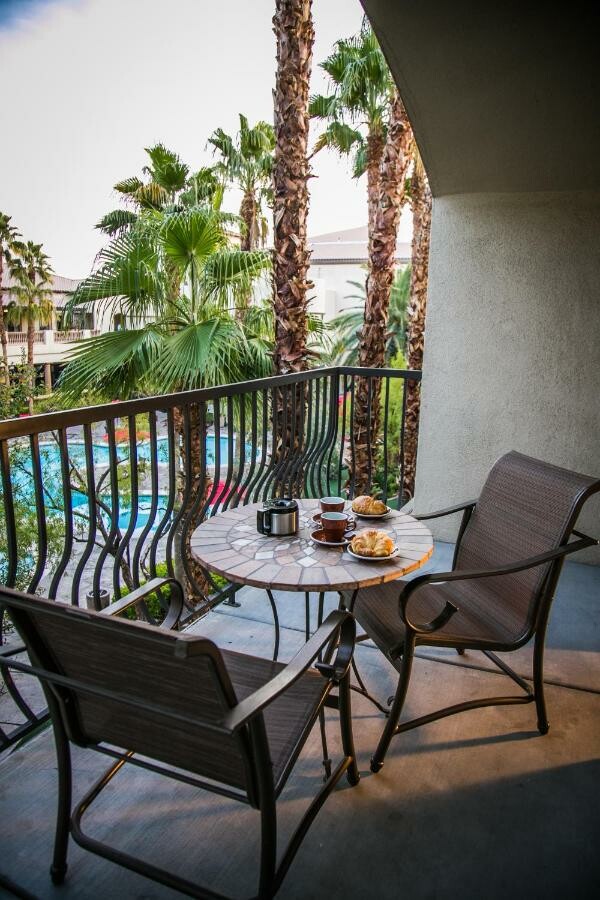 Inspired by the Italian countryside, Tuscany Suites & Casino is the perfect place to stay while visiting Las Vegas, whether for business or leisure. The entire complex is built according to European standards, giving you the feeling that you are in a resort in distant Italy.
If you want to relax and rest from the hustle and bustle of Sin City, you have the opportunity to do so by pampering yourself in a superb spa or swimming in the outdoor resort pool.
Offering warmth and comfort, each suite at Tuscany Suites & Casino is decorated according to the latest trends in soothing colors, along with top amenities and private balconies overlooking the pool.
Dine in Tuscany Gardens restaurant or try special drinks in The Cafe Bottega, and order cocktails by the pool at any time of the day.
The hotel is directly connected to a large casino and has a business center available to guests. It is minutes away from the Las Vegas Strip, the center of entertainment and shopping, and a few miles or a 5-minute drive from McCarran International Airport.
Final Thoughts
Whatever the reason for your visit to this city, Las Vegas is the best destination you can visit at any time of the year. From great parties, casinos, and the pinnacle of great entertainment, perfect accommodation is the only thing you're missing.
Check out the list of our selected hotels, choose your lucky choice, and all you have to do is enjoy everything that Sin City has to offer!
Amar was born and raised in England and embarked on an 11-country round-the-world gap year after graduation and then became well and truly hooked. The first gap year inspired a second, which ended up being a 23-country down-the-world trip from Canada to Antarctica. Since then, Amar has spent the last 14 years traveling the 7 continents.