The Birthplace of America – Philadelphia, is a city that will completely win you over on your first visit, both with its long-preserved history and with the special welcoming spirit that this city radiates, which is talked about in every corner of the country.
From the top-notch Philadelphia Orchestra, the Liberty Bell, and Rocky, being the 1st World Heritage City in the United States, to numerous museums, nightclubs, and first-class restaurants, you will certainly not run out of things to do in this city.
For an even better stay, you need a hotel that will suit your taste and have a good reputation. What are the best hotels with the most beautiful views and balconies in Philadelphia, and what you need to know about them, find out below!
The 10 Best Hotel Rooms With a Balcony in Philadelphia

The Bellevue Hotel, part of The Unbound Collection by Hyatt, is a real-life landmark that captures the glitz and revelry of Philadelphia's golden age. It is situated in the center of the city.
Rest in one of the 165 tastefully appointed rooms after a day spent discovering Philadelphia's various neighborhoods.
All guest rooms are elegantly and classically built to meet even the most discerning tastes, from the luxury suite with parquet floors in the living room to the Deluxe suite with Juliet balconies overlooking the city.
A lavish brunch or dinner may be enjoyed in the 2019 Wine Spectator Award-winning XIX (NINETEEN) Restaurant, which also offers views of the city skyline.
You are in the optimum location from here: Take a stroll down Broad Street to see the Victorian-era Academy of Music, or take a two-mile trip to Old City to see the Liberty Bell's rich history.

Do you prefer to visit locations with a rich history and a track record of successful hotel management? The family-run Cornerstone Bed & Breakfast operates out of a renovated 1865 Victorian home and offers distinctive rooms with all the luxurious facilities one may anticipate from a boutique hotel.
To make your stay as comfortable as possible, each of the six stylishly designed guest rooms includes unique elements, a private bathroom, and first-rate amenities.
The innkeepers hand-selected or restored every piece of historic furniture in each room to create a special and welcoming atmosphere. The rooms are quite clean and offer modern facilities despite being historically designed.
Sitting on the available patio or terrace allows you to take in the scenery and tranquility surrounding you. You will undoubtedly enjoy the exquisite breakfast that Chef Eric makes for you each morning.
Even if you are almost in the city's core, you will feel remote from the city during your stay. The Philadelphia Museum of Art, Philadelphia Zoo, Barnes Foundation, and the storied Eastern State Penitentiary are among the sights that can be reached on foot from the B&B.
The first "invisible service" boutique luxury apartment hotel company in Philadelphia, Lokal, is driven by amiable locals and offers unmatched comfort and style.
Make your stay in this apartment special by keeping in mind that Fishtown is one of Philadelphia's most sought-after areas. The Lokal Fishtown is the perfect example of what owners aimed to accomplish while launching a new hotel brand in a busy area.
A crew of 30 "Local Makers" from the city borders created, built, and outfitted this six-room apartment hotel. It brilliantly embodies the contemporary and neighborhood feelings of Fishtown and gives you a genuine local experience.
All apartments include handcrafted furnishings and contemporary conveniences, and some even have patios with views of the garden.
The property is close to the National Liberty Museum, Pennsylvania Convention Center, and Liberty Bell, which is a great place for a family stay.
The Logan Philadelphia is a magnificent retreat in one of the most historic and dynamic cities in the nation, located in the center of Philadelphia.
The hotel combines intimacy and elegance mixed inside the confines of your lodging with its 391 guest rooms adorned with locally curated artwork and contemporary design.
With two separate rooms divided by frosted-glass French doors, Executive One Bedroom with Balcony Suites lets you wake up to fresh air and sunshine.
You'll also have access to a private balcony with views of the Swann Fountain and Benjamin Franklin Parkway.
The Underground Spa & Wellness, a premier on-site spa, is ranked #1 for wellness centers and spas in Philadelphia. While you're there, unwind in the heated indoor pool, work out in the cutting-edge fitness facility, and indulge in all the spa services offered.
Visit the rustic-chic Urban Farmer for a filling farm-to-table dinner, sample handcrafted cocktails at The Commons Lounge, and unwind at the rooftop bar Assembly while taking in the stunning views.
The Rocky Steps are 0.9 miles from the hotel, Reading Terminal Market is 0.7 miles away, and The Liberty Bell is 1.3 miles away.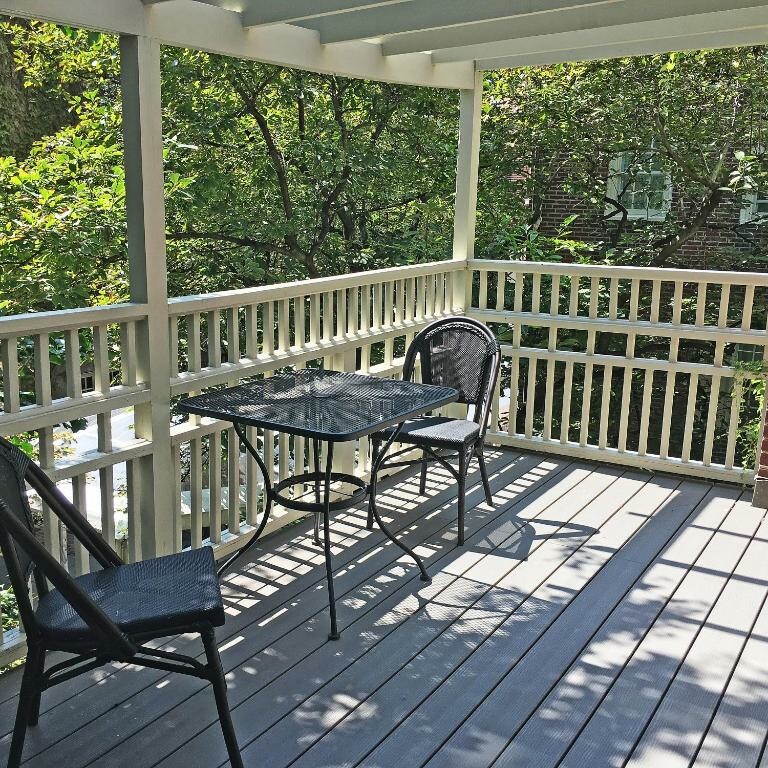 The Morris House Hotel offers a distinctive and fulfilling atmosphere for anybody who wants to experience this city in its authentic form, whether they are visiting on business, looking for a romantic hotel getaway, or searching for hotels with an extended stay in Philadelphia.
The Morris House Hotel, a National Historic Landmark that has undergone renovations to become one of the top boutique hotels in Philadelphia's Historic District, honors the building's 18th-century colonial origins.
Each room is uniquely furnished with a blend of modern furniture and tastefully selected antiques to emphasize excellent attention to detail. Private balconies offer stunning gardens or city views.
Every morning, grab-and-go continental breakfast is available to hotel guests, as is afternoon tea with baked cookies.
Some of Philadelphia's most popular sights, like Independence Hall and the Liberty Bell, are only a short walk from the Morris House. A variety of renowned restaurants, stores, and theaters may be reached on foot as well.
When visiting Philadelphia, do you feel the need for a break from the activity of the city and prefer to unwind in the peace and quiet of your room?
The Maj Hotel has wonderful rooms for leisure, some of which even have a private exit to their own terrace, so it's definitely the best option for you.
Before exploring the city, stop by The MAJ Cafe on the first floor for a cup of expertly prepared Lavazza coffee, amazing brunch service on the weekends, and refreshing beverages with pastries.
Enjoy a meal in a lovely setting on your fenced-in patio, or keep up your exercise program in the modern on-site gym.
Popular points of interest near the accommodation include the Philadelphia Museum of Art, the Barnes Foundation, and the Mutter Museum, and the nearest airport is Philadelphia International Airport.
When you stay at Pilgrim's Rest Bed & Breakfast, Philadelphia will seem like another time. You will feel at home because each room is designed in a distinctive vintage manner.
You may take advantage of the vista of lovely Fairmont Park from your own private terrace.
Every morning, a continental breakfast is personally prepared for each visitor. Pilgrim's Rest Bed & Breakfast visitors can take advantage of the grounds or go hiking and cycling nearby.
The Philadelphia Museum of Art is 17 km away, and the Philadelphia Zoo is 15 km away from the lodging. Pilgrim's Rest Bed & Breakfast is 10 kilometers from Wings Field, the area's closest airport, and it provides a paid airport shuttle service.

Ideal for exploring America's birth city from downtown Philadelphia, Penn's View Hotel is a great place for any urban traveler, no matter what the reason for coming.
Whether you're going on a romantic trip, traveling on business, or need a little peace just for you, one of the most charming historic hotels in Old City Philadelphia is here to make it all possible for you.
Relax in unique rooms with an elegant mix of custom, classic, and contemporary design elements that offer beautiful views from the balcony of Market Street or the Delaware River.
One of the best Italian restaurants in Philadelphia – Panorama offers you on-site dining, a carefully composed menu of varied contemporary cuisine, and tasting a wide selection of spectacular vintages by the glass at the Philadelphia wine bar.
The Pennsylvania Convention Center, Rittenhouse Square, Liberty Bell, Independence Hall, and Independence Park are located in close proximity to the hotel.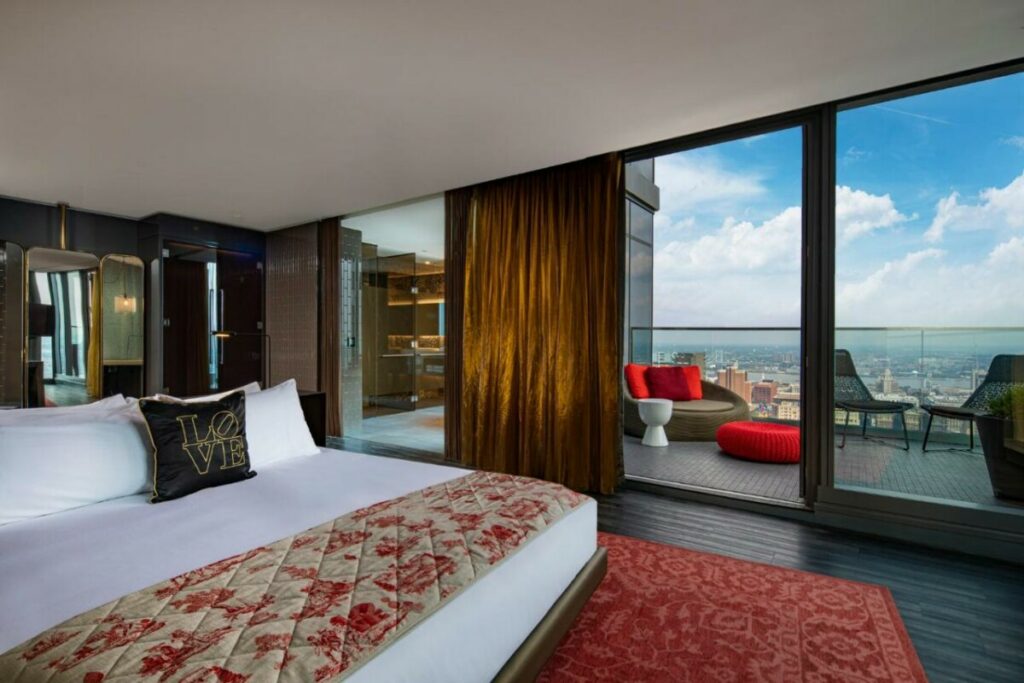 Located in the city center with an emphasis on provocative design that defies expectations, W Philadelphia is a boutique hotel that exudes the vibrant energy of this city and gives you the opportunity to experience it to the fullest.
From an outdoor swimming pool, a fitness center, 22 dynamic meeting rooms with fully-adaptable, cutting-edge telecommunications and multimedia technology, restaurants, and bars to chic and comfortable rooms, W Philadelphia is here to fulfill all your expectations.
Decorated with modern luxury and a lot of sophistication, all rooms and suites in this hotel provide comfort and a sense of quality during your stay.
Darker wood shades with some light tones give the interior an exotic feel, while floor-to-ceiling windows and a view of the city from the balcony bring a lot of light and spaciousness into the room.
In the Living Room, you may savor handmade coffee from a nearby roaster, handcrafted cocktails, and small meals.
Dolce is a distinctive downtown restaurant serving breakfast, lunch, and dinner. The Pennsylvania Convention Center, the Liberty Bell, and the Mutter Museum are some of the well-known attractions close to W Philadelphia.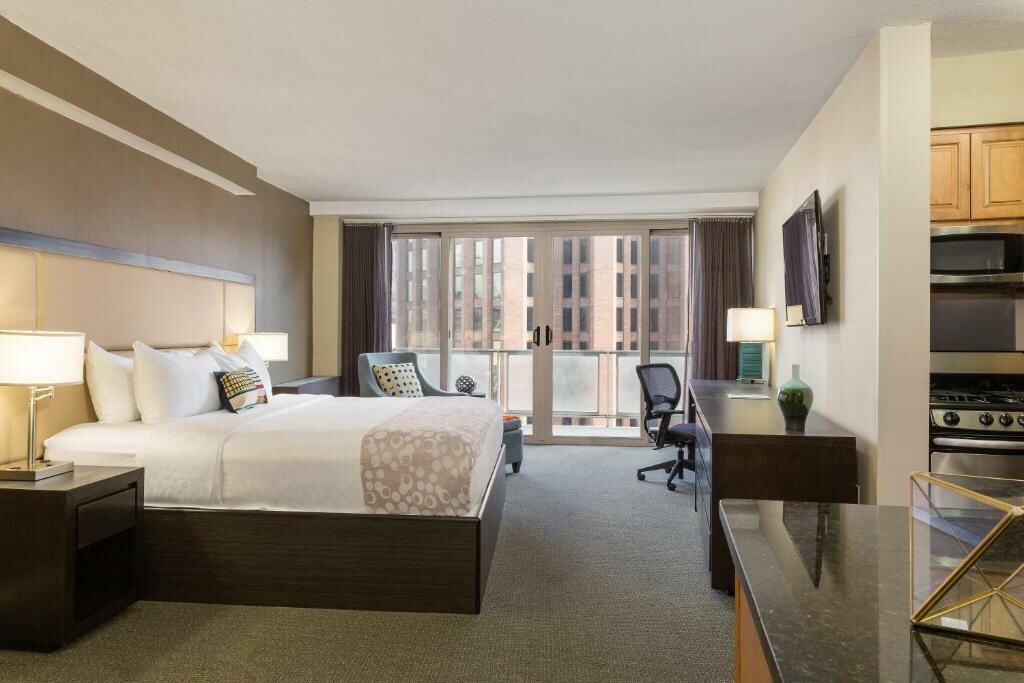 The Windsor Suites is the ideal venue for any urban tourist who wants to experience Philadelphia's lively atmosphere because of its prime location on the renowned Benjamin Franklin Parkway, which is home to renowned arts and cultural destinations.
Take advantage of the modern, spacious, and comfy suites that have calming beige and wooden accents.
Access to the skyline level, which has a seasonal rooftop pool, a fitness center, and an observation lounge with a terrace, is included with superior accommodations.
This hotel offers stunning views of the metropolitan skyline and the city center, whether from floor-to-ceiling windows or a private balcony.
Dine at Con Murphy's, an Irish-style pub serving Irish and American cuisine for breakfast, lunch, and dinner, or Asia on the Parkway serving Chinese and Thai cuisine for lunch and dinner daily. The Windsor Suites is 645 meters from the City Hall Subway Station and The Barnes Foundation.
Final Thoughts
Pennsylvania is a city full of history and city attractions that are just waiting for your visit.
Regardless of whether you are traveling for business or pleasure, a first-class hotel that offers stunning views from its private balconies or patios is a must-stay place.
We have prepared a list for you, and all you have to do is book one of the listed places and enjoy your visit to America's Homeland.
Amar was born and raised in England and embarked on an 11-country round-the-world gap year after graduation and then became well and truly hooked. The first gap year inspired a second, which ended up being a 23-country down-the-world trip from Canada to Antarctica. Since then, Amar has spent the last 14 years traveling the 7 continents.