Barcelona is Spain's capital and largest city, located on the northeast coast. This fabulous city is well known for its world-class cuisine, breathtaking architecture, exquisite beaches, and lively nightlife.
Each year, over 27 million tourists visit this cosmopolitan city which is why it has become an icon in contemporary urban tourism. Barcelona is the perfect getaway for those seeking respite and enjoyment.
The Best Party Hotels in Barcelona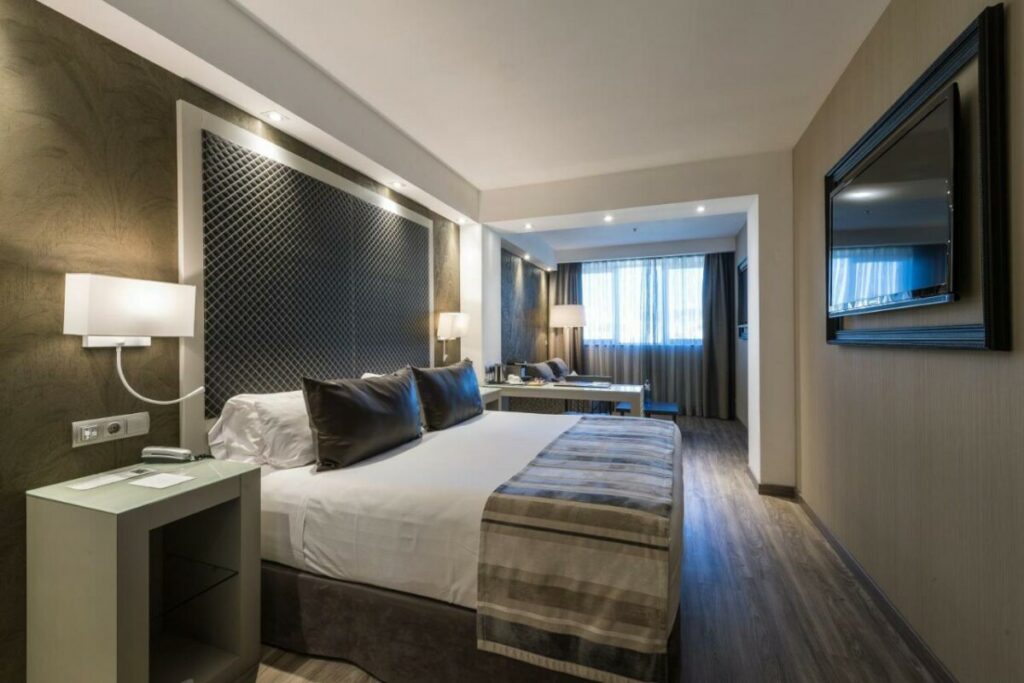 Located in Barcelona's historic center, Catalonia Square is an ideal destination for experiencing the city of Barcelona.
This hotel is beautifully decorated in a modern, simplistic design with gorgeous artwork and accents throughout the property. Each guest room includes a mini bar, private bathroom, flatscreen TV, and complimentary phone chargers and Wi-Fi.
This property has a stunning outdoor pool, solarium, and a fitness center. The hotel also has a beauty salon and car rentals to ensure all guests' needs are met.
Guests enjoy dining at the hotel restaurant and bars and have the option to have meals delivered to them in case they don't feel up to leaving their room.
The Gothic District is just a few minute's walk from the property, where guests enjoy touring nearby neighborhoods, theaters, and other nearby landmarks.

A tranquil oasis is waiting for you at Catalonia Magdalenes. This stunning resort is nestled snuggly between Portal de l'Angel and Via Laietanashopping area. This is just what is needed for a quiet retreat from the daily grind.
There are 4 room types at Catalonia Magdalenes, each decorated beautifully in neutral tones and modern accents. Rooms come standard with soundproofed walls, gorgeous hardwood floors, a Nespresso coffee machine, towel warmers, and satellite channels.
There is a remarkable glassed-in pool and solarium on the rooftop, along with a snack bar. As a result, guests can enjoy themselves and not have to worry about a single need while they relax. There's also an on-site spa and gym for those who want to pamper themselves while vacationing.
There are 2 restaurants at Catalonia Magdalenes, each serving an array of gourmet cuisine and cocktails. If you prefer to stay in your room, you can have room service bring you a meal from any of the restaurants on the property.
Even though the hotel has everything, you could need while on vacation, there may be days you want to get out to discover Barcelona. Catalonia Magdalenes is right in the center of the city and has lots to offer. Some prefer to visit the Picasso Museum, while others may choose to take in the history of Barcelona Cathedral.
There are so many things to see surrounding Catalonia Magdelene's, which means you will never run out of entertainment.

Experience paradise at The Corner Hotel in Barcelona. This amazing hotel is located in the most traditional Barcelona neighborhood called Eixample.
The Corner Hotel blends modern elements with distinguished materials to bring a cosmopolitan design into every room of the hotel. There are 3 types of guest rooms available, including standard and superior rooms. Each accommodation is soundproofed to ensure a great night of sleep.
The rooms also come with a minibar, smart TV, piped music and Bluetooth, a pillow menu, and a modern bathroom with luxury touches everywhere you look. Rooms are decorated in neutrals with occasional pops of color.
The Corner Hotel has much to offer its guests. The terrace solarium and outdoor pool provide rest, relaxation, and a refreshing way to beat the heat with a terrific view of the city.
The on-site restaurants offer incredible cuisine and a wonderful drink menu. Guests are able to sit back and enjoy a fine dining experience at the Corner Hotel.
Popular attractions near the hotel include touring the streets of Gracia and exploring La Pedrera and Placa Catalunya.

Step into the perfect destination for relaxation and letting loose when you enter Eurostars Grand Marina Hotel. This incredible property looks out over Barcelona's picturesque port.
The rooms of Eurostars Grand Marina all feature striking wood floors and modern furniture. In addition, the elegant rooms are styled in soothing shades of earth tones.
Accommodations include a pillow menu, flatscreen satellite TV, and stunning private bathrooms with incredible features such as soaking tubs and rainfall showers.
The hotel has a rooftop pool with an expansive terrace for enjoying the beautiful view of the city. Guests can also take advantage of the hotel fitness center to keep their workout regime going while vacationing.
The restaurant and bars serve Mediterranean meals and original cocktails. In addition, the bars feature live music to enjoy while sipping a signature drink.
Eurostars Grand Marina is close to Sant Sebastian Beach, where guests can spend the day soaking in the sun's rays and relaxing to the sound of the waves hitting the shore. Other nearby attractions include aquariums, museums, and art galleries.

See what Barcelona has to offer while staying at H10 Madison. This brand-new, 4-star hotel is built in a restored early 20th-century building and brings elegance, harmony, and luxury to all its guests.
Rooms at H10 Madison are beautifully styled in neutral bedding with dark furniture and accents. In addition, these rooms feature soundproofed walls, modern furniture and bathrooms, flatscreen TVs, and a minibar.
There are several types of rooms to choose from, including classic rooms and junior suites.
H10 Madison has stunning pool areas with breathtaking views of the gorgeous nearby architecture and historic city.
There are 3 restaurants and bars to choose from while staying at H10 Madison. These dining options are beautifully decorated and have a relaxed and elegant ambiance for guests to enjoy.
Somorrosto Beach, Sant Miquel Beach, and Palau de la Musica Catalana are popular places to explore near the hotel.

Ohla Eixample is located in the neighborhood of Eixample in Barcelona. This area is known for its stunning architecture and lively nightlife.
The rooms at Ohla are elegantly decorated in soothing shades of white, cream, gray, and tan. The rooms include modern, nature-inspired furniture, a separate bathroom, tubs or rainfall showers, large flatscreen televisions, and complimentary Wi-Fi.
Traditional meals from the Ebro Region are served at the on-site Xerta Restaurant. The hotel also has 2 bars on the property where guests can sip their favorite drinks, relax, and enjoy the atmosphere.
The rooftop at Ohla has a sparkling, heated infinite pool that is surrounded by beautiful olive trees. There are hammocks and lovely lounge beds where guests can rest and enjoy a slower pace of life.
In addition, the rooftop boasts an incredible view of the city, which makes this a guest's favorite hangout spot.
Noteworthy attractions are nearby for guests to explore, such as Diagonal Avenue, Rambla de Catalunya, and shopping opportunities in the Gracia boulevards.

The One Barcelona GL is a 5-star luxury hotel located in Barcelona's most central and exclusive area. This hotel boasts a stunning view of the city that will take your breath away.
Rooms are decorated elegantly in neutrals with beautifully patterned accent walls and rich accent furniture. The bathrooms in each room and suite give guests a spa feeling with the contemporary fixtures and furnishings. In addition, rooms come with pillowtop mattresses, smart temperature control, large flatscreen TVs, and a media hub.
Guests enjoy taking a dip in the hotel's 30-foot plunge pool and lounging on the sundeck while taking in the gorgeous views.
There are 2 on-site restaurants and bars for guests to utilize while staying at The One. Each restaurant serves Mediterranean fare, signature cocktails, and fine wines and spirits.
The One also offers incredible experiences for guests. Some of these experiences include a tasting menu dinner followed by a massage or a dinner date followed by an evening at the spa.

Experience all that Barcelona offers by staying at Radisson Blue 1882 Hotel, located near Gracia's authentic neighborhood.
This 4-star hotel has gorgeous guest rooms, contemporarily decorated in neutrals and natural accents. Each spacious room comes with a modern, separate bathroom flat screen television, wardrobe, great views, and complimentary Wi-Fi.
Guests enjoy relaxing on the rooftop pool, staying in shape at the on-site fitness center, or utilizing the free bicycle service for the day. A favorite guest activity is simply taking in the views of Sagrada Familia from the terrace.
There are 4 restaurants and bars on the property which serve great food and delightful drinks.
There's much to explore, should you choose to leave the property. Sightseeing opportunities include Sant Pau Modernist complex, Sagrada Familia, and Catedral de Barcelona.

Seventy Barcelona is situated between 2 symbolic neighborhoods in Barcelona, Eixample, filled with small-town charm and stunning architecture, and Gracia, which is known for its lively nightlife. Guests of Seventy Barcelona get to experience the best of both worlds while staying in this 4-star resort.
Styled in an Avante-garden design, the guest houses at Seventy Barcelona perfectly blend hospitality and quality with premier hotel services and amenities. There are six types of accommodations at the resort, ranging from the standard house room to a duplex suite.
Rooms are elegantly decorated in neutrals with a burst of bold red and purple in the accents. Rooms come standard with a tea and coffee area, smart TV, piped music and Bluetooth connection, and modern bathrooms with a tub for soaking.
Guests can choose how they want to spend their days, whether they decide to take advantage of the services offered at the vegan, organic spa, take a dip or lounge by the outdoor, glass-walled pool on the rooftop, or enjoy the solarium.
There's also a patio with seating or a TV room where you can sit back and relax.
Seventy Barcelona has a Mediterranean-style restaurant that serves each meal daily. There's also a fantastic bar and lounge where guests can enjoy live music and cocktails each night.
Nearby, guests can choose if they want to spend their day exploring the small-town charm, art, and architecture of Gracia or head over to the lively Eixample, which is known for its exciting culture and commerce.

Escape from the hustle and bustle of life while staying at Yurbban Passage Hotel and Spa. This gorgeous resort is in the heart of Barcelona in the Catalonia Region.
There are 3 room types to choose from at Yurbban Passage, from standard to premium rooms. Each is decorated in dark neutrals with subtle accents around the room in bright colors and natural furniture. Rooms feature a pillow menu, rainfall showers, smart TVs, and a media hub with Bluetooth.
Yurbban Passage has an adults-only spa and gym where guests are able to take care of their mind, body, and spirit.
The spa offers water circuits, an indoor pool, and personalized treatments using vegan and organic products. The gym is stocked with state-of-the-art technology and equipment, so your physical health won't go on vacation at the same time as you.
The rooftop pool offers stunning views for guests to take in a while basking in the sun. The hotel offers cooking classes and wine tasting in the on-site restaurant if you are seeking indoor entertainment.
The hotel has a restaurant and bar that take pride in creating a one-of-a-kind culinary experience for their guests. From delicious Caribbean cuisine to signature drinks, Yurrban Passage has everything you need for a meal of a lifetime.
When guests want to sightsee, the property is in the perfect location to enjoy the area surrounding Yurrban Passage. Popular attractions include the Cathedral of Barcelona and Placa Catalunya.
Amar was born and raised in England and embarked on an 11-country round-the-world gap year after graduation and then became well and truly hooked. The first gap year inspired a second, which ended up being a 23-country down-the-world trip from Canada to Antarctica. Since then, Amar has spent the last 14 years traveling the 7 continents.