Cancun is a beautiful destination with bright, turquoise water and white, sandy beaches. Cancun is a Mexican city known for its lively nightlife and party atmosphere, but many resorts with a serene ambiance provide for their guests.
This city ranks 44th in the world for tourism, bringing in over 6 million visitors annually.
The Best Party Hotels in Cancun

The Atelier Play Mujeres All Inclusive Resort is a piece of paradise located a minute's walk from the beach. This adults-only resort is just what you need to unwind and let loose.
This gorgeous property has a beautiful design throughout. It perfectly blends natural elements and art throughout the facility. There are 431 suites that guests can choose from.
Each suite is designed with marble and wood accents, beautiful garden-style furniture, luxury amenities, and breathtaking views of the Caribbean Sea.
Each room also features a smart TV, movies, and channels On-Demand, a minibar, and a furnished, private balcony.
Food enthusiasts will love the selection of dining opportunities offered at Atelier Playa Mujeres. There are 9 different restaurants serving a variety of Mexican, Asian, Italian, and other international cuisines. There are also 8 bars on-site, each offering signature drinks and unique atmospheres. Guest favorites include the El Deseo Theater Bar and the El Cielo Sky Bar.
Guests enjoy spending the day by one of the sparkling, heated pools and soaking in the sun. There is also a spa on-site, which offers guests luxury services, including massage and hydrotherapy circuits, as well as a beauty salon for hairstyling, manicures, and pedicures.
Atelier Play Mujeres makes sure every need is met while you stay at their facility. This is the destination where you can let go of daily life's stress and just melt away.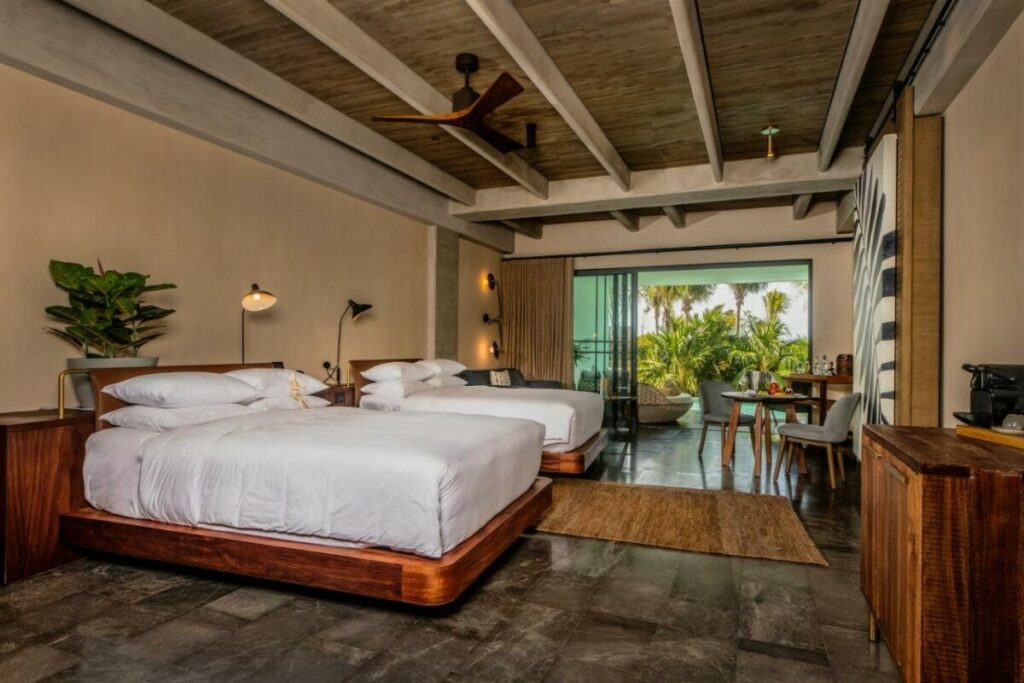 Estudio Playa Mujeres is a 5-star family boutique resort located in Playa Mujeres and the ideal destination for family vacations. This luxury hotel has something to offer all its guests.
There are 10 different types of suites to choose from at Estudio Playa Mujeres, ranging from junior to rooftop suites. Each suite is beautifully decorated in white and blue, with accents of soft yellow, with modern furniture.
All the rooms boast stunning views of the golf course, ocean, or garden. Suites also come with large flatscreen, smart TVs, movies and channels On-Demand, a mini bar, and private, furnished balconies.
This incredible hotel has something to offer for guests of all ages. There is a stunning beachside pool where guests can lounge and soak in the sun's rays. A beautiful waterfall feature provides a relaxing ambiance while guests sunbathe.
There's also a kids club called Doodle Campe where kids and teens get to experience activities with art and nature and play exciting games.
The pool at Estudio Playa Mujeres also has a water park where kids and families can splash and play all day. Parents enjoy utilizing the on-site babysitters when they want to have a kid-free moment or day.
For those that want to spend time getting pampered, there's an on-site spa that offers a host of massages and beauty treatments. There's also a golf course on the property for those who enjoy a day on the course.
Food enthusiasts love the options at Estudio Playa Mujeres. There are 6 on-site restaurants, including a coffee shop. The restaurants serve a variety of cuisines, including Mexican, Mediterranean, Japanese, and other international fares.
With everything that is available for guests to enjoy on the property, you will hardly need to leave the resort. However, if you do choose to explore the nearby surroundings, you can find underwater museums, the Cancun Government Palace, restaurants, and nightclubs just a few miles down the road.
Estudio Playa Mujeres makes all your vacation dreams come true with all they have to offer. This resort will be one you want to return to again and again.

Grand Fiesta Americana Coral Beach Cancun is a stunning property right on the beach that provides all-inclusive packages for guests to enjoy a vacation without a worry in the world.
There are 10 different types of suites offered at Grand Fiesta, and each one is elegantly decorated in soothing Mediterranean color schemes with fine, polished furniture.
In addition, each suite has a breathtaking view of the ocean that can be seen from its private, furnished balcony. Other amenities included in each suite are smart TVs, living rooms, minibars, and complimentary Wi-Fi.
The resort has services for everyone, from an incredible spa specializing in hydrotherapy and a variety of massages to a kids' club that has every type of entertainment available for an exciting time. There is also a large outdoor pool with stunning ocean views and lounge furniture surrounding the sparkling water.
For dining, guests are able to choose from an assortment of restaurants and bars on-site. There are 8 different casual restaurants serving a variety of Mexican, Italian, and other international dishes, as well as a formal restaurant that serves fine Mediterranean cuisine.
Guests can also enjoy sipping a cocktail or top-shelf drink at one of the 4 different bars.
Grand Fiesta is perfect for spending the day at the beach or in the resort, but if you want to venture out, you are just a few minutes from exploring incredible Mayan archaeological sites, jungles, and nearby islands.

This oceanfront property is an adults-only getaway located right on the beach. Haven Riviera Cancun is a glimpse of heaven on earth.
This hotel offers 19 different types of rooms ranging from junior suites to presidential suites. Each room has its own living room, separate bathroom, kitchenette, private balcony, and beautiful views of the ocean.
The resort has an incredible list of complimentary services and facilities, including beach concierge and pool service, a luxury spa with concierge service, a pool with 3 levels, and an oversized in-pool whirlpool.
Each morning, the resort provides an incredible breakfast buffet. There are 7 restaurants for dining, each serving a variety of cuisine, including Mexican, Asian, Italian, and more. There are also 7 bars where guests can enjoy a drink with friends and loved ones, catch a game, or view a live show.
Guests never have to worry about running out of things to do while staying at this resort. Along with the beach and incredible pool and spa, Haven Riveria also offers a gorgeous golf course, a sports and fitness center, and live entertainment each night.
Haven Riviera is the perfect destination for couples and groups to relax, reset, and live it up while you take a break from your day-to-day life. It truly is a haven for all its guests.

Feel like royalty while staying on the beachfront property of Hyatt Zilara Cancun. This incredible adults-only hotel has remarkable views of the Caribbean and everything you need for a vacation to remember.
This all-inclusive hotel offers 9 types of suites guests can choose from, each stunningly decorated in dark wood furniture, crisp, white bed linens, with accents in a mute. Every suite offers breathtaking views of the ocean right outside the private, furnished balcony.
Each suite features a double jetted tub, contemporary bathroom fixtures and style, rain showers, and handcrafted furniture.
There are outdoor pools, anexercise center, and a private beach ready for all guests to enjoy. There's also a spa featuring massage therapy, a hydrotherapy circuit, and a lounge area for those who are seeking tranquility and peace.
There are 6 options for dining at the Hyatt Zilara. The restaurants serve a gourmet cuisine of Mexican, Asian, Caribbean, and other international delicacies. In addition, there are 4 on-site, themed bars to choose from, each serving signature cocktails and fine wines, each boasting its own ambiance and vibe.
Entertainment is a priority at Hyatt Zilara. Each night guests are able to let loose and enjoy a multitude of entertainment options such as acrobatic circus shows, mariachi bands, music, and dance.
Hyatt Zilara goes above and beyond to create a vacation experience you will want to return to again and again.

Hyatt Ziva Cancun is an all-inclusive resort for families and is just what your family needs to reconnect and make new memories together. This beautiful beachfront resort is surrounded by the Caribbean Sea and is the perfect escape from reality.
This resort has 547 suites that are all decorated in a modern, Caribbean style. All the rooms are outfitted in soft, neutral colors with turquoise accents throughout the rooms, which give a soothing, spa-like ambiance. In addition, all rooms have furnished balconies that boast incredible views of the sea.
Each accommodation also comes with turndown service, spa-inspired bathrooms, minibars, and flatscreen televisions.
There are many facilities and services included in the all-inclusive package. There are 3 infinite pools and 2 hot tubs that overlook the Caribbean Sea. The spa also offers a serene environment, massage therapy, and other treatments for well-being. If you prefer a more adventurous water sport, surfing, kayaking, and paddle boards are available for guests.
For indoor activities, guests can utilize the gym and fitness center that offer fitness classes and personal training sessions. The best part about the gym and fitness center would have to be the stunning view. You can get your workout in and enjoy the sea view at the same time.
This resort is a family hotel that goes above and beyond to make kids of all ages feel at home. There is an exclusive club for teens where they can make new friends and play games like pool, foosball, and even virtual reality simulators.
There's a similar club for younger kids, where they can be supervised while playing exciting pool games or visit the on-site waterpark. The KidZ Club also has arts and crafts, video games, and fun beach outings.
Foodies love staying at Hyatt Ziva, where there are 17 different restaurants, lounges, and bars, each serving food and drinks from around the world. The food is amazing, and the hotel offers exciting events such as learning how to brew your own artisan beers, live dinner entertainment, and private chefs to cook choice meals exclusively for you and your family.
It is clear that Hyatt Ziva Cancun has something for everyone. This is a place you will want to revisit for years to come.
Le Blanc Spa Resort is an adults-only, all-inclusive paradise on earth located on a private beach area just a few minutes from downtown Cancun. This resort is spread over 5 acres and is the perfect setting for relaxation and fun.
This resort offers luxury accommodations for all its guests with gorgeous rooms decorated in white linens, modern, whitewashed furniture, and natural elements speckled throughout the room.
Rooms come with well-stocked minibars, flatscreen TVs, and jetted hot tubs for 2 right in the room. There are also furnished balconies where guests can enjoy the extraordinary views from their room.
The property has 12 restaurants with a wide range of cuisine from around the world and 4 bars to choose from. Each restaurant and bar have its own unique menu and decor, allowing guests to have all their dining needs met effortlessly.
Guests can relax and enjoy one of the 3 outdoor pools or enter a state of tranquility by visiting the on-site spa. For those who want to venture out, there are many tours available where you can learn the history of Cancun and visit well-known cities and attractions.
Le Blanc Spa Resort helps all its guests feel like they are living a luxurious life, and most guests decide to return frequently to recreate the amazing moments they experienced during their stay.

Nizuc Resort and Spa Cancun provide its guests with a remarkable escape from reality. This hotel is located right on the Punta Nizuc and offers panoramic views of the Caribbean Sea.
The resort has 274 luxury suites and private villas, each spread over a 29-acre property. Accommodations are decorated in light or dark neutrals, subtle hints of soft pastel colors, and contemporary furniture.
Each room is just a few steps away from the beach and includes freestanding soaking tubs, rainfall showers, a minibar, and a state-of-the-art entertainment system with flatscreen TVs in both the bedroom and bathroom.
The suites also come with gorgeous, all-encompassing views of the garden, ocean, or pool areas.
Nizuc Resort is home to 6 world-class restaurants serving Mexican, Peruvian, Asian, and Mediterranean cuisines. There are also 3 bars on-site for sipping your favorite drink to unwind and relax. Guests also have the option to have private dinners set on the beach.
The restaurants are amazing for enjoying a delicious meal, but they also host cooking classes on a regular schedule. So you can eat these incredible meals and learn how to recreate them at home.
There is the main pool and adults-only pool for guests who long for days in the water. You can also enjoy kayaking, paddle boats, and snorkeling near the resort. For those who enjoy indoor activities, you can learn how to roll cigars, attend a sushi-making class, or take part in a yoga class.
The property also has a spa that helps guests to achieve total body relaxation. The spa includes massage therapy, body treatments, and a hydrotherapy circuit.
Nizuc Resort makes sure everyone's needs are met, including their tiny guests. This resort has a kids' club where young guests can spend their time with friends, play games, do arts and crafts, and let loose while their parents enjoy a kid-free day or evening.
Once you experience the luxury Nizuc Resort has to offer, you will be sure to mark this down as your top vacation destination for years to come.

Escape the daily grind when you stay at Oasis Palm All-Inclusive Resort. This stunning property has 650 feet of private beach for you to enjoy during your visit. Oasis Palm prioritizes offering guests of all ages everything they need for a perfect, paradise vacation in Cancun.
This resort has 3 types of rooms guests can choose from, ranging from standard rooms to family suites. Each room is decorated in bright colors and beautiful dark furniture and has a beautiful view of the property. The rooms also come with private bathrooms and flatscreen cable TVs.
Food enthusiasts love the dining options available at Oasis Palm. The property has 5 different restaurants serving a variety of food, including Japanese and Mexican fare. In addition, there 6 on-site bars scattered throughout the property, each serving fresh cocktails, wines, and spirits.
For outdoor fun and relaxation, guests enjoy lounging by one of the outdoor pools or setting up for a day at the private beach. Young guests enjoy the Kiddo Zone, where they can play with friends, visit the on-site kids-only waterpark, and make new friends while parents enjoy a kid-free day or evening.
Oasis Palm goes above and beyond to treat their guests with VIP service each and every day. It's not a surprise that many who stay at Oasis are guests who have visited over the years.

Experience a taste of paradise while staying at The Westin Resort and Spa Cancun. This peaceful resort is located at the end of Cancun's Hotel Zone. The resort has private, white sand beaches with spectacular views of the Caribbean Sea.
There are 12 styles of rooms to choose from at The Westin Resort, each being modernly decorated with bright neutral colors and whimsical accents in shades of blue that tie in the sea perfectly. Each room offers stunning ocean or lagoon views, contemporary furniture and decor, spa-like bathrooms, complimentary Wi-Fi, kitchenettes, and flatscreen TVs.
Several on-site dining experiences are available at The Westin, including restaurants that serve international fares, such as Mexican and Caribbean. There are also 2 bars where guests can select a signature drink and unwind with friends or family.
There are 4 outdoor pools available for guests to enjoy at The Westin Resort, as well as an incredible spa on-site for massage and body treatments. For those that like sports, the hotel offers a host of sporting events such as surfing, tennis, and golf.
The Westin Resort and Spa will help you to create amazing Cancun memories that will last a lifetime.
Amar was born and raised in England and embarked on an 11-country round-the-world gap year after graduation and then became well and truly hooked. The first gap year inspired a second, which ended up being a 23-country down-the-world trip from Canada to Antarctica. Since then, Amar has spent the last 14 years traveling the 7 continents.