Located on the east coast of Spain, Benidorm is a resort town that is a popular destination for couples, families, and groups of friends. Benidorm is a former fishing village that was transformed into a resort town in the 1960s.
Each year 5 million tourists come to Benidorm to stay in the gorgeous resorts, enjoy time on its beautiful beaches, visit the cobblestone streets of Old Town, and admire the majestic castle that was built in the 1300s.
The Best Party Hotels in Benidorm

Asia Gardens Hotel & Thai Spa, a Royal Hideaway, is a luxury hotel and spa nestled in the Sierra Cortina Mountains. This hotel is a perfect combination of Asian culture and serenity.
This is the dream destination for couples, friends, or families, as Asia Gardens has thought of everything one could need. Guests enjoy taking advantage of the hotel's 7 outdoor pools, spa, and fitness centers.
There are 9 themed restaurants serving Asian, Mediterranean, and international cuisine and three different bars on-site. Kids especially love the exclusive Pirate Kids' Club, which hosts entertainment and activities every day.
There is an Asian theme throughout the property, both in its interior and outdoor areas, which allows guests to completely relax and reset. There are even traditional stilt houses throughout the gardens.
There are 11 different room types to choose from, including standard rooms to completely decorated Asian-themed suites. Traditional rooms are decorated in crisp white and neutral colors. Guests can enjoy spectacular views of the botanical gardens, the sea, the serene mountains, or one of the pools from their private terrace. Rooms also have separate bathrooms with tubs for soaking, complimentary Wi-Fi, and kimonos and slippers.

Barcelo la Nucia Hills is a beautiful resort near Sierra Helada Natural Park and Levante Beach. This is a wonderful vacation spot for couples or families.
Rooms at Barcelo la Nucia Hills feature a fully stocked kitchen area, a private terrace overlooking the garden or pool area, and gorgeous rooms decorated in shades of cream and white with subtle blue and yellow accents.
Guests begin each day with a complimentary breakfast and can utilize the on-site amenities for ultimate rejuvenation. In addition, this hotel offers restorative relaxation sessions in the health and beauty facilities. There is also a full fitness studio for those who want to continue their exercise regimen while vacationing.
For drinks and dining, Barcelo la Nucia Hills offers a buffet-style restaurant that serves delightful Mediterranean cuisine. Guests can also visit the pool snack bar or the rooftop lounge for cocktails and appetizers.
If guests want to explore the surroundings, they can visit the Sierra Helada Natural Park, nearby golf courses, beaches, or waterparks. Finding entertainment definitely won't be a problem at Barcelo la Nucia Hills.

Denia Marriott La Sella Golf Resort is a 5-star luxury hotel between Montgo Natural Park and the Mediterranean Sea.
Rooms are decorated in earthy neutral colors with subdued accents in sea blue. There are 6 room types guests can choose from, depending on their needs. Each room comes with a stunning resort or inland views that can be admired from the private, furnished balcony, gorgeous wood floors, soft pillowtop featherbeds, and marble bathrooms.
Guests can take time to enjoy the spa and the services offered there, such as Turkish baths, sauna, and hydrotherapy pool. Golf enthusiasts will love the beautiful 27-hole course. There is also a pool and kids' only pool where you can take a dip, cool off, and soak in some rays.
For dining experiences, guests can enjoy Mediterranean and Thai cuisine at the two on-site restaurants or grab a snack and a drink at the poolside lounge.

Hospes Amerigo, Alicante is a 5-star hotel that's just a short walk from the beach and near the historic Castle of Santa Barbara and Alicante Harbour. The setting of this hotel is breathtakingly beautiful, soit's no surprise that you will want to returnagain and again to this destination.
This hotel offers a spa that offers specialty massages, facials, and body treatments, as well as a health club, indoor pool, and sauna. Taking advantage of these facilities will give your mind, body, and spirit the rest and rejuvenation it needs.
There are 6 different types of rooms available at Hospes Amerigo, and each room offers luxurious Egyptian cotton linens, blackout curtains, private bathrooms, LED televisions, deep soaker tubs, and soundproofed rooms. The décor is a combination of creams and whites with dark furniture and occasional abstract paintings throughout the property.
Hospes Amerigo has thought of every need one may have when traveling. Their services range from a daily complimentary breakfast buffet to babysitting services to daily housekeeping, so guests don't have to worry about a thing.

If you are looking for a destination where the view is everything, look no further than the Hotel Boutique Villa Venecia. This gorgeous, 5-star hotel is a beachfront property located right between Levante Beach and Poniente Beach.
This hotel offers spectacular, panoramic views of the sea and town.
This hotel offers luxury facilities like a spa, gym, and pools. Their restaurant and terrace bar not only have gorgeous views, but they serve delicious Mediterranean cuisine and wines from around the world.
There are six different room styles to choose from, and each room comes furnished with designer furniture in neutrals colors, panoramic bathrooms with hydro massage baths and showers, pillow and mattress menus, private balconies, and breathtaking sea views.
This hotel also has a host of specialty packages guests can select to make their vacation one to remember. Available packages include gourmet dining experiences, special marriage packages, private spa dates, and other special experiences where their amazing staff works diligently to create memories that will last a lifetime.

La Posada del Mar, Denia is a gorgeous resort that is located at the foot of Denia Castle and looks out over the sea. This hotel is built in a 13th-century building which gives a historic, elegant ambiance.
Each guest room offers stunning sea views, separate bathrooms, plush luxury robes, a stocked minibar, and a private terrace. The décor features soothing neutral colors with occasional splashes of green colors. Natural elements are used in furniture styles, and a whimsical feel with canopy beds and elegant touches everywhere you look.
This hotel allows guests to completely reset from their busy lives with a serene sauna and fitness center.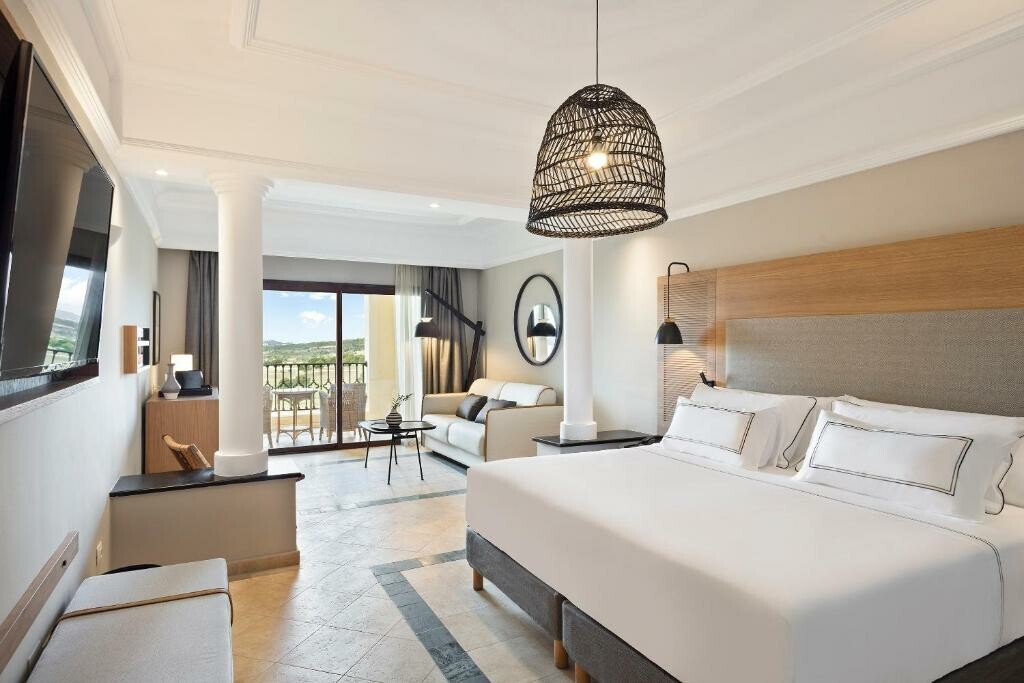 The Level at Melia Villaintana is set on 2 sprawling golf courses and offers stunning views of the Gran Bahia Bay. The building is outfitted in a Mediterranean village style, which brings a prestigious ambiance to the hotel.
This hotel has outdoor pools and an artificial beach for guests to enjoy. Other facilities on-site include a spa with exclusive treatments and body rituals and a gym and health club that offer activities such as golf and tennis.
The rooms at The Level at Melia Villaintana are decorated in warm, neutral tones with striking views of the sea, garden, golf course, or pools. Each room has a private terrace, LCD television, dressing room, separate bathroom, and a minibar. Other luxuries include welcome gifts upon arrival, aroma therapy in the rooms, and turndown service.
Food enthusiasts will love dining at the 6 different restaurants on-site. Cuisine includes Mediterranean, Italian, barbecue, Spanish tapas, and international dishes from around the world.
Guests are able to choose from half board or full board services. They can also choose to participate in an exclusive service called "The Level," where they get VIP treatment and special access to pools, lounges, and restaurants.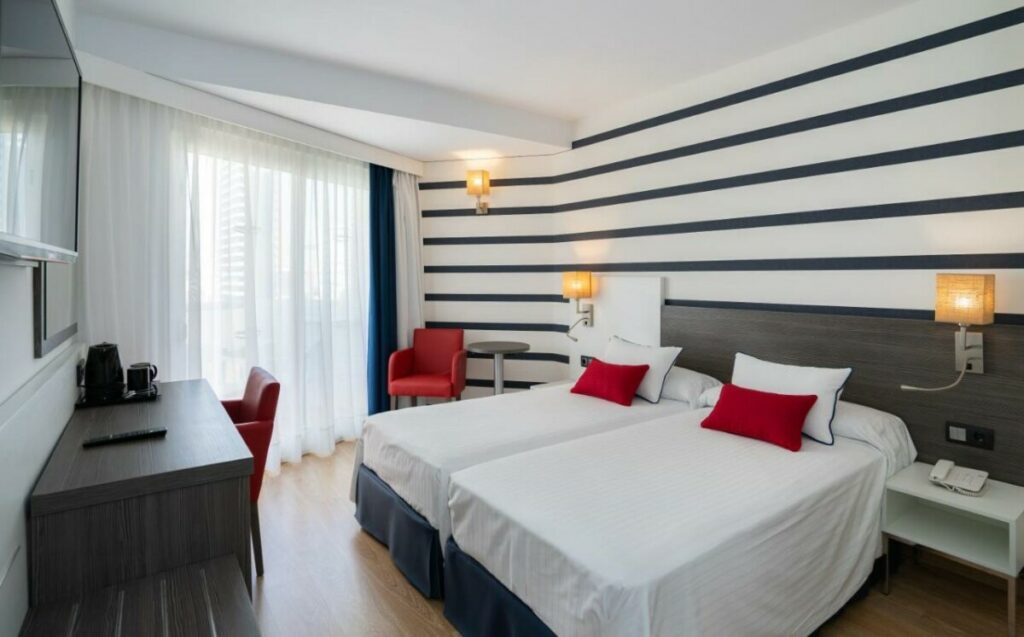 Couples will love staying at Medplaya Hotel Riudor. This adults-only resort is just a short walk from the beach and is the picture of luxury.
Guest rooms are decorated in a chic black and white color scheme with pops of vivid red in the accent furniture. Each room has a private balcony with outdoor furniture for lounging and taking in the view. Other amenities include complimentary Wi-Fi and satellite TV.
Medplaya has a host of entertainment opportunities such as themed dinners, karaoke nights, live music, and performances.
Couples can spend their day lounging in the pool sunbeds or visiting the nearby beach to soak in the sun and relax listening to the waves splash onto the shore.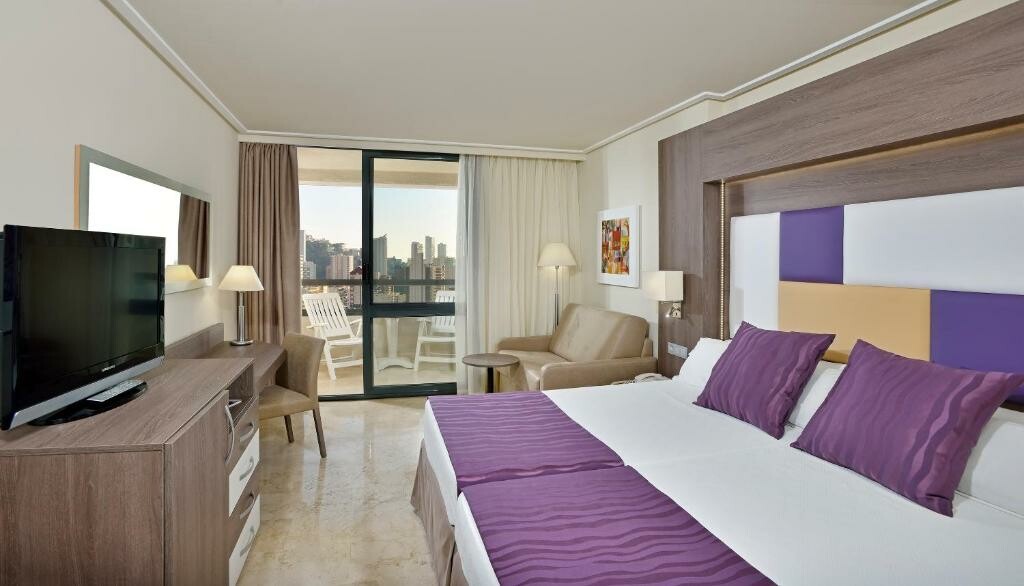 Melia Benidorm is a 4-star hotel located in a peaceful, quiet town near Levante Beach. This resort is ideal for couples or families with children.
This chic, modern hotel is surrounded by lush botanical gardens and has a list of amenities that seems never-ending.
Guest rooms are decorated with contrasting dark wood and white furniture and crisp white bedding with bold bursts of ruby. Each room includes furnished balconies with spectacular views of the gardens and pools.
Melia Benidorm offers all-inclusive packages as well as an exclusive, personalized service called "The Level." Those who participate in The Level have access to private restaurants and lounges along with a private pool and terrace access and a personalized concierge.
Four dining areas in the hotel serve a variety of international dishes, signature cocktails, and delicious desserts.
For fun, guests can swim in the lagoon-style pool or heated pool. Kids especially enjoy the games and activities in the Mini Kids' Club.
The hotel also has a gym, sauna, and scheduled sports activities for those who want to focus on their mind, body, and spirit.

Occidental Alicante is located near Old Town and the Castle of Santa Barbara. This 4-star hotel offers breathtaking views of the city and is just a short walk from the beach and tourist attractions.
The rooms at Occidental Alicante are cozy, modern spaces. They are decorated with crisp white bedding and bursts of bright blue to tie in the beachy feel. Each room also comes with a mini bar, complimentary Wi-Fi, private bathrooms with tubs for soaking, and flat-screen televisions.
Occidental's restaurant is open daily for a complimentary breakfast buffet and a market for snacks and drinks.
The Occidental is set in the perfect location for tourists who want to explore the surroundings. The Main Theater Alicante and Castle of Santa Barbara are excellent places for sightseeing. Golf clubs, museums, and beaches are also nearby, which are perfect for visiting during the day.
Amar was born and raised in England and embarked on an 11-country round-the-world gap year after graduation and then became well and truly hooked. The first gap year inspired a second, which ended up being a 23-country down-the-world trip from Canada to Antarctica. Since then, Amar has spent the last 14 years traveling the 7 continents.