Ayia Napa is a beautiful resort town located on the southeast coast of Cyprus. It is known for its beautiful beaches and lively nightlife. Ayia Nappa is perfect for couples, honeymooners, or anyone who wants to let loose and have a good time. Over 700,000 tourists visit this lovely town each year and make memories that last a lifetime.
The Best Party Hotels in Ayia Napa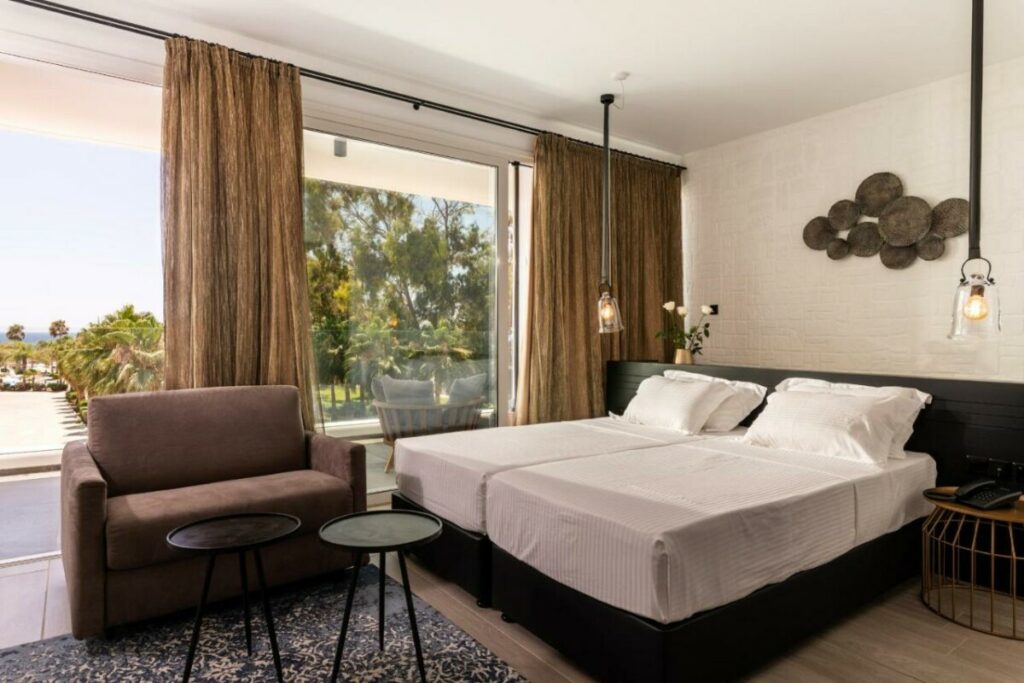 Abucus Suites is an award-winning bed and breakfast in Ayia Napa. This property is an ideal spot for rest and entertainment.
With a complimentary breakfast and daily cleaning services, guests begin each day without worrying about menial tasks.
This bed and breakfast is decorated in neutral colors, which helps guests to feel calm and relaxed. Each room has a private balcony, soundproofed walls, separate bathrooms, flatscreen TVs, and a tea and coffee area.
The on-site restaurant is beautifully decorated with simple wooden furniture and features a live plant wall. The restaurant serves a variety of delicious international cuisines.
Abucus Suites is just a short walk from incredible shops, restaurants, and the beach, so if you want to venture out, you will find plenty of things to do.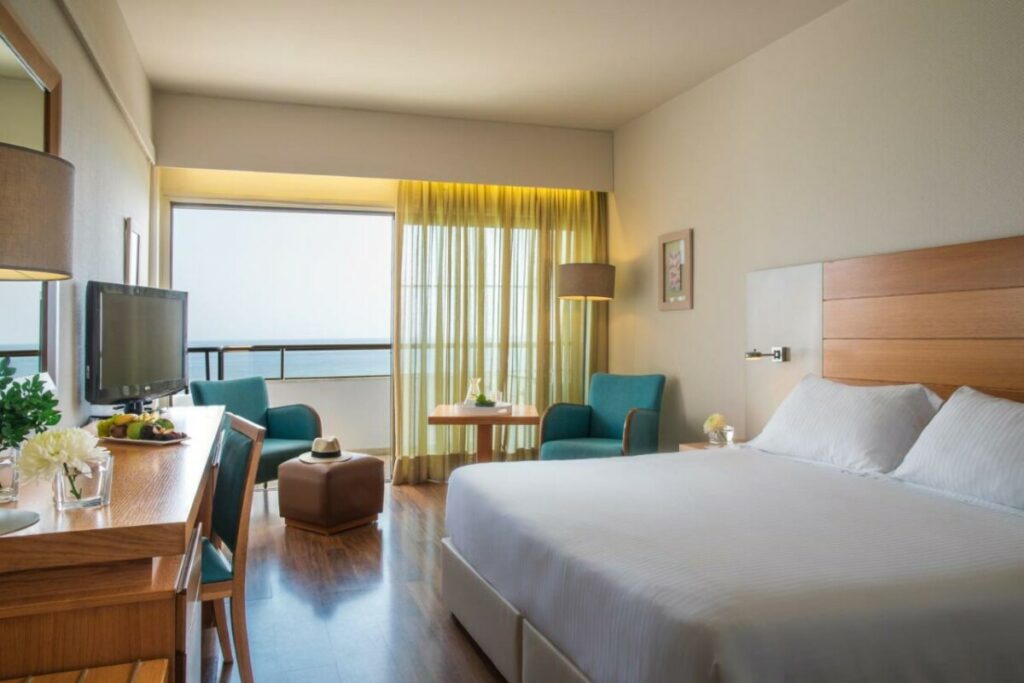 Alion Beach Hotel is an award-winning 5-star hotel located right on the Grecian Bay.
This elegant hotel has beautiful rooms decorated in bright white bedding and natural wood furniture, with turquoise blue accent furnishings. Each room has a cozy balcony lounging area with views of the sea or park, beautiful wood floors, a tea and coffee nook, flatscreen satellite television, and separate bathrooms.
This hotel is the perfect place to press pause on the hustle and bustle of life. Relax and pamper yourself with a manicure, pedicure, or massage in Alion's spa, enjoy a new look from the hair salon or get your workout completed in the hotel's gym.
Take a dip in one of the property's pools to cool off on a hot day. Alion has 3 different pools: an indoor pool, the main outdoor pool, and the children's pool, where you can splash around with the kids.
Alion has a wide range of services to offer its guests. There Library Lounge is a place where you can explore books to borrow, play on one of the game tables, or catch a show or movie with your friends in the TV viewing area. In addition, there is a boutique if you'd like to purchase newspapers, books, or clothes.
Sports such as yoga, tennis, or water aerobics are also offered.
Alion also has a regular schedule of entertainment with live music and performances, cocktail-making classes, and wine tasting.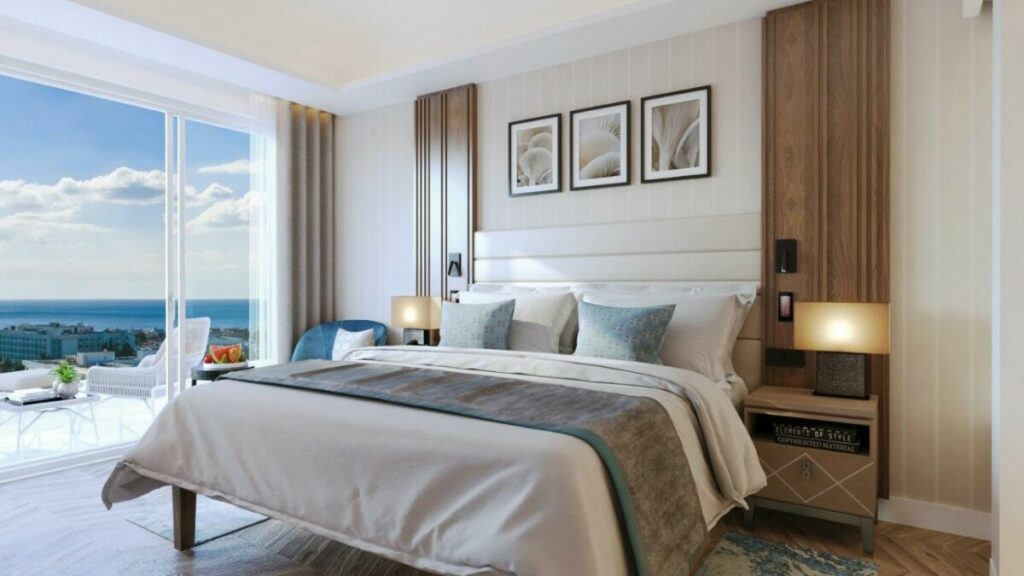 The Amanti MadeForTwo Hotel is a brand-new beachfront facility for couples located on Pantachou Beach.
Upon arrival, guests are greeted with complimentary drinks and snacks. The staff at Amanti goes above and beyond to make sure their visitors' needs are met with customized guest services like personalized sun beds and signature pool services.
There are 8 different types of rooms and suites to choose from at Amanti, and all of them offer a private balcony with a gorgeous view, sleek furniture, flatscreen satellite TVs, rain shower heads, turn-down service, and a Nespresso machine. The rooms are decorated in earth tones with accents in royal colors such as sapphire, amethyst, and gold.
There are three pools at Amanti, 2 outdoor and 1 indoor. These pools are a piece of paradise right on the property, with the lush botanical landscaping and tranquil vibe.
For meals, guests can dine at one of the 4 indoor/outdoor restaurants that feature themed dining rooms. The bars serve signature cocktails and local beers you can sip on while relaxing and viewing the gorgeous tropical setting.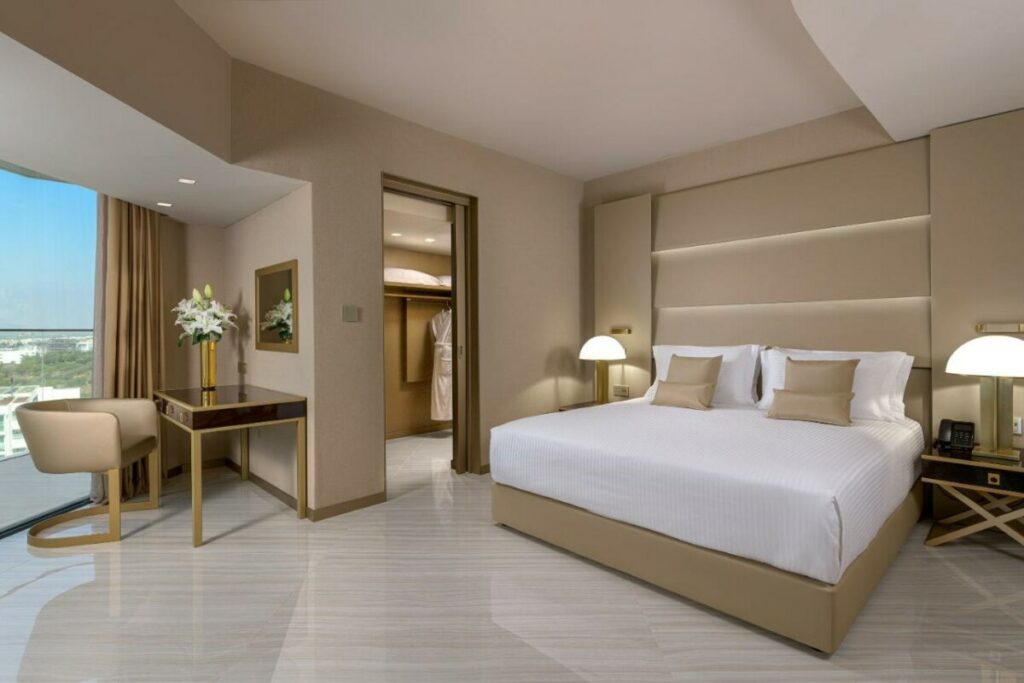 Style, calm, and comfortable are the three words that are continuously used to describe the vibe at Amarande. This adults-only resort is located on Maistrali Beach, which has the highest vantage point and best views in the entire city.
This gorgeous hotel is decorated in chic golden colors with bold wood accents. The opulent rooms all include walk-in rain showers, in-room automation panels, glass balconies with sea or inland views, pillow menus, and private marbled bathrooms.
For entertainment, the hotel offers themed nights, live music, and performances on a regular schedule.
There are 2 restaurants with live cooking stations, a poolside bar, a gym with an indoor pool, a sauna, and a steam bath. You will never have to leave the property with all the amenities this hotel has to offer!

Cosmo Napa Boutique Hotel is a new hotel, modern city hotel located in the heart of Ayia Napa. This incredible hotel is just a short walk from downtown, where there is a host of restaurants, shopping opportunities, and bars.
This hotel features individualized services for pampering and a variety of packages for your stay depending on your vacation needs.
The hotel rooms are decorated in white and marigold colors with natural wood furniture. The rooms are soundproof with private balconies. They also have flatscreen televisions and complimentary Wi-Fi throughout the property.
Cosmo Napa has a gorgeous swimming pool for cooling off or sunbathing. There is a restaurant that serves fresh, local cuisine, a snack bar, and a lounge.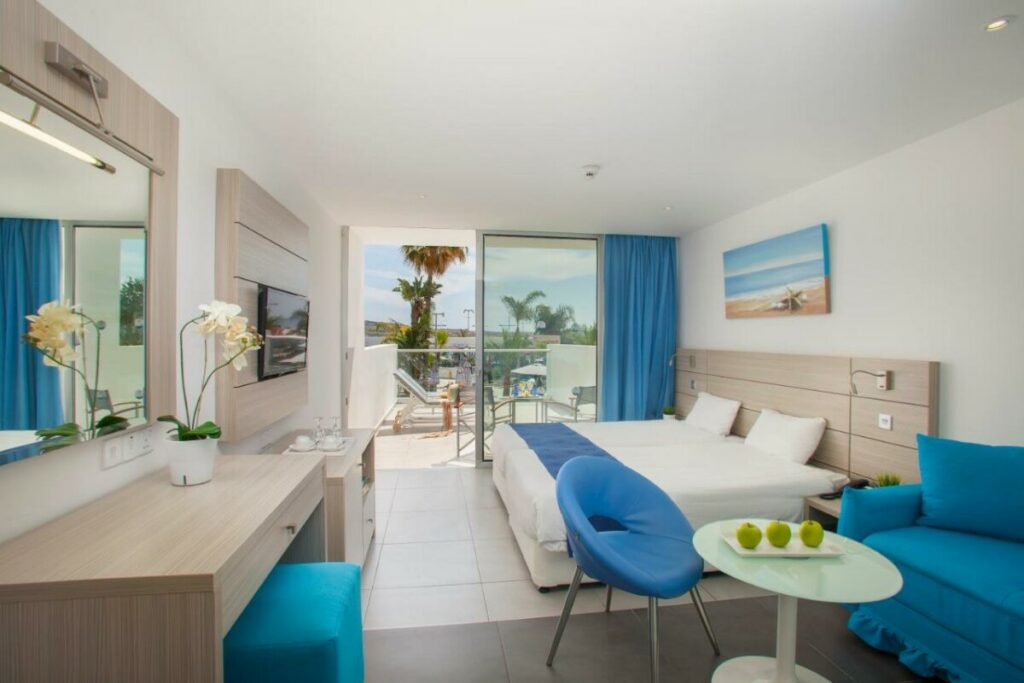 Overlooking Cape Greko and the harbor, Limanki Beach Hotel & Suites gives a beautiful, serene view and setting for its guests. This is the Ideal location for couples, families, or friends to reset from busy schedules.
This pristine, new hotel is decorated with sleek, modern white-washed furniture and crisp white rooms with bursts of vibrant colors of teal or chartreuse.
There are 6 types of rooms guests can choose from for their stay. Each room comes with a private balcony with views of the stunning U-shaped pool or the majestic sea, an outdoor lounging area, flatscreen TVs, and a private bathroom.
Guests can spend their days lounging by the pool, getting pampered in the sauna, working out at the gym, or spending time with their family at the children's pool.
There are 4 incredible restaurants on site serving a variety of seafood, Mediterranean, and international cuisine. There's also a café and bar where you can sip your favorite drink, socialize with friends, and enjoy the relaxing ambiance.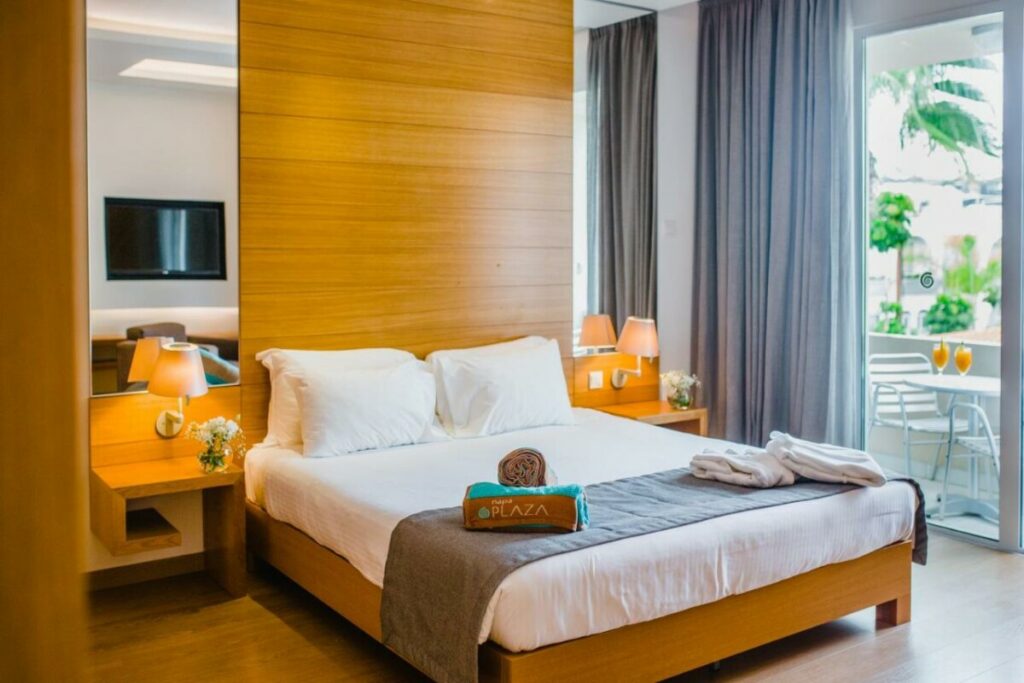 If you are looking for an adults-only vacation spot, then look no further than Napa Plaza Hotel. This 4-star hotel offers all-inclusive or dine-around packages so that guests don't have to worry about a thing.
This stylish, modern hotel has 9 different types of rooms to choose from, including superior and deluxe rooms and honeymoon and junior suites. Each room offers a private balcony, separate bathrooms, and flatscreen satellite TVs. The rooms are outfitted in soft, neutral colors, simplistic wooden furniture, and subtle touches of color.
The Napa Plaza Hotel is wonderful for dining enthusiasts as it offers 9 different dining options that serve a medley of delightful cuisines from around the world. There are also bars and lounges where you can unwind with your drink of choice, gather with friends or loved ones, and let your worries slip away.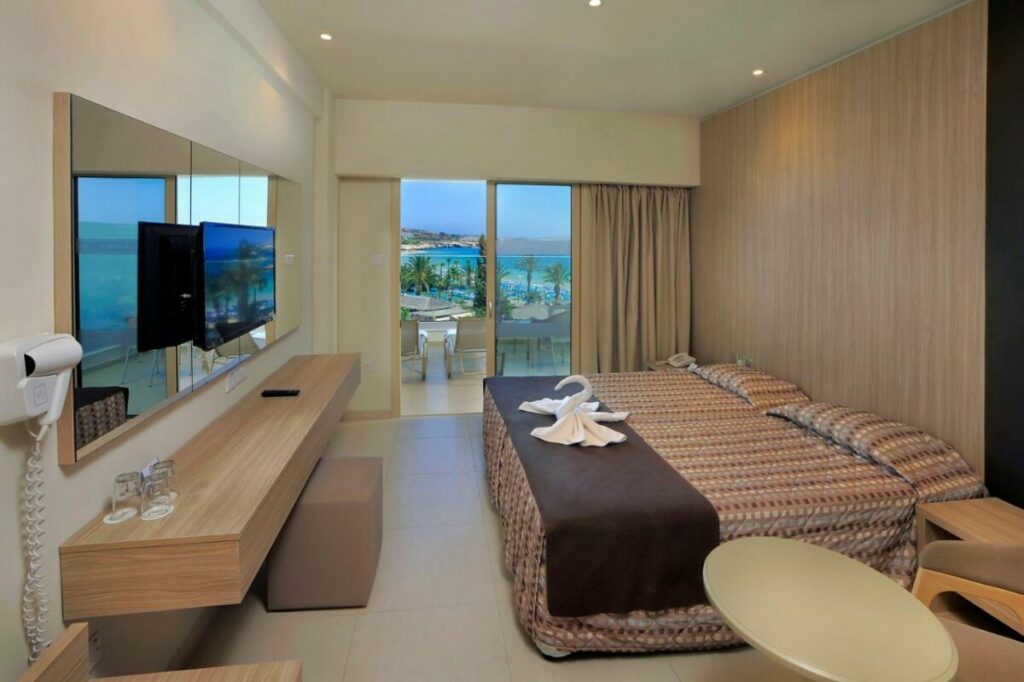 Nelia Beach Hotel & Spa is a 4-star hotel located on one of the most incredible beaches in Cyprus. This hotel is truly a piece of paradise.
This grand hotel is styled with simplistic, modern furniture in neutral colors with accent furniture in splashes of bold colors like turquoise, goldenrod, and lime. Each room comes with a view of the sea, a private balcony, separated bathrooms, flatscreen televisions, and complimentary robes and slippers.
For ultimate relaxation, guests can visit the on-site spa and choose from a list of services ranging from facials to body treatments or spend time in the indoor or outdoor pool, sauna, or steam bath.
Nelia offers indoor and outdoor dining experiences at their restaurant and bar. Guests can choose from a variety of Greek or international dishes.
This hotel is a short walk to the town center, where tourists enjoy visiting incredible opportunities for shopping, dining, and entertainment.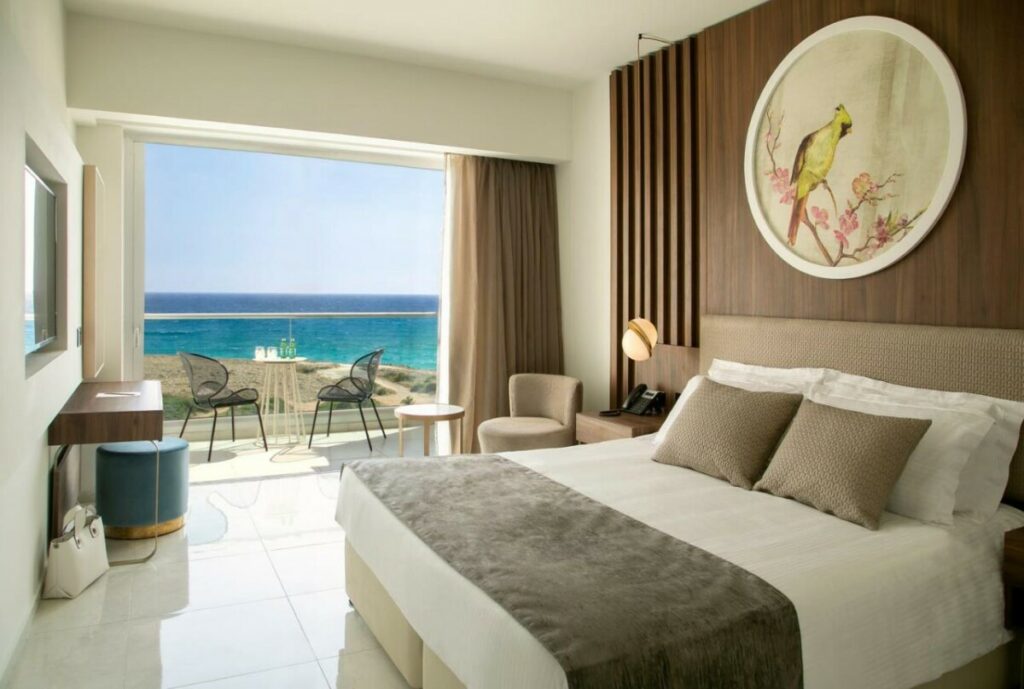 The spectacular NissiBlu Beach Resort overlooks Nissi Beach's bright turquoise waters and white sandy beaches. This 5-star hotel allows guests to unplug and recharge while taking a break from ordinary, day-to-day life.
NissiBlu offers luxury facilities and smart, superior rooms for all guests. Each room and suite come with smart room technology, letting guests control and customize their room preferences right from their smartphone. In addition, accommodations come with private balconies, gorgeous marble bathrooms, stunning sea views, a mini bar, and a coffee and tea nook.
Their rooms are styled in earth tones and have stunning gold fixtures throughout. A natural theme is presented with modern, natural furniture and occasional bursts of sea blue.
For entertainment or relaxation, guests can spend time in the Indoor or outdoor pool or watch their kids enjoy the kid's pool. NissiBlu also has in-house wellness and spa facilities as well as healthcare and fitness centers to make sure all your pampering needs are met.
This resort truly is family oriented and has a kids club where children are able to let loose and have their own form of entertainment for a bit.
The dining opportunities are endless, as NissiBlu has 6 dining options ranging from buffets to snack bars that feature live music and cuisine from around the world, including Mediterranean, American, and Italian dishes.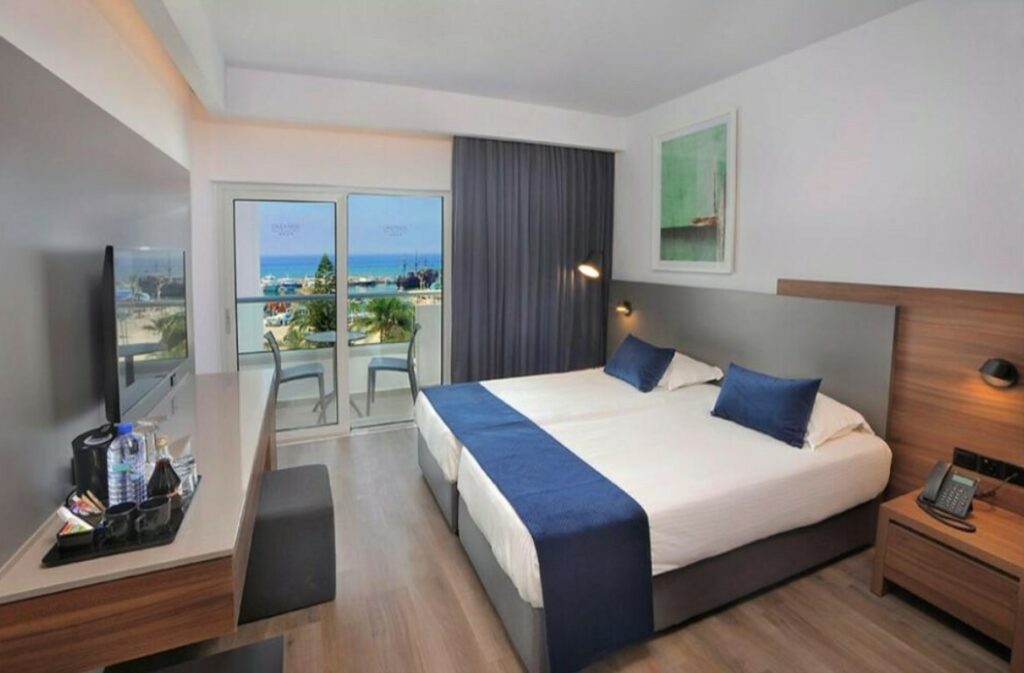 Okeanos Beach Boutique Hotel is a 4-star beachfront hotel that offers luxury living to all of its guests. It is located right on the beach and is a dream destination.
The relaxing ambiance is created with modern, comfortable furniture in rich earthy tones in the main spaces throughout the hotel.
The bedrooms are beautiful with crisp white bedding and bold accent colors, but the best décor comes from the picturesque, breathtaking views of the sea. Each room has its own personal balcony, private bathroom, flatscreen satellite TV, and complimentary slippers.
This hotel has entertainment opportunities for both its adult guests and children. Enjoy time in the outdoor pool, or watch the kids have a blast in the kids-only playground or pool. There is also a gym and sauna if you'd like to achieve ultimate rejuvenation.
The restaurant and bars serve international dishes and signature drinks, which makes it a great place to dine and relax with friends or family.
If you'd like to explore the surrounding area, you're just a short walk from a lively nightlife featuring amazing restaurants and nightclubs nearby.
Amar was born and raised in England and embarked on an 11-country round-the-world gap year after graduation and then became well and truly hooked. The first gap year inspired a second, which ended up being a 23-country down-the-world trip from Canada to Antarctica. Since then, Amar has spent the last 14 years traveling the 7 continents.