Greece is a popular vacation destination for its incredible beaches and bright blue waters, the historic architecture, and excellent weather. Greece is one of Europe's most popular vacation spots, bringing in around 15 million tourists each year.
The Best Party Hotels in Greece

Escape the stress of everyday life and visit Andronikos Hotel Mykonos, the 4-star, adults-only hotel located just a short walk from the beach in Mykonos.
There are ten types of rooms at Andronikos Hotel, ranging from standard to gorgeous suites. Each room boasts a stunning sea view that can be viewed from the private balcony.
The rooms are designed in neutral tones with natural elements and subtle shades of blue in the accents to tie in the ocean right outside your room. Rooms also come with a minibar, flatscreen TV, and a separate bathroom.
The hotel has 3 restaurants and 2 bars on-site. Guests are able to enjoy Greek meals made with fresh, organic ingredients and refreshing cocktails, drinks, and views in one of the bars.
Andronikos has a spa on the property that specializes in massage therapy and facials. There is also an Iron Maiden Gym that has state-of-the-art equipment for those who want to stay on track with their workout routine. For a unique workout, the hotel offers yoga sailing, where guests are able to do yoga exercises while sailing on the beautiful sea.
The hotel has many services to create an unforgettable trip for you. The staff provides VIP concierge services to make sure your stay is perfect in every way. There's also a stunning pool with 4 poster pool beds and loungers surrounding it.
Live music events happen at sunset, where guests can enjoy a drink and the exciting atmosphere.
Andronikos Hotel Mykonos has all you need and more, but should you want to venture off the property, there are several fine dining opportunities nearby, as well as shopping and sightseeing.

Aressana Spa Hotel and Suites offers guests a fairy tale vacation experience as soon as they arrive on their property. This luxury hotel, located in the heart of Fira, offers breathtaking views of the sea, landscape, and city.
There are five room types to choose from at Aressana, each elegantly designed with light wood furniture and a neutral gray color scheme. Each room includes bathrobes, housekeeping, room service, a minibar, flatscreen TV, and a private balcony.
The property has many options for dining, including a traditional Greek restaurant, a homemade breakfast buffet, and lounges by the pool and in the lobby where guests can grab signature drinks.
The on-site spa and wellness center has just what you need for pampering, including hot stone, honey, and prenatal massages. There are even incredible packages available for up to 2 guests, such as the Honeymooners Mood for Love and the Queen Experience package.
For days when you want to leave the property, you can find many activities just a short walk from the hotel. Just down the way, you will find museums, art galleries, restaurants, and nightclubs.

If you are searching for a family-friendly getaway, then look no further than Contessina Hotel. This stunning hotel is located on a quiet street in Tsilivi that leads right to the beach.
Contessina is a 5-star luxury hotel that offers an elegant, calming atmosphere for its guests. There are 13 types of rooms in the hotel, from superior rooms to suites. The rooms are all decorated in neutral colors with natural elements in the accents and furnishings.
Each room provides guests with a furnished balcony, flatscreen TVs, separate bathrooms, and a coffee and tea area. All rooms provide beautiful views of the garden or sea.
This option for family travel is a perfect solution for those who want to combine relaxation with entertainment. From special kid-friendly meals to exclusive pools and playgrounds for families, all your needs will be met!
Contessina offers 4 options for dining and drinks, each offering its own unique vibe and menu. The restaurants serve Greek and American foods, along with music and singing.
For those who want to explore Tsilivi, there are many restaurants just a 2-minute walk away as well as mini-golf and several bars and nightclubs.

Hotel Tagoo is a beautiful Greek hotel that allows its guests to experience luxury in every sense of the word. This family-run property brings traditional Mykonian, Cycladic architecture and decor to each guest, creating an unforgettable vacation experience.
The rooms at Hotel Tagoo are decorated in a minimalistic style, with white bedding and neutral accents throughout. There are 5 room styles available, and each features a daily maid service, beach towels, a flatscreen, satellite TV, and a separate bathroom.
There is a remarkable swimming pool on the rooftop where guests can relax and take in the view of the sea and sky. Next to the pool, there is a snack bar offering things to nibble on and refreshing drinks. This rooftop pool area is where the hotel offers live music and events for guests to enjoy.
The location of Hotel Tagoo is perfect for those who want to check out Mykonia. There are several different restaurants near the hotel along with popular attractions such as Little Venice to explore. You will never run out of fun when you stay at Hotel Tagoo.

Feel like royalty when staying at the Myconian Village Collection. This stunning property is located on a hillside above Elia Bay. This 5-star, unique luxury resort perfectly blends Myconian beauty and lifestyle with a private, unforgettable stay.
The hotel is styled in a contemporary, sophisticated way, with every detail perfected to bring comfort into each area. Guests can choose from luxurious rooms and suits that have pure, white decor which ties in with the Greek Isles.
The rooms are also outfitted with designer furniture and stylish art. Each room has its own unique offering, but you can rest assured that any room you select will come with a stunning sea view, a furnished balcony, private beach access, flatscreen TV with On-Demand, and a minibar.
There are 2 restaurants on-site along a bar by the pool. These dining options use fresh ingredients and local produce and serve an array of Greek and international foods along with signature cocktails and drinks.
The infinity pool and beach are where most guests choose to relax during the day, but for those wanting a more tranquil environment, the hotel also provides spa services such as specialty massages and rejuvenating treatments. For those who want to burn calories or build muscle, the on-site fitness gym.
For travelers who want to take in Mykonos, there is a wide variety of experiences right down from the resort. There are hundreds of restaurants and remarkable attractions such as museums and churches.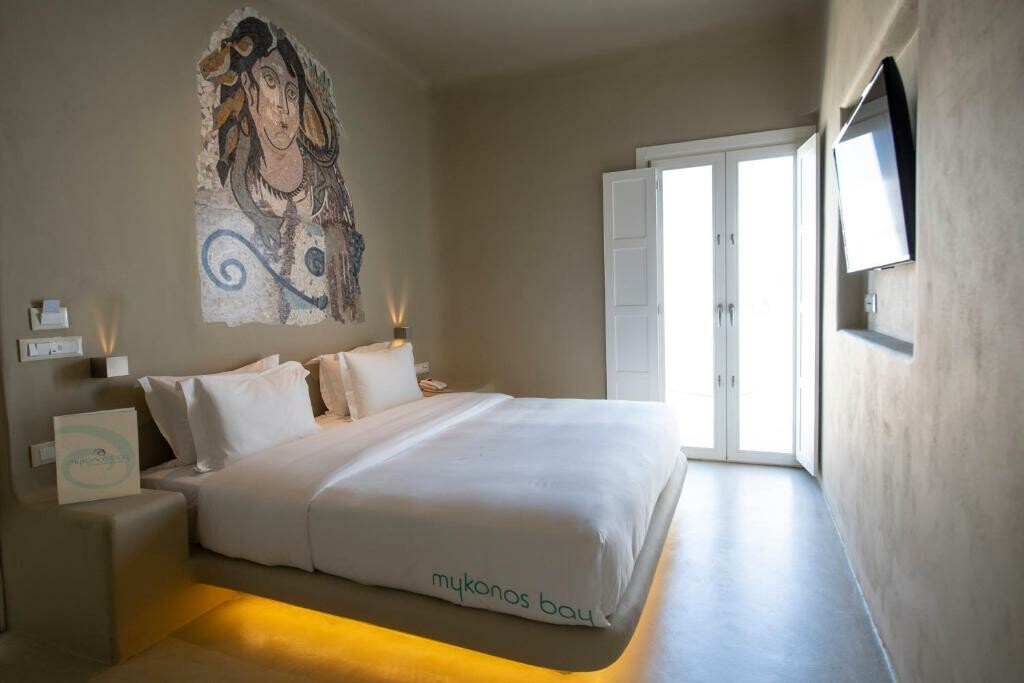 Mykonos Bay Hotel is a newly renovated property located right ton Megali-Ammos Beach. This is the dream destination for a vacation of a lifetime.
The simplistic rooms are designed with white linens and furniture with stunning artwork throughout, tying in Greek culture beautifully. Take in the breathtaking ocean view on the private, furnished balcony. Each room comes standard with a refrigerator, private beach access, minibar, and flatscreen TV.
Mykonos Bay has a spectacular pool where guests are able to relax, reset, and enter vacation mode. There is also room service and a concierge to make sure you have all your needs taken care of, whether you are in your room, by the pool, or planning an excursion.
This hotel is in the perfect location for those who want to tour Mykonos. There are several dining options near the hotel, as well as exciting places to shop and art galleries to visit.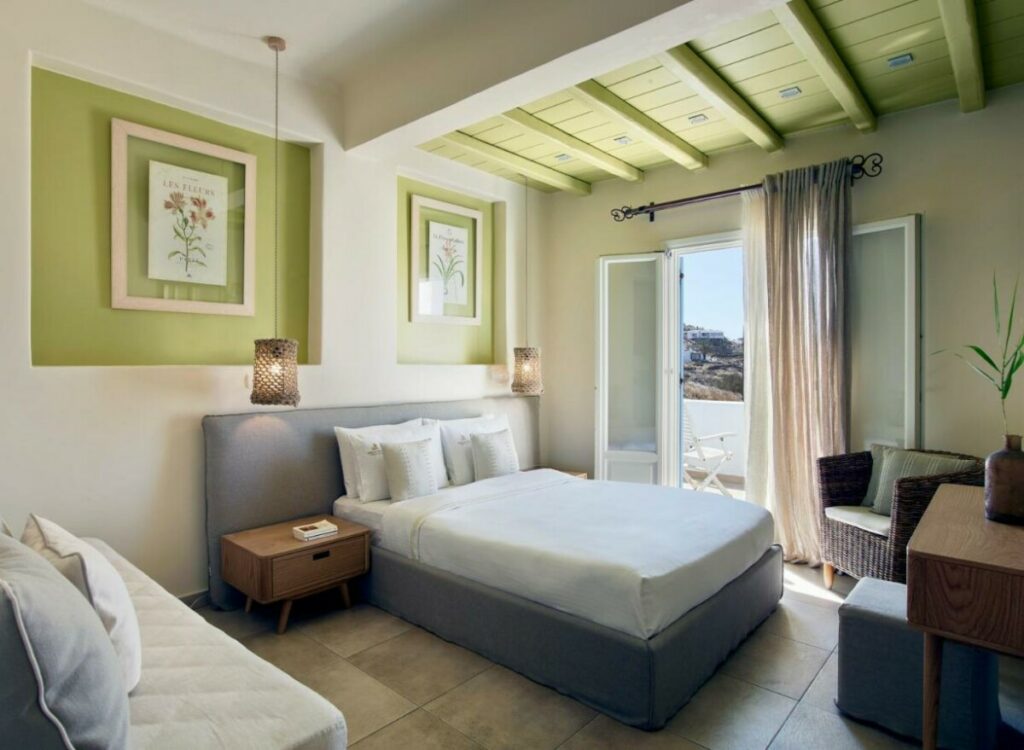 Step foot into paradise when you enter Vencia Boutique Hotel, where customer satisfaction is the ultimate priority. This spectacular hotel is just a short walk from the exciting town of Chora and is set so that it has breathtaking views of the Aegean Sea.
There are 13 styles of rooms available at Vencia, and each offers an unforgettable luxury feel. Rooms come with a sea or garden view and amenities that build from premium to superior. Each room comes with its own private balcony, flat screen TV, and separate bathroom.
The rooms are designed in a natural theme, with gorgeous neutral beddings, nature-inspired fixtures and accents, and potted plants. Each room has its own unique views of the garden or sea.
The hotel has a restaurant and bar on-site that offers incredible meals, snacks, drinks, and deserts. The poolside bar is a guest favorite for relaxing and catching some rays at the same time.
The infinity pool has been voted for being in the top 10 pools in the world, and it's easy to see why. From the luxury loungers to the stunning view, the pool is a vibe you will want to revisit again and again.
Vencia Hotel also has an incredible list of wellness and beauty services. The on-site spa specializes in massage treatments and luxury beauty services. There is also a personal trainer on staff for those who want to keep up with their exercise routine while traveling.
Guests enjoy trying the restaurants near the hotel and visiting the art galleries and nearby beaches if they want to get out and explore Mykonos.

Vergina Hotel allows its guests to experience paradise and pampering each day during their stay. This beautiful hotel is located on Vergina Beach, which is known for its golden sand and crystal-clear water.
The rooms at Vergina Hotel are styled in crisp white colors with soft neutral colors and nature brought in all around. The ceilings are wood paneled and have beams, which creates a cozy environment for your vacation.
There's no need for lots of colors because right outside your furnished balcony is the stunning turquoise water and golden beach.
The rooms at the hotel range from standard rooms to apartments to suites. Each room is an allergy-free room with blackout curtains, a beautiful modern bathroom, an air purifier, and satellite flatscreen TVs.
Rooms are right on the beach, allowing guests to have private access whenever they feel the need to go out and spend time with the sea.
There's something for everyone at Vergina Hotel. Of course, there's the beach and the beautiful view, but there are also incredible pools which are a great place to let your worries slip away. Kids love the playground and kids pool that was specifically designed for children. There are also yoga classes and a sauna to utilize when you need to find your inner peace.
Vergina Hotel has an on-site restaurant with an incredible list of fine dining cuisine. All meals are made with fresh and naturally produced ingredients from local sources. This restaurant not only has an extensive menu of delicious meals, but it also has a host of signature drinks and cocktails to help you unwind.
The best part about the restaurant is that you get to take in the beautiful view of the ocean as you indulge in terrific cuisine.

Are you looking for the perfect destination for fun, relaxation, and exploring? If so, The Village Resort and Waterpark is exactly what you are looking for. This resort is located in Hersonissos and is the perfect blend of ultimate relaxation and ultimate fun.
This resort is remarkably decorated in neutral colors with crisp white bedding and towels. Each room has a minimalist design, with living plants used to create a relaxing atmosphere.
The accommodations all feature soundproofed rooms, a private balcony or picturesque window, a safe, and a flatscreen TV. From the balcony, guests can take in the view of the mountains, pool, or ocean, depending on the room they select.
The most exciting facility on this property would be the waterpark. This resort truly has something for everyone, with its waterslides for all ages, as well as day and night bars.
You will never run out of things to do when staying at The Village Resort and Waterpark. Besides the waterpark, there are activities such as mini soccer and ping-pong available on a regular basis. There is also a spa that offers a multitude of massage therapies, body treatments, and facials for those who want to focus on their body and spirit.
There is a variety of things to do within walking distance from the resort. Activities that are guest favorites include visits to Crete Golf, The Creta Aquarium, and nearby ancient monuments.

Take a break from the daily grind and visit Zoes Hotel & Suites for a vacation filled with relaxation, rest, and excitement. This hotel is just a short walk from the beach and surrounded lush botanical gardens.
Each of the rooms is beautifully decorated with earth tones and accents of turquoise. The rooms bring in natural elements in the room design, which makes the room have a spa-like atmosphere.
Each room comes with a furnished balcony with views of the garden, pool, and sea. The rooms also come standard with a refrigerator, safe, and flatscreen TV.
Zoes has 2 incredible swimming pools on the property, one is exclusively for adults, and the other is for children. There's a snack bar next to the pool where guests can get light meals and signature drinks.
The on-site restaurant serves Greek and international cuisine all day, so you don't have to worry when hunger strikes.
The hotel is near Old Town, where guests enjoy dining at a variety of restaurants and visiting attractions such as the Kallithea Therme, golf courses, and a casino.
Amar was born and raised in England and embarked on an 11-country round-the-world gap year after graduation and then became well and truly hooked. The first gap year inspired a second, which ended up being a 23-country down-the-world trip from Canada to Antarctica. Since then, Amar has spent the last 14 years traveling the 7 continents.