Miami is a city of culture, gourmet foods, art, and lively entertainment. Each year, approximately 24 million visitors come to take in the amazing city. Visitors love the gorgeous beaches and fabulous weather, which makes it a popular vacation spot for families, couples, or groups of friends.
The Best Party Hotels in Miami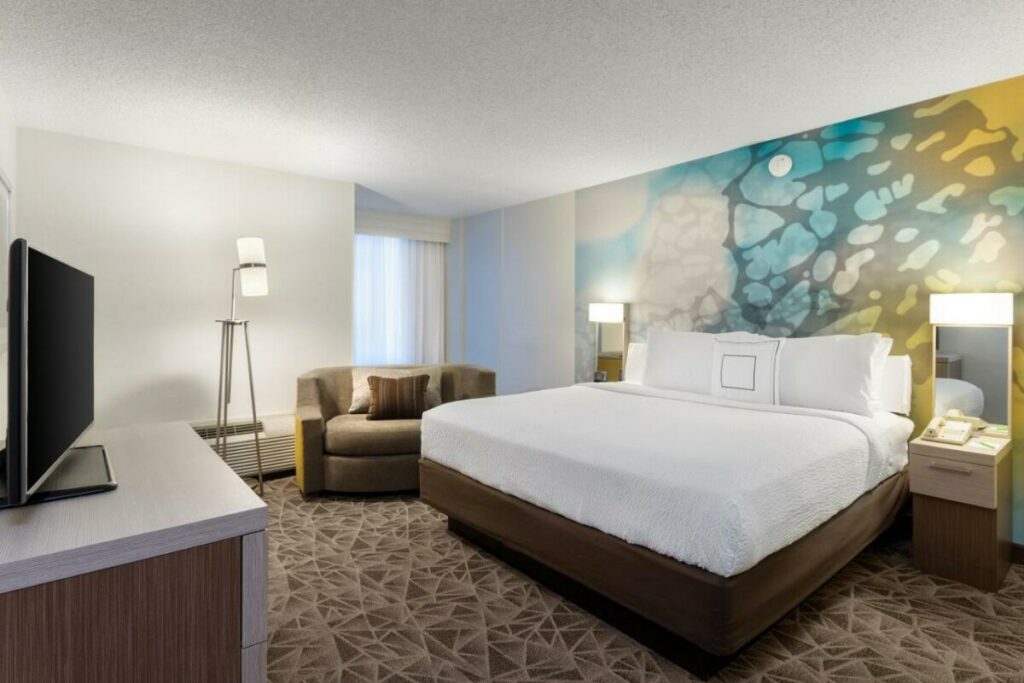 Experience extreme excitement and luxury when staying at Courtyard Miami Downtown in the heart of Miami.
There are 6 different types of rooms to choose from at Courtyard Miami, each designed with gorgeous neutrals, dark furniture, and bright accent walls with beautiful artwork.
The rooms come with room service and housekeeping, along with a flat-screen TV and plush luxury bedding.
This property has a phenomenal restaurant where guests can enjoy a delicious meal, seasonal cocktails, or a coffee from Starbucks.
There is an incredible fitness center on-site where guests are able to stay fit while enjoying the view looking out at the sparkling pool and Miami skyline.
For those who are looking for sightseeing and other adventurous opportunities, Courtyard Miami is in the perfect spot for checking out art and history museums, dining in fabulous restaurants, and dancing the night away in the clubs.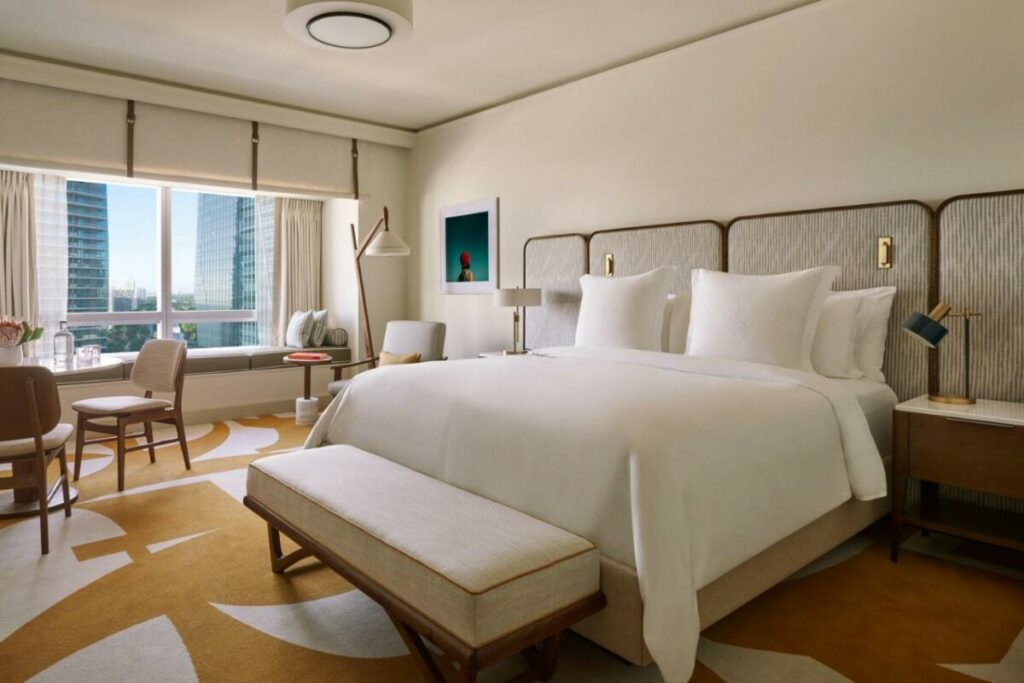 Escape from the day-to-day grind when you enter Four Seasons Hotel Miami. This gorgeous property is the perfect way to relax and let loose, whether traveling with family or friends.
There are 5 different types of rooms available at Four Seasons, each decorated in calming neutrals with fun accents occasionally popping up in the furniture and décor. Each room offers stunning views of either the bay or the city, which can be viewed from the window seat.
The rooms also feature plush bathrobes, an additional bathroom, flatscreen TVs with On Demand access, and a minibar.
The pools are popular places to relax and have fun when staying at the Four Seasons. There's a pool area on the seventh floor where guests are able to swim or lounge while taking in the view of the Miami skyline.
The main pool is heated, and there is a kid's pool where kids can splash around and have a blast. A favorite feature of guests is the hammocks set up in Palm Grove.
For those seeking a tranquil experience, the spa and wellness center can take care of all your needs. There is something for everyone, from massage therapy to hydro facials to salon treatments. Four Seasons also offers awesome packages that bundle several spa services for an experience that is unforgettable.
There are 2 stylish restaurants on the property, a steakhouse, and a Mexican-inspired restaurant. Each dining facility offers dishes made with high-quality ingredients. Guests are also able to have private dining experiences, either in their guest room or in one of the private dining rooms.
Take a short walk from the property, and you will be surrounded by close to 100 restaurants, bars, and parks to check out.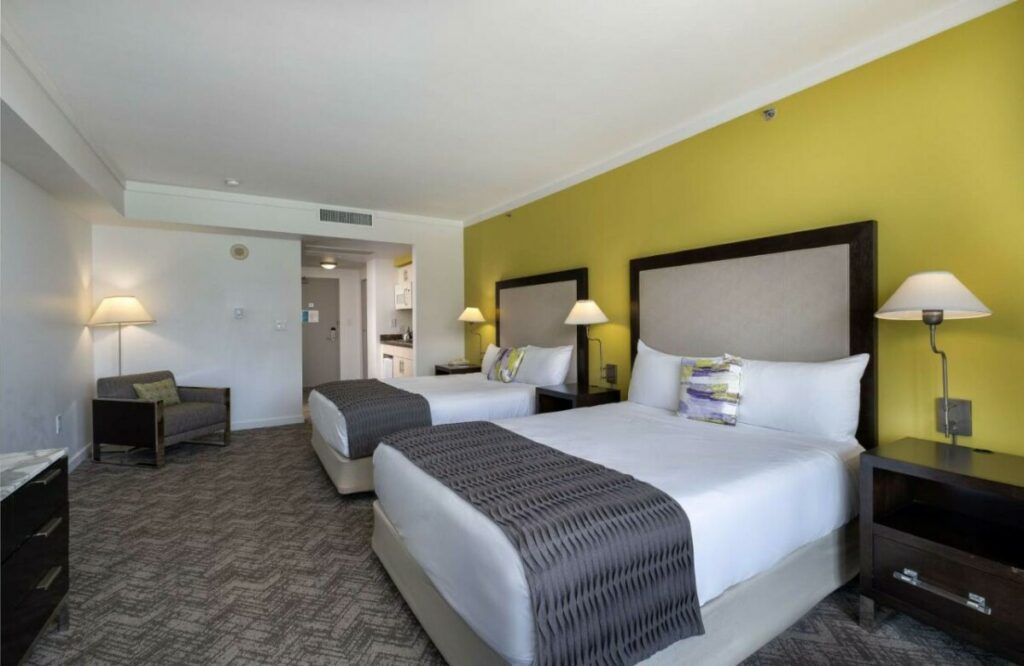 Experience the best of both worlds when you stay at Hotel Arya BW Premier Collection, located a few minutes from the busy Miami beach scene. This property allows its guests to be close to the party area but in a secluded area where they can enjoy the calmness that everyone desires on vacation.
The rooms at Hotel Arya are decorated in soothing neutral tones with dark furniture and a gorgeous view from the large window. The rooms also come with a coffee and tea area, satellite flatscreen TVs, and a refrigerator.
The amenities go on for days at Hotel Arya. There is a sparkling heated pool and sky bar for guests to enjoy bathing in the sun and sipping on a signature drink. In addition, the hotel offers poolside services to ensure that every need is met throughout your stay.
There is also a steam room, sauna, and exercise facility for those who want pampering or an active workout.
The on-site restaurant and bar offer guests a night to remember. With its delicious Latin-American cuisine and delicious drinks, you will be able to relax and enjoy the ambiance and company.
When you want to experience the lively Miami atmosphere, there is a host of diverse restaurants, parks, and nightclubs just a short walk from the property.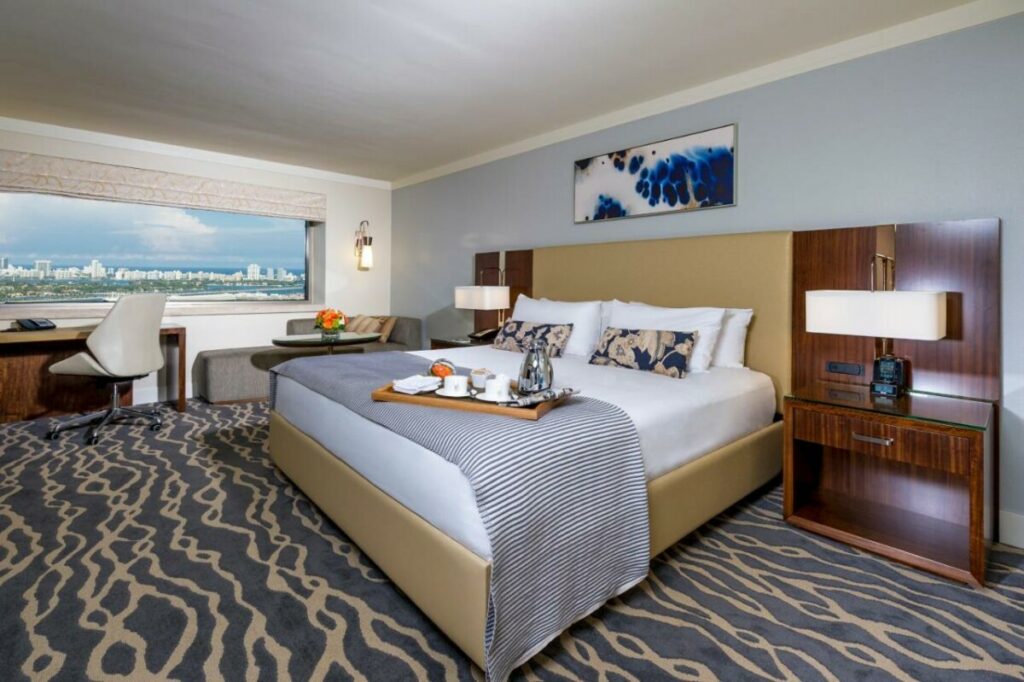 Feel like a royal when staying at InterContinental Miami, located in the heart of Miami. This hotel offers guests a royal experience with its luxury services and amenities.
There are 653 rooms and suites available at InterContinental Miami, and each accommodation is elegantly decorated with a stylish patterned carpet, white linens, and accent linens and décor in beautiful shades of blue, tying in the beach vibe.
In addition, rooms come standard with blackout curtains, soundproofed walls, a coffee and tea nook, gorgeous bathrooms with walk-in showers, and a flat-screen satellite TV.
The services offered at InterContinental are such a luxury. Guests are able to take advantage of turndown services and private limousines. The on-site spa allows guests to spend the day getting pampered through massage and body treatments.
There are 5 different restaurants and bars for guests to enjoy at InterContinental. Cuisine options range from American, Latin-American, and other cuisines from around the world.
There are parks, cinemas, and many restaurants to try within a few minutes walk from the property. The fun and excitement are never-ending at InterContinental.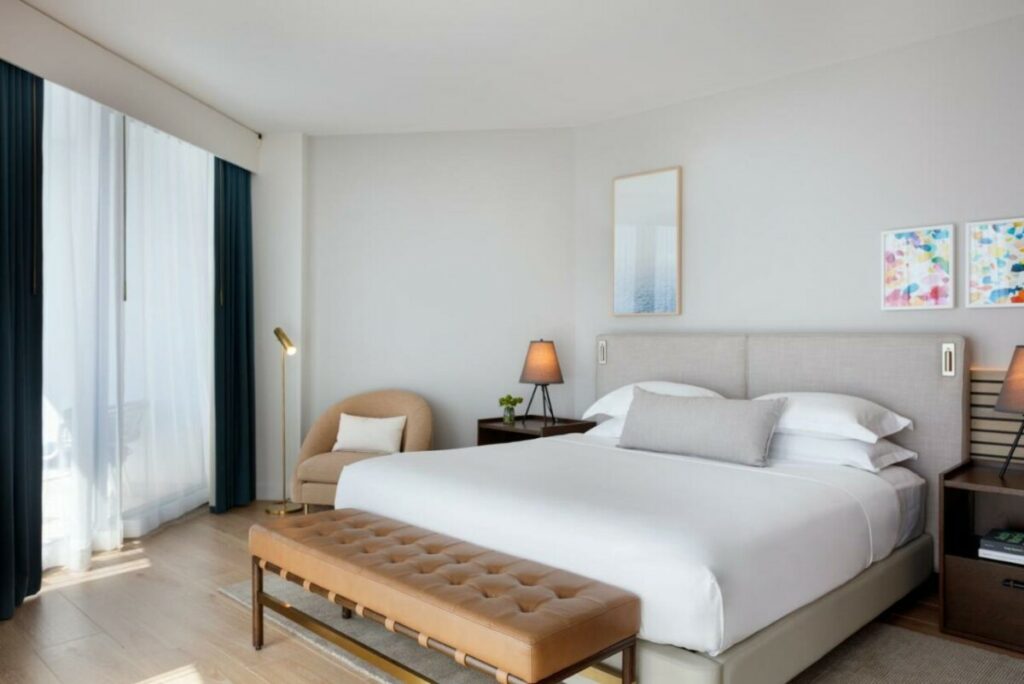 Try something new at Kimpton EPIC Hotel, located in the heart of Miami's city financial district with views of the gorgeous Miami River and Biscayne Bay.
Each room at Kimpton Hotel has breathtaking views to admire from the floor-to-ceiling windows. The accommodations are allergy-free and come with a private balcony, minibar, walk-in shower, and blackout curtains. In addition, guests can choose from views of the ocean or pool.
The rooms are decorated in a modern fashion, with a neutral color scheme and accents in turquoise blue.
The pool and deck are located on the 16th floor, so guests can admire the beautiful view from the sky. In addition, guests enjoy spending time in the Exhale Spa, where they can take a break from busy schedules and constant noise and focus on bringing peace into their bodies and mind.
For food enthusiasts, there is an on-site restaurant serving a variety of American dishes. The bars on the property serve fine wines, signature cocktails, and top-shelf liquors.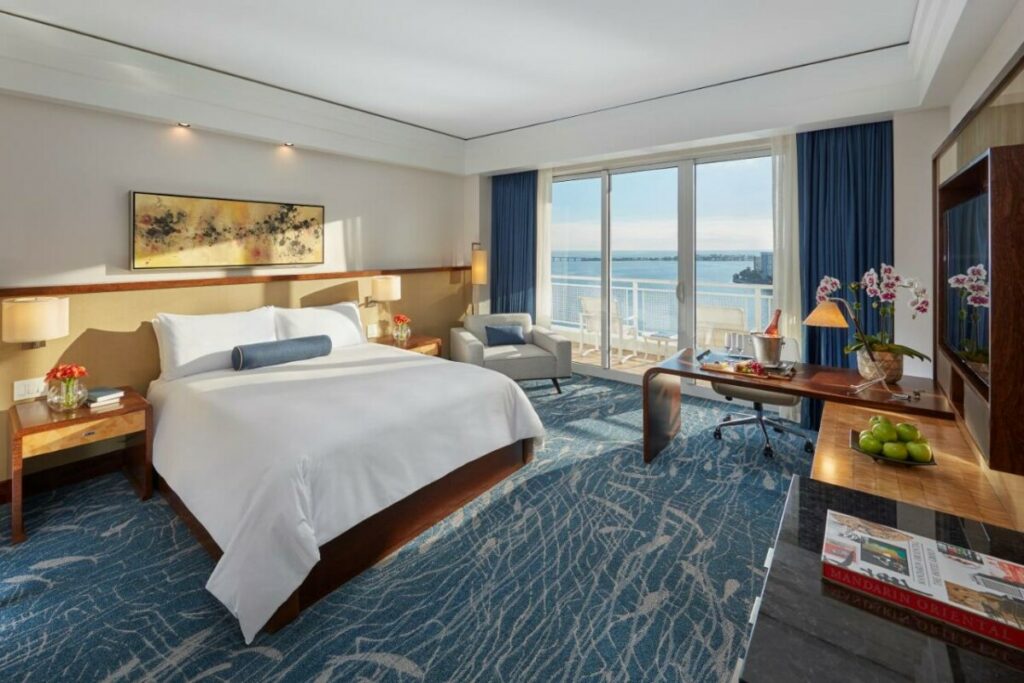 Enjoy an unforgettable, unique experience while staying at Mandarin Oriental Miami. This 5-star, Asian-inspired hotel and spa offers guests a fun, relaxing escape from the everyday routine.
There are 8 room styles to choose from, each decorated in an Asian theme. Rooms include a minibar, evening turndown service, and a marble bathroom with a separate shower and soaker tub.
The infinity pool is an amazing spot to soak in the sun, cool off, and lounge. With the pool butler service, guests are able to lay back and let their worries slip away. For those who are seeking a tranquil, calming experience, the on-site spa is the perfect place to unwind and be pampered.
The hotel has a state-of-the-art fitness center and personal training sessions if you are more interested in a high-energy workout.
Guests can enjoy one of the many culinary experiences at one of the restaurants at Mandarin Oriental. Cuisine served includes Peruvian and American dishes. The bars on the property serve classic cocktails, fine wines, beers, and hard liquors.
For those who want to experience Miami nightlife, you are within walking distance of top-rated bars, nightclubs, and restaurants.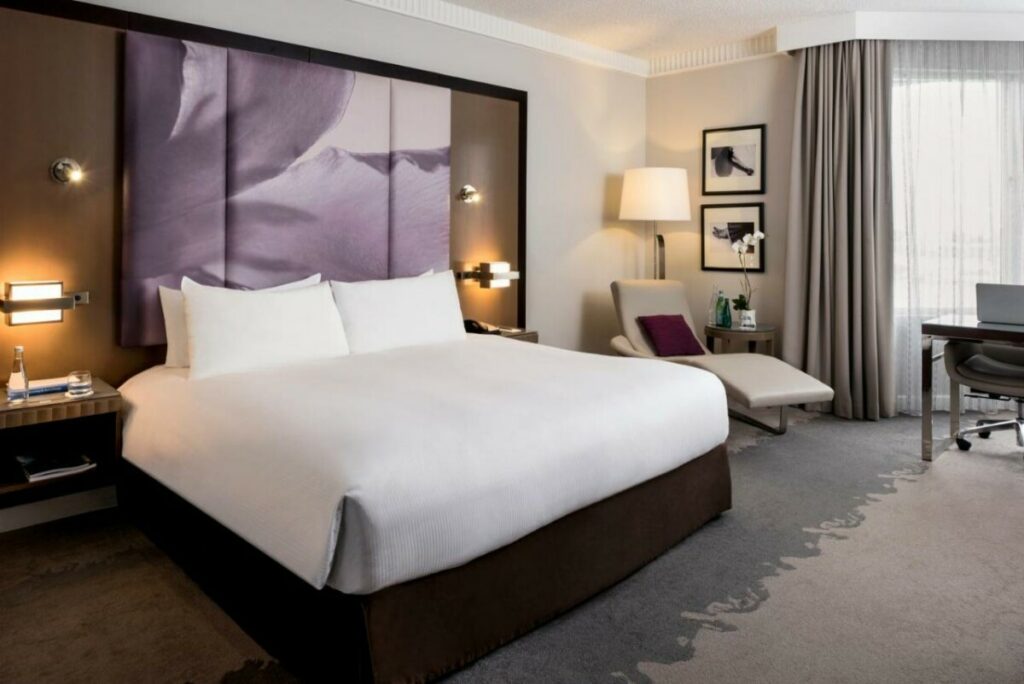 Experience paradise at Pullman Miami Airport in the center of the Waterford Business Park.
There are 281 suites and rooms to select from at Pullman Miami. The décor is a tone with neutral colors, with bursts of lavender in the accents. Rooms come with a gorgeous view of either the city or the lagoon.
Accommodations are allergy-free and offer blackout curtains, satellite TV, and stunning separate bathrooms.
The outdoor, heated pool will take your breath away. The pool has plenty of sun beds, a waterfall feature, and a gorgeous view of the water. The palm trees lining the pool area make the pool ambiance very relaxed and beachy.
The area surrounding Pullman is perfect for those who want to sightsee and tour the area. Near the hotel, guests will find the Blue Lagoon and many restaurants with a wide variety of fare.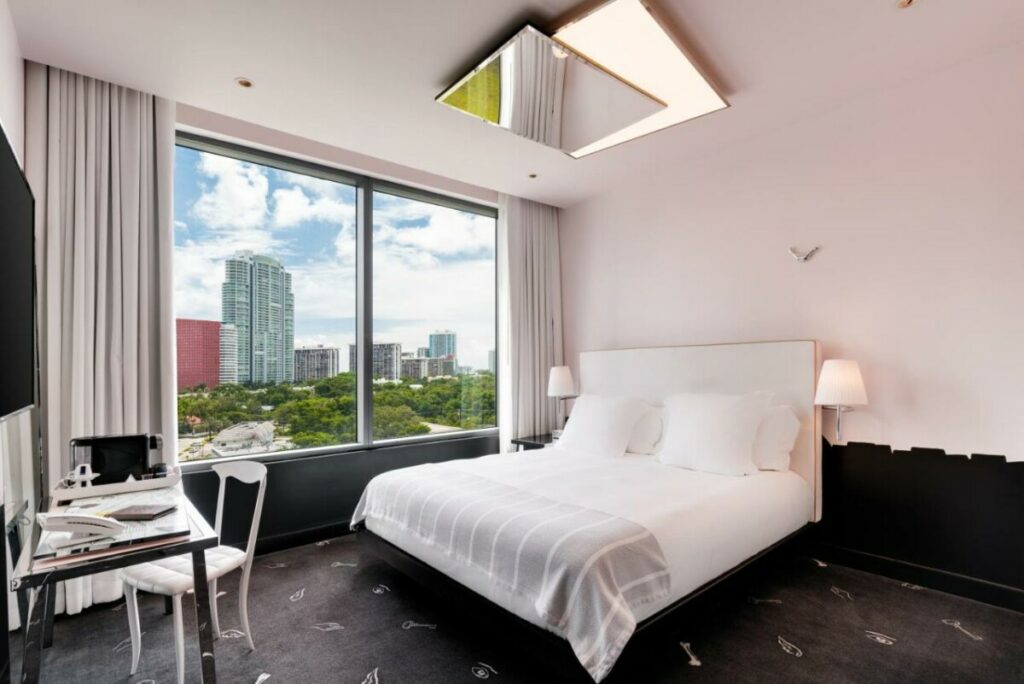 Enjoy the unique experience that SLS Brickell has to offer. Located in downtown Miami, SLS Brickell is a treat for all who visit.
There are 124 rooms and suites for guests to choose from at SLS Brickel, each designed by the famous designer Philippe Starck. Each room is decorated with an exciting carpet pattern with neutral linens, pink walls, abstract art, and nature-inspired furniture.
Accommodations include a minibar, complimentary Wi-Fi, rainfall showers, robes and slippers, and a nightly turndown service.
Ciel Spa is the on-site spa at SLS that specializes in treatment for the body and skin, as well as massage. Guests are able to utilize the sauna, steam rooms, and relaxation lounge.
The pool and pool deck are perfect places to lounge, unwind, and let go of your worries.
For an exquisite culinary experience, the 3 on-site restaurants serve a variety of cuisine, including Italian and American. In addition, the restaurants have outdoor terraces with fireplaces and eclectic music to enjoy throughout your dining experience.
Near the property, guests find the nearby museums, gardens, and markets fun to explore.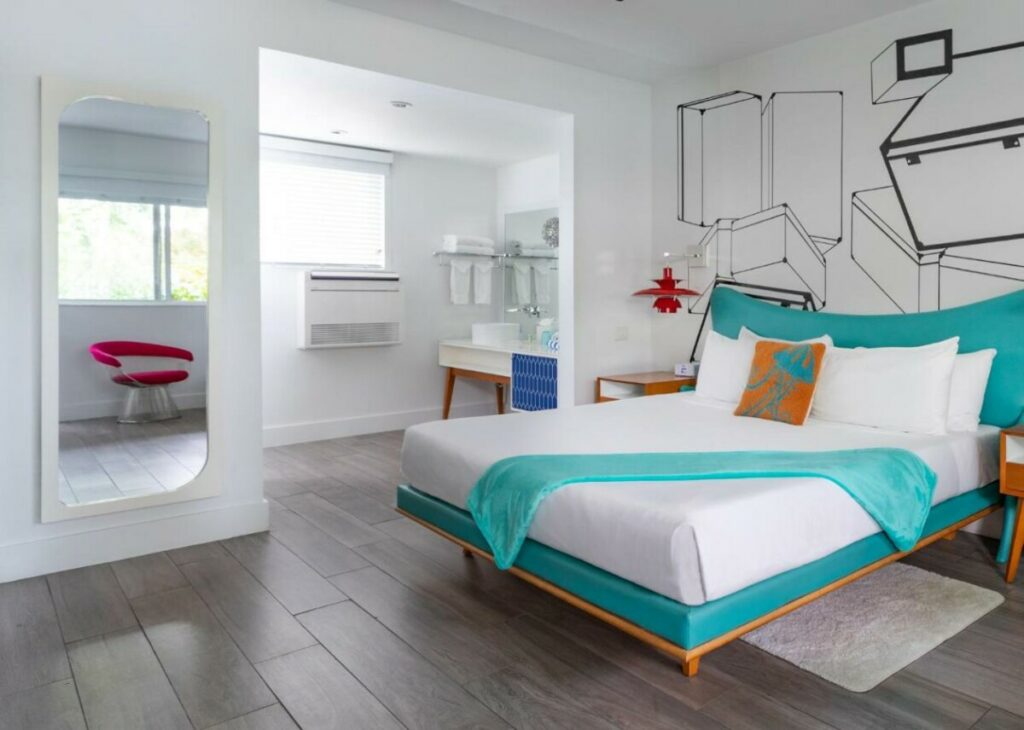 The Vagabond Hotel is a one-of-a-kind boutique hotel that blends modern design with retro décor and ambiance.
There are several room types to choose from at The Vagabond, and each room is decorated with soft white linens and bright bursts of color throughout. Accommodations come with a stunning bathroom, flatscreen TVs, housekeeping, and complimentary toiletries.
The majority of the rooms open to the palm-tree-lined courtyard, pool, and bar.
Guests can dine at the pool bar or at a restaurant called Mr. Mandolin. These restaurants serve a mixture of Mediterranean and American cuisines, along with delightful cocktails, fine wines, and top-shelf liquors.
For guests who want to tour the city, there are iconic landmarks, a great number of restaurants, and gardens to explore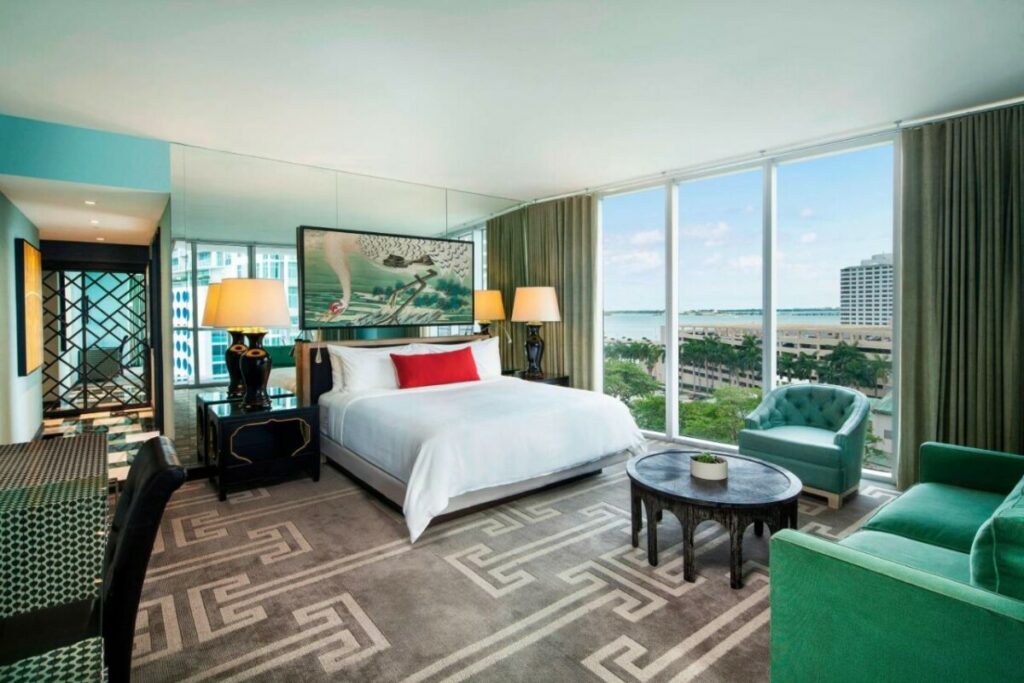 Escape from the ordinary at W Miami, right in the center of Wall Street of the Americas in Miami. This stunning hotel is a perfect getaway location for those who are seeking rest, relaxation, and entertainment.
There are 147 rooms on this property, each beautifully decorated with white linens, dark furniture, and pops of color in the accent furniture and décor. Each room comes with a private balcony where guests can take in the view of the Miami River or the city.
Rooms also come with marbled private bathrooms, a kitchenette, and a flat-screen TV with a film library.
The water lounge has a reflecting pool, hot or cold plunge pools, and a floating library.
The on-site restaurant serves a seasonal American and boasts a breathtaking view of Biscayne Bay and the infinity pool.
Should you want to venture off the property, there are several attractions to take in. Guests enjoy hiking through the nearby parks and checking out the nature center. Thereare art galleries, museums, and many diverse restaurants to check out for cultural activities.
Amar was born and raised in England and embarked on an 11-country round-the-world gap year after graduation and then became well and truly hooked. The first gap year inspired a second, which ended up being a 23-country down-the-world trip from Canada to Antarctica. Since then, Amar has spent the last 14 years traveling the 7 continents.