What happens in Vegas stays in Vegas. That's right! Las Vegas is the place to let loose and have the time of your life. Visitors decide to vacation in Vegas for its exciting nightlife, amazing shows, musical performance, and remarkable museums.
Las Vegas brings in 32 million visitors each year and is home to many incredible hotels and casinos where guests can take a break from reality and experience ultimate fun and entertainment.
The Best Party Hotels in Las Vegas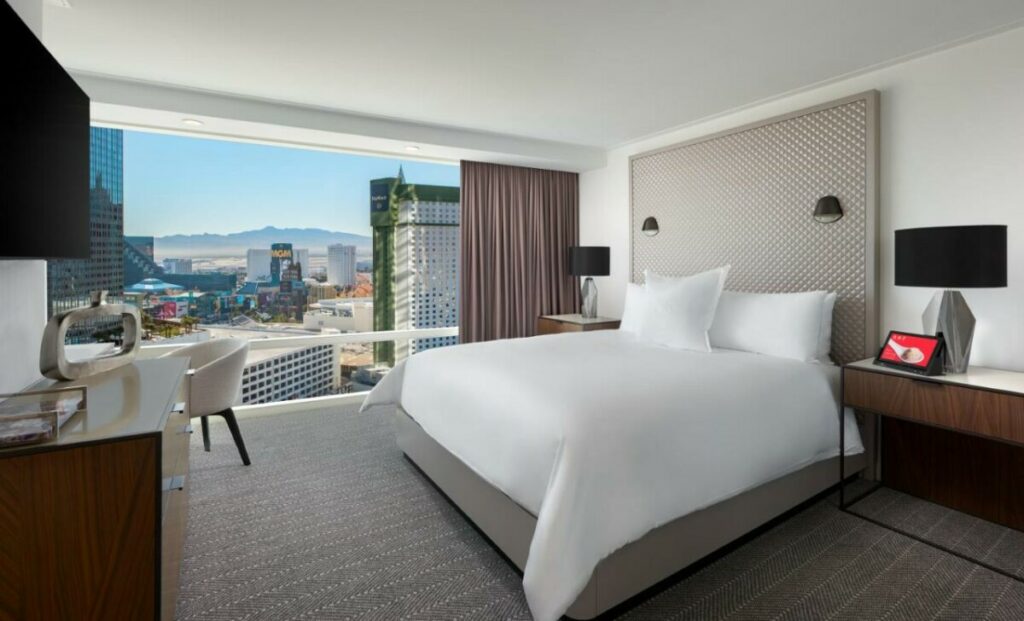 ARIA Resort & Casino is located right on the Las Vegas Strip and is the perfect destination for an unforgettable vacation.
There are 12 types of rooms for guests to choose from at ARIA, including deluxe rooms, corner suites, and penthouse suites. The rooms are decorated in chic neutral tones, making guests feel as if they are in a spa.
Each room features a stocked minibar, a separate bathroom, a navigation system to customize the room to meet your exact needs, tubs for soaking, and a stunning view.
The entertainment never ends at ARIA. Guests can relax by one of the 3 outdoor pools during the day or spend time getting pampered in the on-site spa.
At night, guests can live it up at the casino, where there are slot machines, table games, poker games, and more. The hotel also hosts incredible live music shows and performances.
This incredible location has everything to offer its guests for an authentic Vegas vacation, but if you're wanting to explore away from the property, you are just a few steps away from shopping centers, theaters, and famous attractions like the Bellagio Fountains.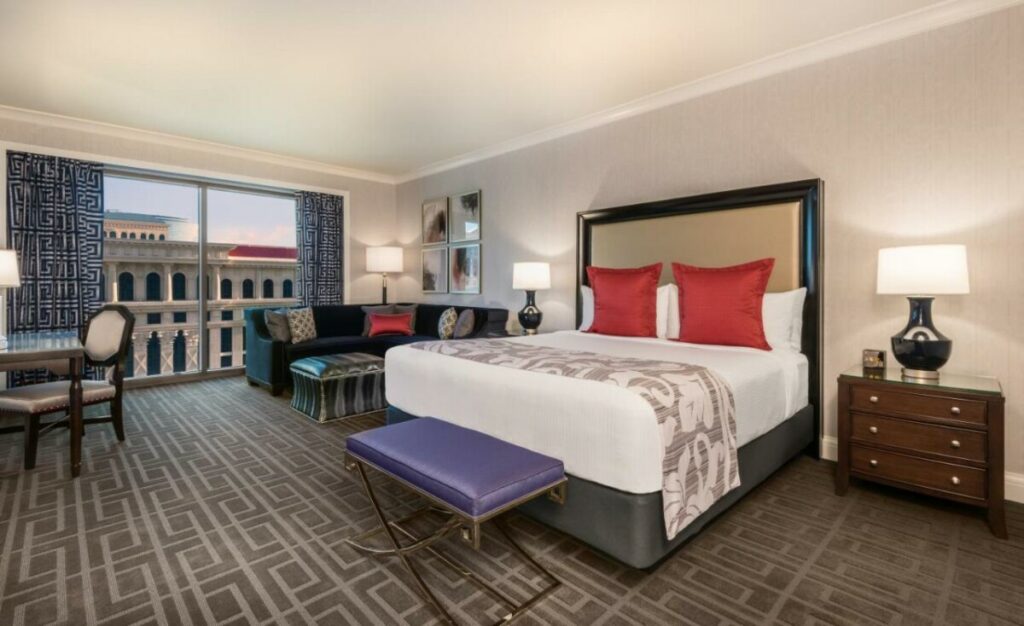 Experience the ultimate Vegas getaway at Caesars Palace Hotel & Casino. This luxury hotel and casino is located right on the Las Vegas strip and is one of the most notorious hotels in the city.
With 17 room styles to choose from, guests can be sure that they will experience luxury at its finest while staying at Caesars Palace. The design of the accommodations is stylish and chic, with neutral tones and subtle bursts of bright colors in the accents.
In addition, each room features flat-screen TVs, attached bathrooms, turndown service, minibars, and hypo-allergenic bedding.
No matter how you choose to spend your day, there is something for everyone. Enjoy the day getting pampered in the upscale spa or lounging by one of the 7 pools on the property.
Food enthusiasts will be in heaven at Caesars Palace with 13 different restaurants on-site, including the famous Gordon Ramsay's Hell's Kitchen, Nobu, Bobby Flay's Mesa Grill, and Beijing Noodles No. 9.
Try your luck at the stylish casino on the property, where you can bet on luxe racing and sports, give the slots a spin, or play the table games.
A short walk from the hotel takes guests to museums, fine art galleries, and shopping centers.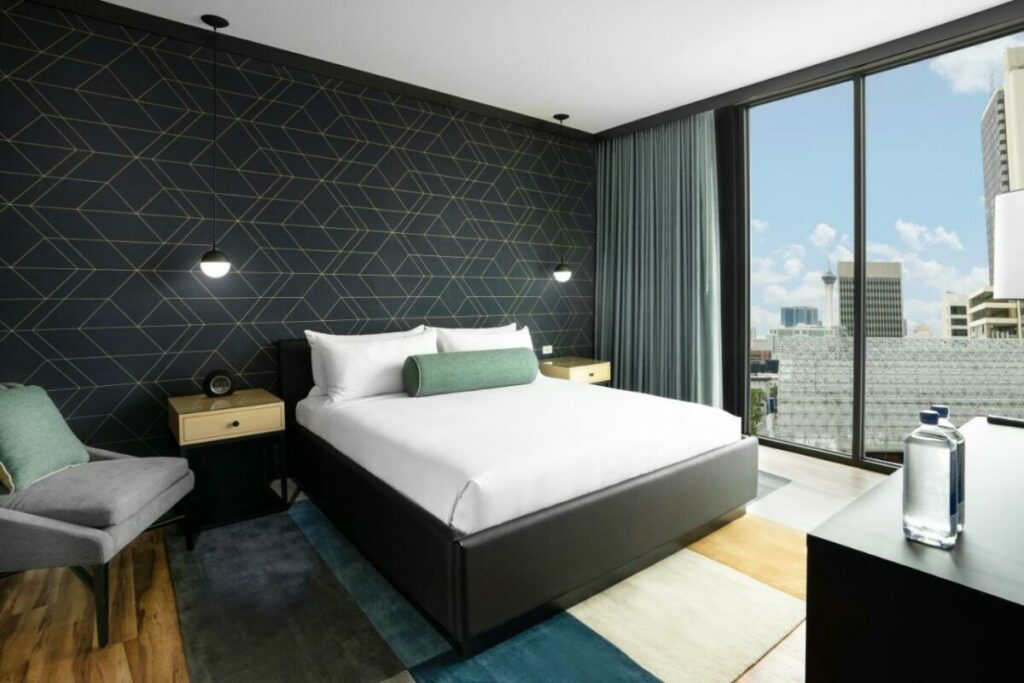 Feel like royalty when staying at Downtown Grand Hotel & Casino, located right in the heart of downtown Vegas.
The hotel has rooms and suites in 2 separate towers, which gives guests an opportunity for a personalized experience. The rooms in the Gallery Tower are boutique rooms that have an artistic ambiance, while the rooms in the Casino and Grand Towers feature a dynamic Vegas stay.
Each room has luxury bedding and mattresses, large flatscreen TVs, white noise machines, and complimentary Wi-Fi.
The rooftop pool is a popular spot where guests hang out. From this location, visitors can take in the city's skyline, lounge in the shaded cabanas or outdoor daybeds, gather with friends around the fire pit, or play lawn games.
There are 4 restaurants and 4 bars located on the property. Menus range from top-quality steaks, gourmet, hand-tossed pizzas, and everything else you can imagine in between.
The Downtown Grand has one of the best selections of casino games in Vegas. There is an array of table games, slot machines, video poker, and sports betting.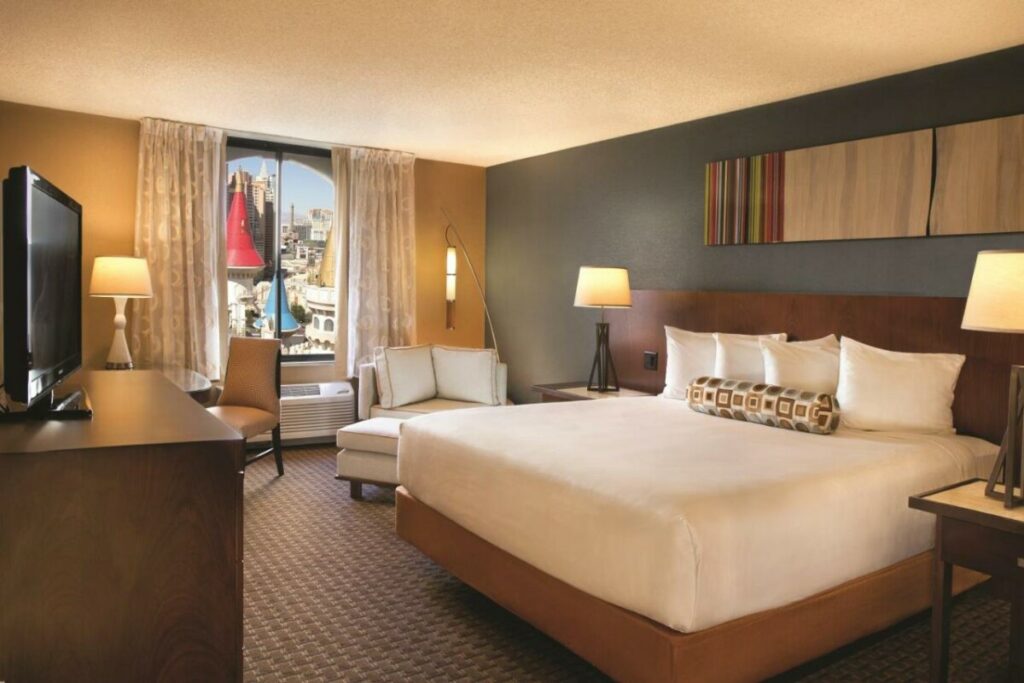 Live like royalty when staying at Excalibur, a castle-themed resort and casino located right on the Vegas strip.
There are 12 room choices at Excalibur, ranging from royal standard rooms to luxury suites. The rooms are styled with soothingly neutral colors and modern furnishings. In addition, rooms feature blackout curtains, daily housekeeping, flatscreen TVs, and walk-in showers.
While staying at the castle, guests can enjoy lounging by one of the 4 heated pools, utilize the fitness room, or take some time for pampering at the on-site spa.
Vegas is known for gambling and fun, and Excalibur has a casino that is one to remember. Favorite areas in this casino include the slot machines, table games, poker room, and racing.
There are 6 restaurants, and 2 bars at the hotel with a range of cuisine from fast food burgers and shakes to fine dining.
Guests can enjoy live entertainment at the hotel, including great musical performances and even a medieval joust dinner show called the Tournament of Kings.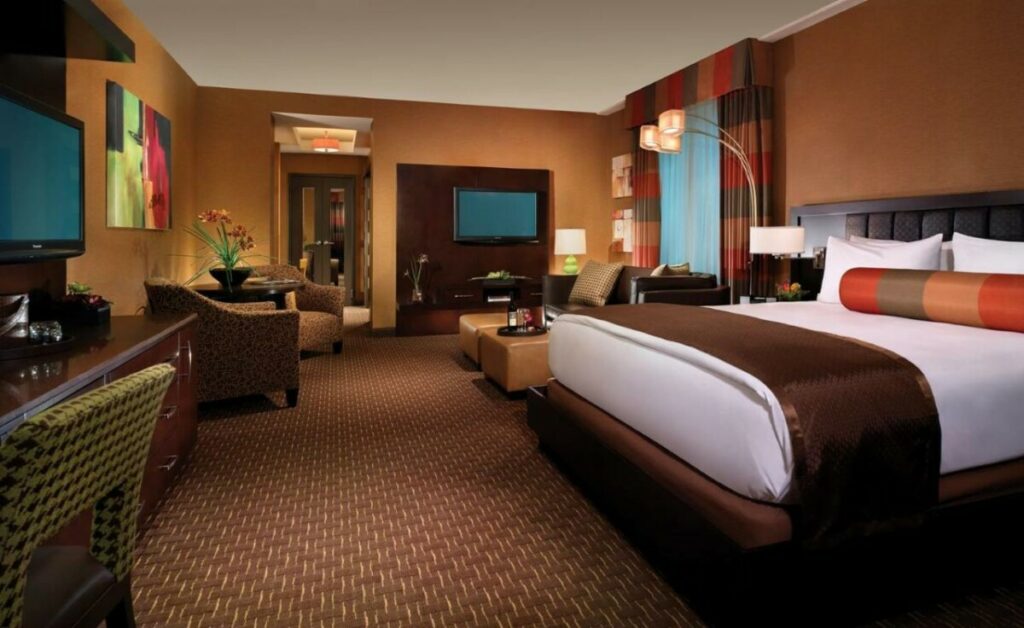 Golden Nugget Hotel & Casino Las Vegas is a luxury hotel in the heart of downtown Las Vegas on Fremont Street. This critically acclaimed hotel has something to offer all its guests who are seeking an unforgettable Vegas vacation.
There are 4 towers of accommodations available at Golden Nugget, with over 2,400 rooms and suites to choose from. The 4 towers include the Spa Tower, Rush Tower, Gold Tower, and Carson Tower, and each building features its own style, from spa-like rooms to lively rooms with access to the casino.
In addition, each room features flatscreen TVs, VIP room facilities, On Demand channels, and room service.
The pools are remarkable at Golden Nugget. The most famous pool on this property is The Tank and HideOut pool complex, which features a 200,000-gallon shark tank with a waterslide going straight through it. The private cabanas stretch over 3 separate floors to rest, socialize, and cool off on a hot day.
There are 9 restaurants and 2 cafes on the property. The menus vary from gourmet steakhouses, seafood restaurants, and fast-food restaurants. There is something for every craving.
For entertainment, guests can spend the evening at the casino, grab seats at a live musical performance, or check out one of the exhibits on the property.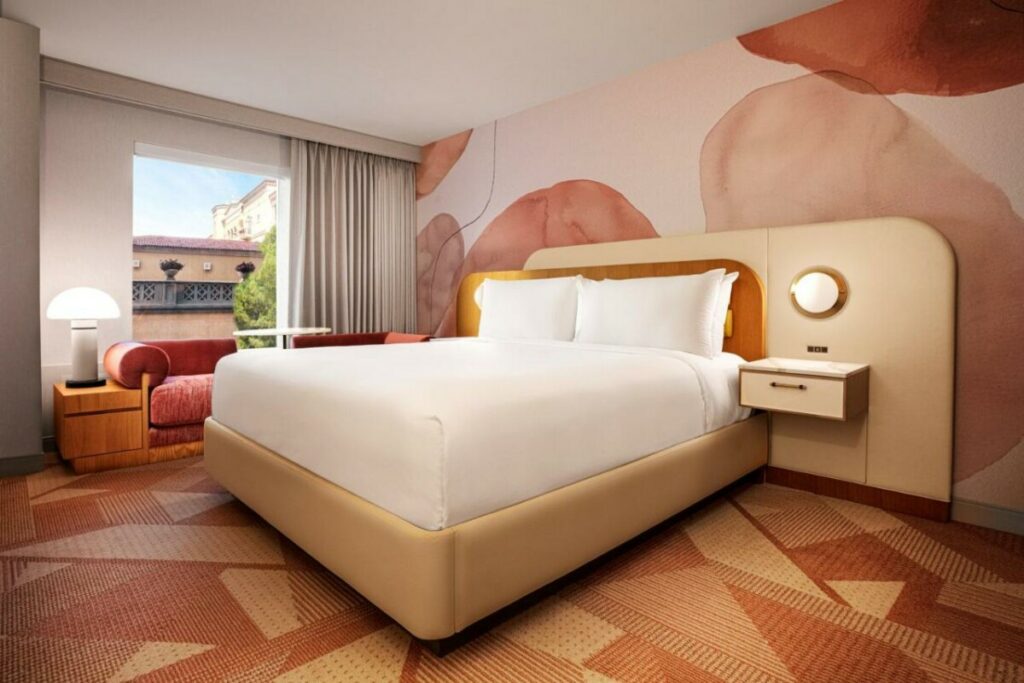 Try something new at MGM Grand Hotel and Casino. This is the perfect choice for those who want to experience Las Vegas to the fullest. This trendy hotel has everything a guest could need for an incredible vacation to remember.
There are 4 room types to choose from at the MGM Grand, depending on your travel needs and desires. Accommodations are styled in contemporary and classic styles, depending on the room you choose. Each room comes with a minibar, a flat-screen cable TV, and a private bathroom.
Head out to the stunning pool for the perfect place to relax and reset. This area features a lazy river as well as private cabanas for your enjoyment.
There are 18 restaurants on the property serving a wide range of cuisine, including pizza, Japanese, French, and other international foods.
The property's casino features exciting slot machines, table games, sports wagering, and more. The hotel has a convenient way to play using an exclusive MGM reward card, so you don't have to worry about having cash on hand.
For guests who want to leave the property to see what the surroundings have to offer, MGM Grand is in the ideal location for exploring. Near the hotel, guests can find many opportunities for shopping, dining, and entertainment.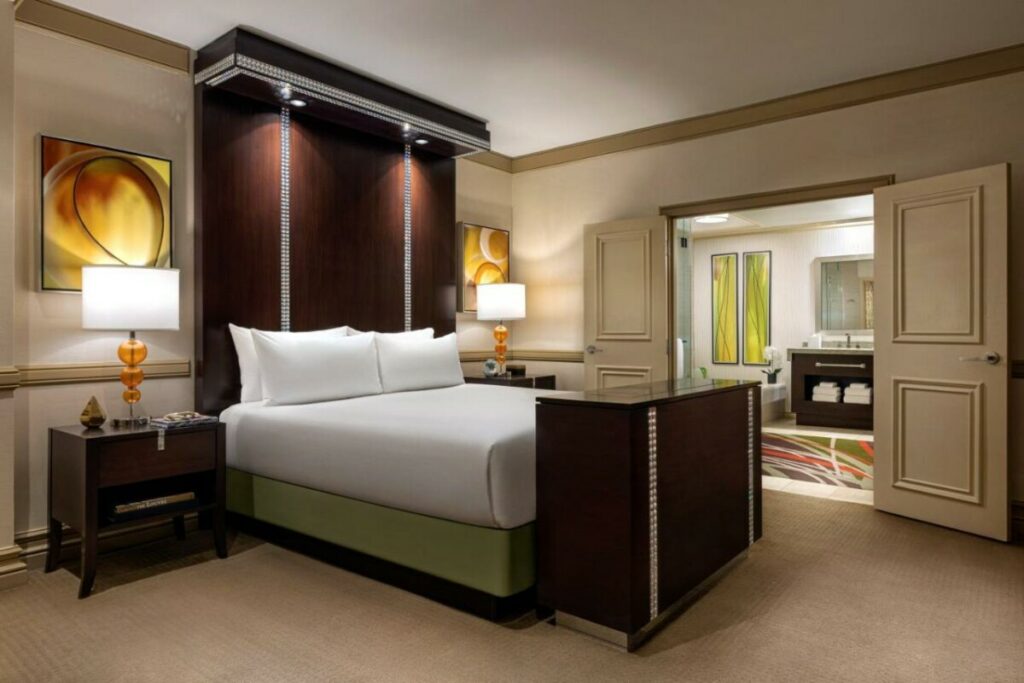 Experience supreme luxury at The Mirage Hotel & Casino. This award-winning hotel is located right on the Vegas strip and features an iconic volcano, so you can't miss it.
There are 21 different accommodations to choose from at The Mirage. These accommodations range from luxury rooms, suites, villas, and lanais, and each has its own unique atmosphere and ambiance.
Each room features a minibar, housekeeping, iPod dock station, flatscreen TVs, and separate bathrooms.
The Mirage is home to a remarkable Dolphin Habitat where guests can meet Atlantic bottlenose dolphins and a Secret Garden where royal white tigers can be seen.
The Mirage knows how to entertain its guests and has incredible shows, including the Cirque du Soleil, a Beetles production, and live music performances.
Food enthusiasts couldn't be happier with the gourmet selection of dining at The Mirage. This hotel features 11 different restaurants on the property where guests can explore an international culinary experience.
The location of this hotel is unbelievable for those who want to take in the nearby attractions. Just a short walk from the property, guests can find a host of restaurants, theaters, and activities to enjoy.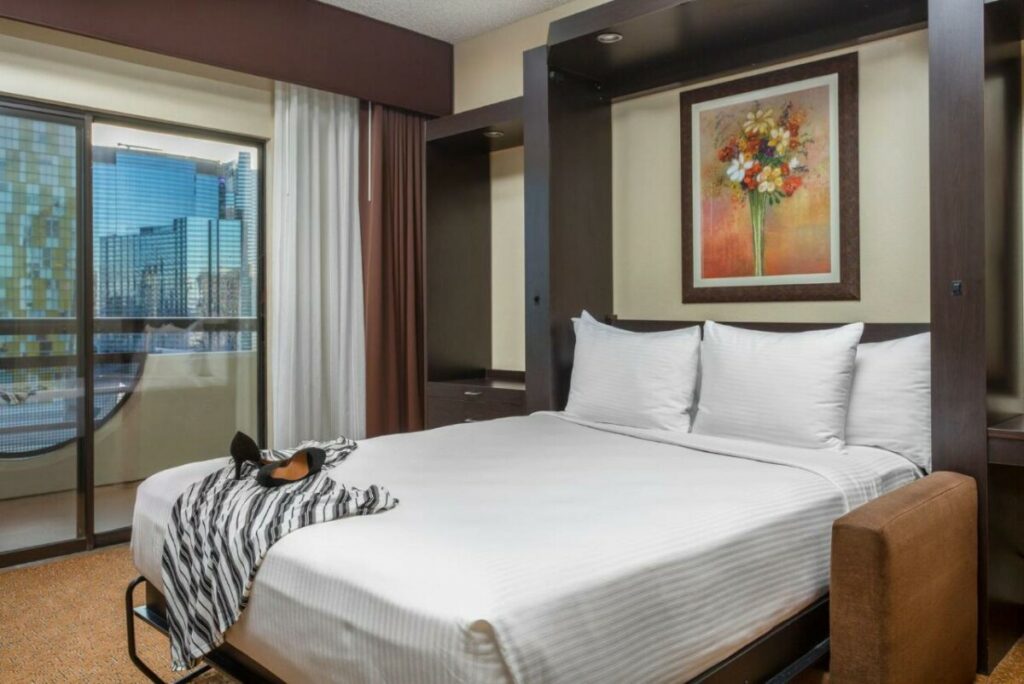 Polo Towers by Diamond Resorts is located right in the midst of all the Vegas action. This exciting resort is the ideal location for a vacation to remember.
There are 3 room styles guests can choose from at Polo Towers, including studios and 1- and 2-bedroom suites. Each room type is decorated in soft neutral colors with subtle touches of opulence in the fixtures and furnishings. Rooms include a kitchenette, flatscreen TV, a private balcony, and an iPod docking station.
Guests staying at Polo Towers can choose from a rooftop pool or a family-friendly pool when they are ready to relax and soak in the sun. There is an on-site fitness center with state-of-the-art equipment for guests who want to keep their workout routine going.
If there are guests who want to disconnect from the lively Vegas scene or duties of everyday life, there is a spa on the property that specializes in massage and rejuvenating body treatments.
The concierge service at Polo Towers is phenomenal. This team of knowledgeable staff members goes above and beyond to help guests book show tickets, discover amazing restaurants, and can even help them schedule tours of famous places in the city.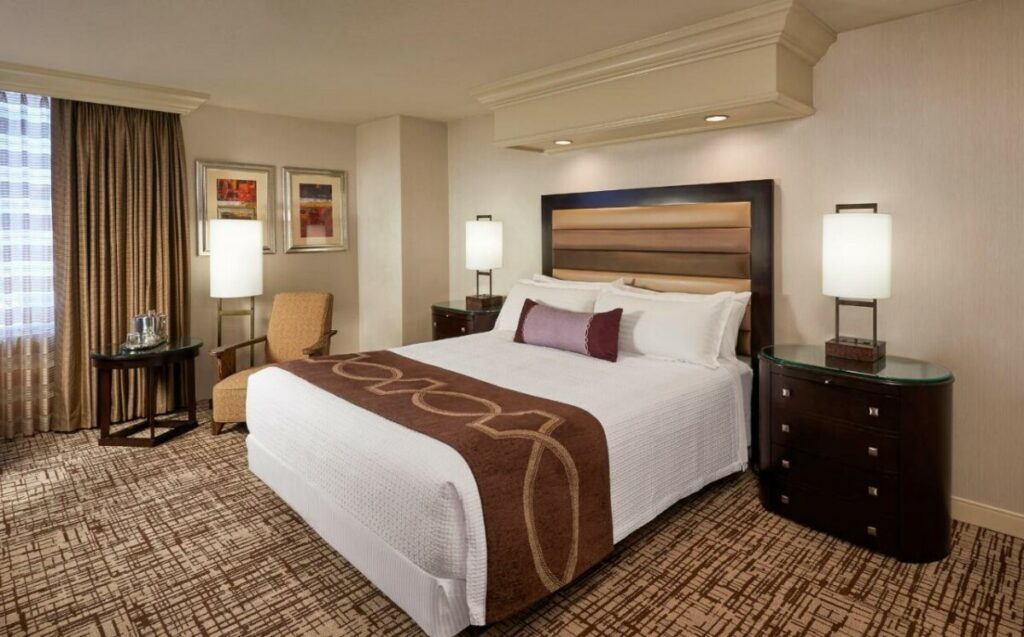 Located right in the midst of all the Vegas excitement is Treasure Island Hotel & Casino. This resort is the ideal location for a vacation to remember.
With 5 room styles to choose from, guests can rest easy knowing that all their vacation needs will be met. The rooms are styled in a classic, elegant design that includes neutral colors, earth tones, and exquisite detail all around.
In addition, each room comes with floor-to-ceiling windows that showcase stunning views of the mountains and Las Vegas strip. Other amenities include a workspace, private bathrooms, VIP room facilities, and cable TV.
The on-site spa is ideal for those who want to reset from daily life and indulge in luxury pampering. This spa is well known for its signature massages and facials.
The expansive casino on the property is filled with table games, slots and video poker, a sports book, and a high-limit lounge. There's something for everyone at Treasure Island's casino.
There are 3 on-site restaurants on this property, including an Italian steak house, a seafood restaurant, and a barbecue joint.
For those who prefer to leave the property for dining and entertainment, this stellar location is within a short walking distance of famous attractions, shopping centers, restaurants, and museums.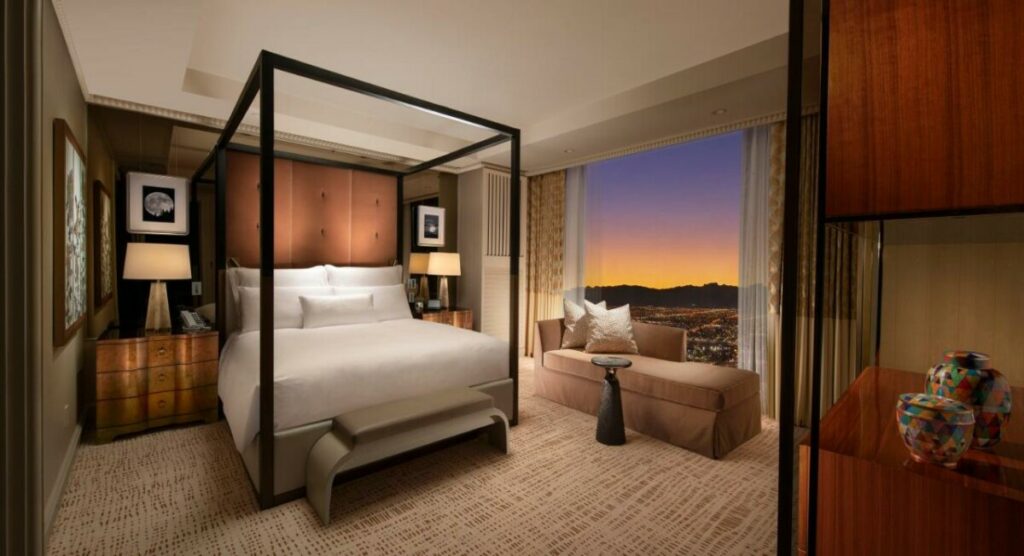 Wynn Las Vegas is a 5-star luxury hotel that is known for its modern and luxurious experiences. This hotel is centrally located on the Vegas strip, where guests won't miss any of the exciting action in Vegas.
There are 6 different room types available at Wynn Las Vegas, which means guests can choose the size, views, and amenities they desire for the perfect vacation. Each room and suite has been designed to bring serenity and style to its guests.
The spacious rooms each include stunning décor and art to give guests the ultimate Vegas stay. These accommodations include specialty bedding and mattresses, flatscreen TVs, and Wi-Fi internet connection.
The casino is grand at Wynn Las Vegas and features over 1,800 slots, 26 poker tables, and a great selection of table games. For guests who want to combine relaxation with gambling, there is poolside blackjack available for the best of both worlds.
This hotel is different from the rest as it also offers luxury shopping experiences for its guests with designer shops such as Chanel and Lous Vuitton.
Foodies will love staying at Wynn Las Vegas as it has 15 restaurants on site. No matter if you are in the mood for Italian, Asian, or seafood, Wynn Las Vegas has your culinary needs covered.
Guests won't have to worry about leaving the hotel for a thing with all that is included in this luxury hotel.
Amar was born and raised in England and embarked on an 11-country round-the-world gap year after graduation and then became well and truly hooked. The first gap year inspired a second, which ended up being a 23-country down-the-world trip from Canada to Antarctica. Since then, Amar has spent the last 14 years traveling the 7 continents.