Playa del Carmen is a popular travel destination for families, couples, and groups of friends. Over 16 million tourists visit Playa del Carmen each year. Visitors love to vacation here for its beautiful beaches, year-round warm weather, and a wonderful city life.
The Best Party Hotels in Playa Del Carmen

Acanto Hotel Playa del Carmen is a glimpse of heaven on earth. This luxury hotel is just steps away from the beach and offers guests a tropical retreat from the busy day-to-day lifestyle.
There are 4 styles of rooms for guests to choose from at Acanto, from penthouse suites to standard rooms. Each room is decorated with a soothing, soft color scheme and beautiful mahogany furnishings.
Accommodations feature gorgeous views, private patios, separate bathrooms, daily maid service, and plasma TVs.
The outdoor pool offers stunning ocean views from the rooftop, a barbecue grill, and a fabulous lounge area for rest and relaxation. Guests who prefer to find inner peace will find all they're looking for at the on-site spa, which includes pampering services such as massage, salon services, and body rituals.
The property also has a fitness center with state-of-the-artequipment and experienced trainers.
Each morning, guests can indulge in a continental breakfast that serves a variety of cuisine each day. For guests who want to experience a private dining experience, the chef will cook a meal of your choice, and you can dine in your room, on the rooftop, or even on the beach.
Acanto is nestled in a wonderful location, just half a block from the well-known 5th Avenue of Play del Carmen. 5th Avenue is famous for its wide variety of restaurants and shops, which is great for those who want to immerse themselves in the culture. For exciting adventures, guests can take tours of the Mayan Ruins or book snorkeling and diving experiences.

See what Playa Del Carmen has to offer at Aventura Mexicana Hotel. This hotel is called an oasis of silence and beauty and is located two blocks from the beach, right off 5th Avenue.
There are 4 different types of rooms at the hotel, including deluxe rooms with views of the pool or city and junior suites. Each room is styled with bright colors that resemble a tropical paradise. The rooms include cable TV, complimentary Wi-Fi, a coffee area, and an attached bathroom.
This remarkable resort offers guests 2 different swimming pools and 3 sundecks where they can lounge and bask in the sun. For those who went to achieve inner peace, on-site spa services are available, including specialty massages, facials, and even couples massage sessions.
The on-site restaurant and bar is open daily for guests to enjoy breakfast, lunch, dinner, and drinks. This fun bar and grill have specialty cocktails and international cuisine that will excite your taste buds.
For those wanting to experience Playa Del Carmen, this location is perfect for exploring the many beaches within walking distance, incredible restaurants, and historical locations.

Be Playa Hotel is an upscale hotel that is located near 5th Avenue in Playa del Carmen. This remarkable hotel is an excellent choice for a couple's getaway, a family trip, or a vacation with friends.
There are 3 room styles at Be Playa, ranging from junior suites to master suites. Each accommodation is decorated in soothing white with modern designs. Rooms feature flatscreen TVs, wood floors, and free Wi-Fi.
The rooftop is the ultimate hangout at Be Playa. Guests can lounge on the sunbeds around the infinity pool, take in the stunning views, and enjoy a smoothie or cocktail from the poolside bar.
The on-site restaurant provides guests with the ultimate culinary experience. Guests can choose from gourmet sushi and delightful Asian delicacies.
Be Playa is in the prime location for experiencing Playa del Carmen. Just a short walk from the property, guests will find many restaurants and beaches, as well as historical places to learn about.

Surrounded by tropical gardens and right next to Playa del Carmen, El Taj Oceanfront and Beachside Condo Hotel is the ideal destination for a vacation of a lifetime.
There are 57 rooms to choose from at El Taj, each one being spacious and luxurious. There are 2 separate buildings for this resort, one with sea views and direct beach access and the other overlooking the pool, ponds, and gardens.
Each suite is styled in a Bali theme, complete with the traditional palapa thatched roof. Rooms include a kitchenette, patio, flatscreen TVs, and beautiful views.
Relaxation is key when vacationing, and El Taj is the perfect place for it. This property has an incredible infinity pool, outdoor hot tub, and spa. There are numerous places for lounging and sunbathing around the property as well. El Taj guests enjoy free access to the property's beach club for those wanting to place their feet in the sand.
There are 3 restaurants to choose from at El Taj, each serving a variety of cuisine. A special option for dining on the property is to have a private chef cook for you in your own suite.
Just 2 blocks from the property is the famous 5th Avenue. This famous boulevard offers guests opportunities to shop in the incredible boutiques or dine at the delightful cafes, bars, and restaurants.

For a peaceful, paradise vacation, visit Fiesta Inn Playa del Carmen. This hotel has thought of everything for guests to enjoy a restful, relaxing vacation. This incredible hotel is located in the heart of Playa Del Carmen, just one block from Quinta Avenida and breathtaking beaches.
There are 7 different room types to choose from at Fiesta Inn. Each room provides guests with luxury bedding, comfortable furniture, smart TV services, soaking bathtubs, and a private terrace. Rooms are styled in a neutral color scheme with subtle bursts of color in the accent furniture.
This hotel has plenty to offer its guests for relaxation, wellness, or even work. The rooftop pool is the perfect place to take in the views of the city and relax by the sparkling water. The gym and wellness center are well stocked with top-notch equipment and incredible views to enjoy during your workout.
Should you have to work while on vacation, the hotel has a business center that is ready to help you with all your work needs.
Food enthusiasts enjoy staying at Fiesta Inn because of its exquisite restaurants and bars. The restaurants serve a variety of Mexican and international meals as well as top-quality cuts of meat and local seafood. Treat your palate with new culinary experiences at Fiesta Inn.
Near the hotel, guests can find stunning attractions to explore, such as the Mayan Ruins, beautiful beaches, and a variety of restaurants and bars.

Experience an authentic Playa Del Carmen vacation at Hotel Riviera Del Sol. This beautiful hotel is located in the heart of downtown Playa Del Carmen.
There are 23 luxury boutique rooms for guests to choose from at Riviera Del Sol ranging from standard rooms to suites. Each room is decorated in traditional Mexican style with beautiful tile floors and mosaic artwork featured on the walls.
Each room overlooks the peaceful garden and beautiful swimming area. Rooms include complimentary Wi-Fi, a mini bar, flatscreen televisions with cable channels, blackout blinds, and a welcome gift.
There are plenty of ways to relax while vacationing at Hotel Riviera del Sol with something for your mind, body, and spirit. The pool area is a wonderful place to soak in the sun and cool off on a hot day.
There are beautiful gardens to enjoy on the property as well. For those wanting to achieve inner peace, you can book a massage or healing technique with one of the therapists at the facility.
The property also has a fitness center with state-of-the-art equipment and workout opportunities for guests.
Each morning guests will enjoy a complimentary breakfast while staying at hotel Riviera Del soil. Each breakfast features fresh juices, seasonal fruits, and great company.
The property is located right in the heart of the city and just around the corner from Fifth Avenue. This is the prime location for experiencing the lively nightlife of Playa Del Carmen.

Experience paradise at Le Reve Hotel, located in the Riviera Maya. This modern, 4-star boutique hotel is the ideal location for couples, friends, or families to disconnect from busy routines and relax with luxury amenities and services.
There are 7 styles of rooms to choose from, including bungalows and master suites. Each room has its own style with crisp white bedding, pops of vibrant colors in the accents, and rich wood furniture. Rooms include beautiful views of the garden, ocean, or the property.
Each room also features a terrace, flatscreen TV, free Wi-Fi, and a separate bathroom.
Popular hangouts for guests include the beachfront or the stunning pool that is lined with sun beds and palm trees.
The on-site restaurant and bar overlook the pool area and the majestic turquoise sea. This restaurant serves international cuisine for every meal of the day. There's also a snack bar by the pool and beach area, which is convenient for guests when hunger strikes throughout the day.
Le Reve is in a great location for guests who want to check out the area. There are several beaches, shopping areas, and historical landmarks within walking distance.

Experience the Mexican Caribbean at The Palm at Playa. This boutique hotel is located near Quinta Avenida and the beach and offers its guests luxury accommodations for an unforgettable vacation.
There are 6 room styles to choose from at the Palm at Playa, ranging from standard rooms, lofts, and suites. Each room features modern style decor, cable flatscreen TVs, stunning views of the garden or street, and a minibar.
For ultimate relaxation, guests can enjoy the swimming pool on the property. This rooftop pool also features a pool bar and spa. It is the perfect spot for taking in the beautiful views of the town and soaking in the sun's rays.
Food enthusiasts love the on-site restaurant that serves European cuisine and signature drinks.
There are many restaurants, bars, and beaches within walking distance for guests who want to explore the surroundings. There are also many opportunities for shopping and sightseeing nearby.

Experience Paradise in the heart of Playa Del Carmen at Playa Palms Beach Hotel. This beachfront hotel is the perfect place to experience the Caribbean atmosphere.
There are 5types of accommodations for guests to choose from at Playa Palms Beach Hotel. Each accommodation is decorated with wood furniture and accents and a neutral color scheme. There are vibrant bursts of sea colors throughout the decor to bring the Mexican vibe into your stay.
Each room includes flatscreen TVs, cable channels, a minibar, beautiful views, and a separate bathroom. These luxury accommodations also include a pool on the rooftop for you to enjoy.
The pool at Playa Palms is located right on the beach and has loungers and umbrellas for guests to utilize. All your needs are met with beach service provided by the hotel.
Guests at Playa Palms Beach Hotel are within easy walking distance to the beautiful Caribbean Sea and the exciting 5th Avenue area. Guests enjoy gourmet dining, incredible shopping experiences, and wonderful opportunities for enjoying the nightlife at one of the many beachfront clubs.
Other exciting activities include deep water fishing, scuba diving, visiting archaeological sites, and touring the Mayan villages.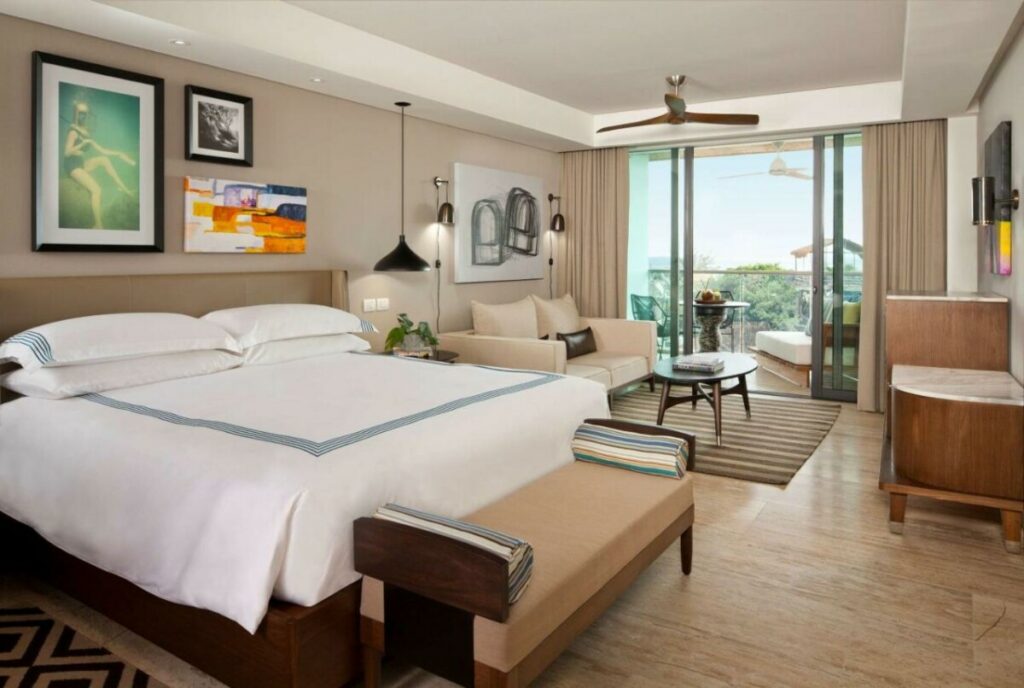 Escape from all your responsibilities at Thompson Playa Del Carmen. This adults-only luxury boutique hotel offers adults a luxury experience they'll never forget.
There are 92 guest rooms and suites available at Thompson Playa Del Carmen. The rooms are styled in a midcentury theme with soft neutral colors that create a relaxing atmosphere. Guests enjoy the floor-to-ceiling windows with incredible views.
Each room comes with an in-room craft cocktail bar, free Internet access, flatscreen TVs, and luxury bath robes.
The rooftop is a guest favorite when it comes to finding a hangout spot at Thompson Playa Del Carmen. Not only is there a beautiful sparkling pool with luxury sun beds, but this is the place for entertainment. Enjoy 90s hip-hop beats, bottomless mimosas, and incredible parties each weekend.
The on-site restaurants and bars offer guests incredible cuisine and atmosphere when dining. These restaurants range from open-air dining rooms, rooftop terraces, and indoor dining rooms. The cuisine includes Asian, Mexican, and other international dishes. Guests enjoy signature cocktails, top-shelf drinks, and live entertainment.
For those hoping to explore the surrounding areas, there are golf courses, resident shows, zip lining, and tours of surrounding cities.
Amar was born and raised in England and embarked on an 11-country round-the-world gap year after graduation and then became well and truly hooked. The first gap year inspired a second, which ended up being a 23-country down-the-world trip from Canada to Antarctica. Since then, Amar has spent the last 14 years traveling the 7 continents.