Punta Cana is located in the Dominican Republic, right between the Atlantic Ocean and the Caribbean Sea. This resort town is home to incredible beaches, beautiful landscapes, and an amazing climate. Over 2 million tourists visit Punta Cana each year to experience the beauty, tranquility, and entertainment the town has to offer.
The Best Party Hotels in Punta Cana

Experience a getaway of a lifetime at Dreams Onyx Resort & Spa. This stunning property is located in Uvero Alto on a secluded beach surrounded by palm trees. This all-inclusive resort is the perfect location for couples, families, or friends to create memories that will last a lifetime.
There are over 800 luxury suites at Dreams Onyx, ranging from deluxe suites to family accommodations for larger groups. Each suite has a hot tub on its private balcony, a minibar that is refreshed daily, complimentary Wi-Fi, and 24-hour concierge service.
The rooms are decorated in neutral colors with gorgeous accent furniture and décor in tropical green, tying in the palm trees right outside your room.
There are 6 swimming pools on the property, including a children's pool, an infinity pool, and a saltwater pool. The lazy river and water slides provide fun and excitement for guests of all ages. Grab a drink at the poolside bar and enjoy the atmosphere and view while letting all your worries slip away.
Kids especially like staying at Dreams Onyx. The kids club has an indoor game room with crafts, video games, and even camping adventures on the beach. The teen club has an excitement for older kids, such as video games, rock climbing, and shooting hoops on the indoor basketball court.
Adults have lots of opportunities for entertainment on the property. There are tennis, volleyball, and paddle courts where guests can stay active with their favorite sports. For a more tranquil experience, guests can take advantage of the spa right next to the property, where they can experience rejuvenating body and facial treatments, hydrotherapy, salon services, and massages.
With 11 bars and restaurants, guests can experience something new for each meal during their stay. The restaurants serve a variety of international cuisine, and each has its own unique atmosphere.
Near the resort, guests are able to book tours on land or sea or explore the city's shops, bars, and restaurants.

Feel like royalty at Grand Bavaro Princess. This 5-star luxury all-inclusive hotel is located on the white sands of Bavaro Beach in Punta Cana.
This hotel has 1,290 luxurious rooms that are perfect for family vacations, couples' getaways, or vacationing with a group of friends. The rooms are beautifully decorated in soothing neutral colors with subtle accents of bright blue throughout.
The furniture and fixtures are modern, as well as in the spa-like bathrooms. Each accommodation comes with flatscreen TVs, a separate bathtub and shower, a furnished balcony, and complimentary Wi-Fi.
There's something for everyone at Hotel Grand Bavaro Princess, from the tiniest travelers to the grownups. Children love playing in the mini club, swimming in the children's only pool, and playing on the playground.
Adult guests enjoy the full entertainment program, including activities such as water sports, Zumba, yoga, and an exclusive spa featuring body treatments, facials, and massage therapy.
Dining is quite the experience when staying at Hotel Grand Bavaro Princess as there are 10 themed restaurants, 3 buffets, 2 snack bars, food trucks, a coffee shop, and 9 bars. Guests won't have to worry about what to eat and will be able to discover new culinary treats each day.
The resort has everything you would need and more when it comes to amenities and services, but if you would like to explore the surrounding areas, you are in the perfect location. Nearby, guests can find restaurants, bars, and shopping opportunities, as well as exciting adventures such as scuba diving and parasailing.

Hard Rock Hotel is notorious for rockstar vacations, and hard rock Hotel & Casino Punta Cana is no different. This 5-star, all-inclusive hotel overlooks one of the Dominican Republic's most beautiful beaches and is the perfect place for a family vacation, couples' retreat, or a getaway with friends.
There are 12 different styles of rooms for guests to choose from, including suites, Rock Royalty rooms, family suites, and presidential suites. Each room is tastefully decorated in calming neutral colors with occasional vibrant bursts of colors throughout.
Each room comes with a furnished balcony, a double Hydro spa tub, free wireless Internet, flatscreen TVs, and Rock Spa bathroom amenities.
This property is perfect for families. Kids and parents love the kids club, the water park, and family activities.
Adults enjoy spending time at the casino and the gaming lounge and checking out the awesome performances, parties, contests, and concerts.
Hard rock Hotel & Casino has 9 different restaurants with something for everyone's taste, including Asian cuisine and sushi, Brazilian fare, and traditional Italian dishes. Each restaurant has its own unique atmosphere and musical environment.
With so much to do all in one place, there's hardly a reason to leave the property. If your vacation group chooses to explore the nearby surroundings, great places just a short walk from the property include golf clubs, shopping centers, and natural attractions and beaches.

Enjoy an all-inclusive adult-only vacation when staying at Hyatt Zilara Cap Cana. This new resort is located on the shores of Juanillo Beach in the Dominican Republic.
This tropical paradise is a place where guests can experience superior luxury while being surrounded by culture, stunning ocean views, and incredible amenities.
There are 12 different styles of accommodation available at Hyatt Zilara, from elegant junior suites to opulent presidential suites. Each suite includes a mini-bar that is restocked daily, a private furnished balcony, flatscreen TVs, robes and slippers, and complimentary Wi-Fi.
There's always something to do at Hyatt Zilara Cap Cana, with its expansive infinity pools, swim-up bars, and water park with a lazy river and slides. Guests can also enjoy time in the hotel spa, which is inspired by a natural cave system found in the area.
The spa offers hydrotherapy, massage therapy, chakra balancing treatments, and a Himalayan salt lounge.
The restaurant has 25 unique restaurants and bars for guests to enjoy a world-class selection of fine dining. Each restaurant has an incredible atmosphere and vibe.
The property is in a spectacular location for guests who want to venture off the property and discover the area. Near the hotel, guests can find golf courses, adventure excursions, deep-sea fishing, and beautiful parks.

Hyatt Ziva Cap Cana is a 5-star luxury spa and golf course resort located on Juanillo Beach. This is the ideal location for family vacations.
There are 375 suites for guests to choose from at Hyatt Ziva Cap Cana. Each suite overlooks the white sandy beaches and beautiful palm trees. Every room comes with a private balcony, or you can choose a swim-up room.
Each room is beautifully decorated in soothing neutral colors, with sporadic bright accents in the rugs or upholstery. Other features in the room include flatscreen TVs, private bathrooms, and air-conditioning.
The activities are endless at Hyatt Ziva. Guests can enjoy the themed pool parties and beach bashes, take dance classes, splash around in the water park, or take a dip in one of the infinity pools on the property.
For those interested and fitness and sports, there is a wonderful fitness and spinning room on the property and Classes for Pilates, Zumba, or beachside yoga. Kids love staying at Hyatt Ziva since there is a club just for them.
The kid's club is a place where kids can make new friends, play games, and even use virtual reality simulators. Each night brings an exciting experience for families with presentations at the outdoor amphitheater, like live music and dancing.
This property has just what you need for a fine dining experience. There are 12 different restaurants and bars located on the property. Each restaurant and bar features signature dishes and drinks, as well as a unique atmosphere depending on where you choose to dine. There's no need to worry about the cost of the meals, as that is all included in your fee.
Hyatt Ziva Cap Cana provides travelers with everything they will need for a vacation to remember.

Majestic Mirage Punta Cana is a great place for families to create memories that will last a lifetime. This all-inclusive resort is located in playa Bavaro in Punta Cana. This is the ideal location for those who want to experience a luxury vacation.
There are buildings for travelers with families and buildings for an adult-only vacation as well.
Majestic Mirage has 4 styles of rooms for guests to choose from while staying in the family section or 4 different styles of rooms for the adult-only section. Each room comes with 24/7 room service, Butler service, pillow menus, furnished balconies, and outdoor jacuzzis.
Everything is the epitome of opulence, no matter which accommodation you choose. Rooms are styled in neutral colors with occasional bursts of sea blue throughout.
There's something for everyone at Majestic Mirage. There are several pools for relaxation and fun, an incredible spa, a kids club, an adults-only club, and entertainment provided each day.
The resort has eight restaurants on the property that serve top-quality products, fresh fish, and imported meats of the best cuts. Guests with special food preferences are able to have their meals customized perfectly for their needs.
There are also several different themed bars where adults can unwind and enjoy time with their friends or loved ones.

Experience Paradise at Paradisus Grand Cana. This exclusive all-inclusive resort beautifully blends luxury with nature. This resort is located in the Bavaro District of Punta Cana, which is perfect for travelers who want to rest, relax, and have a blast.
The guest rooms are beautifully decorated in neutral colors with nature-inspired flooring and accents. Guests instantly feel at home when staying in these luxury accommodations. Each room includes flatscreen televisions, hydro-massage bathtubs, a minibar, and a living area.
This resort is a wonderful spot for family vacations. There's something to offer guests of all ages, including a kids club, golf course, spa, water park, and evening entertainment.
The property has 9 restaurants for guests to choose from, each serving a variety of international cuisine. The restaurants also offer vegetarian and dairy-free options for guests who may have food sensitivities.
If guests choose to leave the property to explore the nearby areas, there is plenty for them to choose from. Near the hotel, there are several beaches, golf clubs, shopping centers, and adventure parks to take in.

Royalton CHIC Punta Cana is heaven on earth. This resort is an adult-only, all-inclusive resort located in Punta Cana.
There are 6 different styles of rooms guests can choose from at Royalton chic ranging from luxury rooms and suites to presidential suites and even an option called the mansion. Each room is beautifully decorated in neutral tones with accents in royal colors like burgundy and gold.
Luxury rooms and suites come with high-quality bedding, spa-like bathrooms, satellite TV, and free Wi-Fi for all your devices.
This resort is never short on entertainment. With high-energy themed parties, drinks with mermaids, private beach access, sparkling pools, and a casino, guests will always have excitement to choose from when deciding how they will spend their days.
For guests wanting to experience inner peace, the on-site spa is a perfect place to receive spa treatments such as massage therapy, facials, and body treatments.
Experience luxury dining at Royalton chic, where there are 6 restaurants and exciting bars where you can indulge in exquisite cuisine and exquisite drinks. Each restaurant and bar offer its own unique atmosphere where guests can enjoy delicious meals and incredible vibes.
Near the resort, guests can find exciting attractions like freshwater lagoons, beaches, and golf clubs.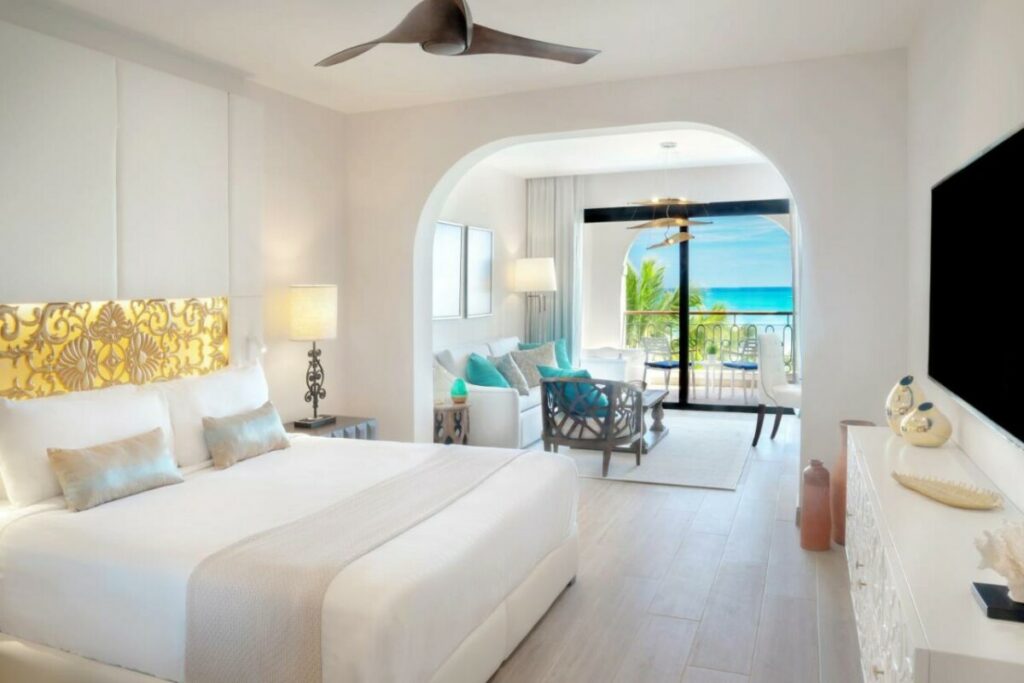 Sanctuary Cap Cana resort is an all-exclusive, adults-only resort located on Juanillo Beach in Punta Cana. This luxury resort is the perfect getaway for those who need to take a break from the daily grind and step into a bit of paradise on earth.
The suites and villas at the resort are styled in a Spanish colonial theme. Each room features stunning wood accents, tropical rattan furniture, and bathrooms that make you feel like you're in a spa. Each accommodation comes with private balconies, minibars that are restocked daily, espresso machines, and flatscreen televisions.
The resort features 6 swimming pools, including a saltwater pool, dance lessons, beach volleyball, and incredible themed parties with live music. Boredom is nonexistent at Sanctuary Cap Cana.
Food enthusiasts will be in heaven with all the choices for culinary experiences. This resort features 5 restaurants with seating both indoors and outdoors, as well as 24-hour room service. The restaurants serve a variety of cuisine, including fresh seafood, Asian-style foods, and Italian fare.
There are four on-site bars where live entertainment and specialty cocktails are on the menu every day.
Sanctuary Cap Cana is in a superior location for guests who want to explore their surroundings. Near the hotel, guests can find multiple beaches, golf clubs, adventure parks, and shopping centers.

Serenade Punta Cana Beach & Spa Resort is located right on the ocean on the Cabaza de Toro Beach. The resort is surrounded by lush tropical flora and the majestic seashore.
There are 603 rooms for guests to choose from, and the amenities make your stay one to remember. Each accommodation is styled in neutral colors, wood accents, and subtle splashes of turquoise blue in the decor.
The rooms come with a furnished balcony for taking in stunning views, a mini bar, free Wi-Fi, flatscreen TVs, and beautiful, modern bathrooms.
This resort has everything you are looking for in a perfect getaway. There are sparkling pools with sun beds and umbrellas surrounding them, a solarium with a relaxation zone, a water park, and plenty of water sports.
The on-site spa is exactly where you need to go if you are seeking inner peace and rejuvenation. The spa and wellness center has water circuits, saunas, hydrotherapy, and massage.
Entertainment is a big part of Serenade Punta Cana. There are live shows and entertainment available as well as a disco dance club for the whole family to enjoy.
For those who would like to venture off the property, there are several beaches, golf clubs, lagoons, and restaurants to explore right down from the resort.
Amar was born and raised in England and embarked on an 11-country round-the-world gap year after graduation and then became well and truly hooked. The first gap year inspired a second, which ended up being a 23-country down-the-world trip from Canada to Antarctica. Since then, Amar has spent the last 14 years traveling the 7 continents.