Tenerife is the largest and most populated island in the Canary Islands of Spain. Each year, about 5 million tourists visit Tenerife to enjoy time on their famous beaches and unbelievable weather and to explore the variety of landscapes throughout the islands.
Tenerife has something for everyone, from large, dormant volcanoes to vast mountain landscapes and stunning beaches.
The Best Party Hotels in Tenerife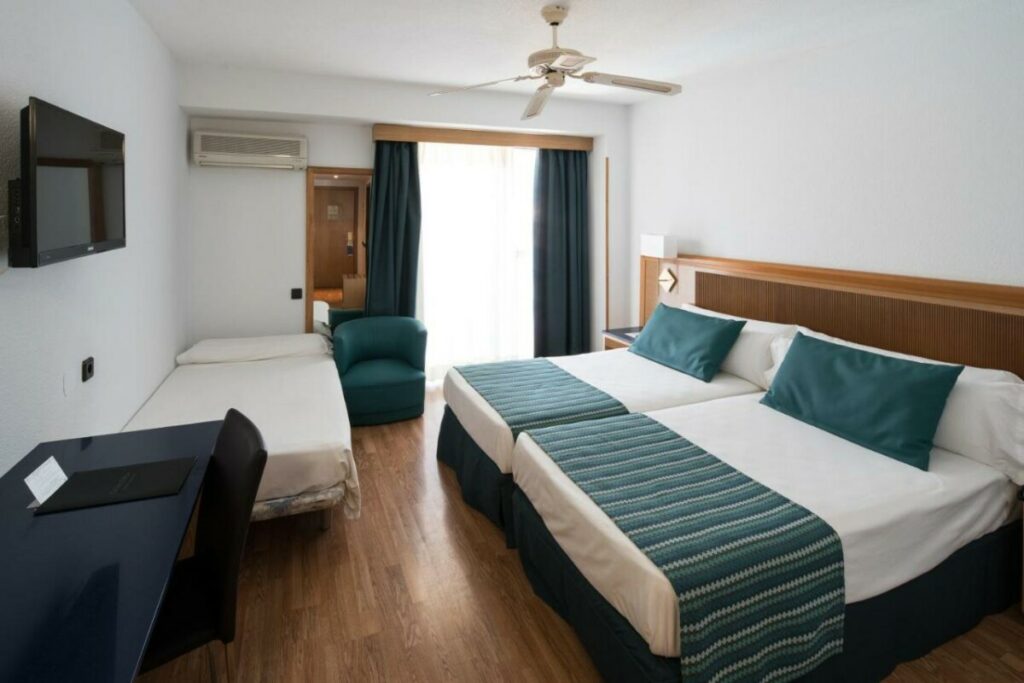 This spectacular hotel is located in the heart of Puerto de la Cruz, right next to the sea. Catalonia Las Vegas is just a 2-minute walk from the beach and offers striking views over Teide volcano and the sea.
There are 6 different room types at Catalonia Las Vegas. They are decorated in crisp, white linens with accents in deep turquoise. The rooms have modern, simplistic furniture, and each comes with a desk, dining area, separate bathroom, excellent lighting, complimentary Wi-Fi, and a flat-screen TV with satellite channels.
Catalonia Las Vegas offers a plethora of activities for adults and families with kids. Daytime leisure activities include horseback riding, jeep excursions, and beauty services for rejuvenation. There are kids' activities available for entertainment as well. There are also night-time entertainment shows that everyone will love.
The Las Vegas Restaurant is the on-site lunch and dinner buffet. This restaurant hosts live cooking shows and themed dinners once a week, so guests can try the typical Canary Island cuisine. There's also a show bar where guests can enjoy a nightcap and a show before the day ends.

Welcome to the magnificent Cleopatra Palace, right across from El Camison Beach in the southern part of Tenerife. This gorgeous hotel is the epitome of luxury, with its elegant decor and antique Roman touches throughout the property.
Cleopatra offers superior services and facilities to ensure its guests are able to unwind, reset, and have a memorable vacation. Guests enjoy spending time in the spa and fitness centers, where they can choose from a variety of massage therapies and beauty treatments or take a dip in the thermal pool.
The fitness center offers an array of classes and activities to help guests stay fit during their stay. Guests also enjoy sunbathing and swimming in the sparkling pool.
Rooms at the hotel are decorated with crisp, white linens and vibrant red furniture and accents. The rooms each have a furnished balcony, a private, marbled bathroom, satellite TV, complimentary Wi-Fi, and a minibar.
There are several dining opportunities on-site, including a restaurant, coffee shop, snack bar, and bar. Food enthusiasts will love the variety of cuisines available.
If guests want to venture out, there's a host of activities, entertainment, dining, and shopping opportunities just 3 minutes from the hotel.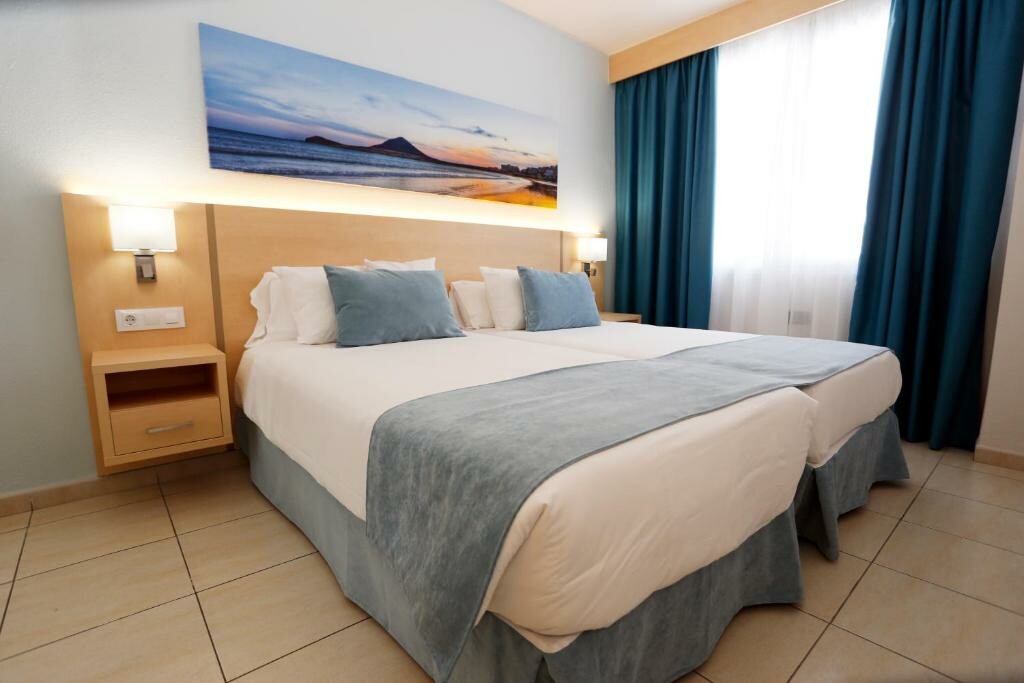 Located in Playa de la Americas, just 500 meters from Las Vistas Beach, Hotel-Apartmentos Andorra Tenerife stands surrounded by amazing shopping centers, restaurants, water parks, and golf courses. This aparthotel has something to offer all of its guests.
The rooms in this hotel are decorated with bright colors and patterns and fine furnishings. Each room has a private terrace, well-stocked kitchenette, separate bathroom, and flat-screen television.
There are 2 outdoor freshwater pools for guests to enjoy, one for adults and the other for children. There's also a freshwater indoor pool for use during the winter months. There are plenty of sun beds for lounging and a pool bar for when you need to refuel.
There is an on-site buffet-style restaurant where guests can enjoy breakfast and dinner and a snack bar for when hunger strikes at lunch or between meals. There's also a bar available for evening drinks. Each area has an outdoor terrace for taking in the lovely views while dining.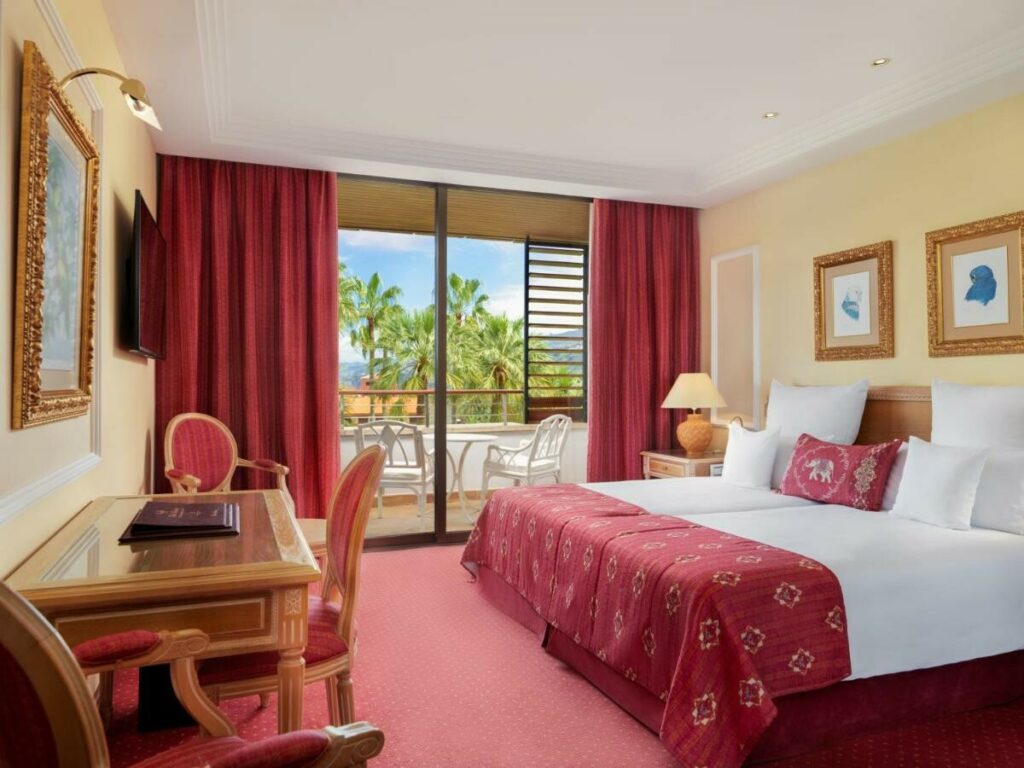 Hotel Botanico & The Oriental Spa Garden is a 5-star hotel that is a beautiful blend of luxury and nature. This resort is located in Puerto de la Cruz and is surrounded by lush gardens with magnificent views of the mountain, city, and ocean.
This hotel has an oriental theme throughout with stunning art and architecture. Every room on the property has been meticulously crafted to bring a tranquil atmosphere.
There are 16 types of rooms to choose from, including deluxe rooms, suites, and premium suites. Each room has a choice of mountain, ocean, city, or pool views. They are all beautifully decorated in gorgeous shades of red with accents in polished wood and gold.
In addition, each room features a private, furnished balcony, separate living area and bathroom, pillow menus, and complimentary breakfast in the room.
There are 7 dining experiences available on-site, including restaurants serving Asian, Mediterranean, and other international foods. Guests also enjoy grabbing quick snacks or meals from the snack bar or food market. A favorite evening event is meeting friends or loved ones to enjoy the live music and drinks at the piano bar.
Achieve ultimate relaxation at The Oriental Spa Garden, which has won a great number of awards as the best hotel spa in Europe and the Mediterranean. This spa offers massages with golden oils, volcanic stones found on the island, and roses.
This spa combines ancient techniques with modern technology to help its guests feel completely pampered and rejuvenated.
This resort is a great destination for families as it also has services for babysitting, a mini club for kids, kid-friendly dining options, and several packages for excursions for family fun.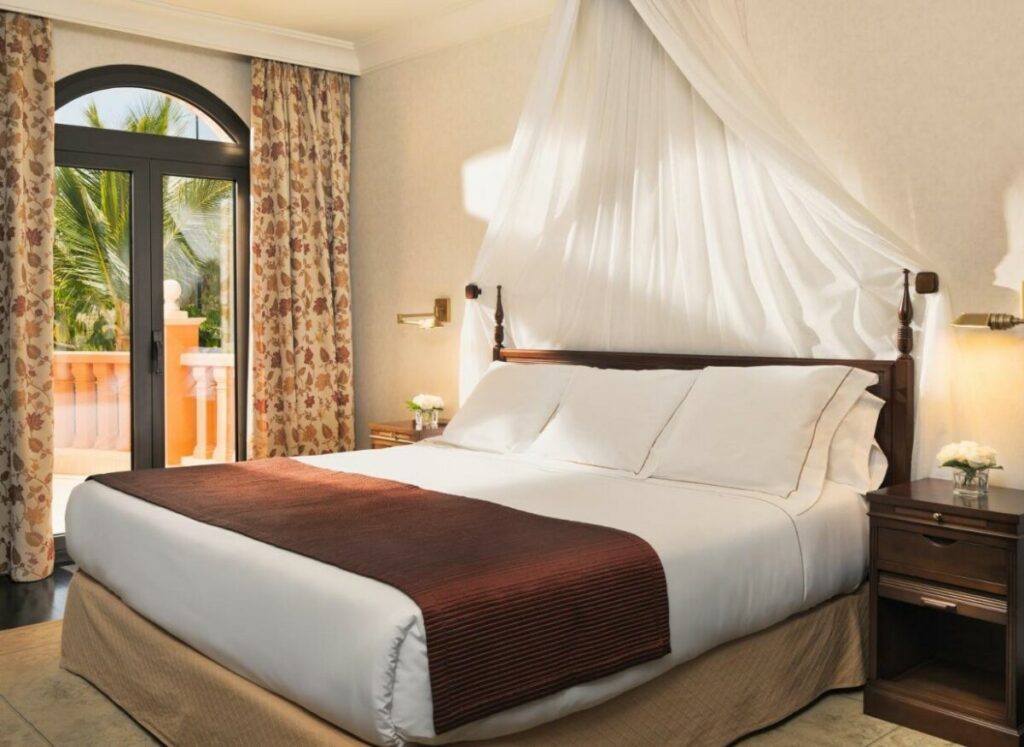 Hotel Las Madrigueras Golf Resort & Spa is a 5-star adults-only boutique hotel located in Playa Las Americas. The property is a 3-story colonial-style building that has a panoramic view of the gorgeous golf course.
The rooms are stunningly decorated in an array of neutral colors with bold, dark furniture and lovely, polished wood floors. Each room has a minibar, satellite television, pillow menu, and complimentary Wi-Fi. There are 5 different room choices at Hotel LasMadrigueras, from superior rooms to royal suites, each offering a luxury stay.
Guests of the hotel have preferential access to the award-winning Golf Las Americas golf course during their stay. This 18-hole course is the perfect place to get in a game with friends or family. The hotel also has an incredible pool with sunbeds as well as a spa for ultimate rejuvenation.
The dining opportunities include a restaurant for breakfast, lunch, and light snacks and another for candlelit dinners. There is also a piano bar and lounge where guests can enjoy cocktails and live music.
There are incredible exploration opportunities near the resort, including visiting Mount Tiede National Park, the Tenerife Auditorium, sailing, zoos, and waterparks. This location is the perfect place to make memories that will last forever.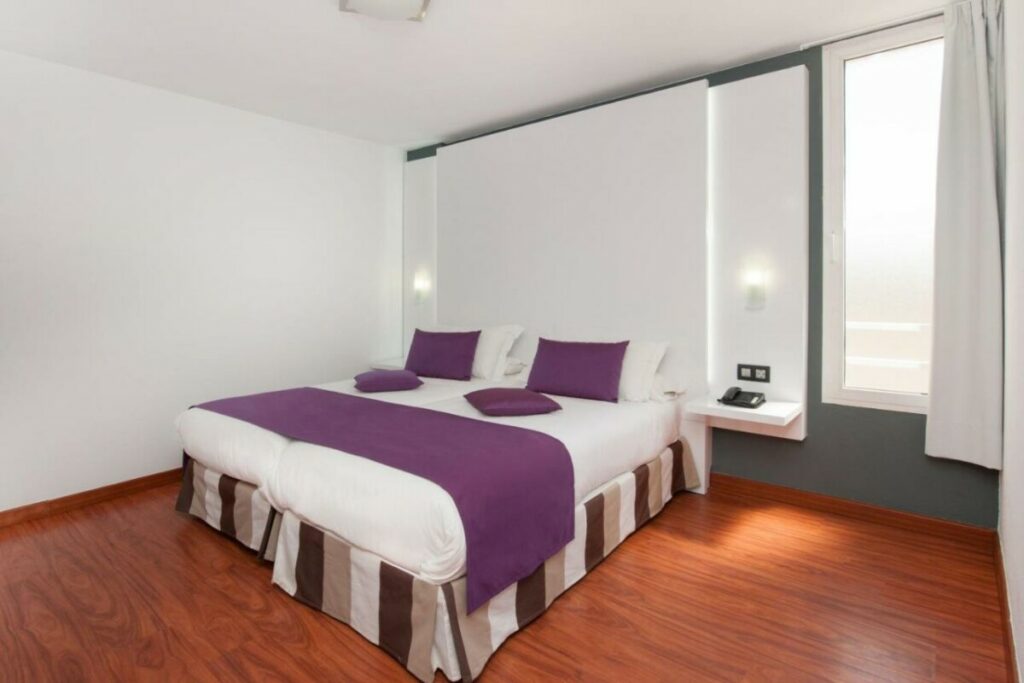 Ole Tropical Tenerife is a 4-star hotel located on the serene beach of Playa de las Americas. The goal of Ole Tropical is for guests to relax and make memories that will last a lifetime, and the team members at this resort go above and beyond to make sure this is achieved.
Every area of Ole Tropical is beautifully decorated with modern furniture and a combination of neutral tones and vibrant splashes of occasional colors.
As soon as you step foot into your room, you will instantly feel that calmness that comes from a beach vacation. There are seven different styles of rooms to choose from. Each guest room comes with a private balcony, LCD television, and a kitchen area.
The amenities increase as you move from the standard rooms to the suites. All rooms have a view of the ocean and gorgeous property.
This resort has a buffet-style restaurant serving various gourmet Canarian cuisine. There's even a snack bar in the pool area in case you would like to take in the view with a refreshing sangria.
Ole Tropical wants their guests to make unforgettable memories, so they offer a host of activities and events to help you with this. They offer personalized services as soon as you arrive and will ensure your every need is taken care of.
Other services at Ole Tropical include a wellness center for massages and treatments, themed pool parties with live music, and sports activities such as golf and volleyball. There's never a dull moment at Ole Tropical!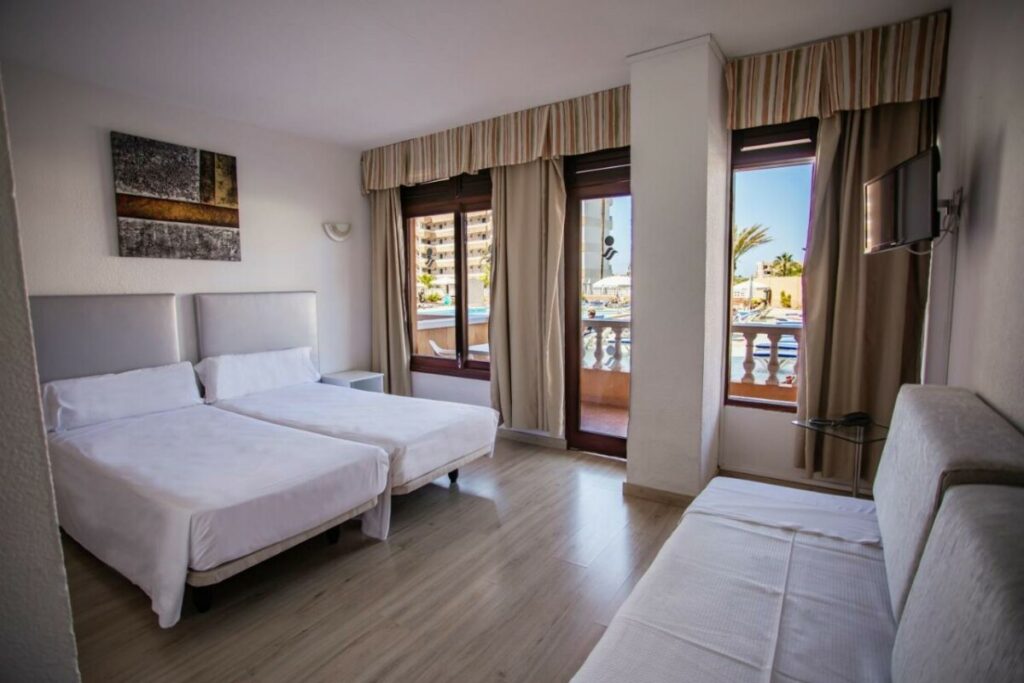 Servature Caribe is an incredible option for travelers who want a budget-friendly stay in Playa de las Americas.
This resort offers 4 different apartment-style rooms that are perfect for those traveling with family or in groups. The rooms are beautifully designed with natural wood furniture, granite countertops, soothing neutral colors, with vivid pops of colors in the decor.
In addition, each room comes with a private balcony, solarium, kitchen area, living rooms, separate bathrooms, beautiful artwork, and complimentary Wi-Fi.
Servatur has a glistening pool for guests to enjoy with hammocks around it for sunbathing. A pool bar is nearby for drinks and snacks while you lounge and swim. A tennis court is also a great way to stay active while traveling.
Just a minute away, guests can find popular attractions such as the Siam Park waterpark, Siam Mall, and the Troya Beach.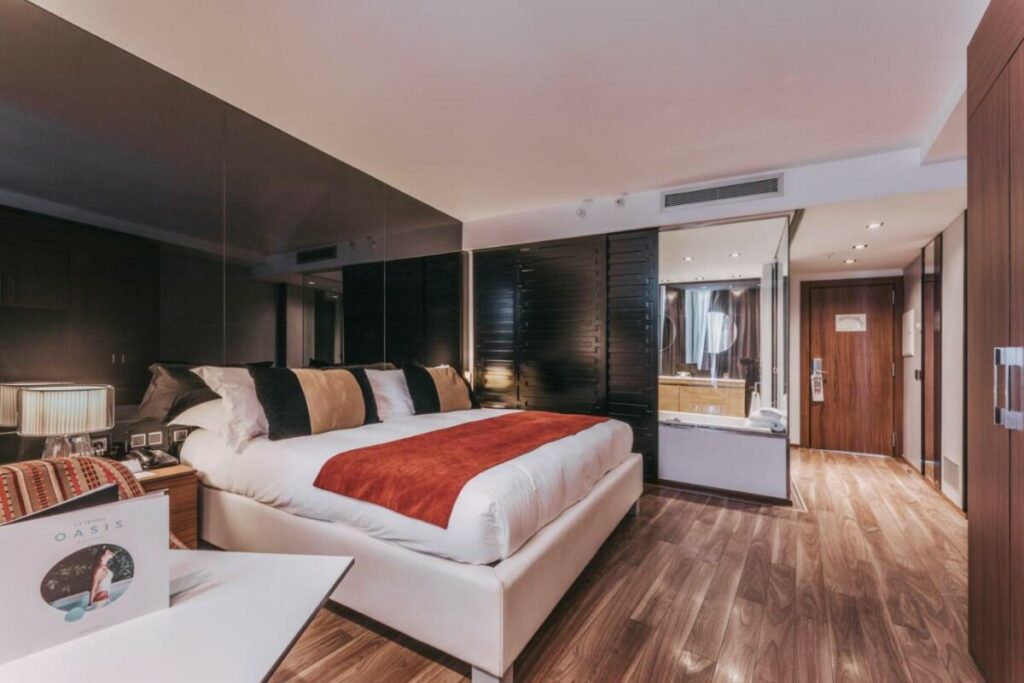 Sir Anthony is the only beachfront resort on Playa de las Americas, and they put all their energy into making sure their guests have an unforgettable, luxury experience while vacationing.
There are three types of rooms and suites to choose from at Sir Anthony, and each room makes guests feel like royalty.
The rooms are all unique, but each one offers stunning views of the ocean, direct access to the tropical gardens, or even access to the private pool. The rooms are decorated in neutral colors with subtle splashes of color in the decor.
Every room includes a premium breakfast, tea, and coffee area, complimentary Wi-Fi, jetted soaking tubs, satellite TV, and smartphone apps for making reservations and accessing hotel information.
The team at Sir Anthony provides stellar service to their guests by providing VIP, personalized services to ensure that every need is met. An on-site wellness center is where guests can have massages and body treatment services.
In addition, guests can select from a host of different experience packages to celebrate special days.
Some of these packages include the Valentine's Day Oasis, the Mediterranean Waves Experience, or the Windsor Gastronomic Experience.
The on-site restaurant is the most sought-after restaurant on the entire island. This restaurant serves exquisite Mediterranean cuisine and offers live music and entertainment each week.
Sir Anthony is a dream destination that you'll want to visit again and again.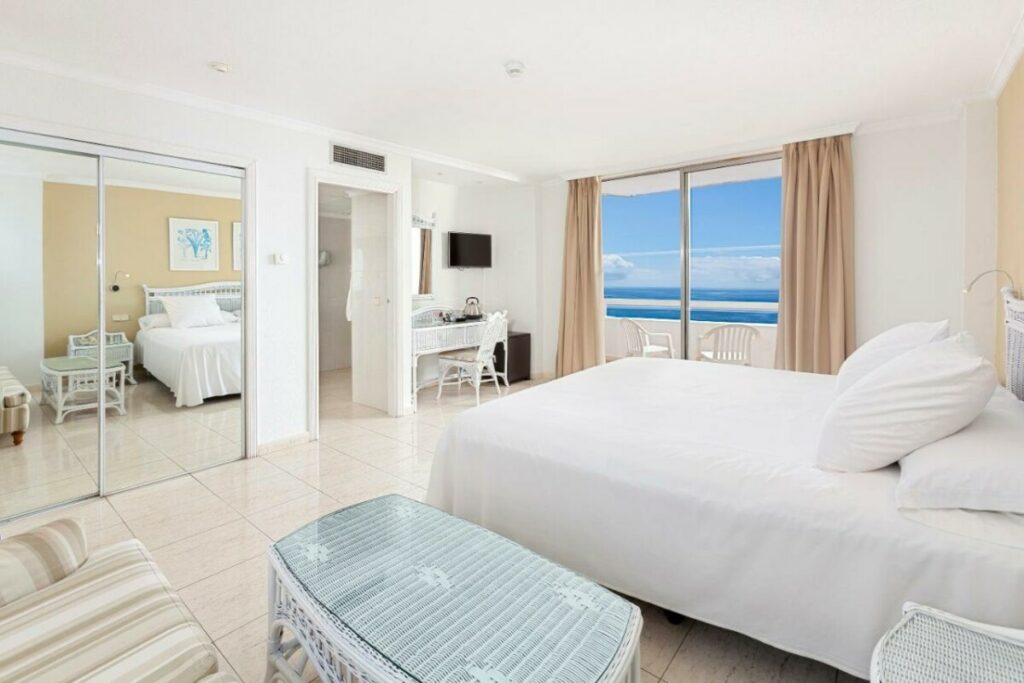 Sol Arona is a stunning property just a 4-minute walk from the beach. This all-inclusive hotel is the ideal destination for couples, families, or groups of friends.
There are 6 styles of rooms guests can choose from. Each room is decorated in calming earth tones and crisp white. The furniture brings in nature with natural wood, rattan, and whicker, which adds to the relaxed ambiance.
Every room has a furnished, private terrace with a striking ocean, city, or garden view, flat-screen televisions, and a full bathroom.
This property features 2 sparkling pools, one for adults and the other for children. Palm trees and beautiful gardens surround them. There is also a beauty salon offering massage therapy, manicures, pedicures, and a fully equipped gym. In addition, guests always have leisure services available, which feature activities such as mini golf, game rooms, and aerobics classes.
For dining, guests are able to choose from a buffet-style restaurant serving international and regional cuisine for breakfast, lunch, and dinner. There is also a pool bar and sports bar on-site where you can get snacks and a delightful drink.
Sol Arona also hosts a wide variety of activities depending on the season, including game nights, shows and parties, and line dancing. Kids also have activities to choose from, such as cooking workshops, pool activities, mini discos, and pirate parties.

Villa Mandi Golf Resort is the ideal destination for a family vacation. This 4-star hotel is located in southern Tenerife and has everything you could need for a perfect break from reality.
The rooms are modernly decorated with natural wood furniture, white linens, and bursts of vibrant colors in the accent decor and furniture. This resort offers 5 different room styles, such as standard rooms, apartments, and duplexes.
Each room style includes a kitchen, living room, wardrobe, separate bathrooms, private balconies, and stunning views.
The property also has a gorgeous pool for adults and another for children. Along with the pools, this resort also has a beauty and wellness spa, fitness center, kids' club.
Food enthusiasts will enjoy the buffet-style restaurant with cooking shows, the pool bar, and the lounge bar all have a variety of cuisines and drinks that will tickle your tastebuds.
For those that want to sightsee or go on adventures, there is a golf course and waterpark just a few meters away from the property.
Everyone in the family will enjoy their time at Villa Mandi Golf Resort. You are sure to want to return year after year.
Amar was born and raised in England and embarked on an 11-country round-the-world gap year after graduation and then became well and truly hooked. The first gap year inspired a second, which ended up being a 23-country down-the-world trip from Canada to Antarctica. Since then, Amar has spent the last 14 years traveling the 7 continents.