Malia is a unique, small town in Crete that used to be famous for its potatoes but now is one of the most visited towns in Greece. Its dreamy beaches, exciting nightlife, and luxurious resorts bring over 5 million visitors annually to the city. From potatoes to top vacation destination, Crete has plenty to offer tourists.
The Best Party Hotels in Malia

If you are looking for a heavenly retreat, look no further than Akrogiali Beach Hotel. This stunning hotel is truly a piece of paradise located just steps away from Blue Flag Beach.
This hotel has 6 different types of studios and apartments to choose from, each beautifully decorated in neutral tones with subtle bursts of occasional color. Each room comes with a kitchenette, a separate bathroom, a private terrace, cozy furniture, and a view of the garden or sea.
Guests enjoy the pool area that offers beautiful lounging beds and furniture and a breathtaking sea view. In addition, there's a poolside bar to make sure all of your dining and drink needs are met while you lay back and relax.
Near the hotel, you can find several popular restaurants, or you can explore famous landmarks such as the ancient ruins.
When staying at Akrogiali Beach Hotel, you can be sure that you will make lifetime memories and have the chance to completely unwind from the hectic demands of life.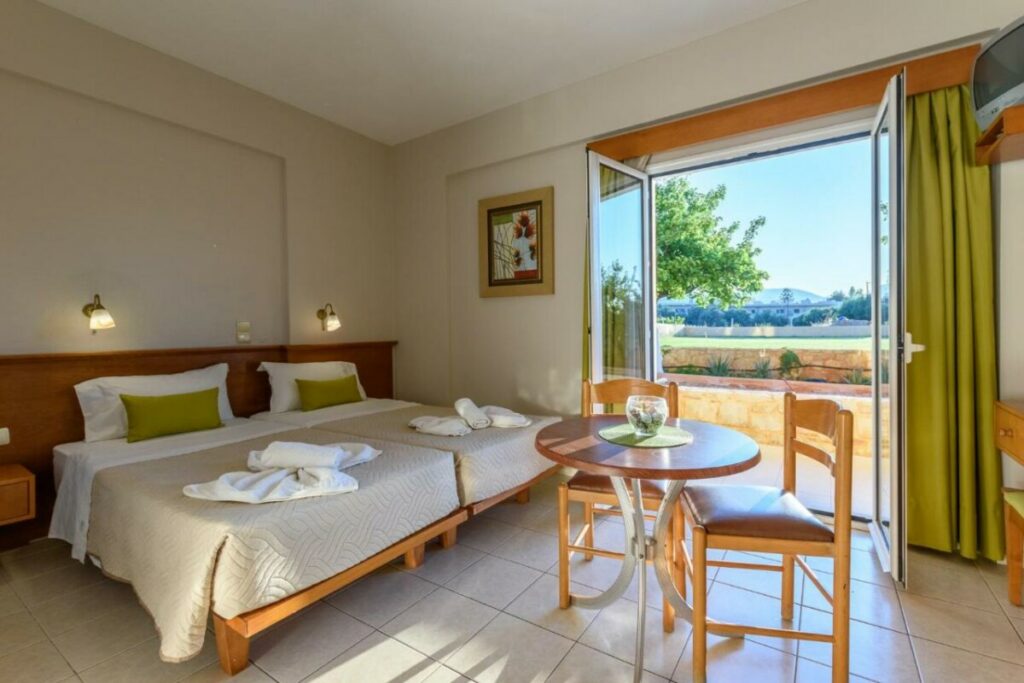 Danelis Studios & Apartments is nestled in a quiet area of Crete and is surrounded by olive trees and vibrant flowers. It is the ideal destination for a group of friends or family vacation.
Danelis offers studios and apartments that are decorated in a villa-style with neutral tones with rich marigold accents throughout. Each room comes equipped with a kitchenette, private balcony, a separate bathroom, and a view of the garden or sea.
Danelis provides guests with staff attendants who make sure all your needs are met, whether that means serving your meals, making reservations, or even cooking a private dinner for you.
Entertainment is always available on the property. There is a large pool and a kids' pool with a pool bar for outdoor fun and lots of activities such as billiards, darts, and karaoke for indoor entertainment. If you are looking for fun off-site, you are just a 5-minute walk from the beach.

Drossia Palms Hotel & Nisos Beach Suites is located in downtown Malia and is a dream destination for couples with its romantic atmosphere.
The hotel is styled in an elegant, natural design with soft, white linens and neutral accents. Each room comes with beautiful furniture, nature-inspired accents and lighting, private balconies, a kitchenette, a separate bathroom, and flatscreen televisions with satellite.
The amenities are even more opulent when you book a suite at the hotel.
There are several luxury ways to spend your days at Drossia Palms, a guest favorite is basking in the sun on Nisos Beach and dining at the beach bar while listening to the waves and live music.
Guests also enjoy the on-site wellness and spa facilities where they can get facials, massages, and more. The on-site restaurant is perfect for any meal, and the atmosphere helps all the guests relax and reset.
The Drossia Palms Hotel &Niso Beach Suites is per perfect place to unwind and reconnect. You'll make memories that will last a lifetime and want to visit this resort again and again.

Eltina Apartments is located on the outskirts of Malia's energetic entertainment center. This facility is perfect for those traveling in groups or with families.
With 10 different room types to choose from, you can be sure that you will get exactly what you are looking for when it comes to amenities. The rooms range from 1 bedroom to quadruple bedrooms, depending on your needs.
Each room comes decorated in crisp, white linens with bright blue furniture and accents. In addition, every accommodation comes with a furnished terrace to take in the stunning views, a separate bathroom, a kitchenette, and complimentary Wi-Fi.
Guests enjoy sunbathing on the sundeck next to the freshwater pool, relaxing in the lounge area watching TV or playing pool, or visiting the bar for meals, snacks, and drinks.
If you decide to leave the property, you are just 500 meters away from the entertainment center, which has several bars and nightclubs, as well as restaurants and shopping opportunities. So relaxation and entertainment are a sure thing at Eltina Apartments.

Kastro Beach Apartments is a wonderful location for couples and families. This family-owned property is perfect for those who want to escape reality and responsibilities for a while. Kastro Beach Apartments has a relaxed, calming ambiance and plenty of amenities for all their guests.
The property has 4 different styles of rooms to choose from, depending on your vacation needs. Each room has modern furniture and a simplistic style design. Rooms come with a small kitchen and dining area, a private balcony, a separate bathroom, a smart TV, and complimentary Wi-Fi.
There is an on-site restaurant that serves every meal, which also serves as a sports bar with several HDTV televisions, so you don't miss a game. Every evening, at 11:00, the restaurant changes to a party atmosphere with live music, a DJ, games, and more.
Guests also enjoy lounging by the pool, getting a drink at the poolside bar, and taking in the stunning ocean views from the terrace.

Notos Heights Hotel & Suites is a striking property located on a hillside in a quaint neighborhood in Malia Village. This resort is the solution to anyone looking for a place to unwind, relax, and reset.
This 4-star hotel has 6 different types of rooms to choose from, ranging from studio apartments to family suites. These rooms are perfect for 2 to 5 guests, depending on which type you book.
All bedrooms are designed in a modern fashion and decorated inMediterranean colors. Each room comes with a panoramic view from the village to the sea, private terraces, flat screen TV, and upgraded bathrooms.
This property has a fantastic swimming pool with a snack bar. Children enjoy swimming with their family or playing on the hotel's playground.
Just a few minutes away from Notos Heights, you will find sandy beaches, restaurants, and nightclubs. There is never a dull moment when staying at Notos Heights.

Philonexia Hotel & Spa is a quiet resort located just 500 feet from the Malia beach. This family-operated resort has something to offer each of its guests.
This resort has 6 different types of accommodations ranging from double rooms to family rooms. Each room is decorated in white and bold color tones, with gorgeous polished furniture throughout. The rooms come with a kitchenette, personal balcony, a view of the pool or garden, and satellite TV.
Guests enjoy lounging and swimming in the stunning pool areas and utilizing the children's pool, poolside bar, and cozy sunbeds. There is also a spa that offers a heated saltwater pool, jacuzzi area, and massage therapy for those who want to spend the day pampering themselves.
For dining options, guests can have meals at the on-site restaurant next to the pool area. There is also a sports bar where you can have a drink with friends and catch the game.
Kids love staying at Philonexia because the hotel caters to them. There's a playground, pool, and outdoor play equipment just for kids. The buffet and meals are also approved by kids.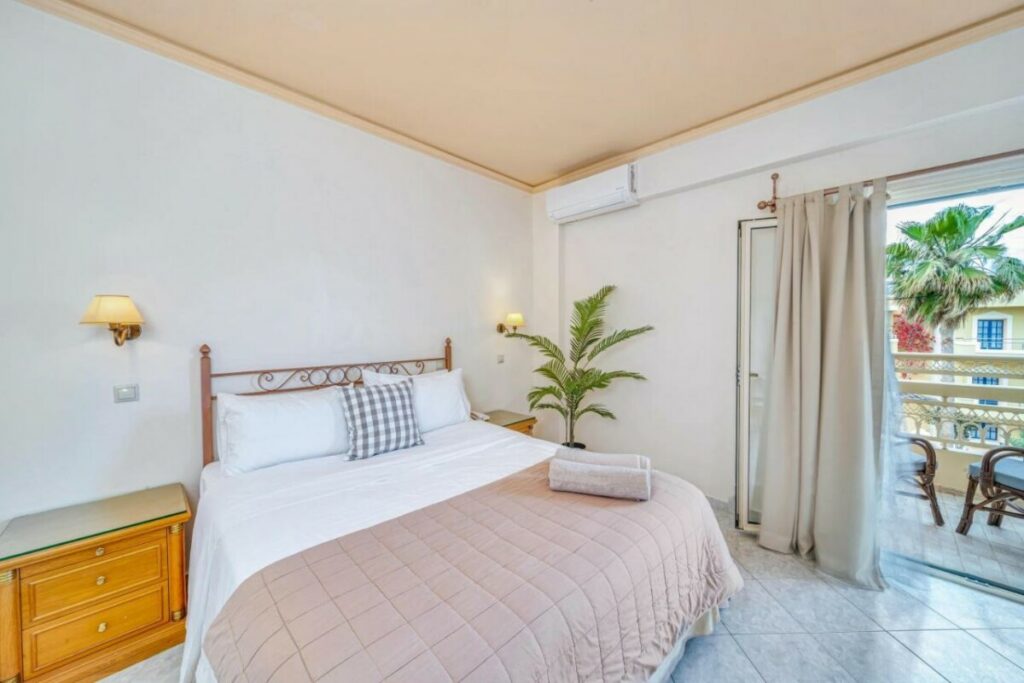 Socrates Hotel is located right by the sea and just 10 minutes from the cosmopolitan center of Malia Village. This hotel is the perfect place for a relaxing, peaceful vacation.
The rooms at Socrates are decorated in fun, vibrant shades that bring the colors of a tropical paradise right to your room. There are 5 different room options to choose from, each featuring a private terrace, modern touches in the facilities, a kitchenette, flatscreen TVs, and stunning views of the pool, sea, garden, or mountains.
The property has a stunning pool and a separate pool for children. There are plenty of complimentary sunbeds and umbrellas for guests to enjoy while soaking in the sun's rays. There's also a pool bar that serves a variety of foods from around the world.
Kids especially love Socrates Hotel because they make sure the children are catered to. There is a pool for kids and an exciting playground for hours of fun.
Socrates is in the perfect location for exploring the surroundings. Not only are right next to the beach, but you're also just 10 minutes from the lively nightlife of Malia Center.

Stelios Gardens Hotel is a dream destination for families, couples, or groups of friends. It is located a short walk from the beach.
There are 6 types of rooms at Stelios Gardens, which consist of studios and apartments. Every room at Stelios comes with a kitchenette, dining area, flatscreen satellite televisions, a private balcony, and complimentary Wi-Fi.
Each room has its own style, some with vibrant pops of color throughout and others with calming, neutral tones. The rooms can accommodate 2, 3, or 6 guests, depending on the style you choose.
Stelios offers a swimming pool, children's pool, and jacuzzis for guests to enjoy. There is also a restaurant and pool bar that serves a wide variety of cuisine.
Just a short distance from the hotel is Old Town, where visitors feel like they've stepped back in time and get to sightsee and have a drink in the tavernas. The hotel is also close to the entertainment center of Malia, which has exciting nightlife.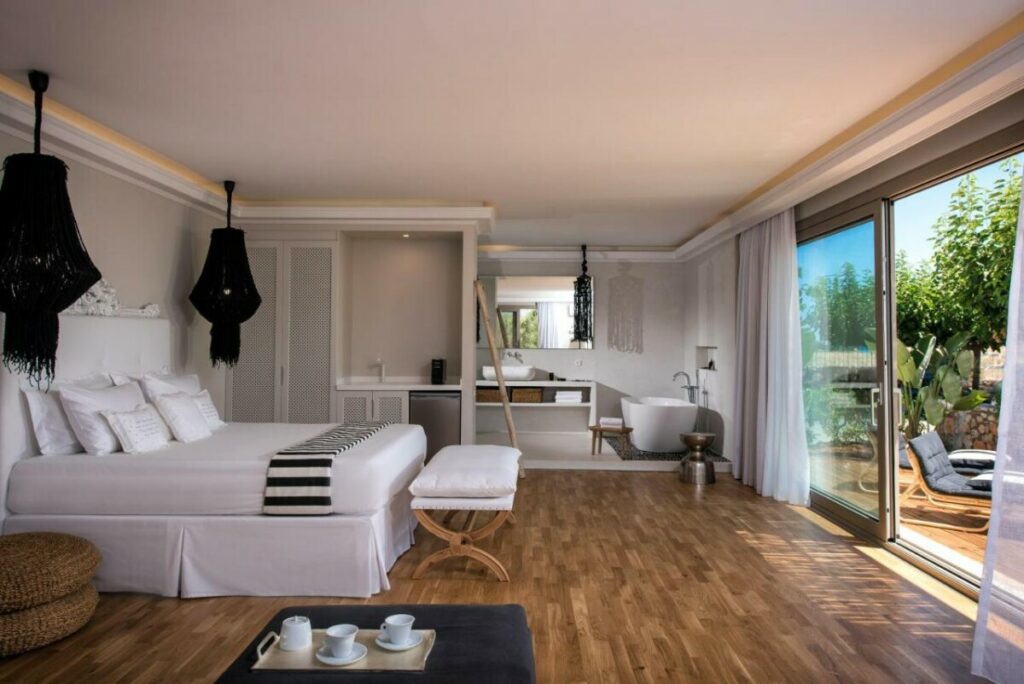 Sun Village Boutique Hotel is a family-operated property that is just 400 meters from the Malia Beach. Lush botanical gardens and lemon trees surround this gorgeous resort.
There are 4 different room types at Sun Village, ranging from superior rooms to 2-bedroom suites. The elegantly decorated rooms look like they are straight from a home design magazine. Some are beautifully decorated with white linens with accents of black.
Other rooms have a more Mediterranean feel with breezy colors of neutrals and sky blue and bursts of bright colors as accents. The rooms all have stunning hardwood floors, views of the pool, ocean, and gardens, a kitchenette, a private balcony, and flatscreen TVs.
Guests enjoy lounging on the sunbeds by the pools or strolling through the gardens. Other services offered at the hotel include massage therapy and beauty services. If guests want to leave the property, within a short distance, there are a host of delicious restaurants, nightclubs, taverns, go-carts, tennis courts, and miniature golf.
Amar was born and raised in England and embarked on an 11-country round-the-world gap year after graduation and then became well and truly hooked. The first gap year inspired a second, which ended up being a 23-country down-the-world trip from Canada to Antarctica. Since then, Amar has spent the last 14 years traveling the 7 continents.