It's been such a long time since I have snowboarded that I am a beginner all over again. I wanted a day of snowboarding to get a refresher before I went abroad.
A quick hop on Google to see what my options were close to London and viola; I've found myself The Snow Centre!
The Snow Centre, Hemel Hempstead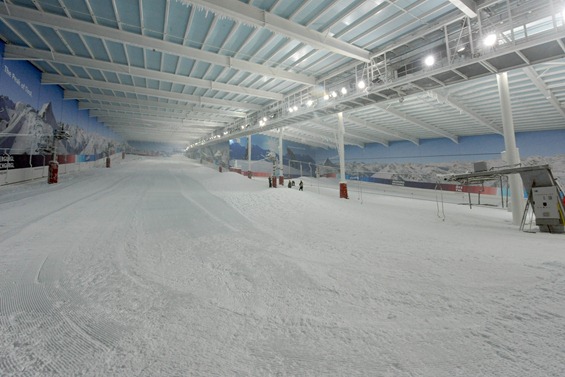 The Snow Centre has a 160m main slope with 2 button lifts and the largest lesson slope in the UK which is perfect for beginners. It's off Junction 20 on the M25 and here's the real winner, it has real snow! For the non-drivers you can get to Hemel Hempstead from London Euston by train and it takes a mere 25-30 minutes.
Snowboarding Lessons at the Snow Centre
I had myself signed up to the Adult Beginners' Snowboarding Day but The Snow Centre has lessons for all ages and abilities.
This package includes 5 hours of snowboarding with an hour lunch (provided), oh and let's not forget the drinks voucher (that came in handy later).
Your boots and board are included too. You need to bring your own socks and gloves but waterproof clothing can be rented for £6.50.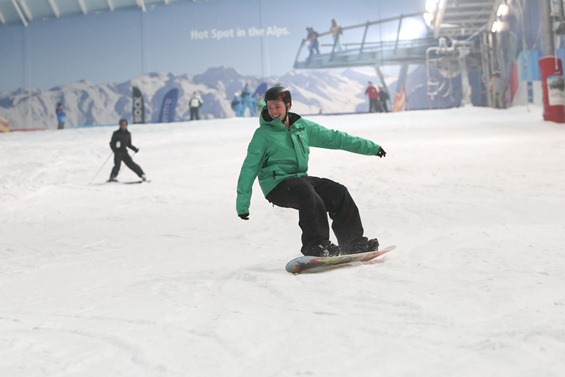 When you arrive at The Snow Centre you can easily check in using the touch screen machines. From here I got myself changed, dumped my stuff in a locker and was kitted out with some boots and a board. Next thing I am sitting on a bench introducing myself to the others in my group. There's five of us in total and we're all pretty much there for the same reason. The couple had their first ski trip together at Christmas, a guy had a stag ski trip coming up and the girl was brushing up on her skills from years ago. So in a nutshell we were all like Bambi on a snowboard. Ollie, our snowboarding instructor, was going to change all of that.
We got on to the snow fairly quickly and ran through the basics of how not to fall over when stationary (basic yes, but rather important). It's not long before we are heading to the top of the beginner slope. In the first two and a half hours you'll cover the following. Everyone in the group had this pretty much nailed by lunch.
We all stopped for our complimentary lunch half way through the day (onion rings, totally recommended). Ollie joined us which was a nice touch. I think by this point, all of us were feeling tired even though we were only half way but Ollie got our enthusiasm up and we we were ready to go for part two.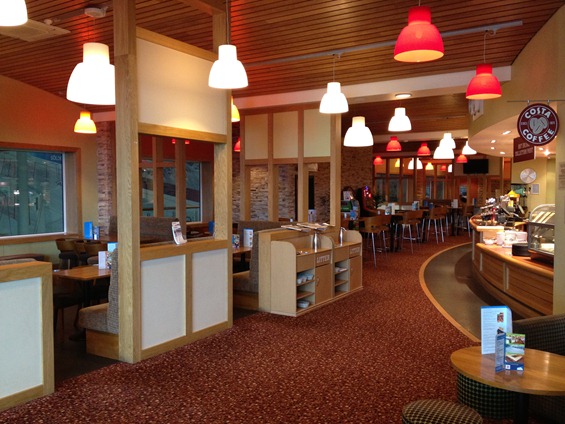 The first part of the afternoon was spent back on the beginner slope learning how to link our turns. We stopped for a quick hot beverage (with that drinks voucher I was telling you about earlier) before we progressed on to the main slope. From here it was all about practicing and perfecting what we'd been taught throughout the day. We had just about an hour on the main slope. It was good to get a longer run because, as beginners, it can take a few shaky turns before you start getting a groove.
By the end of the day most of the group had made great progress towards the following:
Before I knew it, that was it, my day of Snowboarding was over. I have to say Ollie was a great teacher. Not only were the explanations and demonstrations really clear but he seemed to have his eyes everywhere and was providing individual feedback to each member of our group. Two of us, having been snowboarding before years ago, were progressing slightly quicker than the rest of the group towards the end of the day but he was still able to work with us individually.
The Snow Centre – Final Verdict
I guess the question is, would I recommend it and would I go back? Well the answer is yes because two weeks later I did go back! I felt far more confident on a board, was linking my turns and generally just enjoying snowboarding. For anyone wanting a jump start before a trip abroad I would highly recommend it.
Interested in lessons? Check out their site for more information: www.TheSnowCentre.com
Amar was born and raised in England and embarked on an 11-country round-the-world gap year after graduation and then became well and truly hooked. The first gap year inspired a second, which ended up being a 23-country down-the-world trip from Canada to Antarctica. Since then, Amar has spent the last 14 years traveling the 7 continents.