The Holi Festival – also known as the Festival of Colour and Love – is a vibrant, fun and colourful festival that is celebrated throughout India, as well as in certain other countries worldwide. It is a celebration of fertility, colour, and love, as well as the triumph of good versus evil, and is a truly beautiful thing to see and experience. It's one of the many reasons why people love India.
What Is Holi Festival? What Are the Origins of Holi?
Holi is a festival that my have its roots firmly planted in Hindu mythology, but it is very much a celebration that is as popular today as it ever was before.
Celebrating the triumph of good over evil, Holi has several different layers of mythology behind it. In the first instance, the festival is held to celebrate the burning of the devil Holika, who along with her brother Hiranyakashyapu, set out to kill his son Prahlad, when refused to recognise his father as the a true god, and instead worshipped Lord Vishnu.
Holika and Hiranyakashyapu plotted several plans to kill the young man, but instead she was burnt at the fire, when her powerful cloak of protection blew away in the wind, and saved Prahlad's life instead.
Another legend behind the festival is that of Radha and Krishna. Krishna loved Radha, but he felt self-conscious about how different their skin-colours were. So on the advice of his mother, he went and painted her face so it was the same colour as his. For this reason, lovers often paint their faces the same colour during the festival.
Whatever the legends behind it, the festival is a absolute wonder to behold, as entire towns and villages are covered with brightly coloured power paints, and locals and visitors alike sing, dance and drink to celebrate the triumph of good over evil.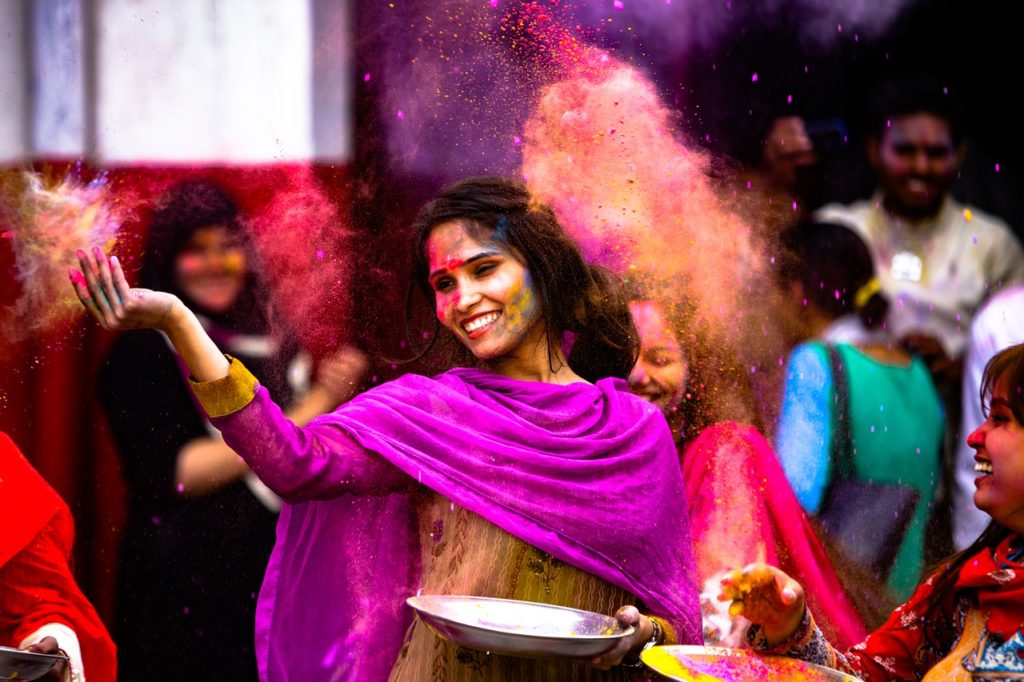 When Is Holi Festival?
The Holi festival is celebrated once a year, but the exact date can vary. It is observed on the full moon day of Phagun – the 12th month in the Hindu calendar, which usually falls in February or March in the western calendar.
In 2019, it will be celebrated from 20th to 21st March, with the minor celebrations of Holika Dahan on being held on Wednesday 20th March, while the main event – Rangwali Holi – will take place on Thursday 21st.
Some parts of India, like West Bengal and Odisha, celebrate the festival a day earlier.
Holi Festival 2019
Holi: 21st March 2019
Holika Dahan: 20th March 2019
Holi Festival 2020
Holi: 10th March 2020
Holika Dahan: 09th March 2020
Holi Festival 2021
Holi: 29th March 2021
Holika Dahan: 28th March 2021
How Is Holi Festival Celebrated?
This occasion is not called the Festival Of Colour for nothing. Participants cover each other in richly coloured powder paints, while children quirt water guns of varying hues at one another. Everything about the festival is bright, bold and beautiful! If it's your first time in India you should really get involved!
Over the course of the two-day festival, there are a number of rituals that are observed.
On Holika Dahan, people gather together after sunset, to sing and dance around a pyre, that symbolises the triumph of good over bad. They also recite puja (prayers) that are said to bestow powers, prosperity and wealth to those who say them.
On the big day itself – a day that is also known as Rangwali Holi, Dhulandi, Dhulandi, Phagwah or Badi Holi depending on the region – expect to see a rainbow of colours and communities singing, dancing and eating together.
The Coloured Paints
Covering each other with paint is probably the best known element of the festival. Images of laughing festival-goers, their smiling faces painted with brightly coloured powders, is an iconic Holi image, and one that we are probably all familiar with.
Dry colours called abir or gulalare specially prepared for the festival, as arepichkaris (water guns) and water balloons filled with coloured solutions that are thrown among the revellers with abandon. Families and friends gather together to sing songs, dance and play musical instruments, and join in the huge street parties that take place on this special day.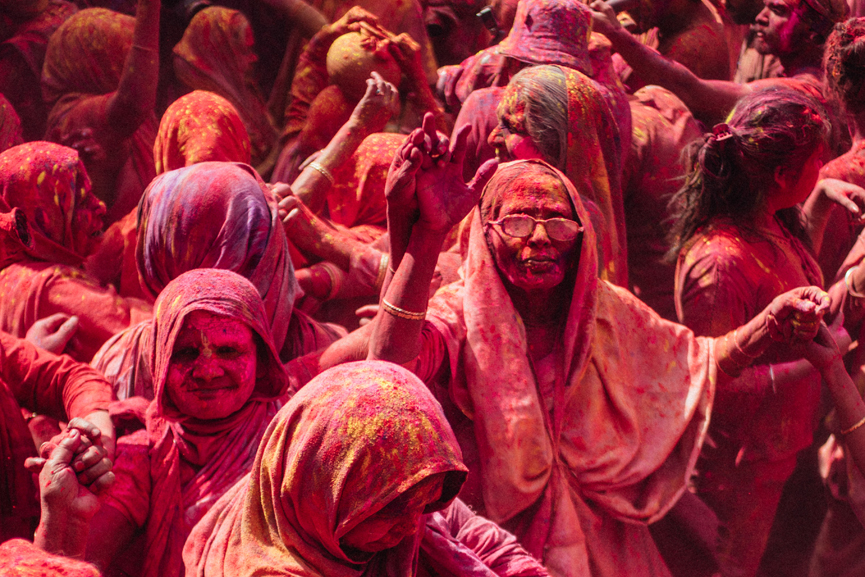 The Holi Feast
Food always brings people together, and during the Holi festival delicious treats are served up to be shared with friends and family. These include traditional Gujiyas, delicious doughy dumplings that filled with khoya, nuts and dried fruits and dipped in sugary syrup to make them extra delicious.
They also serve Malpua pancakes, fried in ghee and dipped in sugar, as well as as unusually intoxicating drink called Bhang Massi for the grown ups.
The After Party
When the powdered paint has been thrown and everyone is a bright and colourful as can be, it's time to clean up and get down to the serious business of partying with friends, family and neighbours.
Facts About Holi Festival
The name Holi comes from "Holika", the sister of demon King "Hiranyakashyap" from the Hindu legend that is one of the origins of the festival.
The festival of Holi is celebrated for at least 16 days in the Brag region of India, which is also where Krishna was born.
A popular saying during the festival is "Bura na mano, Holi hai!" which means "do not mind, it's Holi."
It's not just the good people of India who celebrate Holi, devout followers Mauritius, Fiji, Guyana, Trinidad and Tobago, Pakistan, and also celebrate the Festival of Light.
The coloured powders used in the festival have different meanings. For example, red symbolises love and fertility, while green is for spring and and blue is for Krishna.
The powder used during the festival is notoriously difficult to get out of skin and hair, and participants moisturise heavily before the festival to make it easier to remove afterwards.
India is a country that is famous for its social divides. During the festival though, people of all castes and ages join together to celebrate without prejudice.
The gulal paints were original made using flowers, but now they are mostly synthetic.
Bhang Massi is a special drink made to be enjoyed during the festival – careful though, as it is very potent, and may also contain cannabis.
Coldplay featured Holi in the music video for their 2016 single Hymn for the Weekend.
Where To Celebrate Holi in India?
The whole country celebrates this vibrant and colourful festival, but some places do it bigger and better than others, including: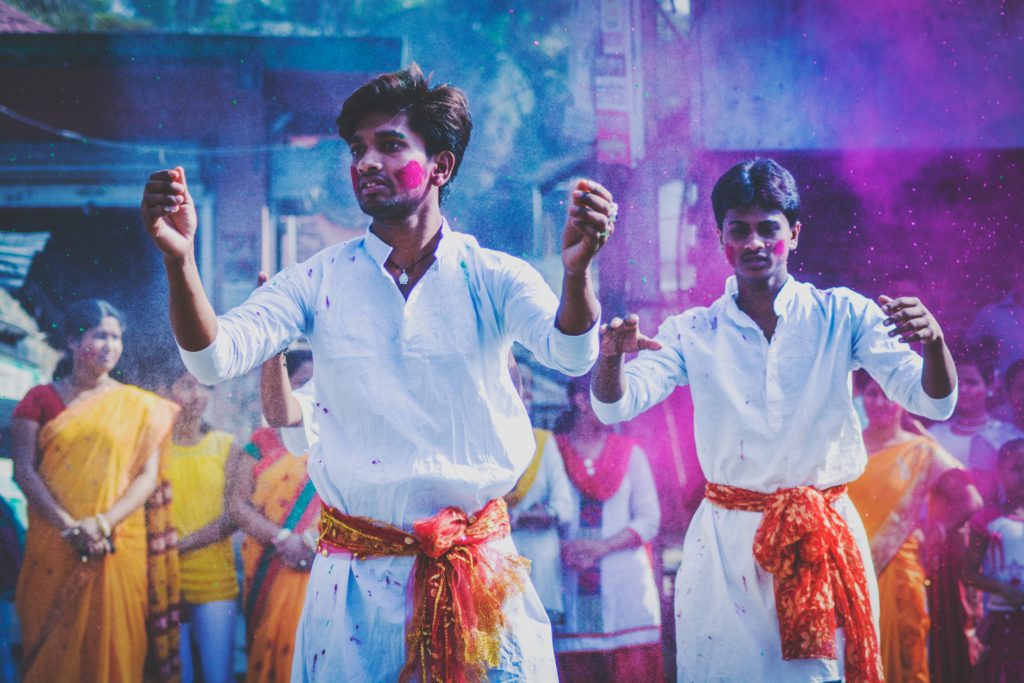 The Ancient City of Mathura
Believed to be the place where Lord Krishna was born, this is the perfect place to see the festival celebrated in the most authentic way possible. On Holi day itself, the people of the city start a long procession with music and dancing, from the temple to the Holi Gate.
The Banke Bihari Temple in Vrindhavan
On Holi day, the local priest sprays coloured water on the deity and the devotees, inside the temple, turning it into a vast rainbow of colours. Outside the temple there are street foods, souvenirs and yet more dancing and music.
Shantiniketan in West Bengal
The city of Shantiniketan uses the festival as a unique opportunity to offer a wide variety of cultural programmes and activities. During the Holi festival there is folk dancing, a dedicated music festival, puppet shows and much more for tourist and locals to enjoy and participate in.
The Ancient Temples of Bandhar Deul
Purulia in West Bengal celebrates the festival with folk dancing, Nauta dancing, Chau dancing and Darbarijhumur, a traditional genre of Indian music. At the iconic temple, people arrive early in the morning to begin a day of poetry recitals and folk performances, as well as the traditional throwing of coloured paints, eating, singing and dancing.
Andandpur Sahib, Punjab
This part of the country embraces both the Holi festival and the Sikh New Year festival of Hola at the same time. Fireworks, music, poetry, dance and even martial arts performances are commonplace, and the entire community comes together to celebrate.
The Palaces of Udaipur
This city celebrates Holi with royalty, as the royal family takes part in an iconic procession seated on horseback or elephants. Residents join in the the procession of dance, music and celebration and is a large bonfire is burnt in the centre, where a puppet of the demon Holika is burnt at the end of the Holi day.
Holi is celebrated in a lively manner throughout India. Remember that the locals will throw coloured water at strangers without considering their attire, belongings or others. Thus, cover your cameras and other precious items.
If you want to take part in the colour festival, apply a thick layer of coconut oil in your body and hair. This will help you remove the colours easily after the festival.
Tips for Holi Festival in India and Staying Safe
While Holi may not be India's biggest festival, it is certainly the brightest and one that attracts visitors from all over the world. If you are visiting the country to celebrate the Festival of Colour, keep the following in mind: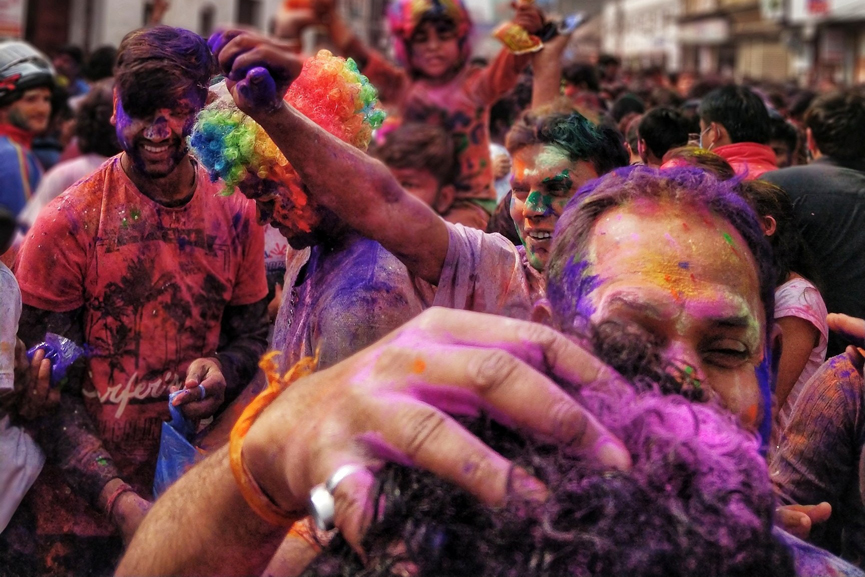 Party with the locals – India is a beautiful country, with a huge population of fun loving, kind and generous nationals. But, bowling up at a Holi procession, looking like a tourist can be an open invitation for those who may wish you harm, or want to rob you. Try to find a family or Indian friends to celebrate with during the festivities.
Go easy on the bhang lassi – You may think you are a seasoned drinker, but this stuff is potent. It may taste sweet and delicious, but it is a powerful intoxicant and too much could render you poorly, or worse still, in a dangerous situation.
Be respectful – An excuse to join in with your host community when they party, is not an excuse to act like an idiot. Be respectful of their traditions, don't go overboard on the Bhang Lassi and remember that this is an important part of their cultural heritage, and not a rave.
Don't wear your Sunday best – Your clothes will be literally covered in paint that usually won't wash out, so don't wear you favourite clothes for the celebrations. Wear something that you can simply throw away after the party is over. Also, you should definitely remember to moisturise your skin, as it will help the paint to come off more easily. Remember that the locals will throw coloured water at strangers without considering what you are wearing, or what you are carrying – so keep you phones, cameras etc covered too.
Remember you are in India – Don't get so carried away with the festivities that you forget the golden rules of travelling in India – drink plenty of water throughout the day, stay out of the sun during the late morning to late afternoon and be careful what you eat from street vendors. Sun stroke is no fun, and can be dangerous, and no one wants a dose of Deli Belly while trying to recover from the festival.
Holi Inspired Events Around the World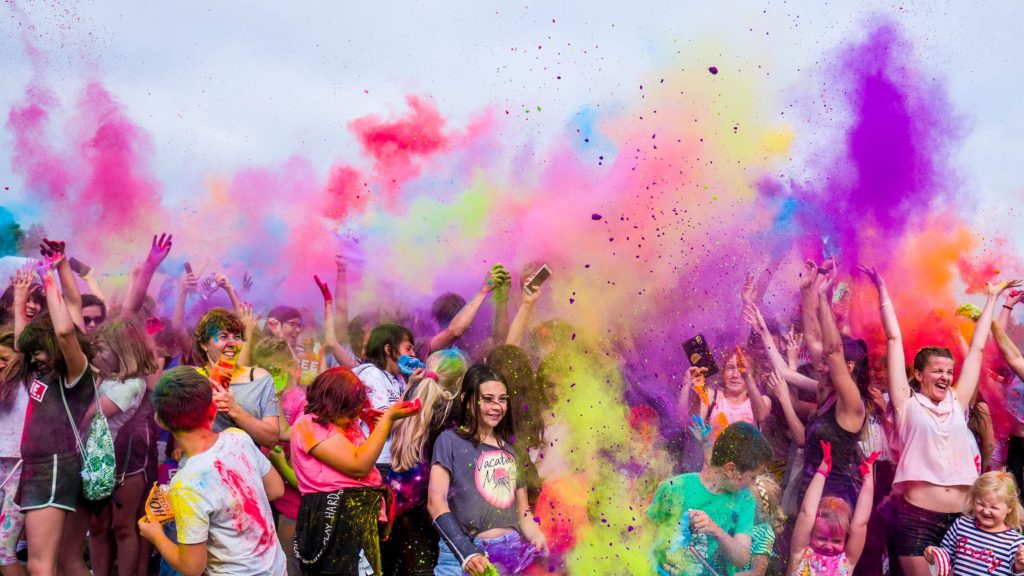 If you can't make it to India for Holi, there are other options. Whilst not having the same religious and cultural significance, or being at the same time as Holi, if you want to throw coloured paint around and have a laugh, there are events you can attend.
There is the Festival of Colours Tour which historically has taken place on 4 continents.
You could do a 5K with The Colour Run and get doused in powder at every kilometer.
Attend the electronic BiH Color Festival in Brčko, Bosnia and Herzegovina.
Amar was born and raised in England and embarked on an 11-country round-the-world gap year after graduation and then became well and truly hooked. The first gap year inspired a second, which ended up being a 23-country down-the-world trip from Canada to Antarctica. Since then, Amar has spent the last 14 years traveling the 7 continents.