"Do you want to go sailing tomorrow? Bring limes and crackers."
I'm in Puerto Vallarta enjoying what can only be described as, well, not fun. It's Spring Break but man do I feel too old for this shizz! Sailing sounds like a nice break from drunk out their mind 19 year olds asking me to bring them another round. Yeah, they thought I was a Mexican waiter…
I wasn't really sure where we were going and who we were meeting but that's all part of the adventure right?
We meet our mutual friend and hire a local fisherman to try and find these guy's boat. Of course, our friend has forgotten the name of the boat and well, all boats kind of look the same. Boats also don't have doorbells so you kinda just have to yell, see who sticks their head out and apologise until you get the right boat.
We finally make it on board. A fine vessel she was. We meet Brad and Corey who have an abundance of tequila and cheese (ok now the lime and crackers make sense).
Corey, who owns the boat, offers to let me steer the ship. "Keep her steady" he says. So naturally I zig zag across the bay in anything but a straight line.
We all get talking, trading travel stories, enjoying the sun and admiring my amazing sailing skills. Finally it comes to what they do.
This is where it got interesting. Both these guys are on the board of directors of a non-profit called First Descents. In a nutshell, they take young adults affected by cancer, put them on awesome adventure trips like whitewater kayaking with others that have been through the same, and through the group bonding experience and activities it helps with their overall recovery. How awesome is that!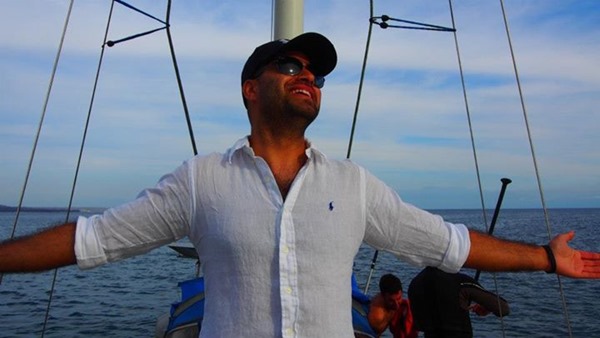 The other guys head top side leaving Corey and I on the wheel (I'm actually getting better by this point). I start delving deeper into his story. He travelled all over the world competing in whitewater slalom at an international level, was an Olympic coach and then set up his own training group (and a bunch of other equally awesome achievements). He tells me he had his fun with all the international travel and competing (and the partying that went with it). He found something meaningful working for First Descents. I guess you could say, he found his purpose. I asked him how many cancer patients his work has helped. Yup, certainly more than a thousand odd.
So this is where I stopped and contemplated. I really looked at this guy. He had travelled the world, had the self actualisation of being a national champion at his sport, he's happily married, lives on a boat for half the year (where he surfs and SUP's) and is doing something that positively affects and improves the lives of people who have had cancer.
I just came out and asked him: "What would make you happier?"
He scratches his chin, pauses, looks out over the water and then replies "A bigger boat."
That's it. A bigger boat!
It really struck a chord with me. About happiness, about life and what we can do with it. I guess what I took away from this is the importance of finding your "thing". Whether that's the pursuit of a dream, doing something charitable, living with an abundance mindset, finding your bliss or just doing what makes you happy.
I came to settle on a few things in my mind. Don't have dreams, have goals. Don't live in years but by the actions you take and the intentions behind them. Live by thoughts and feelings and not heartbeats or breaths. Happiness isn't the absence of the unpleasant but the pursuit of living, really living. Where does all this start? From within. Taking steps towards Satori if you will, uncovering your inner nature and perpetuating that in this world.
One day the backpacking, adventure and partying will eventually stop. They'll come a point when you'll be looking out over the ocean wondering what will make you happier. Will it be that you wished you'd worked less, helped more people, allowed yourself to be happier, followed a path you wanted… or do you just want nothing much at all. Maybe a slightly bigger boat?
Amar was born and raised in England and embarked on an 11-country round-the-world gap year after graduation and then became well and truly hooked. The first gap year inspired a second, which ended up being a 23-country down-the-world trip from Canada to Antarctica. Since then, Amar has spent the last 14 years traveling the 7 continents.