Sometimes that mid-day break and mid-day meal are all that keep you going. Make sure your lunch is delicious by stopping at one of these great spots around Denver.
The Best Lunch Spots in Denver
Bodega
Reinventing the corner store into the perfect spot to grab a meal, this Denver restaurant offers nostalgia and delicious food.
Bodega is a neighborhood joint serving up locally-inspired eats, including satisfying chef-driven sandwiches.
While the menu changes frequently to keep up with the best local produce, they always feature tons of flavorful handheld creations.
There are even plant-based options for those on a more restricted diet and a few breakfast options in case that's what you're craving.
Bodega is an ideal spot in Denver for easy and delectable lunchtime eats.
Location: 2651 W. 38th Avenue, Denver, CO 80211
The Brutal Poodle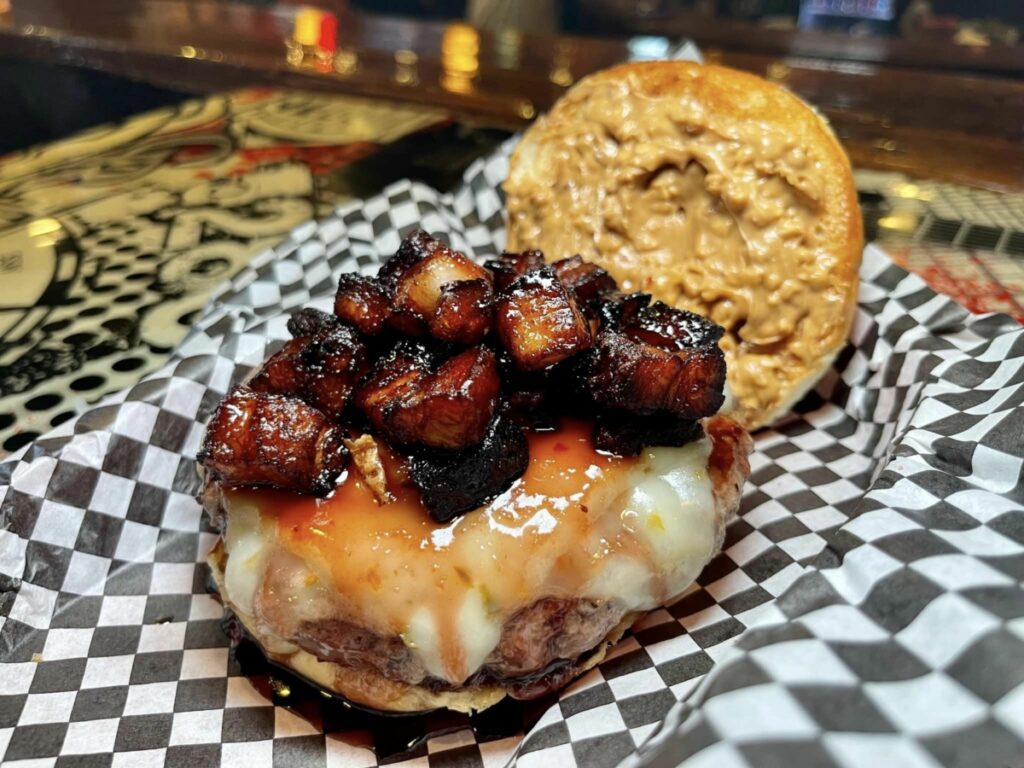 Just as quirky as the name, this gastro-pub has a unique rock-and-roll-themed decor.
The Brutal Poodle isn't only known for their eccentric vibe but also for the delectable meals found on their menu that make the perfect choice for a midday meal.
You can eat outside on the patio at covered tables or inside to take in all the decor that makes this place stand out.
You'll find plenty of filling options on the menu, including plates like jalapeno cheddar bites, classic chicken wings, a pork belly grilled cheese, and piled-high mac n cheese.
You'll never leave this restaurant without a full stomach and a better attitude, making it a great addition to any day. Be sure to grab lunch at The Brutal Poodle.
Location: 1967 S Broadway, Denver, CO 80210
Happy Camper Pizza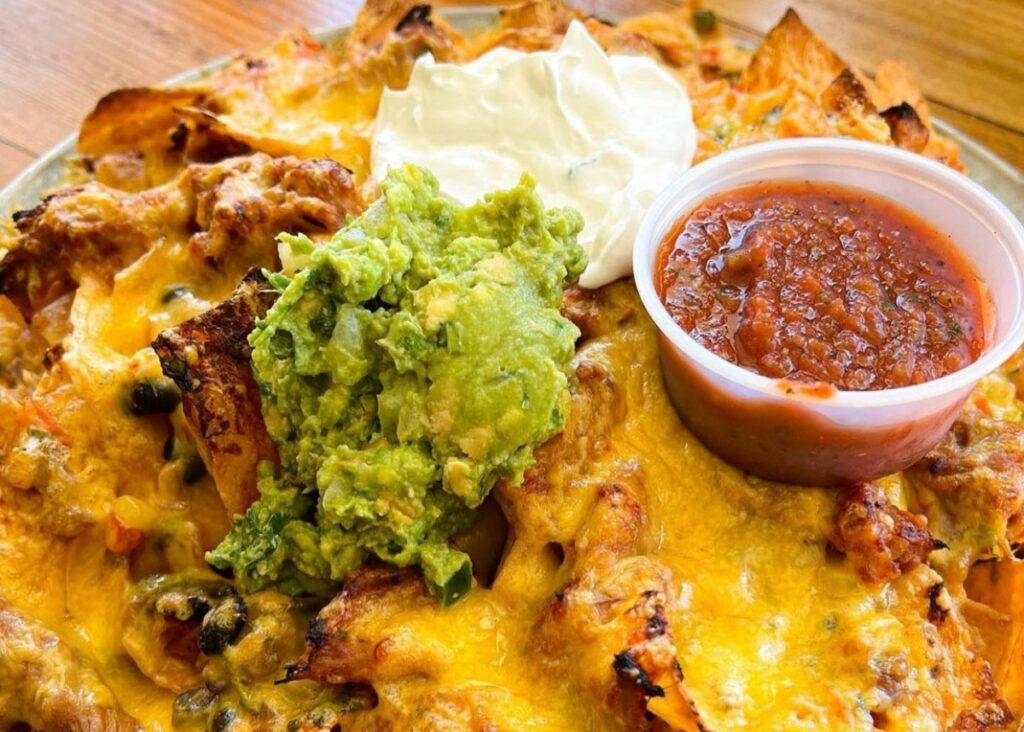 There's nothing wrong with keeping it simple and classic for lunch; this local Denver spot is the answer.
Happy Camper Pizza is a cool and outdoorsy spot with an astroturf patio serving delicious pies that make lunchtime a little more fun.
Along with their huge menu of pizza choices, there are tons of apps, soups, salads, and more to make lunch your new favorite meal.
There are plenty of options for vegetarians, or you could even build your own pizza if none of their pre-made options are what you're looking for.
Happy Camper Pizza is easily one of the best spots in Denver to grab a midday slice.
Location: 3211 N Pecos St, Denver, CO 80211
Linger
Found in one of the most unique locations for a restaurant, this renovated mortuary is now a lively eatery perfect for your next lunch with friends.
Linger offers a comfortable and elevated vibe with garage doors to let in the breeze, a rooftop patio, and a combination brunch menu with tons of delicious options.
They feature a section of creative bao bun options or more hearty dishes ranging from sweet to savory.
Choose from sliders, french toast, ramen, and even a unique take on shrimp and grits. Linger will impress and keep you coming back for lunch over and over again.
Location: 2030 W 30th Ave, Denver, CO 80211
Local Jones
Located within the Halcyon Hotel in Denver, this popular spot features an All-American bistro menu and a neighborhood feel.
Local Jones features a menu of reliable and genuine meals in a welcoming and engaging atmosphere.
Break up the monotony of your day while dining here on something delicious. You'll find an internationally-inspired menu with meals from cultures all across the globe.
They keep the lunch menu tight and light so you can keep up your energy and drive through the afternoon.
Dine on soup or salad, or opt for a slightly more filling option like a turkey club or LJ Burger.
Local Jones has everything you need to get through the day without any hunger pains.
Location: 249 Columbine St, Denver, CO 80206
Lunchbox
You'll find this unique restaurant inside the Denver Central Market, where you'll find easy and quick eats perfect for a midday meal.
Lunchbox is a fast yet casual concept spot where you'll find fun, fresh, shareable, and snackable items.
Instead of the usual fast-food fried items, this menu is filled with more healthy options that are still just as delicious and filling.
When you need something light, check out their snack section, or when you need something a little more, check out their handhelds.
The internationally-inspired plates are also the perfect option for a hearty meal that won't leave you feeling bogged down. Lunchbox is a unique spot that might quickly become your new favorite for lunch.
Location: 2669 Larimer St Unit 9, Denver, CO 80205
Olive + Finch

With three locations in the city of Denver, this is a great choice, no matter where you're located.
Olive + Finch is a bistro and market with a warm feel that features a menu filled with cafe items along with sandwiches and alcoholic beverages.
When you're craving breakfast at any time of the day, this is the place to be, with their full breakfast menu available at all times.
When it comes to more traditional lunchtime options, they have plenty to choose from. Sandwiches, burgers, plates, and more.
Olive + Finch will be everything you need to have the perfect midday meal.
Location: 1552 E 17th Ave, Denver, CO 80218
Onefold
When organic cuisine is what you're looking for at lunchtime in Denver, this is a great choice.
Onefold is a charming farmhouse-style spot that features creative fare with a globally-inspired touch.
Here you'll find a cafe feel, so there are options, including breakfast plates and crafted coffees. However, their small menu of lunch items is also delicious while featuring a wide range of flavors.
Pick from duck fried rice, enchiladas mole, a grilled burrito, and more. All slightly elevated beyond their traditional recipes. Onefold makes a great choice for a more organic and locally-sourced lunch.
Location: 1420 E 18th Ave, Denver, CO 80218
Root Down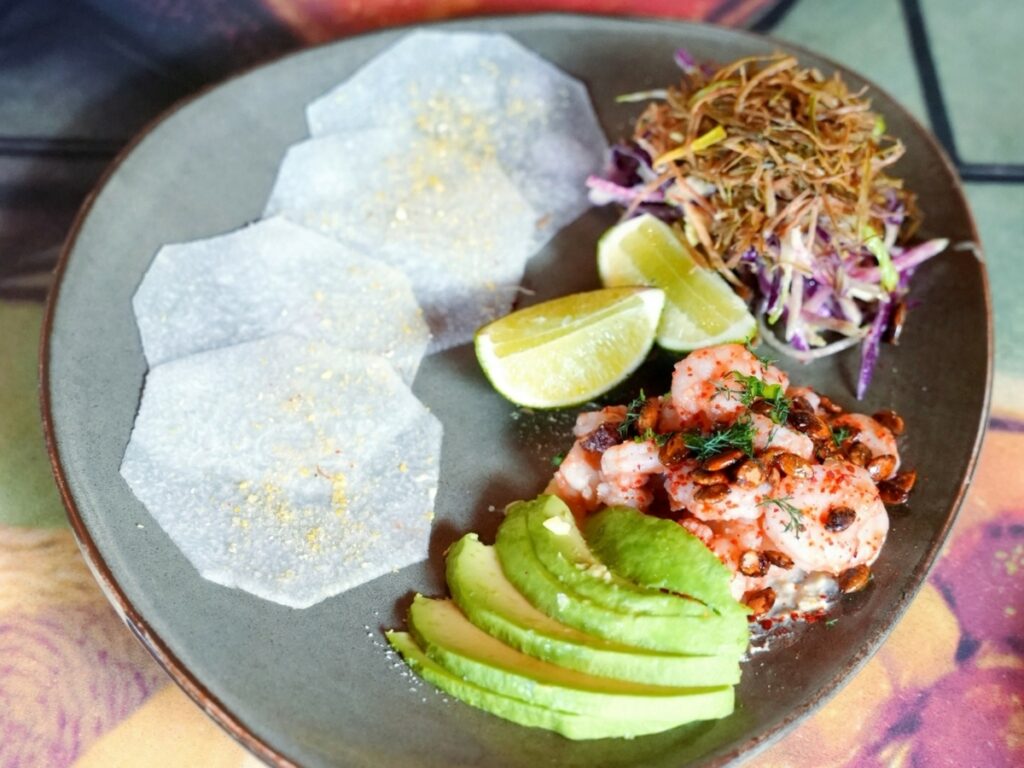 With a quirky sign above the entrance, artful decor, and a high-energy atmosphere, this Denver restaurant is a great addition to any lunchtime.
Root Down is located within a renovated filling station giving it a unique environment that is echoed in its fresh and funky menu.
They feature local and fresh produce, so the menu changes with the seasons offering new and exciting dishes often.
While they feature breakfast items more heavily, there are delectable lunch options to make your midday break that much better. Root Down will quickly become a new favorite.
Location: 1600 W 33rd Ave, Denver, CO 80211
Spitz
There's not much better than a fresh and flavorful meal to break up the day.
Spitz is the perfect spot for a menu filled with items that will transport you with just one bite.
While they're a great spot for lunch with friends or coworkers, it's fun for everyone, with board games available to keep everyone busy.
Mediterranean flavors influence the menu heavily, with doner wraps, feta, gyros, and so much more. There are even plenty of vegan and vegetarian options.
Spitz makes for the perfect getaway in the middle of the day.
Location: 8181 E. Arapahoe Rd, Suite E · Greenwood Village, CO 80112
Final Thoughts
While Denver may not be the first place you think of when it comes to Mexican cuisine, these restaurants all around the city definitely deliver in both flavor and quality.
Amar was born and raised in England and embarked on an 11-country round-the-world gap year after graduation and then became well and truly hooked. The first gap year inspired a second, which ended up being a 23-country down-the-world trip from Canada to Antarctica. Since then, Amar has spent the last 14 years traveling the 7 continents.