Have you ever wondered what beneath the surface of the earth looks like? Be sure to grab your hiking boots and check out these awesome caves in Tucson, Arizona, and surrounding areas!
For those looking for more adventure, get with experts and try spelunking. This type of cave tour involves crawling, climbing, and squeezing through tight spaces of caves for a more exhilarating experience!
Below we will discuss the best caves to visit in Tucson, Arizona, and the surrounding area.
Kartchner Caverns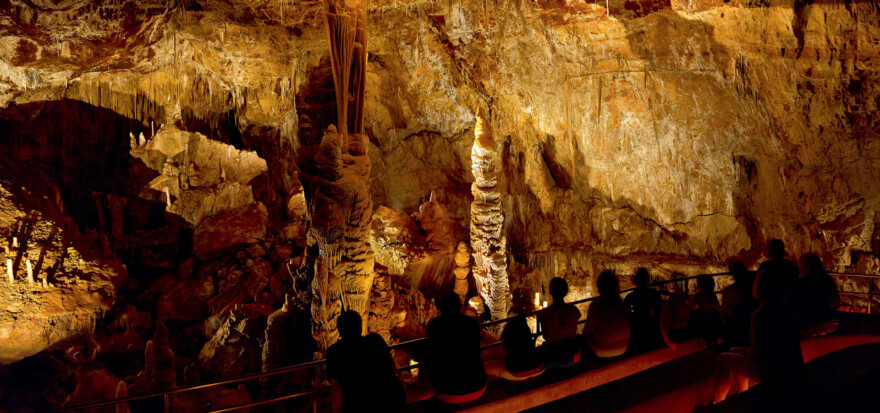 This 200,000-year-old cave was only recently discovered – in 1974 by cavers. The founders of the cave initiated conservation efforts, and the State Park was open to the public by 1999.
This might be the most recently discovered cave you will ever visit. If you're looking for a cave tour with beautiful sights and colors, this cave is for you! Kartchner Caverns is home to a variety of cave formations such as stalactites, stalagmites, cave popcorn, columns, drapery, and more!
It homes a famous 58-foot column called 'Kublai Khan' in one of its cave rooms. This cavern state park is also known for its incredibly thin soda straw cave formations. The park also offers hiking trails, camping, cabins, and a hummingbird garden.
The four cave tours they offer are:
Throne Tour: This tour lasts approximately one and a half hours. This tour features the cave discoverers' original journey, the famous Kublai Khan, and beautiful cave formations.
Big Room Tour: This tour lasts approximately one hour and 45 minutes. This tour is only available October-April, and you will learn about the cave's past, present, and future. This tour features colorful rock formations and teaches visitors about the wildlife of the cave.
Helmet and Headlamp Tour: This tour lasts approximately 1 hour and 25 minutes. This tour shows visitors a glimpse of the founders' discovery by only using the light of headlamps! This tour is also only available October-April.
Photo Tours: This tour lasts 2 hours and allows visitors to take photos of the cave. Photo tours are available every third Saturday of the month.
Colossal Cave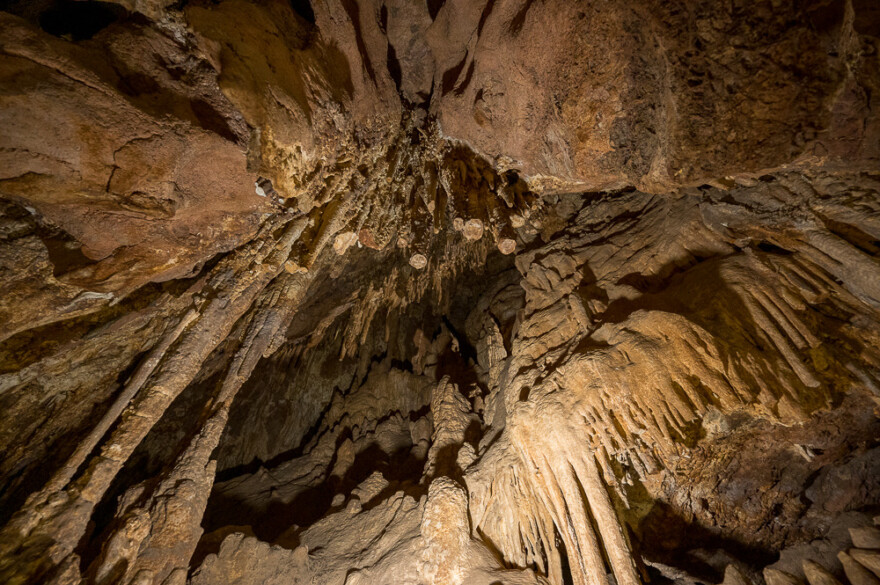 Colossal Cave State Park will be sure to give you western vibes while bringing some adventure into play with their cave tours! This park spans over 2,400 acres in the desert, and its cave displays beautiful crystal formations. Be sure to plan to have enough time to spend at this park because they offer more than just cave tours!
Other activities this park offers include horseback riding, a petting zoo, camping, and more.
The three cave tours they offer are:
Classic Cave Tour: This tour lasts around 40 minutes and is great for the whole family. This tour takes you about six stories deep underground and showcases helicities, flowstone, box work, and more. The classic cave tour is offered daily on the hour.
Ladder Tour: This tour lasts an hour and a half and is for those looking for some serious excitement. You will climb ladders, squeeze through tight spaces, and walk across rock bridges in this tour. An adult must accompany children under 18, and children under 12 are not permitted.
Wild Cave Tour: Feeling even more adventurous than the ladder tour? This one is for you. This tour lasts three and a half hours and is very intense. In this tour, you will crawl and explore the deepest corners of the cave. Children under the age of 16 are not permitted.
Coronado Cave
Part of the Coronado National Forest, Coronado Cave is nestled at the bottom of Montezuma Peak. Visitors are allowed to explore this cave on their own or take a guided cave tour.
Tip: Make sure to bring a headlamp or flashlight if touring the cave on your own.
This cave is about 600 feet long and spans to about 70 feet wide in most places. It offers beautiful views of cave rock formations.
This cave is only accessible by hike. The Cave Trail is over a half-mile long and climbs 400 feet – it's an adventure alone getting to the cave entrance. Getting into the cave will require a bit of climbing down a slope of boulders, but it's an easy hike once inside the cave itself.
The trail begins from a pull-off spot along the road on the floor of Montezuma Canyon. The trailhead is approximately a quarter-mile west of the visitor center.
If you prefer to visit the cave with a tour guide, tours are available in January, February, April, and May. The area also offers hiking, a picnic area, and wildlife viewing.
Peppersauce Cave
Also located in the Coronado National Forest, this cave is for those who don't mind exploring it on their own as they don't offer guided tours. The cave is only accessible by hike. Peppersauce Cave has been open to the public since the 1940s.
Exploring this cave will feel extra special since it's such a hidden gem. It's known for its underground lake, rockslide, and having ropes and ladders to help visitors explore!
Cave caretakers ask that visitors please be respectful to the cave and refrain from littering or leaving things behind. They implemented a cave conservation program in 2017 to keep the cave clean and accessible to the public!
These four caves in Tucson and surrounding areas will make for an awesome visit on your trip to the southwest. Explore the underground beauties of colorful stones and unique rock formations for an adventure you won't forget!
Tip: Always wear comfortable shoes when visiting caves. It's also important to carry light sources and water, especially if exploring a cave without a guide!
You might also be interested in:
Amar was born and raised in England and embarked on an 11-country round-the-world gap year after graduation and then became well and truly hooked. The first gap year inspired a second, which ended up being a 23-country down-the-world trip from Canada to Antarctica. Since then, Amar has spent the last 14 years traveling the 7 continents.