The 10 best motels in Tucson aren't quite the same as hotels in terms of facilities. One thing is sure, though, that as you search for motels, you will find overnight accommodation that is clean, comfortable, and well maintained.
The best motels in Tucson promise to offer good levels of hospitality, and we take a look at the ten best in the beautiful desert city.
Best Motels in Tucson
Catalina Inn
Situated in Oracle Rd, Tucson, the Catalina Inn is an awesome motel in Tucson. It's a smoke-free motel that appeals to health fanatics. It features a fitness center and an outdoor pool. Visitors to the motel are attracted by the cool amenities and features such as free buffet breakfast as well as free wifi in public areas.
You can add in other amenities such as laundry facilities, TVs with cable channels, hairdryers, coffee makers, and a business center, among other useful features. Everything contributes to guests having a pleasant stay.
Those who have already stayed at the Catalina Inn say that if you're looking for a pleasant motel in the desert city, you needn't look any further than this lovely overnight place.
Super Inn Tucson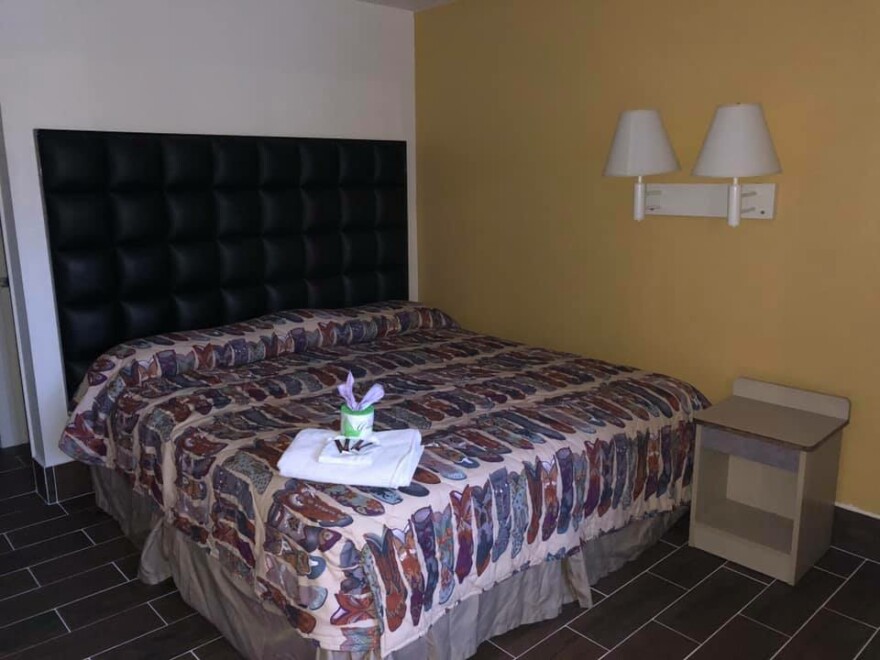 Visitors to Tucson want accommodation with high levels of professionalism and hospitality, and the Super Inn Tucson strives for this.
The smoke-free motel on the Benson Highways is also close to the Kino Sports Complex and welcomes visitors from its 24-hour front desk. Tucson International Airport is also in close proximity for your convenience.
You'll also find that it offers free wifi in public areas. In the hot Tucson weather, you'll be thrilled to discover that the rooms are all air-conditioned, and there's an outdoor pool waiting to invite you to splash right in.
Studio 6 Tucson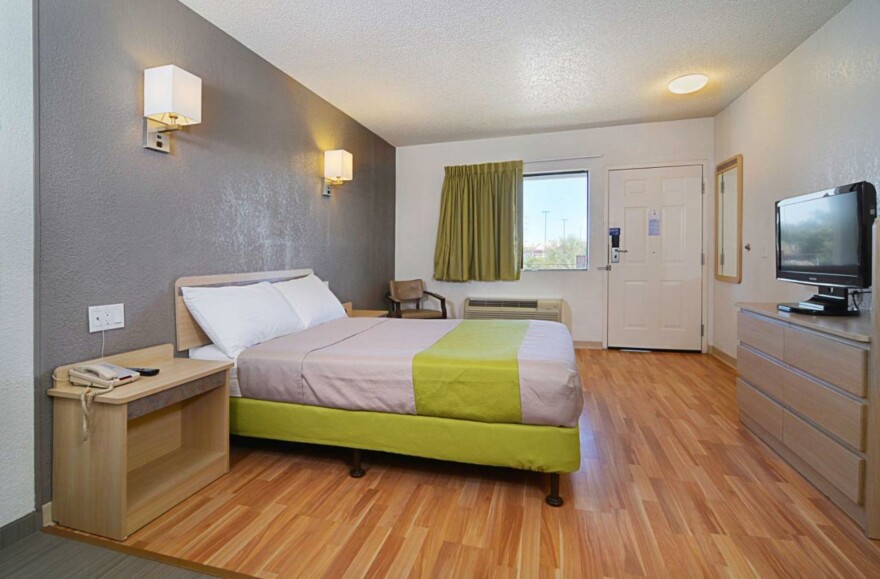 Some motels in Tucson don't only comply with the basic minimum standards for the best motels, but they go over and beyond what is expected. This is what Studio 6 Tucson is all about. They even offer beautiful mobility accessible rooms with bathroom facilities sporting helpful grab bars.
The Studio 6 Tucson motel is super for guests with disabilities. The stylish motel suites come with free wifi, coin laundry, and a fully equipped kitchen. What's more, this is a pet-friendly motel with nightly and weekly rates available. Kids stay free.
University Inn
Those who have stayed at this cool motel say it is absolutely fabulous. Most visitors to Tucson want a clean, welcoming place to stay, and the University Inn is wonderfully comfortable with lots of amenities.
The drawcard is its affordability. Some of the excellent amenities at this Tucson motel include high-speed internet, a coin laundry, and TVs with free premium cable.
The motel is well situated in the city, convention, and medical centers.
Quality Inn Tucson
The Quality Inn Tucson is described as clean and comfortable by previous overnighters. Free wifi and an outdoor pool are featured at this comfortable Tucson motel.
Rooms at Quality Inn Tucson Airport offer convenient delights such as coffee makers cable TV, and there are microwaves and refrigerators in some of the rooms. When you're not in the non-smoking rooms, the pet-friendly, value-for-money motel also sports an outdoor swimming pool.
Amazon Motel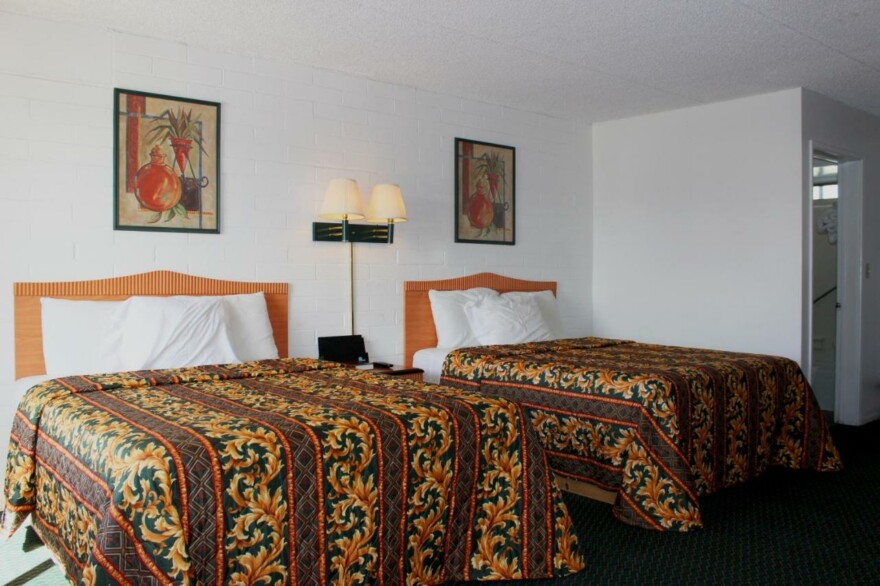 Described as a no-frills motel in Tucson, this is precisely what many travelers to the desert city want. They don't want to pay for features that aren't necessary to them. The Amazon Motel offers its guests an outdoor swimming pool, free wifi access, and a 24-hour front desk to welcome guests.
Coming in from the heat outside, guests are thrilled to enter the cool, air-conditioned interiors with rooms that also offer balconies and patios.
The motel is conveniently situated to Tucson International Airport and also to the Tucson Convention Center. The motel has everything you need for pleasant overnighting.
Economy Inn
There's nothing pretentious about the Economy Inn in Tucson as it's clean and tidy and well situated. The 18-roomed Tucson motel is just 4 minutes from the Kino Sports Complex and close to the University of Arizona.
The motel's main amenities include free wifi, the 24-hour front desk, cable TV channels, daily housekeeping, barbecue grills, and air conditioning. The Economy Inn makes sure that for covid-19, they have advanced cleaning methods in place.
El Pais Motel & Campground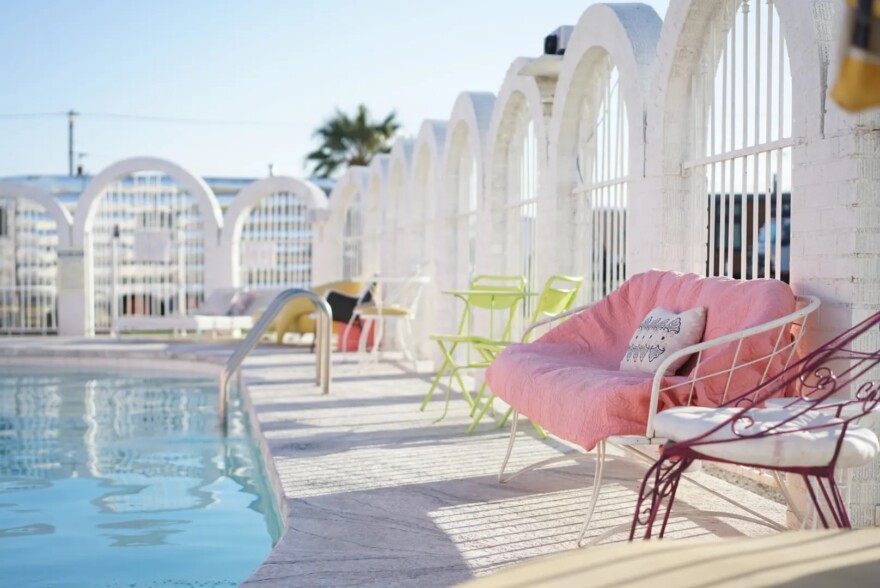 Described as a gem by some visitors to El Pais Motel & Campground, this motel was established in 1948. The motel offers amenities that appeal to short-term visitors looking for a place to stay while they work out their next move.
The weird and wacky side of people attracts them to this Tucson motel as it's a blast from the past with its vintage-style facilities. Therefore, this boutique motel & campground offers vintage motel rooms, tiny homes, trailers, poolside movies, and a clubhouse.
Travel Inn
Many people will say that motels need to simply serve the purpose of a comfortable place overnight – nothing more, nothing less.
Travel Inn is like that. Its easy location off Interstate 10, close to the business district, and near the airport fits the bill for a well-located Tucson Motel. True, it's not the most glamorous looking place from the outside, but it offers a warm, friendly welcome and comfortable, clean rooms.
Comfort Inn & Suites
The stylish Comfort Inn & Suites is close to all the sought-after amenities in Tucson. It is situated on Interstate 10 on Cortaro Road. The 100% smoke-free motel offers great amenities such as a healthy, nutritious breakfast, comfortable bedding, and free wifi.
For fitness enthusiasts, there is also a fitness center. Guests can enjoy leisurely hours at the swimming pool, but for those who need to continue working, the motel offers a 24-hour business center.
Final Thoughts
It won't harm anyone to do a bit of research first on the accommodation they require in Tucson, Arizona. These are some of the best motels that Tucson has to offer.
Each offers its own facilities and services, and each one wants to provide their guests with a simple, clean place to overnight and recharge for whatever the next day brings.
You might also be interested in:
Amar was born and raised in England and embarked on an 11-country round-the-world gap year after graduation and then became well and truly hooked. The first gap year inspired a second, which ended up being a 23-country down-the-world trip from Canada to Antarctica. Since then, Amar has spent the last 14 years traveling the 7 continents.