Tucson, Arizona, located within the Sonoran Desert, is surrounded by five different mountain ranges and is known for its southwestern feel. Tucson is a beautiful location offering stunning views of mountains, deserts, and wildlife, but it has much more to offer!
It's Arizona's second-largest city and contains many neighborhoods that offer unique entertainment, sights, and attractions.
This city is known for its Spanish architecture, vibrant culture, and warm, sunny weather. Tucson is nestled between Mexico, about an hour south, and Phoenix, about an hour north.
Visiting a city for the first time can seem overwhelming, so below, we will discuss the 6 best neighborhoods to visit in Tucson, Arizona!
Barrio Viejo
Barrio Viejo is Tucson's second oldest neighborhood – you're bound to be enriched with history when visiting this area! The name itself translates to "old neighborhood" in Spanish, and the town was established when Tucson was still apart of Mexico.
Located near the Tucson Convention Center, this neighborhood is known for its beautiful Spanish architecture, vibrant colors, and diverse history and culture.
Things to Do and See
Architecture: As mentioned above, this neighborhood homes beautiful historical architecture. In Barrio Viejo, you will see architectural styles such as Victorian, Spanish Colonial Revival, vernacular, and more. This neighborhood homes the most adobe structures in the entire United States!
Attractions: El Tiradito Wishing Shrine, The Jewish History Museum, Teatro Carmen, El Parque de San Cosme, Velasco House.
Eat/Drink: Postino Grant, First Watch, Meyer Avenue Café, El Mezquite Grill & Taqueria, Red Light Lounge, The Delta Bar, and Grill.
Where to Stay: The Downtown Clifton Hotel, Downtown Barrio Casa.
Dunbar Spring
Dunbar Spring is a small, diverse neighborhood just north of Tucson's downtown district. It is named after Tucson's own John Spring, one of Tucson's first bilingual teachers, and Paul Lawrence Dunbar, an African American poet. Dunbar Spring was Tucson's first African American neighborhood, and it homes rich history and culture! This neighborhood offers colorful murals, diversity, and great food.
Things To Do and See
Attractions: Dunbar Cultural Center, Barbea Williams Performing Company, The Dunbar Pavillion, Oury Park, Citizens Art Collection.
Art: Dunbar Spring has countless murals and street art to experience, but the most popular mural is their largest mural that depicts the history of the neighborhood. Dunbar Spring homes the 801 gallery, Steven Derk's gallery that homes paintings, sculptures, and more.
Eat/Drink: The Scented Leaf, La Indita, Bumstead's, Royal Sun Restaurant and Bar, Einstein Bros. Bagels, Black Rock Coffee Bar.
Where to Stay: Lodge on the Desert, Loews Ventana Canyon Resort, The Westin La Paloma Resort, and Spa.
Civano
This neighborhood has been coined as "Tucson's Solar Community," located in southeastern Tucson. Civano is a relatively new neighborhood, opening in 1999, and is known for its eco-friendly development.
This is the perfect neighborhood to visit if you want to experience colorful homes, beautiful mountain sights, and tree-lined streets! This neighborhood really brings the desert feel to the town with desert walking and biking trails. This is a unique neighborhood that highlights sustainability.
Things To Do and See
Attractions: The Community Garden, Fantasy Island Mountain Bike Park, Reid Park Zoo, Civano Nursery, Tucson Botanical Garden, Fox Theatre, Mural Bike Tour, Historic Bike Tour.
Eat/Drink: Saguaro Corners Restaurant and Bar, Serial Grillers, Mr. Toro Carniceria, Happy Wok, The Cozy Corner Café.
Where to Stay: 3 Palms Tucson, La Quinta Inn, and Suites.
Armory Park
Formally known as Military Plaza Park, this relaxing neighborhood gets its name from the public park in the center known for its historical monuments. As you probably guessed, this town used to home military personnel who guarded the Tucson Presido.
This neighborhood is perfect for those who are interested in military history and enjoy outdoor activities! Armory Park has a laid-back, family-friendly feel and offers more than just history.
The park itself spans over 4 acres and is free to the public!
Things To Do and See
Historical Monuments: To The Mormon Battalion monument, Tucson Arizona World War II Memorial, World War I monument, and the Spanish American War monument are all located in the park.
Attractions: Museum of Contemporary Art, Tucson Children's Museum, Philabaum Glass Factory, Armory Park Center.
Eat/Drink: Jimmy's Pita and Poke, The Monica, Barrio Brewing, Penca.
Where to Stay: The Armory Park Inn, The Blenman House Inn, El Amador Downtown Luxury Inn, AC Hotel by Marriot.
Sam Hughes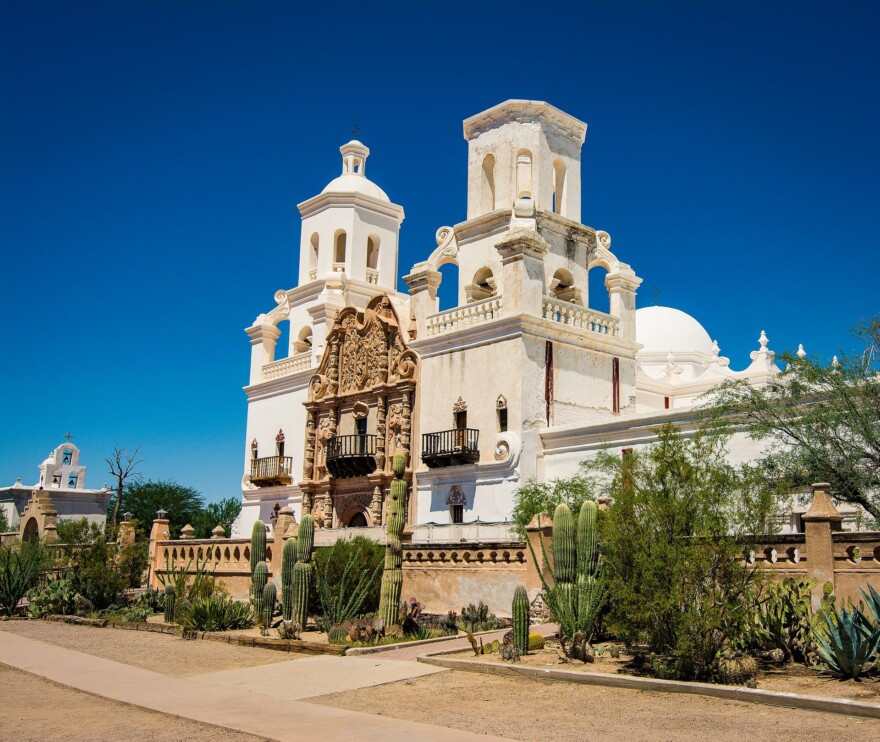 Located near the University of Arizona, this neighborhood attracts more than just college students and is considered a laid-back place. The neighborhood is named after Sam Hughes, who was a 19th-century Welsh immigrant and community leader. It's known for its lively nightlife and mid-century modern homes.
This town is great for those who like to explore neighborhoods on foot as it homes wide streets lined with attractions, shopping, restaurants, and bars.
Things To Do and See
Attractions: Himmel Park, Pima Air and Space Museum, Tucson Museum of Art, , Tohona Chul, Mount Lemmon Sky Center.
Eat/Drink: Tumerico, Bob Dobb's Bar and Grill, Miss Saigon, Flora's Market Run, Red Garter Saloon Bar and Grill, Choice Greens.
Where to Stay: White Stallion Ranch, Hacienda Del Sol Guest Ranch Resort, Graduate Tucson, Canyon Ranch.
Downtown Tucson
We couldn't leave the heart of the city off this list! Downtown Tucson is the perfect place for those looking for a busier, livelier experience. The downtown area of Tucson has been inhabited for thousands of years, and its development significantly took off after World War II.
Today, the downtown area is known for its urban renaissance feel. Downtown has a plethora of things to do, and you will not be bored visiting this area!
Things To Do and See
Attractions: Fox Theatre, Rialto Theatre, Tucson Museum of Art and Historic Block, Rocks, and Ropes, Get Air Trampoline Park, Jacome Plaza, Alene Dunlap Smith Garden, Etherton Gallery.
Eat/Drink: LaCo Tucson, The Fix, Obon Sushi Bar Ramen, Senae Thai Bistro, 47 Scott, Maynards Market, and Kitchen.
Where to Stay: The Tuxon, Hotel Tucson City Center, Arizona Riverpark Inn, Howard Johnson Inn.
You might also be interested in:
Amar was born and raised in England and embarked on an 11-country round-the-world gap year after graduation and then became well and truly hooked. The first gap year inspired a second, which ended up being a 23-country down-the-world trip from Canada to Antarctica. Since then, Amar has spent the last 14 years traveling the 7 continents.